MAIN CAST (VOICES)
Rino Romano (Get Him To The Greek)
Alastair Duncan (The Girl With The Dragon Tattoo)
Danielle Judovits (Naruto)
Evan Sabara (The Polar Express)
Kevin Michael Richardson (The Cleveland Show)
Ming-Na Wen (Agents of SHIELD)
Steve Harris (The Rock)
Jesse Corti (Bringing Down The House)
Mitch Pileggi (The X-Files)
Adam West (Batman 60s)


RECURRING / NOTABLE GUEST CAST
Joaquim de Almeida (Fast & Furious 5)
Amanda Anka (Lost Highway)
Diedrich Bader (Batman: TBATB)
Jeff Bennett (Porco Rosso)
Victor Brandt (The Head Mistress)
Clancy Brown (Highlander)
Dan Castellaneta (The Simpsons)
Kevin Conroy (Batman: TAS)
Piera Coppola (Phineas and Ferb)
Jim Cummings (Ben 10)
Dana Delany (Desperate Housewives)
Grey DeLisle (Danny Phantom)
Jack DeSena (JLA Adventures)
John DiMaggio (Futurama)
Greg Ellis (Dr. Dolittle 5)
Robert Englund (A Nightmare on Elm Street)
Miguel Ferrer (Robocop)
Dave Foley (Monkeybone)
Will Friedle (Batman Beyond)
Gina Gershon (Bound)
Christopher Gorham (Ugly Betty)
Frank Gorshin (Batman 60s)
Louis Gossett Jr. (Enemy Mine)
Kevin Grevioux (Cradle 2 The Grave)
Mark Hamill (Star Wars)
Chris Hardwick (Halloween II)
Dorian Harewood (Full Metal Jacket)
Tom Kenny (The Powerpuff Girls)
Phil LaMarr (Free Enterprise)
Lex Lang (Power Rangers Turbo)
Wallace Langham (Daddy Day Care)
John Larroquette (Chuck)
Rachael MacFarlane (American Dad)
Peter MacNicol (Ghostbusters II)
Jason Marsden (Full House)
Ian Abercromdie (Birds of Prey)
Kellie Martin (Army Wives)
Daran Norris (Veronica Mars)
Michael Massee (Flashforward)
Dermot Mulroney (New Girl)
George Newbern (Justice League)
Jerry O' Connell (Superman/Shazam)
Edward James Olmos (Battlestar Galactica)
Patton Oswalt (Caprica)
Robert Patrick (Terminator 2)
Ron Perlman (Hellboy)
Fred Willard (Anchorman)
James Remar (The Vampire Diaries)
Brandon Routh (Legends of Tomorrow)
Allison Mack (Smallville)
Charlie Schlatter (Batman Unlimited)
Glenn Shadix (Beetlejuice)
Hynden Walch (Teen Titans)
Patrick Warburton (Family Guy)
Gwendoline Yeo (Vacancy 2)
It would be an impossible task to live up to "Batman: The Animated Series" and its various later incarnations. Not only has the series, which ran throughout the 1990s, been hailed by fans as the definitive representation of the Dark Knight, but it also ranks among the very best television series ever aired.
So when the folks at Warner Bros. Animation decided to put together an all-new Batman series to tie in with the impending release of "Batman Begins," they made the daring but ultimately wise choice of completely revamping the world of Bruce Wayne, at least in terms of style and presentation. "The Batman," which debuted in September 2004 on the Kids WB!, played out as something of a "Young Batman Adventures," with the episodes focusing on the Dark Knight's earliest years as a superhero. The deep, raspy voice of Kevin Conroy (who took the lead role in the 1990s series, and who still voices Batman on Cartoon Network's "Justice League") was replaced with Rino Romano, a thirtysomething voiceover veteran who sounds like he's in his early twenties. Commissioner Gordon is nowhere to be seen; instead, we get two young detectives who are always on Batman's trail – and in a nifty twist, one of them is Bruce Wayne's best friend. Robin is also absent, Bruce has yet to get a handle on how to be Batman and run Wayne Industries, and the Rogues Gallery of villains are only beginning to emerge.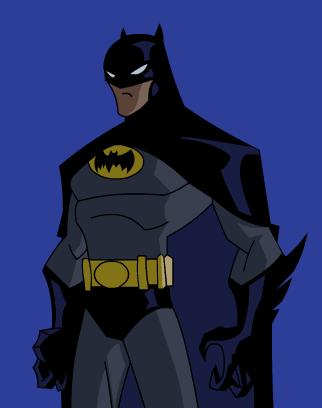 The most notable change is the stylistic choice to loosen up the storytelling, with a far heavier focus here on action and fantasy. "The Batman" is above all else a series that skews younger than its predecessors; taking a cue from the success of anime in grade schools across the nation, the series' producers push the action sequences above all else. In some episodes, fight scenes and chases take up an entire third, or more, of the running time.
Accent is also placed on gadgets (Batman's "Bat Wave" is a pre-Bat Signal pager-like device that flashes when crime's afoot), alternate costumes (Batman faces off against Mr. Freeze in a souped-up arctic gear Batsuit), and anything else that might translate well into toy sales. Which is neat for the kids, but it takes up screen time, forcing into the background the character development and intelligent drama that made the older series such a hit with fans of all ages. Since all this tinkering was taking place, the producers felt that now would be a perfect time to also revamp the famous villains. The Joker is now a big guy, far more athletic than we've ever seen him before, his bare feet allowing him to climb and kick with ease. The Penguin is still short, birdlike, and obnoxious, but this time, he's a kung fu expert with two silent female assassins (with scissor-like blades on their fingers) at his side. Mr. Freeze, not a scientist but a petty thief, now shoots ice from his hands – no ice gun is necessary.
These changes work for the tone of the series,  I've come to like the series. Now knowing what to expect has helped with the adjustment. Yes, it still has its many problems – mainly, most of the villain revamps come off as too silly (and the writers rely on the Joker and Penguin way too much in the early episodes) – but it also has so much going for it. For starters, the animation is breathtaking, the combination of influences (the series borrows as much from the sleek 1990s cartoons as it does from recent anime) resulting in a eye-popping visual style that's a true joy to watch. And as with its predecessor, "The Batman" relies on a healthy dose of impressive guest stars, including Tom Kenny, Gina Gershon, Peter MacNicol, Clancy Brown, Jason Marsden, Udo Kier, Edie McClurg, Glenn Shadix, Fred Willard, Dan Castellaneta, John Di Maggio, and yes, even Adam West, who stars here as the mayor of Gotham City. Combine this with a top notch regular cast and you've got a series that matches Warner Brothers' usual high level of quality.
With this season, the producers opted to play mix-and-match with baddies: Catwoman and Ragdoll, Catwoman and Penguin, Penguin and Man-Bat, Penguin and Joker, Penguin and Joker and Riddler, Mr. Freeze and Firefly.  The Catwoman episodes work much better; the series' take on the Selina Kyle character is as refreshing as has ever been in the decades of Batman tales. She's one of the few multifaceted characters in this uncomplicated series, working somewhere between heroine and villainess, assisted by clever writing and a commendable vocal performance from Gina Gershon.
Other episodes manage to shake the series' problems and find a sturdy balance between fast-paced action and inventive plotting. The introductory adventure with the Riddler (here designed as some sort of Marilyn Manson wannabe) makes for a rollicking quest; an episode that takes Batman literally into the mind of the Joker allows for a fresh take on some overly well-worn cartoon material; a sinister Halloween tale about "swamp zombie" Solomon Grundy's mythic return makes for ripping holiday viewing. These episodes all show the grand potential of this series. Consider the season's best episode, "Meltdown," which provides a return for Clay Face, last seen in season one's finale. There's a lot that happens in this episode character-wise, all of it both thrilling and quite emotionally touching.
In order to make the show more friendly to the notion of reruns, the producers avoid any serious episode-to-episode continuity. Instead, we see ideas that slowly grow – Detective Bennett's evolution as a character in season one (and slightly in season two), Detective Yin's secret partnership with Batman in season two – in tiny chunks over the course of a dozen or so episodes. The good news is that these seemingly unimportant arcs do get a payoff in the season finales. In its favor, the series does showcase some incredible animation; "The Batman" remains a genuine treat for the eyes.
The Batman" went through plenty of growing pains for its third season. Dropped without explanation from the story was Detective Ellen Yin, who had been working toward becoming a new sidekick of sorts to the Dark Knight (actress Ming-Na had become unavailable to return to the series); in her place, we have the arrival of Batgirl, whose presence takes the series in a whole new direction.
It's something of a mini-almost-sorta reboot as a result. There's a new opening sequence, with The Edge's twangy theme song replaced by a crunchy surf-rock tune from Andy Sturmer, who also wrote the "Teen Titans" theme. That series' popularity obviously had an influence on this new season, as Batgirl's wide-eyed character design is similar to the heroes of the Cartoon Network series. In addition, the Gotham landscape is now slightly more abstract, most notably in the swirling red and purple skies above. An entire episode is designed to showcase an all-new Batmobile. Finally, season-long story arcs have been toned down, delivered on a smaller scale, with Dr. Hugo Strange's ongoing manipulations from behind the walls of Arkham Asylum not carrying the full weight of, say, the Clayface and Ellen Yin storylines of previous seasons. Even Batman's gradual acceptance of a sidekick is something of a restrained arc.

The most obvious adjustment is that Batgirl is introduced before Robin (who would not appear in the series until season four). This comes with its share of awkwardness, not because the deviation from Batman mythology (the retooling plays quite well, actually), but because Commissioner Gordon was just introduced in the series two finale. We never get a chance to settle in with him before he's thrown into the thick of things, and now here he is with a teenage daughter – a daughter whose co-star status means the Gordons now become a key part of nearly every episode. Yet the series plows ahead with the Gordons at the center and never looks back, allowing for a rather quick adjustment to the change.

The season opens on a very high note, with the excellent two-part saga, "Batgirl Begins," introducing not only our new heroine, but also Poison Ivy, revamped to be a high school pal of Barbara's; she's a young eco-terrorist who gets slimed with nasty plant-growth chemicals. Early episodes that follow manage to revisit old villains – the Penguin, Scarface, Catwoman – while offering new spins, thus keeping stories quite fresh. New baddies are also introduced, most memorably the cybernetic Gearhead (voiced by "Batman Beyond" himself, Will Friedle), whose race car exploits allow the show to provide some thrilling chase sequences, and Cosmo Krank (Patton Oswalt in a deliciously over-the-top turn), a flashy toymaker.
Few animated TV shows have improved as greatly and as rapidly as much as "The Batman." When the program debuted on the Kids WB! network in 2004, it was a reboot of the franchise, and while repeat viewings did help the show's more radical changes become acceptable to lifelong fans of the character, it still never quite hit the heights of the 1990s' "Batman: The Animated Series," deemed by most as the definitive presentation of the hero.


The season opens with the introduction of Robin, the Boy Wonder. Series producers took a brave risk the season prior by breaking from the continuity of the Batman mythology and bringing in Batgirl as a sidekick first; the official reason given is that Robin was tied up on the "Teen Titans" cartoon, but the switcheroo seems to go beyond that, as it led to a shakeup that helped breathe new life into the franchise.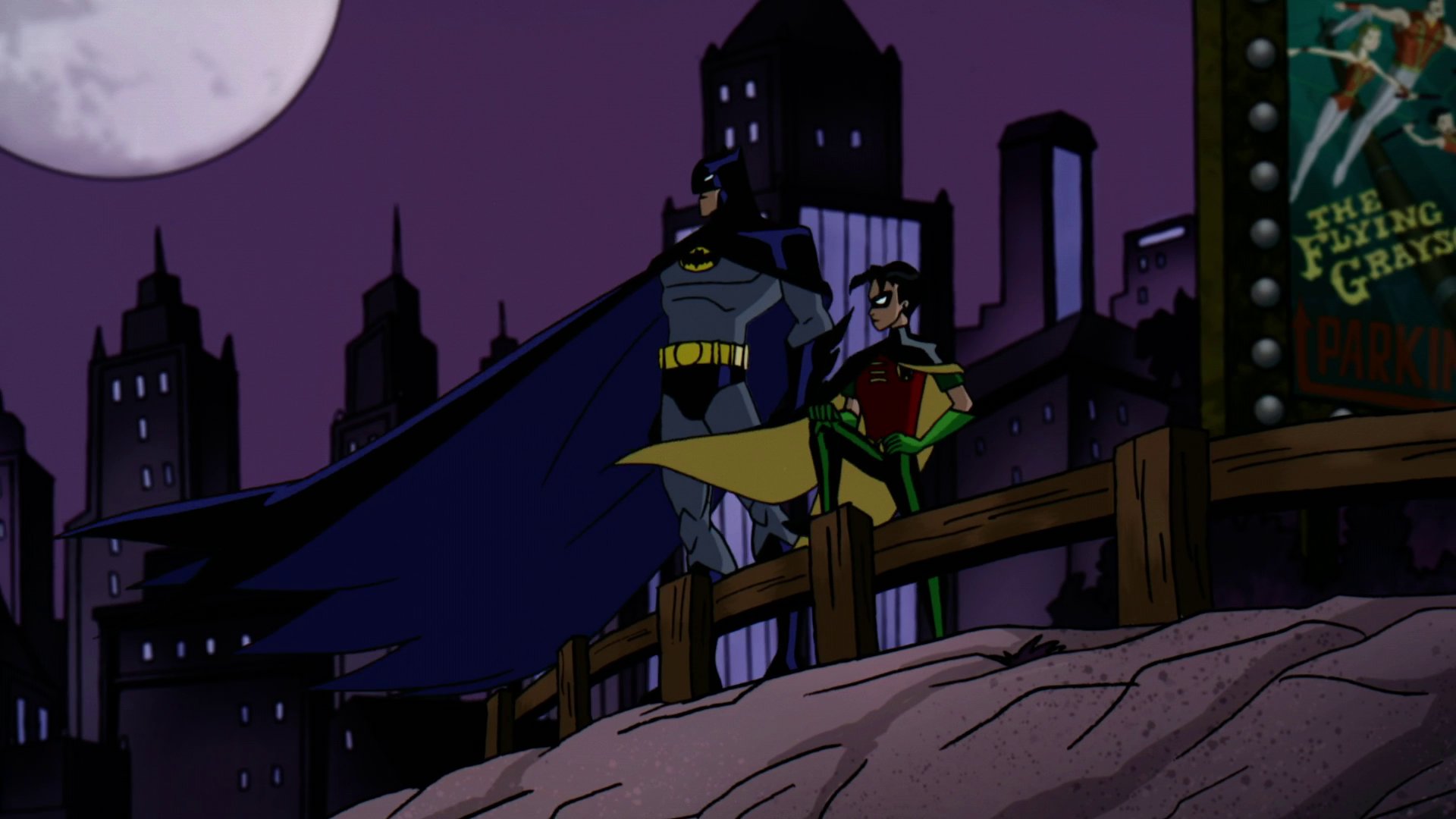 Perhaps to counterbalance such changes, the season premiere strays very little from the established Robin backstory: young Dick Grayson (seen here at around age 10 or 11, unlike several other incarnations that aged him slightly) is the son of a successful circus act. Here, Dick's father also runs the circus, so he's directly responsible for shooing away the thugs that show up one night for a little extortion. Batman arrives to thwart the baddies, but they return to sabotage the trapeze. The Graysons are killed mid-performance, and Bruce Wayne, seeing a parallel with his own history, takes Dick in as a foster son. Dick later discovers the Batcave, dons his old circus outfit, and sets out to capture the mobsters; by episode's end, he's properly christened as Robin.


It's interesting to note that every time this legend is retold, its writers find new ways of infusing some modern day logic into the proceedings. Like Dick's circus costume, which now comes right off the bat with the familiar "R" crest, only for "Richard," not "Robin." He later decides to use "Robin" as his superhero alter ego not in tribute to Robin Hood, or because of the goofy motorcycle helmet design from "Batman Forever," but simply because Dick's mom liked that nickname. It adds a bittersweet human touch to the myth that feels so natural, I'm surprised it's never been used before. (In a nice touch, Kevin Conroy, the voice actor who played Batman in the 1990s, appears as Dick's father. It's a wonderful passing-the-torch moment that reminds me of when Adam West showed up on "Batman: The Animated Series" as the Grey Ghost. Also providing guest star voice work this season are Mark Hamill, Louis Gossett, Jr., Ron Perlman, James Remar, Wallace Langham, and Brandon Routh.)


Batgirl is absent from this episode (wisely so – although it's an excellent story, it's also pretty cluttered with characters and events). She returns in the follow-up, and there we set the stage for the rest of the season's tone. The sidekicks spend their time bickering and trying to one-up each other, in pure brother-sister mode. It's a fun dynamic to the show that allows Batman to remain  his moody self without forcing the series to become overly brooding. A peculiar moment regarding the sidekicks comes late in the season, when Robin pauses in the middle of a dangerous mission to ask Batgirl if she's afraid. After some fudging between the two, she admits that she is. Not only is this a deeper, more thoughtful character moment than the series would have ever attempted a few years earlier, but it's a startling moment of character honesty that you rarely get in a children's adventure.

Over time the show has definitely grown and it's safe to say that it's come into its own. Though this may be the final season it's definitely one of the stronger ones and in the end this is a ride any fan of the character should take. In the previous seasons of The Batman all sorts of things happened that continue to have an impact upon Gotham in this fifth outing. Batgirl was added to the roster during the third season with Dick Grayson as Robin in the fourth. Several familiar villains were brought into the fold as well but most notably the finale of the fourth season featured an alien invasion and the introduction of The Justice League. That's right where we pick up this time around with Gotham reeling in the aftermath of the alien attack.

Destruction is everywhere and the people are in need of support. Lucky for them Superman comes to town with a massive check from Metropolis but unluckily for Superman Metallo is waiting for his chance to strike. What transpires is a team up between Batman and Superman to take down Lex Luthor who has his eyes set on Gotham. In the meantime Superman falls under Lex's control thanks to some help from Poison Ivy and kryptonite. Naturally it's up to Batman and Robin to stop the man of steel and there's plenty of fighting between the DC legends.
If you have been following the series this marks Superman's first appearance on the show and you'll notice a trend that follows throughout this year. The previous season's introduction of characters such as Green Arrow, Flash, Hawkman, and Green Lantern fleshes out The Batman's roster somewhat and really gives is a Justice League feel.
This season is very entertaining even though the focus shifts from Batman and his universe. At this point in The Batman's run the creative cast definitely had it going on but you can tell that even in the final moments they were experimenting. I see what the producers were aiming to do with this season and for all intents and purposes it is successful.