MAIN CAST (VOICES)
Drake Bell (Sueprhero Movie)
Ogie Banks (Superman vs The Elite)
Greg Cipes (Teen Titans)
Clark Gregg (Agents of S.H.I.E.L.D.)
Tom Kenny (Spongebob Squarepants)
Matt Lanter (Heroes)
Chi McBride (Human Target)
Caitlyn Taylor Love (I'm With The Band)
Logan Miller (Deep Powder)
J.K. Simmons (Spider-Man)
Steven Weber (Izombie)
RECURRING / NOTABLE GUEST CAST
Misty Lee (Killer Kids)
Jonathan Adams (Bones)
Tara Strong (The New Batman Adventures)
Eric Bauza (Batman: Assault on Arkam)
Dee Bradley Baker (American Dad)
Kevin Michael Richardson (The Cleveland Show)
Stan Lee (Spider-Man)
Fred Tatasciore (Hulk Vs)
Troy Baker (Lego Batman: The Movie)
Clancy Brown (Highlander)
Rob Paulsen (Teenae Mutant Ninja Turtles)
Phil LaMarr (Free Enterpise)
Travis Willingham (Shelf Life)
Steve Blum (Wolverine and The X-Men)
Mark Hamill (Star Wars)
Adrian Pasdar (Heroes)
Roger Craig Smith (Wreck-it Ralph)
Diedrich Bader (Batman: The Brave and The Bold)
Christopher Daniel Barnes (The Little Mermaid)
Maurice LaMarche (Futurama)
Dwight Schultz (The A-Team)
Jack Coleman (Heroes)
Robin Atkin Downes (Babylon 5)
Rose McGowan (Planet Terror)
Bumper Robinson (Sabrina: TTW)
Seth Green (Family Guy)
Oded Fehr (The Mummy)
Freddy Rodriguez (Ugly Betty)
Phil Morris (Smallville)
Milo Ventimiglia (Heroes)
Cameron Boyce (The Descendants)
Maria Canals-Barrera (Justice League)
Will Friedle (Batman Beyond)
Eliza Dushku (Tru Calling)
Greg Grunberg (Heroes)
Michael Clarke Duncan (The Finder)
George Takei (Star Trek)
Iain De Caestecker (Agents of S.H.I.E.L.D.)
Robert Patrick (Terminator 2)
Elizabeth Henstridge (Agents of S.H.I.E.L.D.)
James Marsters (Caprica)
Keith Szarabajka (Angel)
Billy West (Futurama)
Nika Futterman (Star Wars: The Clone Wars)
Corey Burton (Critters)
Wendie Malick (The Ranch)
Olivia Holt (Cloak & Dagger)
Robert Patrick (Terminator 2)
Nolan North (Teenage Mutant Ninja Turtles)
Debby Ryan (Life of The Party)
Charlie Adler (Super Hero Squad)
Scott Porter (Prom Night)
Jon Polito (The Crow)
Keone Young (Men In Black 3)
I recently watched  Ultimate Spider-Man and I can honestly say that I have never wanted to stop watching a Spider-Man cartoon before in my life… until now. I have been a big fan of the Spider-Man comic series for many years and have liked almost all of the cartoon iterations of him, but this one just hurts to watch. I understand that Spider-Man is supposed to be a smart-mouthed teen who likes to make jokes while fighting crime, which is my favorite part about the character, but this show just takes it to an extreme.

I think one of the biggest problems for me was how much the stories are broken up by all of the "cut away" scenes.  I understand that Spider-Man is a show made for children and I get that the characters aren't going to be nearly as serious as they are in the comics, but I feel like this was just too far from the source material for me to enjoy it. Another thing that bothered me was how just a few years ago we had, in my opinion, one of the best Spider-Man shows to date, Spectacular Spider-Man, and it was canceled in only it's second season. I had really high hopes for Ultimate Spider-Man to fill the void that Spectacular Spider-Man left, but it just didn't deliver at all.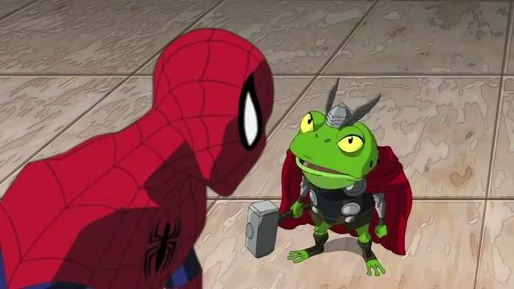 As far as the voice acting on the show goes, they all seem to have done a really good job… with what they were given to read. So much of the writing in this show just seems so forced.why was Spectacular Spider-Man so much better and the most honest answer that I can give you is that it seems as though Marvel actually put a lot of work into Spectacular Spider-Man. I'm not saying that they didn't put a lot of work into Ultimate Spider-Man, but it's much harder to see in this one. The character designs in Spectacular Spider-Man may not have hit all of the right points for some people, but I really enjoyed it. The action in the show looked really good and it was easy to follow exactly what was happening, because you didn't have a bunch of blur that you had to try and see everything through. The story for Spectacular Spider-Man was your standard Spider-Man fare, but while it was a show essentially for kids, it also appealed to many adults as well.

I really wanted to like Ultimate Spider-Man, but I just didn't. I feel like if this show was about just another teen superhero other than Spider-Man it would have been much more forgivable, but for it to take such a dump on such a beloved character, it is just really sad to see. Now all that I can do is hope that the new Spider-Man movie can really bring something good to the table.