MAIN CAST (VOICES)
Kevin Conroy (Batman: The Killing Joke)
Loren Lester (Flashforward)
Efrem Zimbalist, Jr. (Hot Shots)
Bob Hastings (General Hospital)
Robert Costanzo (Dick Tracy)
Melissa Gilbert (Zoya)
Tara Strong (Sabrina Goes To Rome)
Mathew Valencia (Lawnmower Man 2)
RECURRING / NOTABLE GUEST CAST
Adrienne Barbeau (Swamp Thing)
Kate Mulgrew (Star Trek: Voyager)
Neil Ross (Centurions)
Frank Welker (The Simpsons)
Richard Moll (Scary Movie 2)
Lloyd Bochner (Point Blank)
Marc Singer (V)
Rene Auberjonois (Star Trek:DS9)
Meredith MacRae (Petticoat Junction)
Michael Ansara (The Message)
Mark Hamill (Star Wars)
Mari Devon (Howl's Moving Castle)
Brock Peters (To Kill A Mockingbird)
Ed Begley Jr. (Veronica Mars)
Ron Perlman (Hellboy)
Edward Asner (Up)
Josh Keaton (Green Lantern: TAS)
Arleen Sorkin (Days of Our Lives)
Diane Pershing (Centourions)
Ingrid Oliu (Real Women Have Curves)
Henry Polic II (Webster)
Tim Curry (IT)
Diana Muldaur (Star Trek: TNG)
Alan Rachins (LA Law)
Linda Gary (He-Man)
John Vernon (Dirty Harry)
Lindsay Crouse (Buffy)
Paul Williams (Adventure Time)
Aron Kincaid (Freakazoid!)
Heather Locklear (Return of Swamp Thing)
Roddy McDowall (Planet of The Apes)
John Rhys-Davies (Lord of The Rings)
Adam West (Batman 60s)
Treat Williams (The Phantom)
Seth Green (Family Guy)
Brian George (The Big Bang Theory)
Harry Hamlin Clash of The Titans)
Peter Scolari (Gotham)
William Sanderson (Blade Runner)
Leslie Easterbrook (The Devil's Rejects)
John Glover (Smallville)
Ernie Hudson (Ghostbusters)
David Warner (Teenage Mutant Ninja Turtles)
Helen Slater (Supergirl)
Michael York (Logans Run)
George Dzunda (Crimson Tide)
John De Lancie (Star Trek: TNG)
Matt Frewer (Watchmen)
Robert Picardo (Stargate: Atlantis)
Maurice LaMarche (Futurama)
Julie Brown (Earth Girls Are Easy)
Vincent Schiavelli (Batman Returns)
Michael Gross (Familt Ties)
Elisabeth Moss (Mad men)
Jean Smart (Designing Women)
Earl Boen (The Terminator)
Vernee Watson (The Big Bang Theory)
Marica Wallace (The Simpsons)
Marilu henner (Two and A Half Men)
LeVar Burton (Star Trek: TNG)
Nichelle Nichols (Star Trek)
Stephanie Zimbalist (The Story Lady)
Dick Miller (Gremlins)
Henry Silva (Ocean's Eleven)
Jason Marsden (Full House)
Tress MacNeille (Futurama)
Andrea Martin (Anastasia)
Grant Shaud (Murphy Brown)
Bruce Weitz (Hill Street Blues)
Hector Elizondo (The Princess Diaries)
Jeffrey Jones (Howard The Duck)
Roy Dotrice (Beauty and The Beast)
Corey Burton (Critters)
Cree Summer (Batman Beyond)
Lauren Tom (Futurama)
Jeffrey Combs (Gotham)
Billy Barty (Masters of The Universe)
Tippi Hedren (The Birds)
Bumper Robinson (Sabrina: TTW)
Billy Zane (Zoolander)
Mark Rolstan (Alias)
Michael Ironside (Total Recall)
Michael McKean (Smallville)
Nicholle Tom (Gotham)
Lori Petty (Tank Girl)
Linda Hamilton (Chuck)
Billy West (Futurama)
Debuting on Fox in 1992, Batman: The Animated Series was immensely successful, garnering immense critical praise, taking home an Emmy for Outstanding Animated Program, and continuing in various forms for several years and well over a hundred episodes.
First, the series is written and produced by people with a fundamental understanding of what makes the comics work, particularly during its peak in the '70s under Dennis O'Neal and Neal Adams. As a long-time comics fanatic, it's always welcome to see names like Gerry Conway and Marv Wolfman flash across the screen, and in the intervening years, Paul Dini and Bruce Timm have made their own impact on the four-color world. The tone is dark but not hopelessly grim, and the scripts don't inundate viewers with patently obvious exposition or villainous cackling. It's intelligently written and, while appropriate for a wide range of ages, doesn't pander to a younger audience. I started watching Batman when it first debuted on Fox in 1992, and I appreciate it every bit as much now as a 34-year-old adult. The writers don't shackle themselves to comic continuity, and their revisions are frequently more compelling than any other form in which we've seen Batman's rogue's gallery. Third-stringers like the Clock King and Clayface are given heavily revised origins and almost unrecognizable characterizations that are far more interesting than any other take on them.
Batman boasts visuals that are as strong as the writing behind them. It's incredibly dark; despite its Saturday morning/weekday afternoon origins, this is a series that greatly benefits from being watched at night with the lights off. The character designs are angular and exaggerated, in contrast to the rounded, '40s-inspired props and backgrounds that further establish the distinctive, timeless look of the show. The detail and fluidity of the animation vary from episode to episode, but the better installments are almost jaw-dropping.
Following the visuals of the series, the next obvious subject to tackle is how it sounds. For me, Batman's tone is one of the elements that really sets it apart from most every other animated series, and contributing greatly to that is the orchestral score in each episode. The series also has a phenomenal roster of talent contributing its voices. The main group — Kevin Conroy as the definitive Batman, Efrem Zimbalist Jr. as Alfred, Bob Hastings as Commissioner Gordon — just nail their parts with complete perfection. Very recognizable names also contribute to villains and assorted supporting characters. A complete list would be prohibitively long, but some of the more notable actors and actresses from these episodes are Michael Ansara, Ed Asner, Adrienne Barbeau, Ed Begley Jr., Mark Hamill, David L. Lander, Heather Locklear, Kevin McCarthy, Roddy McDowall, Richard Moll, Kate Mulgrew, Ron Perlman, Alan Rachins, Marc Singer, Jeffrey Tambor, John Vernon, Adam West, and Paul Williams. The campy live action series from the '60s also drew heavily from established Hollywood talent, but the difference here is that the actors don't draw attention to themselves as stars.
This set has the show at the absolute top of its form. There isn't a lame show in the bunch, and many of the episodes in this set are destine to become classics. Prechance to Dream, the second show in the set, is a wonderful look at what might have happened if Bruce Wayne's parents hadn't been killed. After being knock out while chasing some crooks, Bruce wakes up at home, uncertain as to how he got there. He's surprised to find that the entrance to the Batcave is blocked, but even more astonished to discover that his mother and father are still alive. Bruce must figure out what going on, but in doing so, he knows he'll ruin the happiness that he's discovered.
AlmostGot 'im, probably my favorite show of the series. This story takes place during a "villain's night out" where Batman's main enemies aren't committing crimes. They are all sitting around a table in a bar playing poker, relaxing. While talking, the conversation turns to Batman of corse. Like a group of fisherman swapping stories, each crook takes a turn telling the time that they were closest to killing Batman. The little vignettes were all full of action, and the framing story was very funny. A great combination, with an excellent ending line.

The Batman's background story takes is fleshed out in a couple of episodes too. His early training plays an important part in Night of the Ninja, and I Am the Night introduces Dr. Leslie Thompkins who is an important person from when Bruce was young. Viewers get to find out just where the Batmoblie came from in The Mechanic, a great show that explains some aspects of Batman's world that usually gets glossed over. Robin's origin is recounted in Robin's Reckoning, a two part story which won an Emmy. This story examines the bond between Batman and Robin, and why the Dark Knight agreed to raise a young boy.

The writing on the show is top notch. The show doesn't dumb itself down to appeal to a young audience, the creators thought that if you have well written intelligent stories, kids would be attracted. They were right but the show also appeals to adults for the same reason.
One of the things Batman: The Animated Series does particularly well is infuse its villains with personality. They're not a rotation of thugs with a different gimmick and costume each week — the writers go to great lengths to humanize these characters, and although they're still unambiguously the bad guys, they still manage to be sympathetic at times. "His Silicon Soul", following up on the two-part "Heart of Steel" from the previous collection, features a robotic duplicate of Batman unable to come to grips with the realization that he's a machine.
The title character of "Baby-Doll" was created especially for the series. Think Webster with the race and gender reversed; Mary Louise Dahl was in her twenties but looked like a three-year-old, and she cashed in on that rare disability with a successful and hopelessly bland sitcom. An ill-advised career move derailed her as an actress, and a decade later, she's systematically kidnapped all of her former co-stars in an attempt to reclaim those happy years. Again, as outlandish as the premise might sound, it really does work. You might smirk at reading about a teary-eyed Baby Doll attempting to fire an already-emptied doll-shaped pistol into a funhouse mirror, but the immeasurably talented writers are gifted enough to eke more pathos than I ever would have thought possible out of that.


Redemption, whether seized or tossed aside, is also frequently touched upon. "Sideshow" opens with a grueling chase between Batman and an escaped Killer Croc, who manages to stumble upon a remote farm that's home to a group of former sideshow acts. They offer Croc a chance at an honest life, but old habits die hard. Another example is "House and Garden". When a poisonous plant-creature starts a reign of terror in Gotham, Batman naturally turns his sights towards the recently-released Poison Ivy. She insists that she's rehabilitated, and by all accounts, Ivy is happily married and living the mundane suburban life. The investigation continues to point back to her, and the final revelation involves some of the creepiest imagery ever seen in the series.


Harley Quinn is also featured in a couple of episodes centered around her attempts to stick with the straight 'n narrow. She's a fan favorite for a reason, and these appearances are some of the most memorable episodes in this collection. "Harlequinade" is a chaotic team-up with Batman in an attempt to track down The Joker, who's managed to get his hands on a bomb that'll turn Gotham into a smoldering mushroom cloud. "Harley's Holiday" documents her release from Arkham Asylum, and even though she's determined to leave that life of crime behind her, an attempt to legitimately buy a pretty pink dress at a store spirals into a bad day…a really, really bad day, culminating in being chased by Batman.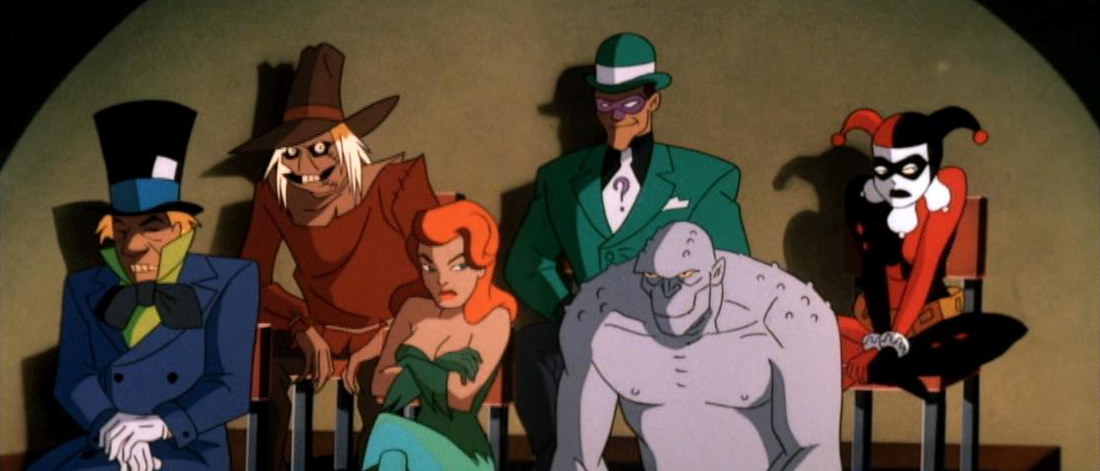 It's particularly great to see the villains interact with one another. That's part of the fun of "Trial", which has a reluctant prosecutor attempting to defend Batman in an insane trial when the inmates take over the asylum. The flipside of that coin is seen in "Lock-Up", when a cruel jailer's overzealousness gets him fired from Arkham and compels him to hunt down the left-leaning scum he blames for the state of the world. Another stand-out is "A Bullet for Bullock", an episode in which the slovenly detective is rattled by death threats and reluctantly teams with Batman, and the ending is just one example of how clever the show's writers can be. "Clever" is also the first word that instantly springs to mind for "Make 'Em Laugh", an episode where The Joker co-opts a fellow criminal's technology to create a small army of fumbling costumed criminals with inane gimmicks.


These episodes introduce a couple of recurring villains ripped from the pages of the comics. Most notable among them is Ra's al Ghul, who makes his first appearance in a two-parter penned by Len Wein and Denny O'Neil, familiar names to longtime readers of Batman's four-color incarnation. The centuries-old Ra's has virtually unlimited resources at his disposal, equally intrigued by Batman's boundless skills as a detective as he is frustrated by his foe's determination to disrupt his machinations. Ra's often lends a Saturday morning serial flavor to the show, from the globe-trotting in his first few appearances to the flared pants of "Avatar". The charismatic character has such a presence that he's able to carry "Showdown" largely by himself in an episode that barely features Batman or Robin in any capacity. "Showdown" is set during the westward expansion of the mid-1800's as Ra's' opposition to the sprawling railroads is pitted against scarred bounty hunter Jonah Hex (one of the few DC characters not connected with the Batman mythos to appear on the show). The other noteworthy recurring villain is The Ventriloquist, a fairly timid-looking middle-aged man who seems more likely to be a CPA than a ruthless crimelord. Taken by himself, that seems to be the right impression, but when he has his puppet Scarface on the end of his arm… The Ventriloquist's first appearance, "Read My Lips", is one of my favorites of the season, and he returns twice after that.

Several other characters from the comics briefly appear, including Maxie Zeus, the back-breaking, Venom-fueled Bane, and the fairly obscure masked criminals of The Terrible Trio. The majority of Batman's rogue's gallery is present and accounted for, with The Penguin, Killer Croc, Poison Ivy, The Mad Hatter, The Joker, Harley Quinn, The Clock King, Catwoman, The Riddler, The Scarecrow, Two-Face, and Mr. Freeze all wreaking havoc throughout Gotham City at some point or another. Even with the opening titles shifting on disc three from Batman: The Animated Series to The Adventures of Batman and Robin, there's no discernable drop in quality.
After Batman: The Animated Series wrapped up its long, successful run on Fox, a revised version of the series — with most of the same talent in tow — popped up as part of the animation block on Kids' WB. This half of The New Batman/Superman Adventures, Although the general look of Batman: The Animated Series is still in place, many of the character designs have been revamped, making them sharper, more angular, and somewhat stripped down. Sometimes the changes worked; The Scarecrow is a much more ominous, disturbing figure now, and I like the exaggerated, deranged look of The Mad Hatter. Others didn't fare so well, especially the much blander looking Riddler, and I have mixed feelings about the older, frailer Jim Gordon and the beady-eyed look of the Joker. One of the more distinctive changes is that the yellow moon on Batman's chest is gone, an alteration that makes it easy to distinguish one of these episodes from the previous animated incarnation.

One aspect of Batman: The Animated Series that has always impressed me is that even though it was a weekday afternoon cartoon based on a popular comic book character, it didn't pander to a younger audience. Rewatching the box sets Warner has issued over the past year and a half, I find myself as engaged by them now in my mid-thirties as I was when I first saw them half a lifetime ago.
The New Batman Adventures is a odd mix because even though many of the stories seem geared towards a younger audience, the censors have lightened up, so the villains can use words like 'murder' and 'kill' more freely, its female characters (especially Harley Quinn) are less subtle with the sexual innuendo, and there's even a little blood. Over the Edge, one of my favorite episodes of any of Batman's animated incarnations, with batman hunted by  by Commissioner Gordon as his men spray gunfire throughout the Batcave in a frantic chase against Batman and Robin. It's a dark, unflinchingly brutal story about loss and betrayal, showing the Dark Knight at his lowest point with his identity exposed and facing greater adversity than he ever has before.
It's not all dark and dour, though. Another favorite is "Joker's Millions", which opens with the Joker struggling with his finances. Robots, hyena chow, Joker venom, and overly elaborate death traps aren't cheap, but he gets an unexpected windfall when a dead mobster leaves the flat-broke Joker a quarter-billion dollars in his will. The Joker goes on a spastic spending spree, bribing everyone in sight into wiping his criminal record clean, but…whoops. There's a catch, of course, and the Joker's not the one who gets the last laugh.
the Joker also take center-stage in "Mad Love", an episode penned by Paul Dini that was later spun off by DC into a graphic novel. "Mad Love" takes a look at how ambitious, straightlaced psychiatrist Harlene Quinzel could become infatuated with a psychotic madman like the Joker. The Joker's far more interested in cobbling together some sort of complicated trap to knock off Batsy than fooling around with his eager-to-please henchwoman, so she tries to get her puddin's attention by rehashing one of his unused schemes and getting rid of Batman once and for all. This is the sort of character-centric episode that I thought really defined Batman: The Animated Series, and "Mad Love" ranks with the best of the series.

"Legends of the Dark Knight" is another personal favorite, paying homage to some of Batman's different incarnations over the decades. Dick Sprang gets the first nod in a segment with Batman duking it out with the Joker in a music museum with all of the puns, oversized props, and four-color action you'd expect from a Golden Age comic, followed up by a deeply impressive segment with Frank Miller's hulking, fifty-something Batman squaring off against an army of mutants in the future. The side story with a few kids getting tangled up in an arson-for-hire gig with Firefly doesn't stack up to the rest of the episode, but who cares?

There are a few other episodes worth pointing out. "Girls' Night Out" is set with both Batman and Superman out of town, leaving Batgirl and Supergirl to square off against Harley, Poison Ivy, and electrifying Supes-villain Livewire.
Dick Grayson, the original Robin, has struck out on his own as Nightwing, and he's highlighted several times — first in "You Scratch My Back", which teams him with Catwoman, much to Batman's chagrin, and again in "Old Wounds", where Grayson tells Batgirl why he could no longer fight alongside the Dark Knight. The episodes on this box set also introduce The Creeper, the demon Etrigan, and Firefly to the animated series,  Villains like Two Face, The Mad Hatter, Catwoman, Clayface, Mr. Freeze, The Scarecrow, The Ventriloquist, Bane, Killer Croc, Baby Doll, and, briefly, The Riddler also return to torment Gotham again.