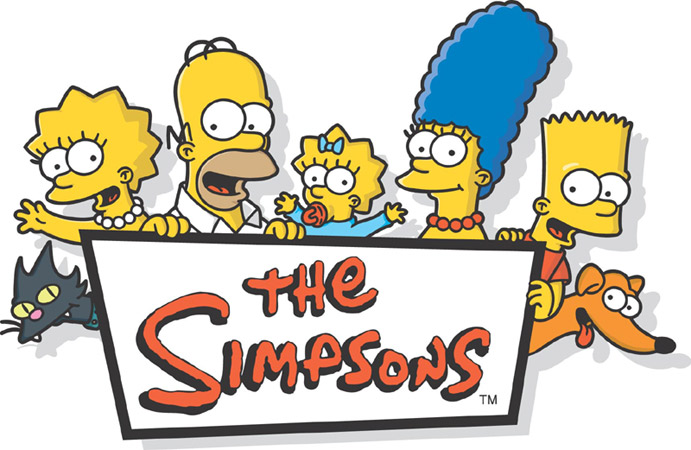 CAST
Dan Castellaneta (Fantastic Four)
Julia Kavner (Dr. Dolittle)
Nancy Cartwright (All Grown Up!)
Yeardley Smith (As Good As It gets)
Harry Shearer (This Is Spinal Tap)
Hank Azaria (The Smurfs)
Pamela Hayden (Hey Arnold!)
Tress MacNeille (Futurama)
KILL GILL VOLUME I & II
The Simpson family is enjoying "Krusty's Kristmas on Ice" (in an indoor ice rink), starring Elvis Stojko. The main act features a reindeer, a candy cane, and a snowman who are all fretting over a green monster named Grumple, who advances upon the other Christmas characters, threatening to steal their Holiday Cheer (Grumple references the "Grinch" from Dr. Seuss' book), the characters mistakenly stumble backward over a wooden basketball court setup crew led by The Sarcastic Middle-Aged Clerk. All the Christmas characters are enraged that their show is being cut short and they begin brawling with the Utah Jazz as they try to warm up for a basketball game. Marge and the kids decide to get up and leave, and Homer is spotted down on the ice grappling with the Grumple and demanding back the Holiday Cheer. The Grumple repeatedly returns throughout the episode, wanting to kill Homer.
ETERNAL MOONSHINE OF THE SIMPSON MIND
During winter Duffman's blimp comes down because of the snow, a squirrel resembling Scrat from the film Ice Age is hit and throw away by groundskeeper Wille and he himself is attacked, Homer wakes up in a pile of snow and does not remember the events of the previous day, commenting that he must have drunk heavily the night before. Homer goes home and finds his family absent. Santa's Little Helper attacks him. Homer travels to Moe's, where Moe informs him that he was there the previous night and wanted to forget an unpleasant memory. Moe explains he gave Homer a "Forget-Me-Shot", which wiped out the last 24 hours of his memory; the ingredients of which include Jägermeister, sloe gin, triple and quadruple sec, gunk from a dog's eye, Absolut Pickle, the red stripe from Aquafresh toothpaste and the venom of the Louisiana loboto-moth then stirred with a home pregnancy test. Moe also gives a dose of his drink to Krusty who has just triggered a riot at an awards show when a routine went from a "Don Rickles about Arabs" to a "Mel Gibson about Mexicans!" (the Hispanic people of Springfield later decided to use Krusty's prejudice against himself by beating him while he is packed into a piñata, despite Krusty protesting that this only reinforces stereotypes, one of the Hispanic guys clarifies that he is not Mexican, he is from Costa Rica). Chief Wiggum tells Homer that there was a domestic disturbance at his house last night, which was reported by Ned Flanders. Homer instantly receives a flashback to the night before showing Wiggum questioning Marge about a black eye she had received, to which Marge nervously replies that she walked into a door.
A still confused Homer goes home, where a picture of Marge causes a flashback of her pleading Homer to stop, and then rubbing her eye in pain. Horrified, Homer goes to Grampa Simpson for help. Grampa tells Homer about Professor Frink's new machine that helps people sort through their memories. With the help of this technology, Homer sees himself walking in on Marge and Duffman in an allegedly compromising position. In the flashback, Marge tells Homer that she did not want him to find out about it, and Homer assumes that Marge was cheating on him and that Homer beat his wife as payback. Homer now considers his life to be worthless and decides to commit suicide by jumping off a bridge. He begins to reconsider, but is pushed off by his "guardian angels," Patty and Selma. While falling, Homer's life flashes before his eyes in the form of the YouTube video, "Noah Takes a Photo of Himself Every Day for 6 Years." He then sees the full memory of the preceding night: Marge was planning a surprise party for Homer finishing his community service, and did not want Homer to find out about it. Duffman, who was hired by Marge to entertain at the party, brings out a bottle of Duff Champagne. Overjoyed, Homer tries to open the bottle, while Marge pleads with Homer to stop, as she wants to save it for the party. The cork flies off and hits Marge in the eye. The flashback ends and, instead of falling to his death, Homer lands on a moonbounce, which is at the surprise party on board a ship.
When Homer asks Marge why she lied to Chief Wiggum, she claims that she did not want him at the party, because he would bring Sarah Wiggum, whom Marge does not like. Lenny and Carl appear and cause a flashback which shows Homer telling his bar buddies that he felt very guilty for finding out about the party that Marge worked so hard on. When Moe offers the Forget-Me-Shot (which Moe spat in), Homer predicts exactly what is going to happen, and tells Lenny to make sure there is a moon bounce at the party. Finally, it is revealed that the dog attacked Homer because he does not take care of him.
THE FIGHT BEFORE CHRISTMAS
Guest Stars
Katy Perry (The Smurfs)
Martha Stewart (2 Broke Girls)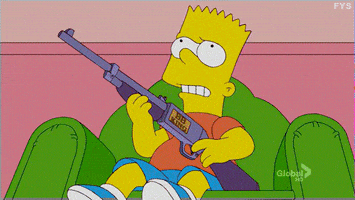 The structure of the episode is similar to the structure of the Treehouse of Horror episodes, only that it is divided in four stories instead of three.
Bart's Story
Bart stays up late on Christmas Eve to kill Santa Claus for not bringing him a dirt bike three Christmases ago. He eventually falls asleep and dreams that the Polar Express, driven by Otto Mann, lands in front of the house and flies him to the North Pole. Bart meets Santa (Krusty the Clown) only to find out that he has run out of money, since giving out presents in return for cookies every year is not a sustainable business model. Feeling pity, Bart decides that Santa no longer has to give him a dirt bike and leaves. As soon as Bart has left, Santa's office suddenly reverts to a much more luxurious appearance, and Santa, revealing that his operation is far more lucrative than he made it seem, chuckles to himself that kids are easy to fool.
Lisa's Story
 Lisa dreams that it is December 1944 and that Marge is a soldier in World War II. Due to Marge being taken suddenly for overseas deployment while buying a Christmas tree the previous year, Lisa has sworn to never see another Christmas tree until Marge returns home safely. However, during Christmas of 1944, the family gets a telegram saying that Marge is missing in action. After hearing the news, Lisa runs away to the place where she had last seen her mother, the Christmas Tree Farm. The owner of the place says that Marge paid for a tree the previous year but never picked it up. Lisa, believing the tree to be a symbol that Marge is alright, takes it home and decorates it together with Homer and Bart. Marge is then seen assassinating Adolf Hitler with an MP40 in a movie theater in France as he watches a propaganda film. When she walks away from the scene, the theater explodes behind her.
Marge's Story
Maggie's Story
 HOLIDAYS OF FUTURE PASSED
After stuffing themselves with turkey on Thanksgiving, it is time to take the annual Christmas card family photo, and when Bart and Lisa complain about it, Marge notes that they will grow to appreciate the photos when they become older and have children of their own. Lisa questions why Marge would assume they will even have children in the first place, and the episode jumps thirty years into the future via a series of Simpsons Christmas cards. The photos finally settle on a future where Bart is a jobless, divorced dad with two sons whom he does not see often; Lisa is a successful businesswoman who is married to Milhouse and has a rebellious daughter named Zia; and Maggie is the lead singer of a famous band and in the late stages of pregnancy. In his apartment, Bart is visited by his sons, who inform him that their mother Jenda teleported them to his place because she wants him to act like a proper father by having him spend time with them. However, he plans on dropping them off at his parents' house instead. Meanwhile, Lisa fears that Zia is spending too much of her time going into the "Ultranet", a digital world that people enter with their consciousness by plugging themselves into a laptop. Milhouse suggests to Lisa that she spend time with Zia in order for them to have a better connection, so Lisa decides to take Zia to her parents' house. Meanwhile, Maggie flies home from London to Springfield to celebrate Christmas with her parents.
When Bart and Lisa arrive at their parents' home, they stay there with their children. Unfortunately for Lisa, she only gets unhelpful advice from Marge on how to be a better parent, while Zia continues to go into the Ultranet. A furious Lisa ignores it and accuses Marge of being a bad parent. She tells her belief that it's the parents right to butt in their children's lives regardless. Marge gets mad at Lisa for her accusations and their conflicting styles of parenting causes a rift in their relationship. Meanwhile, Bart is heartbroken to find out that Jenda has remarried while he has not found anyone new. Feeling depressed, he tells Homer to take his grandsons out. The boys become angry with their father for not spending time with them, but the two have a great time with their grandfather. Bart and Lisa then encounter each other in their old treehouse, where they become slightly drunk and talk about how difficult parenting is. Lisa admitted she had an affair with Nelson a couple of times when Milhouse was away. After exchanging inspirational advice, they realize that they need to try harder to connect with their children. Lisa comes into Marge's room to apologize for her earlier behavior that made both of them get angry with each other. Marge understands how stressed out Lisa's been with a lack of communication she has with Zia and finally offers her some helpful advice. Meanwhile, upon arriving in Springfield, Maggie starts experiencing contractions and Kearney, now a taxi driver, drives her to the hospital.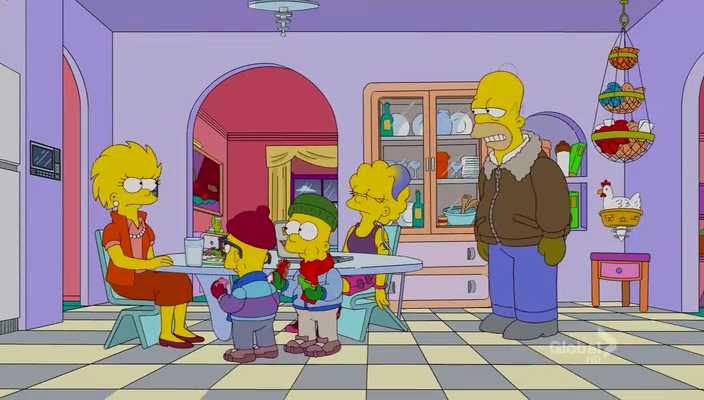 Homer takes Bart's sons to a cryonics facility where Grampa has been frozen alive to prevent a disease from killing him. Although a cure has now been discovered, he is kept frozen by Homer because it is cheaper than paying for a nursing home and because Grampa has constantly been rude to him. Homer says to the boys that they should give their father another chance, since he knows Bart loves them. At that point, Bart arrives and apologizes to his sons, admitting how much he treasures them. Touched, the two boys forgive him for not having included them in his life much, while an inspired Homer decides to unfreeze Grampa and forgive him as well. Meanwhile, Lisa goes into the Ultranet to find Zia and discovers a door leading into Zia's private world. Entering it, Lisa is overjoyed to find that Zia has hung a poster of her next to a series of posters depicting historical women who have made a difference in the world. When Zia arrives, Lisa thanks her for looking up to her and the two reconcile at last, and secretly hides her life as a party poser. With the conflicts resolved, Bart and Lisa gather their children in preparation for a new Christmas family photo. Marge arrives with Maggie, who has given birth to a baby girl. The Simpsons gather into a group just as the family pets (who have evolved greatly over the past thirty years) take the new photo.
WHITE CHRISTMAS BLUES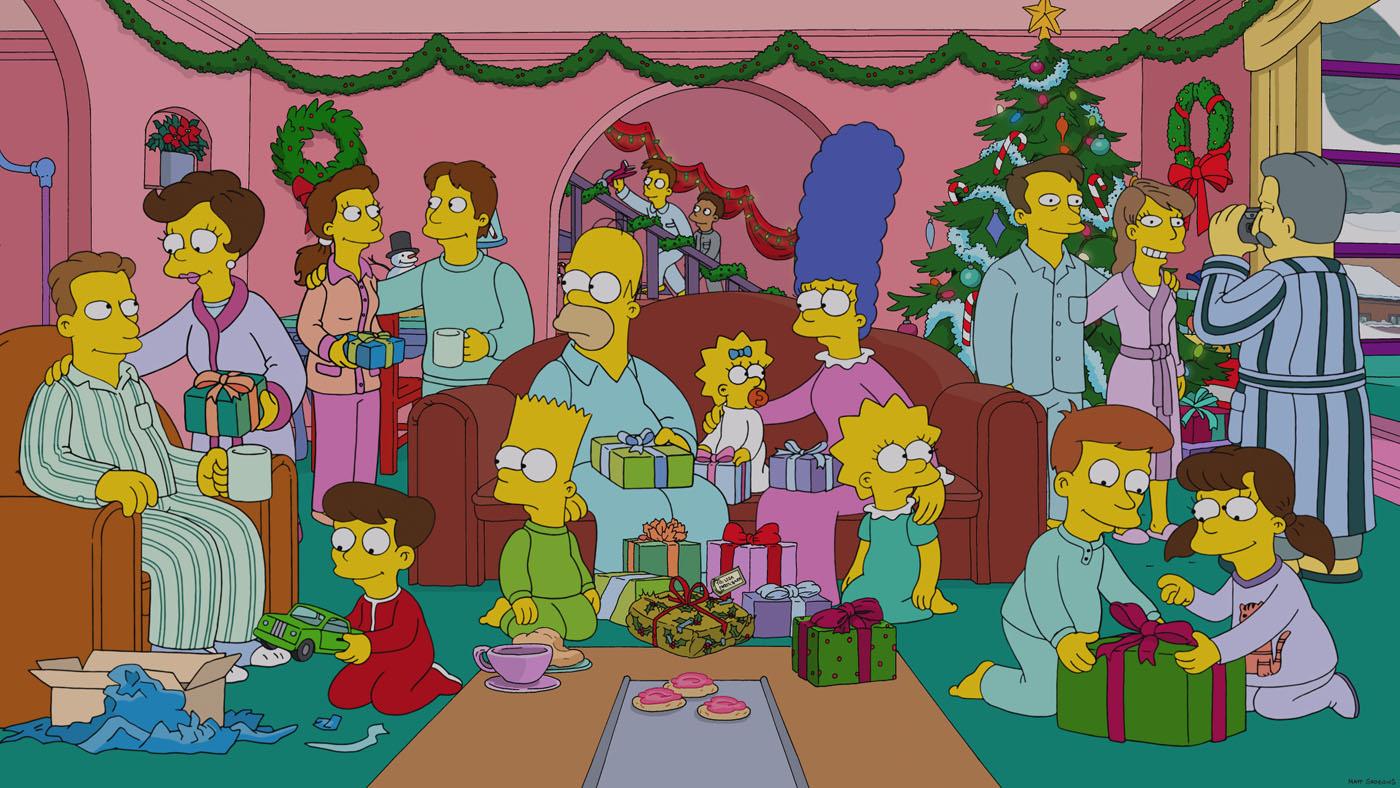 As Marge scolds Homer for hanging up the house's Christmas decorations before taking down the ones for Halloween, a bored Bart and Lisa watch a television news broadcast in which Kent Brockman announces that all of America will have no snow at Christmas due to global warming. Soon, however, snow does begin to fall in Springfield; Professor Frink explains that due to the combination of radioactive steam from the nuclear power plant and airborne particulates from the city's tire fire, it is the only location in America with snow. Mayor Quimby declares the town a tourist attraction, and the residents quickly get into the holiday spirit as out-of-town travelers quickly converge on Springfield.
Overwhelmed by the sudden crowds at the Kwik-E-Mart, and seeing the money spent by the tourists, Marge begins to feel like a failure since she cannot afford to spend lavishly on her family. As she returns to the house, a family drives past and offers to pay $300 per night to stay there. She hesitantly accepts the offer; Homer is surprised to find this other family in the house, but Marge explains the situation and persuades him to turn the house into a bed-and-breakfast for the duration of the holiday season. They take in more guests as Christmas approaches, but Marge becomes irritated at their constant requests and complaints over shoddy service and activities. On Christmas Day, Marge finds the guests gathered in the living room and thinks they are going to confront her, but instead they surprise her by singing Christmas carols.
Meanwhile, Lisa buys gifts for the family that are intended to make her feel good about herself – such as a bag of radish seeds for Homer, and a book for Bart – rather than to be something the recipients can use. She is appalled to find Bart burning the book soon afterward, but their argument leads her to see that her gift-giving effort was misguided. She sells the gift Bart gave her and buys him a tablet pre-loaded with books and apps he can enjoy, and he gives her some money to donate to charity.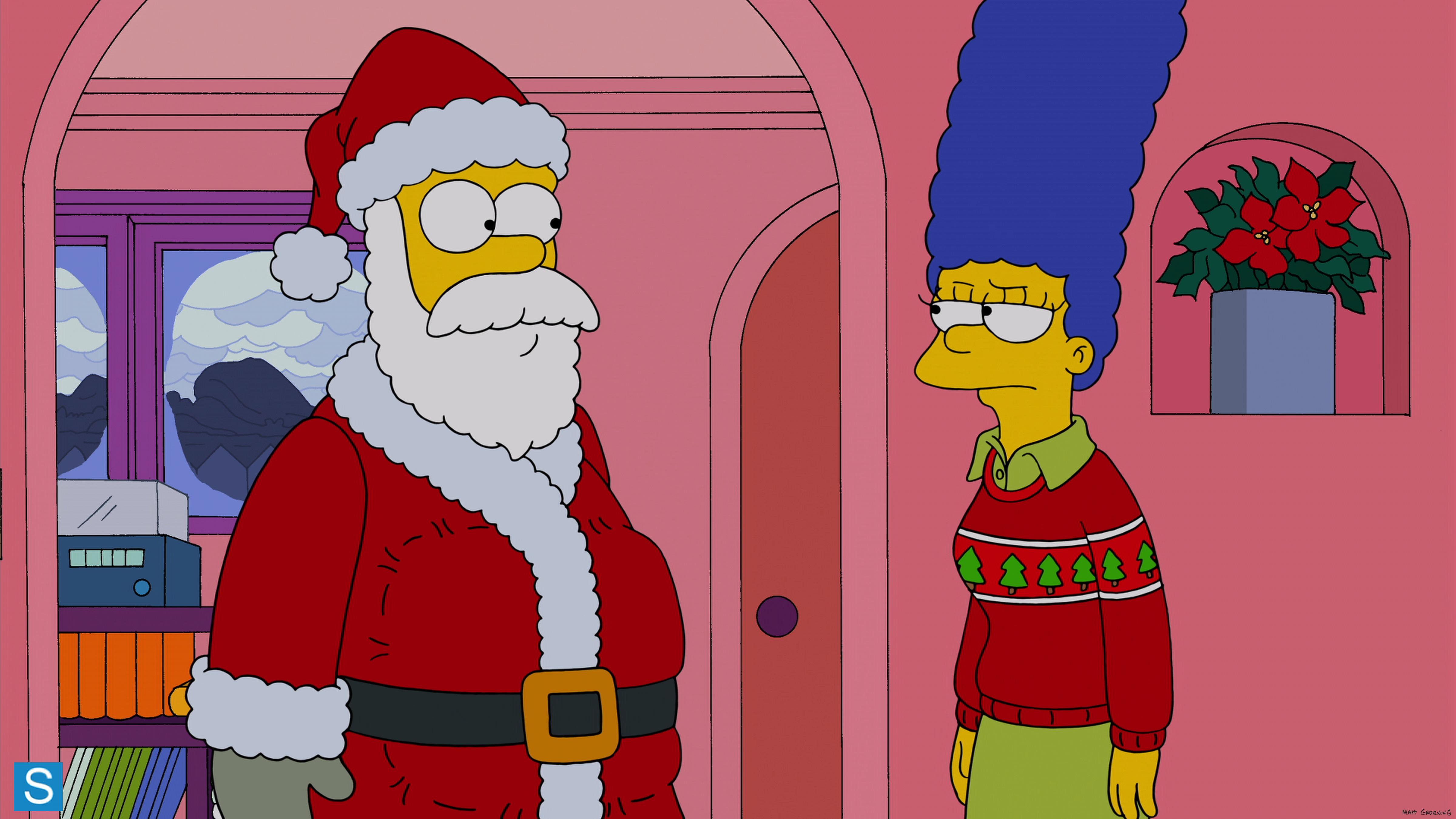 I WON'T BE HOME THIS CHRISTMAS
The episode begins with Comic Book Guy and Kumiko Albertson watching the Cosmic Wars Special, with CBG expressing shock and outrage that the special actually gets worse the more he watches it, and Kumiko stating he has every right to be angry.
Homer plans to fulfill Marge's wishes by leaving work on time and arriving home to celebrate Christmas with his family. However, he stops on the way home for a drink at Moe's, and when he says it's time for him to get home Moe convinces him to stay out all night on Christmas Eve at his bar when Moe admits to being lonely and depressed. Homer loses track of time and when he finally gets home, Marge is enraged at him and kicks him out, saying she does not want him in the house on Christmas. Homer then leaves on an odyssey through a deserted and chilly Springfield, with Moe compounding his sadness by avoiding him when Homer shows up to try and talk to him (and to add insult to injury, Homer's car gets towed with his cell phone frozen inside it). Meanwhile, Marge becomes depressed without Homer, but tells Bart and Lisa that she is disinclined to forgive him. At that point, Moe climbs down the 742 Evergreen Terrace chimney for some reason and tells Marge the truth about why Homer was out late on Christmas Eve. Marge immediately tries to call Homer, but as he lost his phone, she ends up going out to look for him. Homer ends up at the miserable local movie theatre to watch a depressing Life is Beautiful-type of film about other lost souls like Kirk Van Houten, the Crazy Cat Lady, and of course Gil.
After Marge searches through the city and Homer ends up at a depressing party for mall workers, they each have epiphanies: Homer says that being without his family at Christmas is much worse than being with them, and Marge says that she shouldn't always assume Homer is doing stupid things for no reasons. The two finally reconcile and look forward to a happy new year.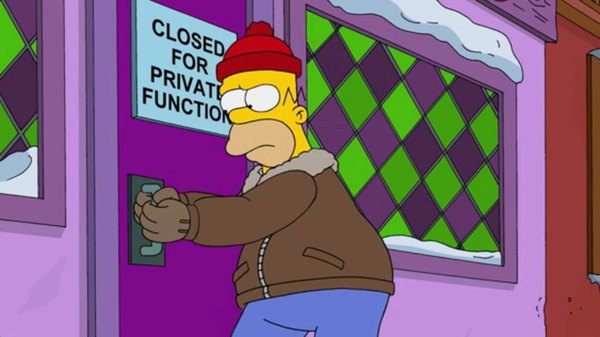 More seasons of The Simpsons means more Christmas episodes, this batch are all good in there own way, the best being the Fight Before Christmas where you meet to see Katy Perry interacting with puppet versions of the Simpsons. I won't be Home for Christmas is a heart warming tale. The Simpsons Christmas episodes are always good to watch around Xmas and with so many to watch you can have hours of fun.