MAIN CAST
Richard Dean Anderson (MacGyver)
Michael Shanks (Smallville)
Amanda Tapping (Sanctuary)
Christopher Judge (The Dark Knight Rises)
Don S. Davis (Andromeda)
Corin Nemec (Parker Lewis Can't Loose)
Ben Browder (Farscape)
Beau Bridges (My Name Is Earl)
Claudia Black (The Originals)
RECURRING / NOTABLE GUEST CAST
Jay Avocone (Beauty and The Beast 1989)
Vaitiare Bandera (Out of The Blue)
Peter Williams (Catwoman)
Brent Stait (Blade: The Series)
Gary Jones (Highlander: The Series)
Alexis Cruz (Dark Wolf)
Rachel Hayward (Jingle All The Way 2)
Colin Lawrence (X-Men 2)
Adam Harrington (The Secret Circle)
Kevin McNulty (Elektra)
Alan Rachins (Batman: TAS)
Jorge Vargas (Power Rangers Ninja Storm)
Soon-Tek Oh (Death Wish 4)
Cary-Hiroyuki Tagawa (Mortal Kombat Legacy)
Crystal Lowe (Poison Ivy 4)
Teryl Rothery (Arrow)
Steve Makaj (IT)
Roger Cross (First Wave)
William Russ (American History X)
Harley Jane Kozak (Santa Barbara)
Gabrielle Miller (Highlander: The Series)
Bobbie Phillips (Two Guys and a Girl)
Galyn Gorg (Robocop 2)
Tamsin Kelsey (Needful Things)
James Earl Jones (Star Wars)
Keene Curtis (Lois & Clark)
Elizabeth Hoffman (Sisters)
Paul McGillion (Stargate: Atlantis)
Tony Amendola (The Mask of Zorro)
Katie Stuart (She's The Man)
Tobin Bell (Boogeyman 2)
Ronny Cox (Robocop)
Douglas Arthurs (Act of War)
Bonnie Bartlett (Firefly)
Dwight Schultz (The A-Team)
Tobias Mehler (Wishmaster 3)
Peter Bryant (Dark Angel)
Chris Owens (Red)
Erick Avari (Heroes)
Tom McBeath (Bates Motel)
Sarah Douglas (Superman 2)
JR Bourne (Arrow)
Christina Cox (Earth: Final Conflict)
Matthew Walker (Highlander: The Series)
Eric Breker (X-Men Origins)
Marshall R. Teague (Armageddon)
Colin Cunningham (Elektra)
Carmen Argenziano (Identity)
Amber Rothwell (Andromeda)
Tom Butler (Blade: The Series)
Samantha Ferris (Along Came a Spider)
Mitchell Kosterman (Smallville)
Andrew Airlie (Final Destination 2)
Britt Irvin (V)
Ty Olsson (Izombie)
Sam J. Jones (Flash Gordon)
Dion Johnstone (The Core)
Megan Leitch (IT)
Jason Gray-Stanford (Bones)
William deVry (Earth: Final Conflict)
David Palffy (Blade: The Series)
Garwin Sanford (The Fly 2)
Kevin Durand (Dark Angel)
Terry Chen (Bates Motel)
Steve Bacic (Andromeda)
Anne Marie DeLuise (Smallville)
Rene Auberjonois (Star Trek: DS9)
Musetta Vander (Buffy)
Vanessa Angel (Puppet Master vs Demonic Toys)
Marina Sirtis (Star Trek: TNG)
Alessandro Juliani (Smallville)
Brian Markinson (Arrow)
Peter Wingfield (Highlander: The Series)
Willie Garson (White Collar)
Matthew Bennett (Battlestar Galactica)
Steven Williams (Jason Goes To Hell)
Anna-Louise Plowman (Shanghai Knights)
Paul Koslo (The Flash 90s)
Dion Luther (The Net: The Series)
Christopher Cousins (The Vampire Diaries)
Michelle Harrison (The Flash)
Elisabeth Rosen (House of The Dead)
Hrothgar Mathews (Deception)
Bill Dow (Legends of The Fall)
Sean Patrick Flanery (Raging Angels)
John de Lancie (Star Trek: TNG)
John Prosky (The Devil Inside)
Colleen Rennison (The Story of Us)
Jacqueline Samuda (The L Word)
Larry Drake (Firefly)
Garry Chalk (Dark Angel)
Bill Marchant (Chappie)
Michael Deluise (Lost)
Jill Teed (Arrow)
Courtenay J. Stevens (Beach)
Grace Park (Battlestar Galactica)
David Kopp (Blade: The Series)
Cliff Simon (Days of Our Lives)
Jennifer Calvert (Earthsea)
Obi Ndefo (Angel)
Rick Worthy (The Vampire Diaries)
Danielle Nicolet (3rd Rock From The Sun)
David Hewlett (Splice)
Aleks Paunovic (Mortal Kombat Legacy)
Aaron Douglas (Battlestar Galactica)
Dorian Harewood (Termiantor: TSCC)
Ona Grauer (V)
Blu Mankuma (Tin Man)
Michael Eklund (Arrow)
Dean Stockell (Quantum Leap)
Patrick Mckenna (Robocop: The Series)
John Billingsley (Cold Case)
Michael Adamthwaite (Tru Calling)
Peter Stebbings (Bates Motel)
Gwynyth Walsh (Taken)
George Wyner (Spaceballs)
Kendall Cross (X-Men 2)
Ian Buchanan (Justice League Unlimited)
Tahmoh Penikett (Dollhouse)
G. Patrick Currie (Smallville)
Francois Chau (Lost)
Sarah Deakins (Andromeda)
David Paetkau (Flashpoint)
John Novak (Wishmaster 3 & 4)
Thomas Kopache (Catch Me If You Can)
Michael Welch (All The Boys Love Mandy Lane)
David Richmond-Peck (V)
Christopher Heyerdahl (Sanctuary)
James Parks (Kill Bill)
Michael Rooker (Guardians of The Galaxy)
Kavan Smith (Sanctuary)
Jolene Blalock (Star Trek: Enterprise)
Christine Adams (Agents of SHIELD)
Emily Holmes (Dark Angel)
David Deluise (Vampires Suck)
Sebastian Spence (First Wave)
Saul Rubinek (Memory Run)
Adam Baldwin (Chuck)
Peter Flemming (Love Sick)
James McDaniel (Sleepy Hollow)
Jessica Steen (Armageddon)
William Devane (The Dark Knight Rises)
Torri Higginson (Highlander: The Raven)
Kira Clavell (Ninja Turtles: Next Mutation)
Alisen Down (Smallville)
David Kaufman (Superman: TAS)
Amy Sloan (The Aviator)
James Kidnie (Arrow)
Erica Durance (Smallville)
Derek Hamilton (Out Cold)
Charles Shaughnessy (Sabrina: TTW)
Barclay Hope (Paycheck)
Dan Castellaneta (The Simpsons)
Isaac Hayes (South Park)
Mel Harris (Thirtysomething)
Clare Carey (Hercules: TLJ)
Lexa Doig (Andromeda)
April Telek (Supernatural)
Julian Sands (Gotham)
Louis Gossett Jr (The Punisher 80s)
Maury Chaykin (Andromeda)
Sonya Salomaa (Watchmen)
William B. Davis (The X-Files)
Robert Picardo (Star Trek: Voyager)
Cameron Bright (Running Scared)
Tony Todd (The Flash)
Anna Galvin (Caprica)
William Atherton (Die Hard)
Reed Diamond (Dollhouse)
Ernie Hudson (Ghostbusters)
John Aylward (Alias)
Peter Shinkoda (Masked Rider)
Tamlyn Tomita (Highlander: The Series)
Tim Guinee (Iron Man)
Daniella Evangelista (Edgemont)
Michael Ironside (Total Recall)
John Noble (Sleepy Hollow)
Katharine Isabelle (Ginger Snaps)
Eric Steinberg (Terminator: TSCC)
Noah Danby (Bitten)
Jodelle Ferland (Kingdom Hospital)
Joe Flanigan (Thoughtcrimes)
Sarah Strange (Dark Angel)
David Nykl (Arrow)
Chuck Campbell (Jason X)
Keegan Connor Tracy (Bates Motel)
Corey Monteith (Glee)
Morena Baccarin (Gotham)
Rudolf Martin (Buffy)
Scott McNeil (Beast Wars)
Aisha Hinds (Cult)
Mike Dopud (X-Men: Days of Future Past)
Ron Canada (Wedding Crashers)
Craig Fairbrass (Termiantor: TSCC)
John Tench (Andromeda)
Fred Willard (Anchorman)
Jonathan Walker (Flash Gordon)
Most TV shows spun off from movies are uninvolving and uninteresting, and hopefully die and are forgotten.
That wasn't the case with the spinoff of the 1995 movie "Stargate," a science fiction movie that spawned an excellent television series, "Stargate SG-1." The first season is not nearly as brilliant as the ones that followed it, but it's a welcome change from distant space operas — excellent writing, acting, and a sense of humor about itself and its characters.
The Stargate has been inactive for a year — until it is activated, and a bunch of Egyptian-styled warriors come through and kidnap a young officer. General Hammond (Don S. Davis) pulls Jack O'Neill (Richard Dean Anderson) out of retirement to learn what really happened on the planet of Abydos, and where these mysterious aliens have come from. 
O'Neill and a small team go to Abydos and find Daniel Jackson (Michael Shanks) who has been learning about a vast network of Stargates over the past year. But when Daniel's wife Sha're and brother-in-law Skaara are abducted by the same warriors, O'Neill, Jackson and Air Force scientist Sam Carter (Amanda Tapping) use the Stargate to venture to where they're being kept. What they find is an alien race who inhabits human hosts, the Goa'uld, and their ruthless slave warriors, the Jaffa. Carter, O'Neill and Jackson are captured by the powerful Apophis — but to escape, they must have the help of an unlikely ally: Teal'c (Christopher Judge), Apophis' First Prime. Since Earth has now annoyed the Goa'uld, several exploration teams are formed to go through the Stargate and find weapons and allies.

And SG-1 — Carter, O'Neill, Jackson and Teal'c — encounters some very strange problems: a plague that turns people into savages, a people who live only a hundred days, a Viking planet, a Stargate explorer stranded since 1945, a little girl turned into a bomb, the seductive Goa'uld queen Hathor, and coming back as robots. And when the military shuts down the SG program, Daniel reveals that the Earth is about to be destroyed by Apophis' armies. The first season of "Stargate SG-1" isn't the most impressive, though the last three episodes hint at the series' future greatness. And thankfully, it drops the usual space opera stuff — instead we get Stargates, real military, and a very plausible reason why everybody in the galaxy (more or less) looks just like us. It's graced with kitschy Egyptian-styled sets, lots of shoot-em-up action from Marines and Air Force, and plenty of planets influenced by Earth cultures, like the Minoans and the Vikings. Best of all is the snappy dialogue, mostly from the tart-tongued O'Neill.
When we last left Our Heroes, they were on Apophis' ship, facing the impending destruction and/or enslavement of everyone on Earth.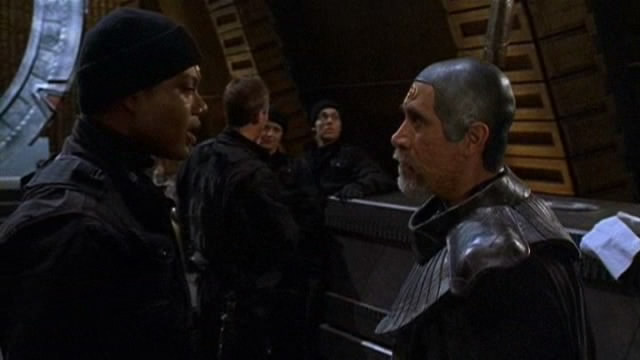 So unsurprisingly, the second season of "Stargate SG-1" can only get better from there on. In fact, this is when the clever, innovative sci-fi series really started to gel together, with more intriguing storylines, character arcs, and some new alien allies — basically, it all blooms.

Intending to blow up Apophis' ship, our heroes get captured by the Jaffa and thrown in a cell — only to be unexpectedly rescued by Bra'tac (Tony Amendola), Teal'c's old teacher. As Earth mounts a pitiful defense against the Goa'uld, SG-1 joins with a small band of rebel Jaffa to stop Apophis' invasion — but they may have to leave one of their number behind.

Obviously the Goa'uld make things awkward throughout the season, with the second episode featuring Sam (Amanda Tapping) being possessed by a Goa'uld during a rescue mission — but it seems that it's part of a rebel Goa'uld faction called the Tok'ra. Teal'c's (Christopher Judge) son is kidnapped and brainwashed, and Daniel (Michael Shanks) finds that his beloved wife is pregnant with Apophis' child.

And of course, SG-1 has to deal with lots of other stuff — insectile transformations, black holes, prison planets, Native American "spirits," invisible bugs, hostile alien orbs, reliving their most traumatic memories in a VR world, and time traveling to 1969. And O'Neill (Richard Dean Anderson) gets an ancient repository of knowledge downloaded into his head — and he'll die if they can't reverse it.

"Stargate SG-1" really got into its stride in the second season — the basic Air-Force-versus-evil-headsnakes story gets expanded out into a bunch of arcs. We get new villains, some surprising new allies, hints about the true origins of the Stargates and the human race, and corrupt factions on Earth who use the spare Stargate for evil ends.
The writing gets even steadier and the alien worlds more interesting — even stuff that sounds goofy, like the planet of singing mushroom-people, somehow works. The drama is stronger, and the sci-fi usage of the Stargate ever more creative, such as when a black hole's gravity well keeps the gate open, and is slowly sucking Earth through the wormhole.  Of course, all the action and sci-fi is heavily tempered with comedy. Even in grim situations, there's usually at least a few funny moments, such as Daniel's tour of the custodial closet. And of course, the dialogue is priceless — most of the good stuff comes from O'Neill, but Teal'c and the others usually get some good ones as well. Of the main cast, Amanda Tapping gets the juiciest role in this season — Sam deals with the impending death of her father, becoming a Goa'uld host, and trying to deal with the feelings it left behind. Including a Tok'ra boyfriend. Yet when we see Sam's vulnerable sides, Tapping never lets her character be anything but a strong, capable military woman.


But the other actors aren't neglected — Shanks' Daniel grapples with the news that his wife is pregnant with Apophis' baby, while Teal'c faces losing his entire family. Anderson is brilliant as the quirky, capable O'Neill, but he really gets brilliant when Jack's brain is being overwritten — he has to emote and communicate without a comprehensible word. The second season of "Stargate SG-1" is where the story began to really get great, building up a series of strong story arcs, funny dialogue, and strong characters.
Many people believe that subsequent seasons of Stargate: SG1 get progressively better. So far, no arguement from me. Season 1 was good, 2 was better, and  season 3 is even better. Col. Jack O'Neill (Richard Dean Anderson), and his SG1 team of the now Maj. Samantha Carter (Amanda Tapping), Dr. Daniel Jackson (Michael Shanks), and Teal'c (Christopher Judge) continued their adventures through the Stargate to various old and new planets. The team, as well as the SGC in general, were tested in many more ways than ever thought possible. The team went to "Hell" in order to save Sam's dad, who is still a member of the Tok'Ra resistance, Daniel suffered a major loss, and O'Neill was blended, albeit briefly, with a Goa'uld. One of the reasons that I personally liked this year was that many of last year's conflicts were resolved (Lenea, Destroyer of Worlds), which made room for new plotlines (the Replicators), as well as continuing old ones (the search for the Harsesis child).
This is also the season when SG1 truly realizes that they truly have allies in their fight against the Goa'uld; the Asgard helped form a treaty between Earth and the Goa'uld, the Tok'Ra continue to offer their assistance and wisdom, the Nox have begun to reestablish contact with the SGC, and the Tollan.

Other good episodes include "Into the Fire", "Fair Game", "Legacy", "Learning Curve", "Point of View", "Past and Present", "Jolinar's Memories", "The Devil You Know", "Foothold", "Urgo", "Shades of Grey", "New Ground", and "Nemesis". Judging by the increase in quality each season.
he Replicators. The Russians. The Aschen. These are only a few of the new enemies presented this year, in Stargate: SG-1 (okay, so technically, the Replicators were introduced last year). These new baddies made a lot of trouble this year for the SGC in what is definitely the best season yet. We learn more about the Replicators this year when Sam (Amanda Tapping) is brought to an Asgard-controlled planet to help defend the O'Neill, the Asgard's newest and most advanced ship ever. Also, the Russians retrieve the Giza gate from the bottom of the ocean from when Thor's ship, the Beliskner, crashed, while the SGC is now using the Antarctica gate. And, 10 years in the future, an advanced race, known as the Aschen, are quietly wiping out the human race by making humans infertile.

These are just a handful of the amazing new stories that occurred this year. It seems that Col. O'Neill (Richard Dean Anderson), Maj. Carter, Dr. Jackson (Michael Shanks), and Teal'c (Christopher Judge) can never catch a break. This year, not only have their alien enemies become more powerful than ever, especially Apophis (Peter Williams), their enemies on Earth have truly become a threat. Senator Kinsey (Ronny Cox), the man who tried to shut down the SGC in Season 1, has been linked to the rogue sector of the NID, the civillian organization responsible for the theft of numerous alien technologies over the last few years.

The stories this year are better than ever, especially with an increasing number of arcs occurring. Episodes like "Crossroads" and "The Serpent's Venom" were expertly executed, and had immense emotional effects on our heroes. However, I have to praise the stand-alones this year, especially "Window of Opportunity" and "The Other Side", which have never been better.
Some other great episodes are: "Small Victories", "Upgrades", "Watergate", "Point of No Return", "Tangent", "The Curse", "Chain Reaction", "2010", "Absolute Power", "Double Jeopardy", and "Exodus".
The year began with a cool premiere, "Enemies",  There were some amazing story developments this year, beginning with the final demise of Apophis (Peter Williams), the Goa'uld System Lord who has been making life difficult for the SGC ever since the first season. Next, the Tollan, an extremely advanced race of humans who are allied with Earth, begin acting suspiciously, the SGC begins recruiting new officers, the motives of the Aschen from last season are revealed, the Tok'Ra are nearly destroyed, and the Jaffa rebellion begins to truly become a problem for the System Lords.
And then, Daniel is brought to a System Lord summit where he has the chance to wipe out the Goa'uld threat forever, that is until he learns of the return of Anubis, an ancient System Lord who was banished for his horrific crimes. Also, we finally learn the origins of the Replicators. Finally, SG-1 must endure a change that they never thought would happen in the episode "Meridian", and then, Anubis and Osirus (Anna-Louise Plowman) reveal plans to attack the Asgard.

This is a very important season, good episodes include: "Enemies", "Threshold", "Between Two Fires", "2001", "Wormhole X-Treme", "Proving Ground", "Summit", "Last Stand", "The Warrior", "Menace", "Meridian", and "Revelations".
The season begins with SG-1 still trying to find a fourth man. Ever since the death/ascension of Daniel Jackson (Michael Shanks), they have been unable to find a suitable replacement. Refugee Jonas Quinn (Corinn Nemec) has expressed a desire to join, but Col. O'Neill (Richard Dean Anderson) never seemed to warm up to the idea. Also, Anubis (David Paffly) has found a machine created by the Ancients that uses one stargate to destroy another, and he used it to attempt to destroy Earth.
Using the new X-302, a craft capable of aerial combat and intersellar travel, O'Neill successfully avoids disaster, but the Antarctica gate is destroyed. After that, we don't see Anubis for a while, but the threat of his powers is always hanging over the heads of the SGC.

With Jonas as the new member of SG-1, the team embarks on another year of amazing missions. This year, we see the end of the exiled System Lord Niirti, known for her attempts to create a superior human host through genetic experimentation, we are introduced to some technology of the Furlings, one of the members of the intergalactic UN group who rallied against the goa'uld, Earth's first interstellar capital ship, Prometheus is unvailed, the Replicator threat is ended, and, in one of my favorite episodes, Gen. Hammond (Don S. Davis) discloses the existence of the SGC to representitives of the UK, France, and China.

Some great episodes include "Redemption Pts. 1 and 2", "Descent", "Nightwalkers", "Abyss", "Shadow Play", "Allegiance", "Prometheus", "Unnatural Selection", "Smoke and Mirrors", "Disclosure", "The Changeling", and "Full Circle", the best episode of the season.
That is the season when Daniel Jackson (Michael Shanks) returns from being an ascended being, albeit on an alien world without his memory ("Fallen"). This required getting rid of Jonas Quinn (Corin Nemec) to get the old gang back together again, which happens when Anubis download Jonas' memory and the Goa'uld attack Kelowna ("Homecoming"). Wisely, this is not the last appearance of Jonas for the season ("Fallout") as he becomes another one of recurring guest characters that are a major strength of the series.
There are several Daniel Jackson stories that make a point of giving the actor interesting things to do, such as "Lifeboat," where his mind becomes a resting place for a bunch of alien minds, "Enemy Mine," which requires Jackson to show diplomatic skills, and big time flashbacks in "Chimera," to before Daniel first saw the Stargate.


Overall, Season 7 is really Samantha Carter's season and Amanda Tapping has several episodes where she pretty much goes it alone. "Space Race" has her joining an alien pilot for a little intergalactic competition, while "Death Knell" finds Carter being hunted by the supers soldiers of Anubis after an attack on Earth's secret off-world base. In "Grace" Carter literally ends up alone when the Prometheus is attacked and she wakes up to find herself the only one on a ship drifting in deep space. The other characters show up as the angels of her better nature, which is the only way that Sam and Jack are ever going to have an honest conversation.


The whole Anubis/Lost City bit ends up being equal parts time to beat another bigger and badder system lord and find a fitting end point for the series that can also work as a transition to the spinoff.
Stargate has retained a massive level of consistency over the years, staying at the same level of quality, if not getting even a little bit better: it has always retained the humor, the characterization and the excitement and the action that has made it so loved.
Since season seven, there has been more of a focus on characterization and a tad bit more humor: and i for one welcome this, as the characters have always been the best aspect of the show: season eight continues this trend, and also the trend of even better quality than ever before!
Highlights include the opening two parter: New order Parts one and Two which is very exciting with plenty of plot twists. Affinity is another highlight for me as it is an episode with very little action, it is a mystery with a huge focus on characterization and intrigue, and manages to be very intriguing, with, again, some brilliant little character moments. Prometheus unbound is a highlight.
Reckoning parts one and two are possibly the best episodes of stargate ever made; they wrap up most of the major storylines, bringing the end to both the main enemies in the show, and are impossibly epic: there is so much going on, so much peril and a sense of doom, that you are kept on the edge of your seat the whole time, with some humour thrown in for good measure.
Avalon, Part 1 is a great season opener, introduces  new kid on the block Ben Browder,  as the season progresses the character is definitely fleshed out more and he soon fits in nicely with the tightly-knit S.G.1 team.
However, the bottom line is that this is still a character who bares a striking similarity in disposition to Browder's other well-known TV personality- Farscape's John Crichton- with that same irreverent humor and easy-going attitude, but it's a style that clearly works for Browder and it's difficult not to find that likable. Beau Bridges' introduction is made with equally good fanfare, his character is one who I found myself liking more readily- he approaches the role of the General of the base differently to Don S. Davis, with more of an every man approach, although he never hesitates to exert the full force of his office against unfriendly aliens, or humans when required.
Largely thanks to the development of this season's main story-arc with the introduction of God-wannabes the Ori and their powerful minions known as Priors, this ninth season becomes surprisingly mesmerising in very short order. Beginning with the concluding part and then into episode 3- `Origin', this season soon establishes itself as one of the best `Stargate: S.G.1′ offerings in years. The use of Arthurian legend in this season is spread pretty thickly in the beginning and had me worried that this fantasy element might not work in a predominantly science-fiction-oriented series, but very soon the parallels the writers draw between the Arthurian myth and the familiar Stargate set-up, become very inventive and come to work surprisingly well at contrasting against the new and growing force of evil spreading through the galaxy. In the first five episodes that other recognizable `Farscape' regular Claudia Black and her seductively disobedient alter-ego Vala are another reason to be enchanted by this season. Vala brings such humor and life to the series that I was really disappointed when she parted company with S.G.1, despite the welcome return of Sam Carter following her brief career change. Thankfully Vala returns towards the end of the season and here's hoping it's not the last we see of her.
This season's other major success is in its stand-alone stories that continue to present unique, punchy and creative sci-fi ideas to its audience. In particular episode 9- `Prototype' and episode 13- `Ripple Effect' are a couple of my favourites, the first of which concerns the discovery of a prodigy of Anubis frozen on a distant planet and the second has multiple S.G.1 teams pouring through the Stargate from diverse alternate realities , both of which had me glued to my seat.
Largely thanks to Vala (Claudia Black) who's as charming as she is side-splittingly, ingeniously, flirtatiously funny and who now becomes a credited member of the main cast, season ten gets off to a brilliant start  as the action picks up right where the previous season left-off with episode 1- Flesh and Blood and doesn't decrease in pace.
It explores the continued threat of the Ori and their ever-increasing capture and control of worlds unable to mount any effective resistance against such a seemingly omnipotent foe. Episode 3- The Pegasus Project  is also very gripping with a finale that's both surprising and tantalizing.
episodes 10- The Quest, Part I and 11- The Quest, Part II both of which work well in continuing SG-1's discovery & unravelling of Arthurian-inspired mysteries surrounding their search for a weapon capable of destroying their enemy. Episode 14- The Shroud  sees Daniel in a unique position to deal a crippling blow to the Ori, which is also solid.
while episode 20- Unending is a wonderful episode- with a story that's not just dramatic, but explores sides to the main characters never seen before, it ends the season with so much unresolved that it's difficult to appreciate this tenth season as it should be appreciated as the final outing of SG-1. Obviously a great deal has been withheld to be used in the TV movie The Ark of Truth.