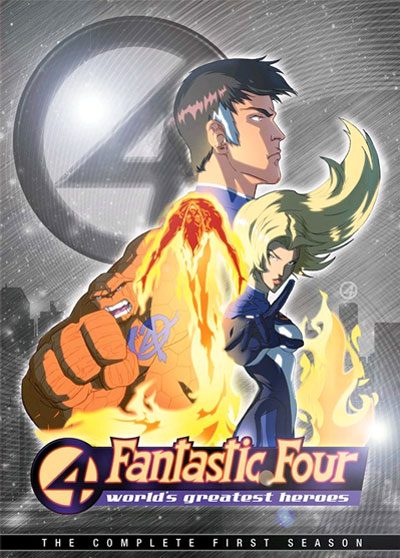 MAIN CAST
Hiro Kanagawa (Heroes Reborn)
Lara Gilcrhsit (Defying Gravity)
Christopher Jacot (Mutant X)
Brian Dobson (Dragon Ball Z)
Samuel Vincent (Totally Spies!)
Paul Dobson (Transformers: Armada)
Sunita Prasad (Bates Motel)
RECURRING / NOTABLE GUEST STARS
Mark Acheson (Elf)
Michael Adamthwaite (Stargate SG.1)
Andrew Kavadas (Ninja Turtles: Next Mutation)
Venus Terzo (Arrow0
Lee Tockar (Beast Wars)
John Novak (Wishmaster 3 & 4)
This series, which started in September of 2006, features the four core characters of the series: Reed Richards (a.k.a. Mister Fantastic, a scientist whose body can stretch like rubber and the brains behind the operation), his girlfriend Susan Storm (a.k.a. The Invisible Woman), her younger brother Johnny Storm (a.k.a. The Human Torch), and of course, Benjamin Grimm (better known as the ever lovin' blue eyed Thing), a rock encrusted strong man. These four live inside the mammoth Baxter Building in the middle of Manhattan where they also have their base of operations and a wide array of technical gadgetry courtesy of Richards' incessant inventing. They use their powers for good, to protect the people of not only New York but of the world against many different antagonists, specifically their arch-enemy, Doctor Doom.
Marvel, in conjunction with Moonstone Animation, has done a very good job with this series. While the animation is obviously very influenced by Japanese manga and anime, the show is very much in the spirit of the early Lee/Kirby comic book masterpieces and it turns out to be a lot of fun. The fact that the Fantastic Four do more than just square off against Doctor Doom each week leads to encounters with familiar villains such as The Mole Man, The Puppet Master, and even the Super Skrull! Guest appearances from instantly recognizable heroes such as The Hulk, Prince Namor The Submariner, and Iron Man add to the fun but what makes this series work is the way that the writers have nailed the team dynamic so important to the comic book's success. The stories may be a little simple by some standards and you could make the argument that they're geared towards a young audience than they maybe need to be but they really are in keeping with the early episodes of the comic books that inspired them and for that reason they turn out to be quite enjoyable doses of action and escapism.
As mentioned, the animation has been inspired by Japanese culture and so the characters don't always look as Kirby-esqe as purists will probably want them to. Likewise, some of the CGI used in the backgrounds doesn't blend as flawlessly as it could. That said, Kirby's sense of grandeur and design is apparent throughout the series in the gadgets, the villains, and many of the backgrounds in the series. The voice actors suit the characters well with Brian Dobson as The Thing really standing out/p>

Ultimately this material isn't going to blow your mind. It isn't deep or particularly Earth shattering in any way but it does feel in tune with the source material and as far as superfluous bits of animated entertainment go, it's just a lot of fun.