CAST
Ophelia Lovibond (Guardians of The Galaxy)
Shanika Warren-Markland (Adulthood)
Emma Roberts (Scream Queens)
Tamsin Egerton (Grimsby)
Adam Deacon (Ali G Indahouse)
Ashley Thomas (24: Legacy)
Steven Cree (John Carter)
Sean Pertwee (Gotham)
Noel Clarke (Star Trek Into Darkness)
Michelle Ryan (Bionic Woman)
Kevin Smith (Dogma)
Mandy Patinkin (Dead Like Me)
Eve (XXX)
Alexander Siddig (Game of Thrones)
4.3.2.1 technically stands for 4 girls. 3 days. 2 cities. 1 chance. Yeah, that's a bit off, but it sort of works in context. The primaries include: Joanne (Emma Roberts), Shannon (Ophelia Lovibond), Cassandra (Tamsin Egerton), and Kerrys (Shanika Warren-Markland). They're four girlfriends from all walks of life ranging from working class to the filthy rich, but are bonded together by love. They're best mates.
The gist of the story is that as they carry on with their lives they end up getting mixed up in a botched jewelry heist gone haywire. One of the thieves hides the diamonds in of the unsuspecting girls' bags and hell ensues shortly after. It's pretty straightforward but in a bit of a clichéd daze we are made to watch as each girl's story arc is divided by four interweaving storylines that will ultimately join up at the end.


I was with the film all the way through due to really liking the main cast of girls with some very cool cameos sprinkled in throughout the film, which I will try to name if I can. We've got a very funny cameo by Kevin Smith (very self-deprecating, but funny), Eve (yes, the singer), Mandy Patinkin, Alexander Siddig (he steals the show with his bit part), Noel Clarke (Dr. Who, Kidulthood) & Adam Deacon (Anuvahood).

What I think works and makes for an enjoyable piece of entertainment isn't necessarily that all four of our sexy protagonists are drop-dead gorgeous. It's that they can handle themselves like badasses. They really do bring the beat downs on scumbags that deserve it. Not only that, but they're fairly street-smart, savvy, independent, and don't take crap from either sex.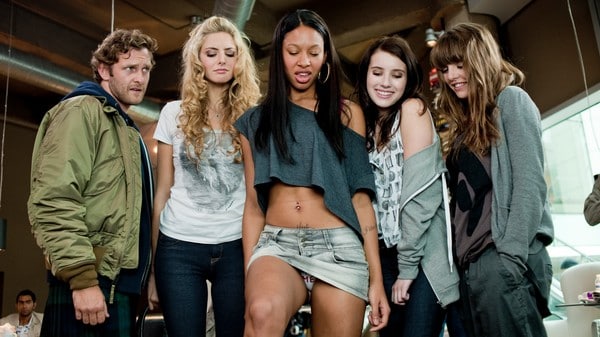 4.3.2.1 is a fun and sexy romp-caper that should be experienced at least once. Give it a go.