MAIN CAST
Johnny Galecki (Hancock)
Jim parsons (Garden State)
Kaley Cuoco (Killer Movie)
Simon Helberg (Dr. Horrible)
Kunal Nayyar (Trolls)
Kevin Sussman (Ugly Betty)
Melissa Rauch (I Love You, Man)
Mayim Bialik (Blossom)
Laura Spencer (Bones)


RECURRING / NOTABLE GUEST CAST
Laurie Metcalf (3rd Rock From The Sun)
Melissa Tang (Mom)
Keith Carradine (The Duelists)
John Ross Bowie (The Heat)
Michael Rapaport (My Name Is Earl)
Wil Wheaton (Powers)
Stephen Merchant (The Office)
Analeigh Tipton (Warm Bodies)
Elon Misk (Machete Kills)
Bob Newhart (Elf)
Jane Kaczmarek (Malcolm In The Middle)
Alessandra Torresani (Caprica)
Chrstine Baranski (Into The Woods)
Sara Gilbert (Poison Ivy)
Adam West (60s Batman)
Stephen Hawking (Futurama)
Brian Smith (Caller ID)
Judd Hirsch (Independence Day)
In a TV landscape where lasting success is incredibly difficult to come by, The Big Bang Theory has defied all odds and managed to survive for a full nine seasons (with at least one more yet to come). In terms of ratings, the show is as popular and successful as ever. Season 9 took some interesting gambles that helped shake up the familiar formula. The fallout of Season 8 necessitated a few major changes when the show returned last fall. For one thing, Sheldon (Jim Parsons) was coping with being dumped by long-time girlfriend Amy (Mayim Bialik) even as he was on the verge of proposing to her. Meanwhile, Leonard (Johnny Galecki) and Penny (Kaley Cuoco) were still determined to carry out their impulsive Vegas wedding despite Leonard admitting to a drunken faux pas during his extended absence months before. Both of those storylines set the tone for the first few months of the season.
Sheldon is the biggest change. He's gotten a lot more human. That actually makes sense because he's been surrounded by social people for 8 plus years now. Even Sheldon would have had to pick up a thing or two. And as much as I love the season 1 Sheldon, that act would have gotten completely old by now had his character not expanded a little. He's still Sheldon, but Amy has softened him up a bit. This season he's dealing with Amy breaking up with him because their relationship was going nowhere. The comedy is that Sheldon in his 30's and is going through dating and breakups for the first time so he's reacting to it like normal people do when they are 16. It's funny.
Leonard hasn't changed much since the beginning. But his relationship with Penny has. It continues to evolve, it's fun watching them adapt to marriage life. Howard and Bernadette marriage is still just as fun as before. That was a good change for the show. Howard would have become insufferable by now in his original form. The marriage works well for the show. These two have on screen chemistry and great comic timing with one another. With a baby looming it will be fun to see what that brings. With Raj starting to get more social and having been able to talk to women without being drunk for several seasons now, Stuart has taken over the role as the lovable pathetic loser on the show. That starts getting pushed harder at the start of season 9. The inclusion of Laura Spencer from Bones to the main cast was nice, it's also nice seeing Raj having a regular girlfriend.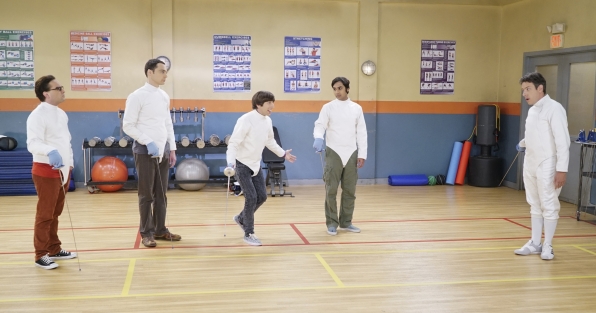 Other highlights this season include
The Bachelor Party Corrosion: Raj and Howard plan to kidnap Leonard to a secret location for the weekend as a belated bachelor party and forcefully take Sheldon with them. Meanwhile, the women have a small bachelorette party at Penny's apartment.
The 2003 Approximation: Leonard and Penny finally tell Sheldon they have moved in together now that they are married. Sheldon is upset, but Bernadette says he should try to find another roommate, though Stuart firmly rejects her idea that he move in with Sheldon. Sheldon rejects everyone he meets and Amy refuses to live with him, as they have just broken up. Sheldon tries to pretend that it is 2003, before he met Leonard, Penny and Amy, and before he developed emotional connections to other people.
The Perspiration Implementation: Howard builds a machine to add mileage to the Fitbit Bernadette buys to track his exercise. Leonard, however, decides that the group should become more active and they take up the sport of fencing, attending a class taught by Barry Kripke
The Spock Resonance: Wil Wheaton arranges for Sheldon to be interviewed for a documentary about Spock and Leonard Nimoy by his son Adam.
The Earworm Reverberation: Sheldon is humming the melody to a song of which he does not know the name, especially unusual because of his eidetic memory. He spends two days obsessing over the tune and recording a log while he is still mentally sound.
The Opening Night Excitation: After an iconic Star Wars-like opening credit crawl, the men are overjoyed to get opening night tickets to the Star Wars: The Force Awakens movie, which premieres on Amy's birthday. Sheldon still wants to see it, despite Penny saying he should be with Amy.
The Empathy Optimization: While Amy is still away, Sheldon has recovered from the flu, but, though his friends attempt to help him, his rude behaviour during his illness offends them. They decide to rent a party bus to Las Vegas to get away from him.
The Meemaw Materialization: Sheldon's grandmother "Meemaw" visits Pasadena to check out Amy. While, Raj has a debate about Frozen with Howard, attracting the attention of Claire, a bartender working on a sci-fi screenplay for a children's film.
The Celebration Experimentation: When Amy plans a birthday party for Sheldon because he made her birthday so special, he is reluctant on account of a traumatic childhood experience in which his sister's friends lied to him that Batman was coming to his sixth birthday, thereby ruining his birthday thereafter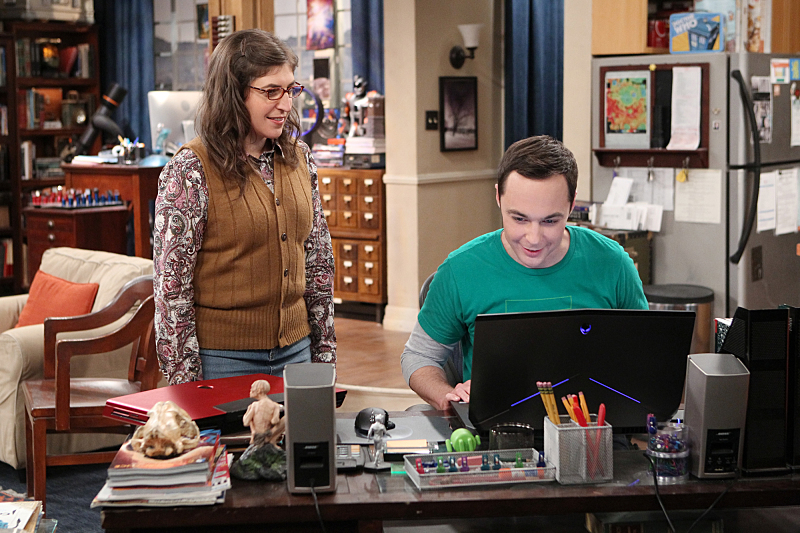 The Solder Excursion Diversion: While Leonard and Howard work in Howard's lab, their wives join them and help them with their project. After leaving to pick up more solder, the two men are invited to see a preview of Suicide Squad and decide to lie to their wives and attend.
The Convergence Convergence: When Leonard and Penny announce their second wedding ceremony, conflict arises between Leonard's parents, Beverly and Alfred.
Another great season which leaves you waiting for season 10.