CAST
Denise Crosby (The Walking Dead)
Majel Barrett (Babylon 5)
James Doohan (Some Things Never Die)
DeForest Kelley (Night of The Lepus)
Walter Koenig (Babylon 5)
Nichelle Nichols (Heroes)
Leonard Nimoy (Transformers: The Movie)
William Shatner (Boston Legal)
George Takei (Space Milkshake)
Grace Lee Whitney (60s batman)
LeVar Burton (Roots: The Gift)
Michael Dorn (Ted 2)
Terry Farrell (Hellraiser 3)
Jonathan Frakes (Lois & Clark)
Chase Masterson (The Flash)
Kate Mulgrew (Ryan's Hope)
Robert O' Reilly (The Mask)
Ethan Phillips (Bad Santa)
Brent Spiner (Dude, Where's My Car?)
Wil Wheaton (Powers)
Gary Lockwood (2001)
Robert Beltran (Lois & Clark)
Roxann Dawson (Darkman 3)
Robert Duncan McNeill (Masters of The Universe)
Robert Picardo (Stargate: Atlantis)
Tim Russ (Smantha Who?)
John de Lancie (The Hand that Rocks The Cradle)
When I first watched Trekkies, I expected mostly to laugh at the weird and wild extremes to which Star Trek fans will go. (I myself a Trek fan, so I was also prepared to do a bit of laughing at myself as well!) But  Trekkies also surprised me with its warm-hearted, caring look at Trek's most ardent devotees. It managed to tell both a funny story about Trek fans and pay gleeful tribute to their obsession of choice.


Humor-wise, Trekkies scores big. The Klingons eating Big Macs, the Borg from New Jersey, and the Voyager sex scripts received by the Trek producers were all riotously funny. The Trek cast members all had funny stories to tell as well, from DeForest Kelley's ardent female fan to Kate Mulgrew's marriage proposal. But there were also some genuinely touching moments in Trekkies as well. James  Doohan's story about the suicidal fan brought tears to my eyes. I know people who are fortunate enough to have met Mr. Doohan, and from all accounts he is a truly kind, compassionate individual. That really shows through in all of his comments about the Trek fandom. LeVar Burton tells how Gene Roddenberry named his character, Geordi LaForge, after a terminally ill Star Trek fan who passed away; John de Lancie speaks of another paralyzed patient who finds solace in Star Trek.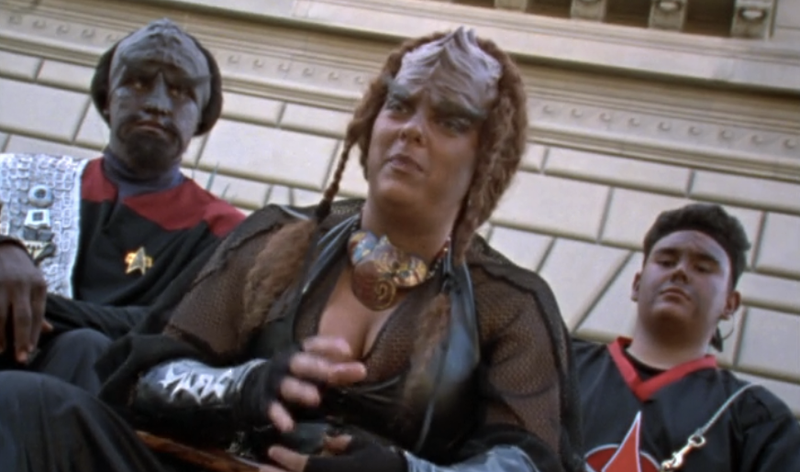 The spirit of the film shares the same love for Star Trek that motivates the fans. It pays tribute to the groundbreaking nature of the original Trek, and praises the spirit of progressiveness and harmony of the Star Trek universe as a whole.