CAST
Dick Durock (The Enforcer)
Mark Lindsay Chapman (Lois & CLark)
Jesse Zeigler (Captiva Island)
Carrell Myers (Problem Child 2)
Scott Garrison (Xena)
Kari Wuhrer (Eight Legged Freaks)
Kevin Quigley (Sheena)
Anthony Gaide (Just One of The Guys)
RECURRING / NOTABLE GUEST STARS
Martha Smith (Animal House)
Marc Macaulay (Monster)
Roscoe Lee Browne (Babe)
Jacob Witkin (Hail, Caesar!)
Summer Phoenix (The Faculty)
Sandahl Bergman (Red Sonja)
Patrick Neil Quinn (Days of Our Lives)
David Ackroyd (After Mash)
Kevin Nash (The Punisher)
Christie Lynn Smith (Bones)
Elizabeth Fendrick (Vacation)
Janet Julian (King of New York)
Heather Thomas (The Fall Guy)
Tyne Daly (Cagney & Lacey)
Ray Wise (Agent Carter)
Cheryl Hines (The Ugly Truth)
I enjoyed the Swamp Thing films but didn't know what to expect of a weekly show that would have a small budget. Looking back, I feel the series succeeded as often as it failed.


The best episodes were those that focused on Swamp Thing (or 'Alec' as he was referred to by the people who knew him). The series started out on shaky footing, and had Swamp Thing act out of character. In the first episode he turns a bad guy into a tree until the writers establish that he would never take a human life. Any episode that had him turn back human was well done.
Most of the episodes made him a Rod Serling of the swamp, taking a back seat to the action. A lot of these weren't too bad. These boiled down to two plots: bad guys hide out in the swamp, only to have to face their crimes in a nightmareish way, or people with problems wander in the swamp, to become better by facing their fears. The best of these was when Ray Wise (Dr. Holland from the original movie) guest starred as someone who might be an alien and almost kills Swamp Thing.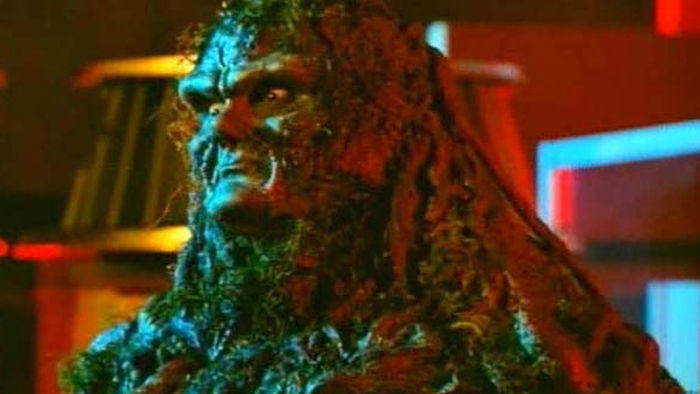 I enjoyed the show Although it could have been so much more, it was certainly better than many other shows or movies based on comic books.