NOTABLE CAST MEMBERS
R.L. Stine
Kathryn Long (Crossing The Line)
Colin Fox (Scanners III)
Anne Marie Deluise (Smallville)
Erica Luttrell (Lost Girl)
Amos Crawley (The Virgin Suicide)
John White (American Pie: The Naked Mile)
THE HAUNTED MASK – PART 1 & 2
Carly Beth Caldwell (Kathryn Long) is repeatedly scared by her friends. After getting fooled into eating a sandwich that contained a worm by her friends Chuck Greene (Amos Crawley) and Steve Boswell (George Davis), Carly Beth runs home and rips the duck costume her mom, Kate made for her as a result. She later goes into a mask shop hoping to find something that will scare Chuck and Steve. In the store, she stumbles upon a back room filled with some hideous masks. There, she steals one of them, goes home, puts on the mask and scares her brother, Noah (Cody Jones). She soon notices the mask won't come off, and when it finally does, she and Noah are unsure as to how she unintentionally changed her voice. After putting on the mask again, Carly Beth takes the mould of her head that her mother gave to her and leaves the house.


She starts acting different: she attacks her best friend, Sabrina Mason (Kathryn Short), frightens children and vandalizes the neighbourhood. After scaring Chuck and Steve, she buries the head. While at Sabrina's house, Carly Beth is shocked to find she is unable to remove the mask as it seems to have become part of her skin. She goes back to the mask shop to find the owner waiting for her. The shop owner tells Carly Beth that the mask is a real living face and the only way to remove it is with a "symbol of love." Carly Beth begins to cry out and scream in horror, awakening the other masks who begin to pursue her. Chased by the other masks, she runs to the cemetery and digs up the mold her mother gave her and uses it to deter the other masks and remove the mask from her face. She returns home to her mother, tossing the mask near the door. Carly Beth is horrified to see Noah wearing the mask upon his return.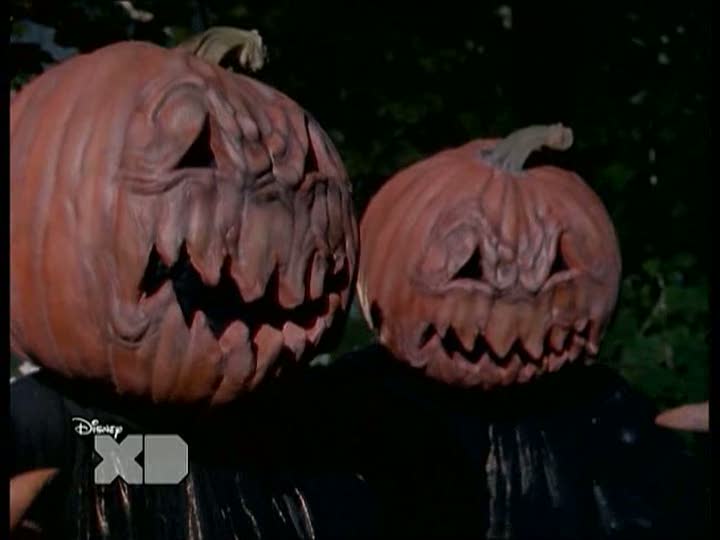 ATTACK OF THE JACK O'LANTERNS
When Drew's friends, Shane and Shana, pay her a visit, they offer to help her scare local bullies, Tabitha and Lee on Halloween. However, the evening turns terrifying when two jack-o'-lantern headed ghouls attack.
THE HAUNTED MASK II – PART 1 & 2
Steve wants a Halloween mask just as scary as Carly Beth's, however he doesn't realize is that Carly Beth's mask might be after him. Can Carly Beth, Sabrina, and Chuck save Steve from The Haunted Mask's evil spell?
The Halloween episodes of the show really do stand out as classics, they really are  still full of some really good stuff that is worth watching all these years later.  Classic show.