CAST (VOICES)
Tom Stechschulte (The Clairvoyant)
A re-examination of superheroes, done with a bleaker, more realistic point of view, Watchmen was revolutionary when it was released in 1985, and it remains as relevant as ever, despite some dated elements (which are mitigated by the fact that the story is told in an alternate world in a specific time frame.) The Crimebusters were a group of costumed crime fighters in the 1960s, but as the world became more complicated, they became less relevant, and they disbanded, and superheroes were outlawed by the government, leaving only a few government-sponsored adventurers, including the ultra-violent patriot The Comedian and the super-powered Dr. Manhattan, who gained command over reality when he was torn down to molecules by an atomic accident.
The main story is a mystery, as the psychotic Rorschach, whose mask is an ever-changing ink blot, attempts to discover who killed the Comedian, who was found dead in his civilian identity. Thinking someone is out to kill the former superheroes, he uses his own brand of ruthless violence, driven by an insane, right-wing mindset, to figure out just what's going on, drawing in his former teammates, as the truth becomes more twisted and complicated as the story plays out. In the end, the plot is intensely deep, focusing on the choices and mistakes made in life, the meaning of existence, the value of an innocent life and the lengths one will go to in order to achieve their goals, while the story is told using intricate storytelling techniques, interwoven supplemental material and smart literary devices that make it more intelligent and engaging than most novels. That it's told about guys wearing tights just adds a layer of accessibility and absurdity.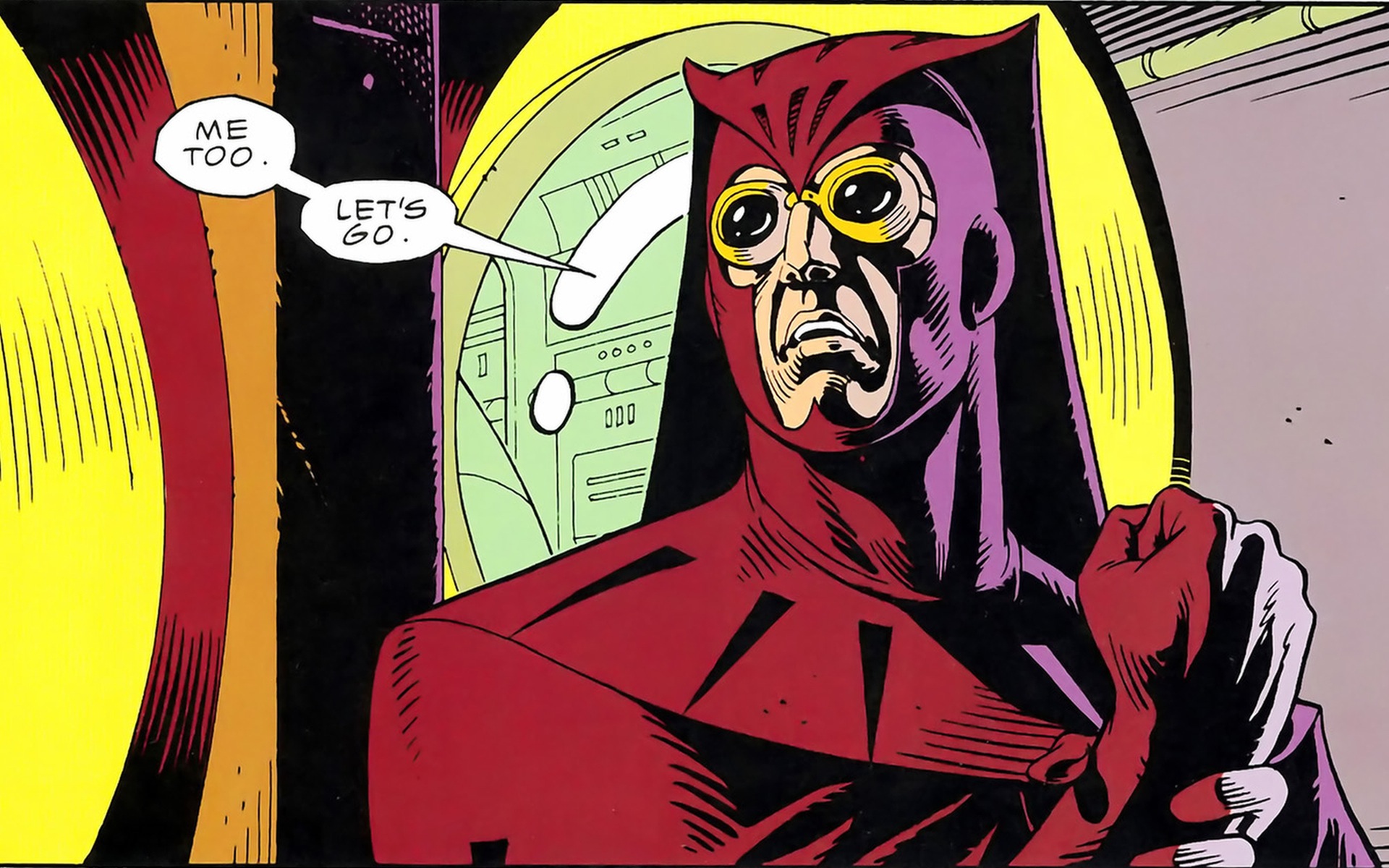 This version of Watchmen, which was released episodically on iTunes and elsewhere, is somewhat like an audiobook version, but enhanced with animation that's built off the actually art from the graphic novel. Now, this was done way back when with some Marvel cartoons, and it was terrible, and has become a bit better recently, but these Watchmen episodes are the best yet. Taking Dave Gibbons' original art, panel by panel, and doing slight animation effects (and some impressive lighting and special effects work,) Warner Premier allows you to watch the graphic novel, complete with dialogue, music and sound effects.
The dialogue, provided entirely by Tom Stechschulte, is really quite good, especially when voicing Dr. Manhattan, though there are a few major exceptions, namely the fact that he also provides the voices for the female characters. Though he thankfully didn't attempt to imitate a woman's voice, which would have yanked you right out of the story, it's highly creepy to hear him seductively purr as Silk Spectre, especially when he's doing it up against his own voice.
You're never going to see a more faithful "movie" than this presentation, which offers up the 12 chapters of Alan Moore's story, including the ending that fanboys nationwide were hoping to see on the big screen  Even if you've read the book many, many times, it's a new experience and an entertaining one at that.