CAST
Michael Jai white (The Dark Knight)
Jeri Ryan (Star Trek: Voyager)
Darren Shahlavi (Watchmen)
Tahmoh Penikett (Battlestar Galactica)
Matt Mullins (Kamen Rider Dragon Knight)
David Nykl (Arrow)
Erica Cerra (Eureka)
Adrian Hough (Underworld: Evolution)
Aleks Paunovic (This Means War)
Samantha Jo (Agent X)
Jolene Tran (Tricking)
Kirby Morow (X-Men Evolution)
Beatice King (50/50)
Ryan Robbins (Sanctuary)
Tracy Spiridakos (Bates Motel)
Ian Anthony Dale (Mr. 3000)
Kevan Ohtsji (Crying Freeman)
Peter Shinkoda (Daredevil)
Brian Tee (Jurassic world)
Mark Dacascos (Kamen rider Dragon Knight)
Casper Van Dien (Starship troopers)
Eric Jacobus (ABCS of Death 2)
Dan Southworth (Power Rangers Time Force)
Origin shorts of some of Mortal Kombat's icons. The First 2 episodes focus on Sonya, Jax, Kano and a brief appearance from Stryker. This is probably my favourite of the whole show. Great performances from Jeri Ryan, and Michael Jai White. The fight between him and Kano was the best of the DVD.
Johnny Cage's story is ok, I think it was casted well, and the fights were pretty good, it does also show his motivation for getting into the tournament, also hey managed to put in a couple of his signature moves.
Raiden: . At the beginning of this episode there is a short declaimer saying that this is not the usual MK story but he hope it is still enjoyable. Making Raiden mortal was a big departure.
Kitana and Milleena: This episode was part animated and part live action. The fights were excellent especially  the sparing match between the two "sisters". This was the best part of the two part episode.
Scorpion and Sub-Zero:  This was much more Scorpion's origin story. Mini spoiler there is also a brief appearance from Quan Chi as well.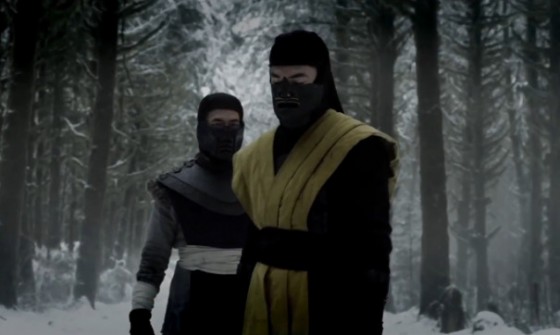 Cyrax and Sektor: was not really expecting much from this story and it is not much of a story but there are 2 very good fights in it one the human Cyrax and Sektor beating the crap out of the earlier cyborg.
I really enjoyed this season much more than the first. The production is better and is more of the Street Fighter Assassins fist style of have each individual episodes adding up to a movie. Having Cary-Hiroyuki Tagawa reprise\renew his role as Shang Tsung was brilliant and having him saying the iconic lines from the first movie was not lost on a continuity lover like me. This season, works from the point that there have been previous MK tournaments. Now 10 year have passed and it is time for the new tournament. Again Raiden and Shang Tsung must choose their team respective teams of warriors.
The actual fighting in this  season does not start till much later, but from a storyline perspective that was a very good idea. When they start the fights are bloody, brutal and in most cases fatal.
Sadly it was decided not to do a third year so the series is very much incomplete but still highly enjoyable.