CAST
Melissa Joan Hart (Melissa & Joey)
Nick Bakay (That 70s Show)
Caroline Rhea (2 Broke Girls)
Beth Broderick (Lost)
Nate Richert (Demon Island)
Jenna Leigh Green (Bones)
Lindsay Sloane (Bring it On)
David Lascher (Clueless)
Elisa Donovan (Wolves of Wall Street)
Trevor Lissauer (Roswell)
Soleil Moon Frye (Punky Brewster)
A GIRL AND HER CAT
Coolio (Stealing Candy)
Billy West (Futurama)
After Salem stows away in her backpack and gets her thrown out of the local pizzaria, Sabrina washes her hands of the cat, feigning unconcern when the feline fails to return for Christmas dinner with visiting cousin Monty. When she discovers that Salem has in fact been catnapped by a stubborn little boy named Rex, Sabrina launches a desperate plan to rescue him by impersonating Santa Claus
A Great first Christmas for the Teenage Witch, showing that even thou Salem can annoy her at time she still loves him and does whatever she can to get him back even if she has to deal with a snot nosed brat.
SABRINA CLAUS
GUEST CAST
John Ratzenberg (Up)
After she develops a mild case of egotitis, Zelda and Hilda decide to call upon a special person named Bob from the Other Realm to help Sabrina with her problem. When Sabrina learns that Bob is actually Santa Claus during the course of their day spent together, she begins to panic when he gets hurt and is unable to deliver the world's presents. Hoping it will help cure her problem, Sabrina offers to do Bob's job while her aunts take care of him. As a result, Sabrina gets over her case of egotitis and gets back the Christmas spirit.
Sabrina's second Christmas is a great story, the presents Sabrina gives out to her friends and even Libby are touching and shows she can stil lfeel the Christmas spirit.
CHRISTMAS AMNESIA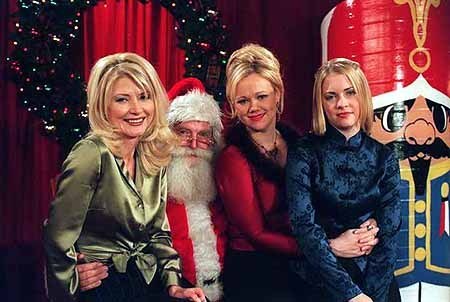 GUEST CAST
Mary Gross (Lois & Clark)
Daveigh Chase (S. Darko)
A Funny episode with Sabrina accidentally erasing Christmas for the world then having to get it back by making people the warmth and love that they feel around the time of year, even thou her friends think she's acting like a crazy person.
GUEST CAST
Danny Bonaduce (The Partridge Family)
With Christmas approaching, Sabrina gets in a bad mood due to the nonstop snowing in Westbridge. When she hears a contest on the radio where the grand prize is a week long getaway to Jamaica, Sabrina gets excited when Zelda is able to answer the question for her. However, when the bad weather threatens to leave the Spellman women stranded in town for the holidays, Salem suggests that Sabrina tamper with the weather so they could still make their flight to Jamaica. As a result, Sabrina gets turned into a snowman by Mother Nature in retaliation for changing the weather in Massachusetts. Mother Nature then turns her back to normal, but punishes Sabrina by giving her the task of cheering up Mr. Kraft. As Sabrina gets to work on her task, Salem receives the 12 Days of Christmas while Hilda and Zelda hire a pair of Christmas elves to help out with the holiday rush at the clock shop, only find out they're little crook.
Giving Sabrina the task of cheering up her principal would be fitting punishment as he's had it in for her throughout the shows run, but she realises why he's not in the Christmas and does in fact help him.
SABRINA'S PERFECT CHRISTMAS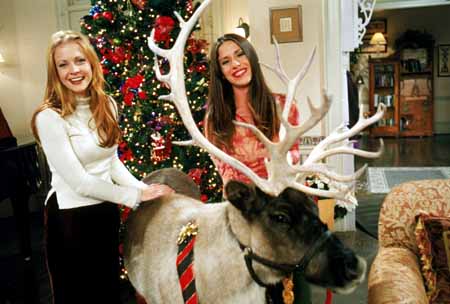 GUEST CAST
Tom Virtue (Iron Man 3)
Molly Cheek (American Pie)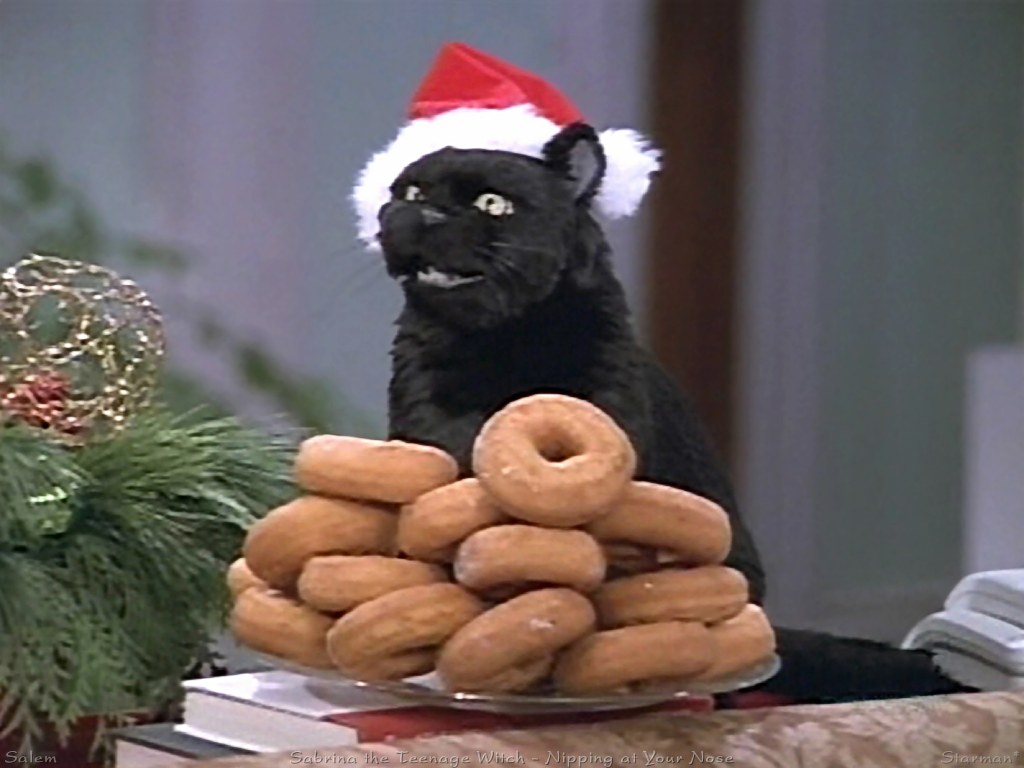 Sabrina opts to spend a picture-perfect Christmas with Morgan and her family rather than endure the annual insanity with Hilda and Zelda , but soon discovers the ugly secrets under that flawless facade.
Meanwhile, Roxie stays at Hilda and Zelda's house for Christmas.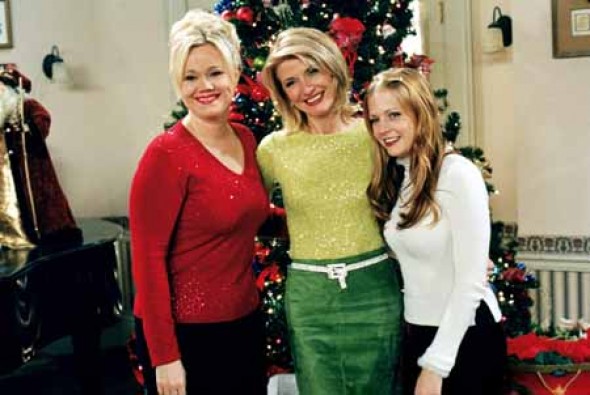 A Great Xmas episode especially seeing Roxie with the Spellman's and feeling the Christmas Spirit, It was also nice to see Morgan's family as it sheds some light as to why she is the way she is.
IT'S HOT, HOT, HOT, HOT CHRISTMAS
GUEST CAST
John Ducey (Bad Judge)
Kate Jackson (Charlies Angels)
Scott Gurney (Buffy)
Sandra McCoy (Power Rangers Wild Force)
When Sabrina, Roxie, and Morgan go to Miami with Leonard to celebrate Christmas, they have a run-in with Roxie's mother, Candy, at their time share. However, when their place gets robbed, Candy gets accused, ultimately leaving Sabrina and Morgan to help Roxie clear her mother of the charges. Meanwhile, when Leonard finds out that Sabrina brought Salem along to the condo, he tells her to put him into the condo's kennel, where Salem complains about being treated like an animal and Morgan enters the "Miss Wet Christmas" contest.
The last Sabrina Christmas one seeing Roxie reunited wit her Mother, and seeing Sabrina try to prove if Roxie mother did steal the stuff from the hotel room. This is the first Christmas with out Sabrina's Aunt's but still a fun one.