CAST
Michael Parks (Kill Bill)
John Goodman (10 Cloverfield lane)
Kerry Bishe (Argo)
Melissa Leo (The Fighter)
Michael Angarano (Sky High)
Kyle Gallner (Smallville)
Nicholas Braun (Poltergeist)
Ralph Garman (Ted)
Stephen Root (Robocop 3)
James Parks (Death Proof)
Haley Ramm (X-Men 3)
Kevin Pollak (Mom)
Matt Jones (Adventure Time)
Kevin Alejandro (Arrow)
Jennifer Schwalbach Smith (Now You Know)
Kevin Smith (Dogma)
Marc Blucas (Buffy)
Anna Gunn (Breaking Bad)
Molly Hagan (No Good Nick)
It begins as the story of three teenagers (Michael Angarano, Nicholas Braun, and Kyle Gallner) from a small Midwestern town in the proximity of the Cooper family, an evangelical sect in the Phelps mold that only seems to venture out of their church/compound to for vile public demonstrations, usually at funerals. The boys are aware of the Coopers, but their primary interests lie elsewhere: namely, the pursuit of anonymous sex, which one promises can be had with an anonymous woman he's connected with online via a Grindr-style app. They make a date. It doesn't go as planned.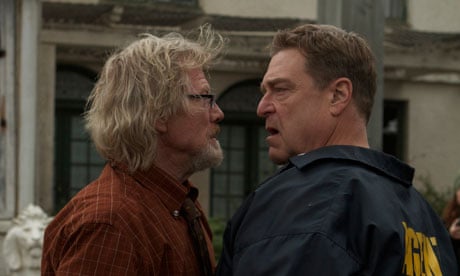 The dirty-talking set-up isn't too far removed from Smith's usual style–he's toying with our expectations, palming quarters while entertaining us with patter. What is surprising about Smith's screenplay is how tightly wound the storytelling is. There's a confidence and a momentum to the progression of the events, which echo the Phelps; the ground he's covering sounds far-flung, but the narrative pushes forward with such precision that there's an inevitability to the way the events unfold.
It is more of an unsettling movie, a disturbing one, in which the responsibility for jangling the audience is less on the sound designer and his library of cat shrieks, and more on the filmmaker's ability to create tension and his actors' skill at getting under our skin. To that end, not enough can be said about Michael Parks, the terrific character actor (and, more recently, favorite of Quentin Tarantino and Robert Rodriguez) who plays Abin Cooper, the Fred Phelp-esque patriarch of the fundamentalist family. His voice a gravelly growl, his eyes black as night, his delivery deceptively laid-back, Parks delivers a long, riveting, and thoroughly creepy sermon early on that masterfully shifts the picture's tone; he's just talking, but there's evil in his bones ("God doesn't love you… 'less you fear him").
He doesn't raise his voice–he doesn't have to. He waits until the end to go for broke, and when he does, it's tremendous. John Goodman, as a good-hearted but petrified ATF agent, is terrific as well–but then again, there's not a bad performance in the movie,  Kerry Bishé, Stephen Root, and newly minted Oscar winner Melissa Leo all turn up; all inhabit their roles with believability and immediacy.