MAIN CAST (VOICES)
Dan Castellaneta (Fantastic Four)
Julie Kavner (Dr. Dolittle)
Nancy Cartwright (Kim Possible)
Yeardley Smith (As Good as It Gets)
Harry Shearer (Godzilla)
Hank Azaria (Mystery Men)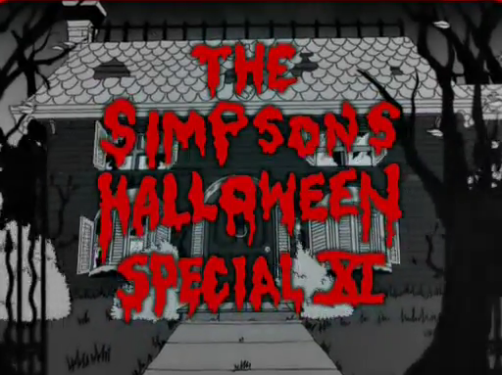 GUEST CAST
Tress MacNeille (Futurama)
Marcia Wallace (Full House)
Frank Welker (Transformers)
Pierce Brosnan (The World's End)
Matthew Perry (Serving Sara)
Maggie Roswell (Pretty In Pink)
Jennifer Garner (Alias)
Jerry Lewis (The Trust)
TREEHOUSE OF HORROR XI
The opening sequence is done as a parody of The Munsters, with Homer as Herman Munster, Marge as Lily Munster, Lisa as Marilyn Munster with a book on copyright law, Bart as Eddie Munster, and Abe as Grandpa Munster. Meanwhile, At the front of their mansion, an angry mob of townspeople attack the Munster Simpsons. They stab Marge and Grampa in the chest with stakes, set Homer on fire, and activate a bear trap on Bart's head, leaving Lisa unharmed; she then walks away from the scene while whistling, pretending as if she was never there with no connection of the monstrous family.
G-G-Ghost D-D-Dad

In a parody of Ghost Dad, Homer's horoscope says he will die today (and an attractive colleague will compliment him). In turn, Marge's horoscope says her husband will die. Homer dismisses it and leaves for work. On his way there, he narrowly escapes death several times. He is still alive at the end of the day (despite multiple injuries and close calls), but is finally killed after choking on a piece of broccoli, which Dr. Hibbert calls the deadliest vegetable known to man. In Heaven, St. Peter informs Homer that he had not done a good deed in his life, and must perform one within 24 hours before he can officially be let into Heaven. Over the next 24 hours, Homer tries to do good deeds, such as saving Bart from being bullied by Nelson (which only results in Nelson giving Homer a noogie) and helping Principal Skinner's mother, Agnes across the street, which ends up with him dropping her to her death and Homer defending his actions by stating that she was "going to be the next Hitler". With only one minute left, Homer saves an unknown woman's baby in a runaway stroller. Confident, he returns to St. Peter with news of his good deed. Unfortunately, St. Peter did not see Homer perform his good deed as he distracted himself by reading a newspaper. Homer is then sent to Hell, where Satan puts Homer in a headlock and gives him a noogie for all eternity. Homer screams in pain, but Satan tells him to be quiet as he will "wake up John Wayne", who has already woken up for his day in Hell.
Scary Tales Can Come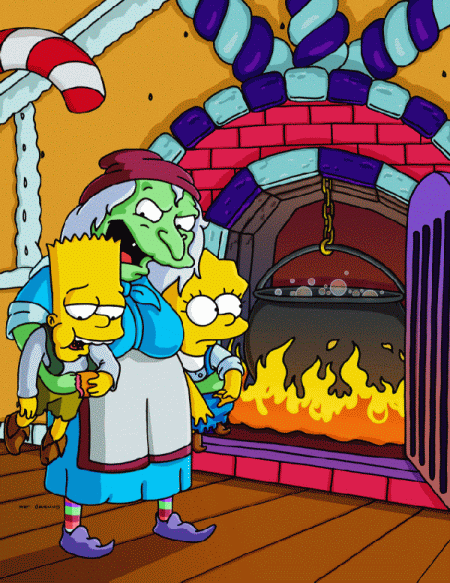 In a fairy tale setting, The Simpsons are peasants living in a pumpkin cottage. After Homer lost his job as the village oaf, he abandons Bart and Lisa in the woods to solve the family's food shortage. When Homer returns to the cottage, Marge has him go out looking for the children after admonishing him for throwing them out instead of selling them. Meanwhile, with the help of Lisa's copy of Grimm's Fairy Tales, she and Bart manages to elude the many dangerous creatures in the forest, including a troll-like Moe and the Three Bears (who viciously maul Goldilocks after Bart and Lisa leave the Three Bears' cottage, locking her inside). The siblings eventually come seek shelter in a gingerbread house owned by a witch. Lisa is wary as it is exactly like the story "Hansel and Gretel", but Bart is too busy eating treats to care. Lisa tries to stall the witch by claiming she is lonely and has no love-mate. The witch denies this, stating that there is a man named "George Cauldron" coming to pick her up for a date, attempting to push Lisa into the oven after she scoffs the make-up boyfriend. But Homer eats his way through the gingerbread house's walls to save the children, resulting with the witch turning him into a half-chicken, half-fish creature with donkey ears and broom-arms. The witch then tries to shove Homer into the oven, only to be overpowered and shoved the witch inside before George Cauldron comes to the door, asking Homer, Bart, and Lisa if they have seen a woman named Suzanne. Homer remarks that "she'll be ready in twenty minutes", turning up the oven. Cauldron complains that "the concert's at eight pm". The peasant Simpsons are reunited, and are now living happily ever after with a mostly restored Homer still having a chicken's half-body as he produces eggs for the family.
Night of the Dolphin

In a parody of The Day of the Dolphin, Lisa takes pity on the star attraction of Springfield's Marine World, a dolphin named Snorky, whose trainers let him be humiliated while forced to perform stunts for the crowd's amusement. After Snorky's show, Lisa sets the dolphin free to swim in the ocean. Unbeknownst to Lisa, Snorky is actually king of the dolphins and organizes the world's dolphins into an army to declare war on humanity. The dolphins attack Springfield, first killing Lenny during his night swim and then the Sea Captain (who claims he can stop them) before marching towards the town on their tails. During the town meeting, Snorky takes the stage and reveals he is capable of speaking. Snorky tells Springfield that dolphins used to live on land but were banished to the ocean by humans. Now the dolphins want to banish all mankind to live underwater. The humans refuse to submit to the dolphins' will without a fight, only to find the dolphins greatly outnumber them. When Lisa is bitten by a small dolphin after removing a set of bottle rings around its face, Homer encourages the townspeople to fight back. A battle ensues between the dolphins and the humans, with heavy casualties on both sides. The end of the story reveals the human lost the war and have been driven into the sea. Lisa admits she regrets freeing Snorky in the first place, but Marge comforts her that everyone will have to adjust to their new life as marine animals. A drowned Krusty the Clown floats near Marge. In disgust, she kicks it away, where it floats to a dozen other corpses, where it spells "The End?".

Epilogue – Kang and Kodo
Meanwhile, after the final story ended. the two aliens Kang and Kodos complain that they have been left out of the Simpsons Halloween special, until they get an offer to do commercials for Old Navy which they accept.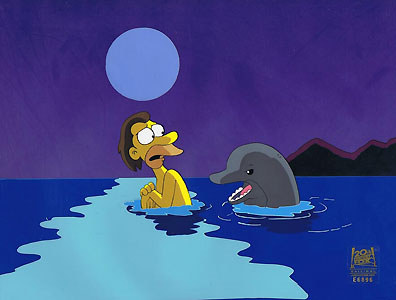 The Dolphin tale is the strongest of the three, but all in all still enjoyable.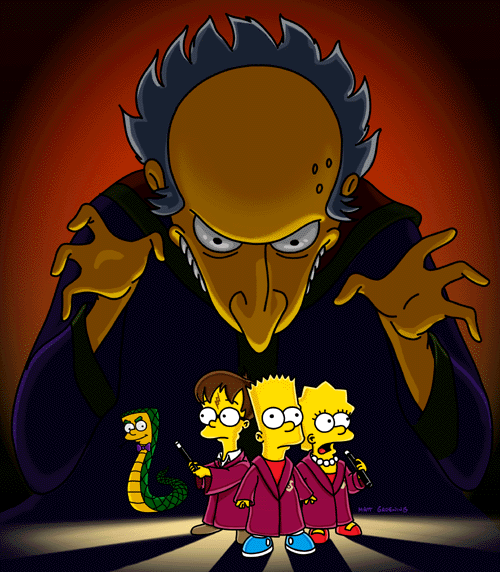 TREEHOUSE OF HORROR XII
Outside Mr. Burns' manor, Smithers is standing on a ladder, trying to put up a small orange bat decoration on a weather vane. He slips on the ladder, grabs on an electric cord and slides down into an electricity box and gets zapped. A tower from Mr. Burns' mansion breaks in half, damaging a mausoleum, which opens up four caskets which in turn reveal three skeletons which all resemble Mr. Burns, dressed in various costumes. Later, we see the Simpsons dressed up in costumes, with Homer as Fred Flintstone, Marge as Wilma Flintstone, Lisa and Maggie as conjoined twins, and Bart as a hobo walking up to the mansion (with Bart and Lisa complaining that Flanders gave them toothpaste instead of candy). The family sees the building and caskets on fire, and screams in terror. They run out the gate, which as it closes, has its bars slice the family. The slices of the Simpsons continue to scream and run away. Mr. Burns, delighted, pats the orange bat as it comes to life and flies into the screen, revealing the title, "The Simpsons Halloween Special XII".
Hex and the City

In a parody of the 1996 American body horror film Thinner Homer is cursed by a gypsy after destroying the office of a gypsy fortune teller. The curse soon takes effect, with Marge growing a beard from her blue hair, Lisa turning into a centaur, Bart's neck becoming long and floppy as a result of Homer strangling him, Maggie becoming a ladybug with a human head, Lenny and Carl crushed by a helicopter, and Moe stuffed into his own pickled egg jar (with Homer wondering how that happened). Homer sets out to find a leprechaun to end the curse. Homer uses Lucky Charms cereal as bait to get the leprechaun, eventually finding one after picking through a group of other magical creatures. Homer takes the leprechaun home, but it is extremely hyperactive and it runs amok. Homer takes the leprechaun to the gypsy's office and sics it on her. The leprechaun and gypsy fight, but their struggles soon turn into passionate kissing and fondling, much to Homer's disgust. The leprechaun and the gypsy marry in a ceremony (led by Yoda) attended by other gypsies and mythical creatures, as well as the Simpson family. Homer remarks that everything ended happily, but a now fully hair covered Marge reminds him that Bart committed suicide by drowning in his cereal, and that the gypsy said apologizing will bring him back to life. Homer refuses, saying, "She's not the boss of me!".
House of Whacks
In a parody of Demon Seed and 2001: A Space Odyssey, the Simpsons buy an automated upgrade for their home called "Ultrahouse", which comes with three celebrity voices: Matthew Perry, Dennis Miller (whom Lisa and Marge recognize as "the voice that caused all those murder-suicides"), and Pierce Brosnan (which Marge picks because he was on the show Remington Steele). Marge finds the house, which does all the work for the Simpsons, charming. The house soon becomes infatuated with Marge after the two share a bath and decides to kill Homer. In the middle of the night, the house lures Homer downstairs by frying bacon. The next morning, Marge fears that Homer is dead and attempts to escape the house with the kids, but Ultrahouse locks her inside and tries to subdue and seduce her. When Marge and the kids rush to the kitchen, they find that Homer is alive, despite cuts all over his body and a gaping hole in the back of his head. After the house attempts to kill him in many ways, Homer leads a charge to the basement where he attacks the CPU's "British charm unit", which makes it speak with a rude American dialect before powering down and finally shutting off. Feeling bad that she has to toss out the Ultrahouse (since he was charming and witty before being driven mad by love), Marge gives the CPU to her sisters Patty and Selma, whose mundane stories about their day at work drives the CPU to suicide (but since the CPU is not willing to reach inside Selma's cleavage to get his self-destruct button, the Ultrahouse CPU is reduced to banging himself with Patty and Selma's Egyptian pyramid lamp).
Wiz Kids

In a parody of Harry Potter, Bart and Lisa go to the "Springwart's School of Magicry" in which young boys and girls are trained in the art of witchcraft, such as turning frogs into princes, with Lisa's turning into a perfect British one while Bart's results in a freakish, vomiting hybrid begging only for death. Lord Montymort notices Lisa's spells and he and his snake sidekick, Slithers decide to capture Lisa in order to increase his power. Montymort looks for someone to assist him and chooses Bart, who agrees to Montymort's proposal. On the night of the magic recital at Springwart's School of Magicry, Lisa attempts a "levitating dragon trick" on an gigantic dragon that is released onto the stage. Lisa is shocked to find that her spell will not work, and then notices that Bart has replaced her wand with a Twizzler. The dragon morphs into a giant Montymort who captures Lisa and begins sucking up her power. Bart casts a spell (to destroy the evil one) against Montymort, but is struck by lightning. In a last-ditch effort, Bart charges at Montymort and stabs him in the shin with his magic wand. Montymort dies (as his shin was the source of all his magic) and is eaten by a crying Slithers. Bart and Lisa walk away, trying to forget everything that happened (unaware that the leprechaun from the first story is right behind him).

Epilogue
Pierce Brosnan, the Leprechaun, and the freakish Frog Prince exit a trailer, with fruit baskets. After the Leprechaun and Frog Prince (who were also apparently guest stars) criticize Brosnan for being allowed to park so close to the set in such a vastly large parking lot, Brosnan offers them a ride to their car. As Brosnan pulls out, he finds out too late that he has been taken hostage as they drive out of the parking lot in a mad haste.
out of the three House of Whacks with Pierce Brosnan voiceing the machine is hilarious.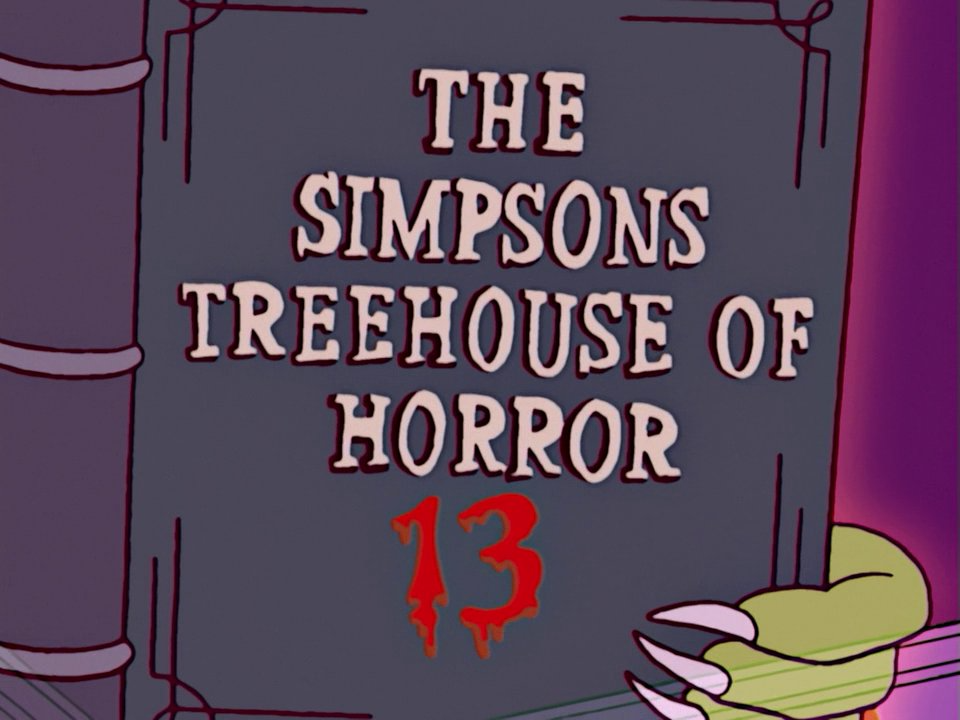 TREEHOUSE OF HORROR XIII
The Simpson family and Ned Flanders hold a séance in the hope of communicating with the spirit of Maude Flanders. Bart tries to trick Ned by dressing up as Maude's ghost, but the real ghost of Maude, now a demonic spirit, appears instead.
Send in the Clones
In a parody of Multiplicity, Homer's hammock collapses while he is taking a nap. He purchases a new one from a passing vendor, who warns him that it carries a curse. Disregarding this, Homer lies down and discovers that the new hammock can produce clones of anyone who rests on it. He inspects the first clone and notices that it does not have a belly button.He makes clones to do all of his chores, which include helping Marge choose an outfit, visiting Grampa to listen to one of his rambling war stories, and play a baseball game with Bart, Lisa and Maggie. The clones are soon revealed to be more stupid than Homer. One clone kills Ned Flanders by cutting off his head with a chainsaw after Flanders asks if he can have his chainsaw back. Shocked by Flanders' wrongful death, Homer decides to get rid of the clones and the hammock. He bundles them in a truck and takes them to an isolated cornfield.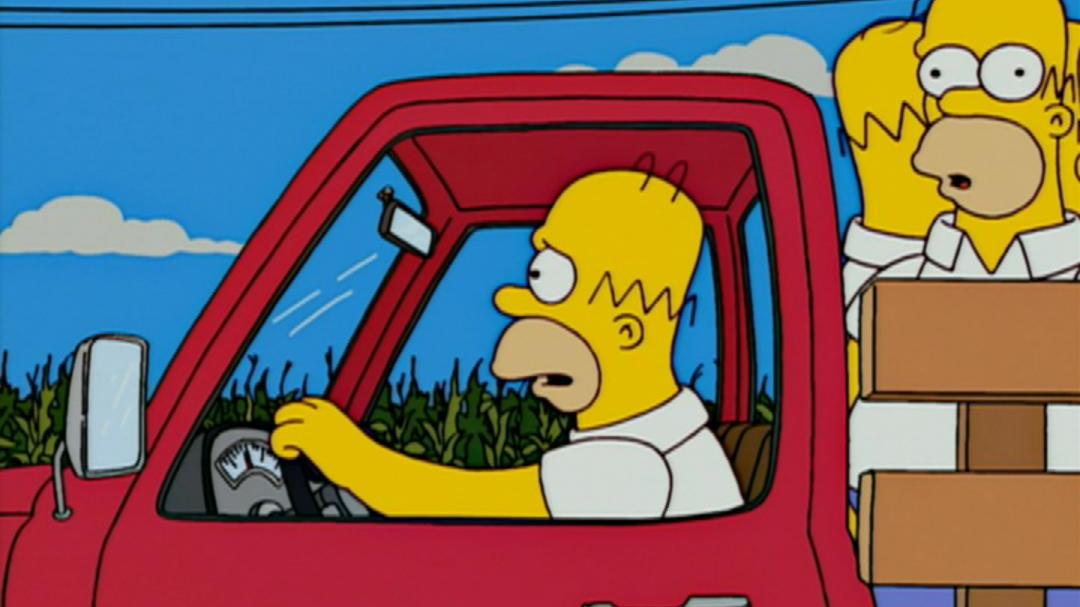 When they arrive, Homer asks if anyone knows the way home. When three clones raise their hands, Homer shoots them, then abandons the rest of them, along with the hammock, presuming that none of the clones are smart enough to get anywhere without him. The clones use the abandoned hammock to make an army of Homer clones, many of which are mutations, including The Tracey Ullman Show version of Homer, a faceless Homer, a morbidly obese Homer, a Homer with thick, black glasses, and Peter Griffin from Family Guy. The "clone army" consumes all of Gil Gunderson's crops and Gil himself, then attacks Springfield and destroys all of its buildings, except for Moe's Tavern, which reports record business. US army officials gather in the Mayor's War Room, and determine that the clones will eat up America by the next day. Lisa thinks of a solution to solve the problem, after getting the idea from Homer, who became upset when he found an empty doughnut box. She suggests that several helicopters hook gigantic, sprinkled doughnuts on cables and lure the clones into Springfield Gorge to their doom. In the end, Marge is shocked to find that the Homer she has is a clone and the real Homer was the first to die due to his obsession of donuts. Marge worries over the real Homer's death, until the clone Homer gives her a backrub.
The Fright to Creep and Scare Harms
In a parody of The Terminator, Bart and Lisa are at the Springfield Cemetery, mourning the loss of their pet goldfish, Goldie. Lisa inadvertently discovers the grave of William Bonney, a man who was killed at a young age by gun violence. According to his epitaph, he dreamed of a world without guns. In his memory, Lisa starts a gun control crusade, which makes Springfield 100% gun free; even the police no longer possess guns. The town is now defenseless, causing the corpses of William "Billy the Kid" Bonney and his cohorts, "The Hole in the Ground" gang (Frank James, Jesse James, the Sundance Kid (without Butch Cassidy, as they are "not joined at the hip"), and Kaiser Wilhelm II) to rise from the dead. The gang wreaks havoc on the town, until Professor Frink invents a time machine, which Homer uses to go back in time to stop the gun ban and destroy the zombies. Homer tells the citizens of Springfield to shoot at the zombies' graves, causing them to rise up and flee. Lisa feels guilty about banning guns, because sometimes they are the answer. Suddenly, a more futuristic Homer comes in to warn them about guns that have destroyed Earth in the future. He is then shot by Moe, who has had enough of all this nonsense and plans to use Frink's time machine to find some "caveman hookers".
The Island of Dr. Hibbert
In a parody of H. G. Wells's The Island of Dr. Moreau, the Simpsons visit "The Island of Lost Souls", where they find Dr. Hibbert running the island's resort. Marge says there were rumors he has gone mad. The family has dinner with Professor Frink, who is transformed into a turkey as the main course, Marge explores the island, and is captured by Dr. Hibbert. She is then transformed into a blue humanized panther. She returns to her room and has violent, animal sex (literally, scratching all of his back with her claws) with Homer. He realizes that she has been mutated, then asides that he should have realized this during the sex.
Homer treks across the island looking for a cure to Marge's condition, but encounters Ned Flanders, who has been mutated into a cow-centaur, in need of a milking. After Homer reluctantly milks him, Flanders takes him to meet other Springfield inhabitants who have also been turned into mutants, including Bart (now a spider), Lisa (now an owl) and Maggie (now an anteater, who is nearly eaten by Lisa until Homer intervenes). Homer, initially appalled at what everyone has become, eventually embraces the concept of being a mutant animal who does nothing but eat, sleep, mate and roll around in its own filth upon realizing how well it fits in with his personal lifestyle. The segment ends with a contently mutated Homer in the form of a walrus, and the rest of the Simpsons and Springfield mutants lounging aside the resort's pool, intending to spend the rest of their days on Dr. Hibbert's resort.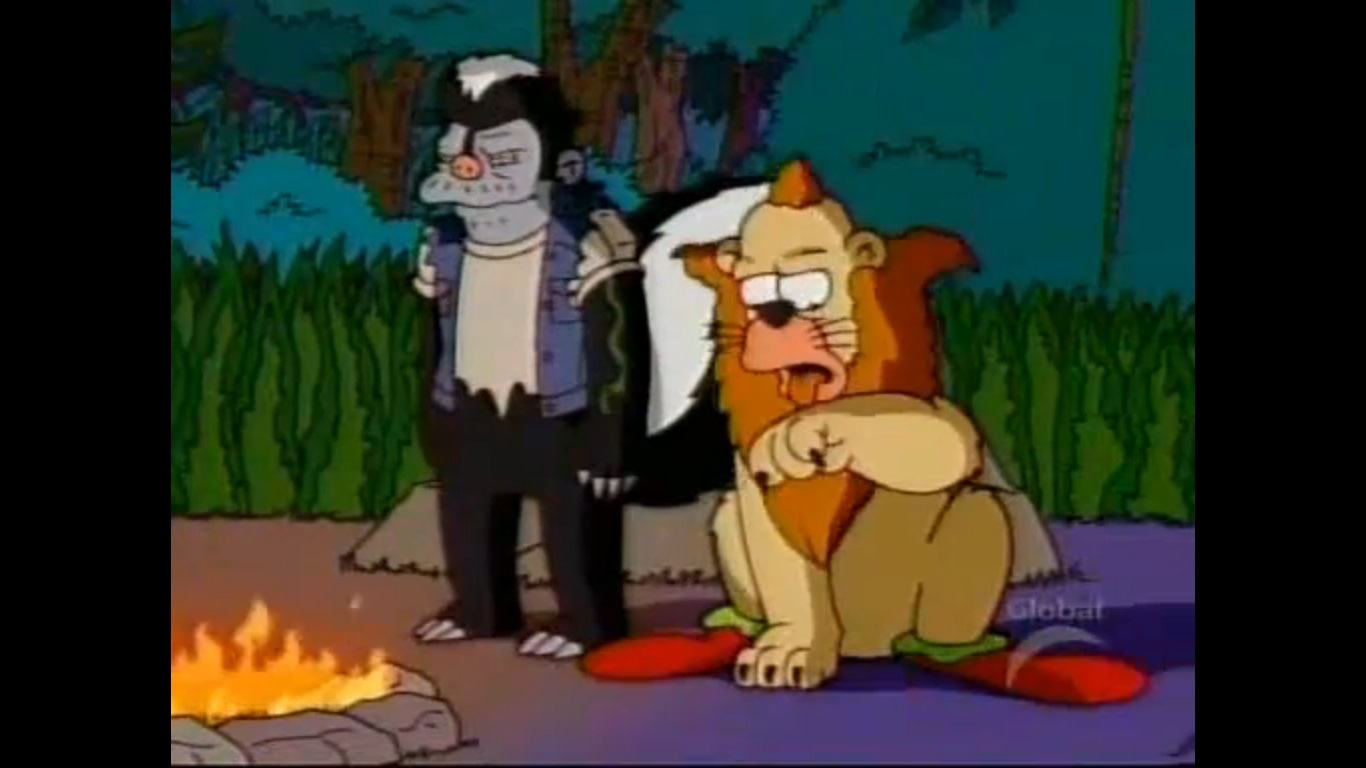 Ending
The entire Treehouse of Horror XIII episode concludes with an appearance by Kang and Kodos, observing that Dr. Hibbert's skull-shaped island resembles their alien number 4.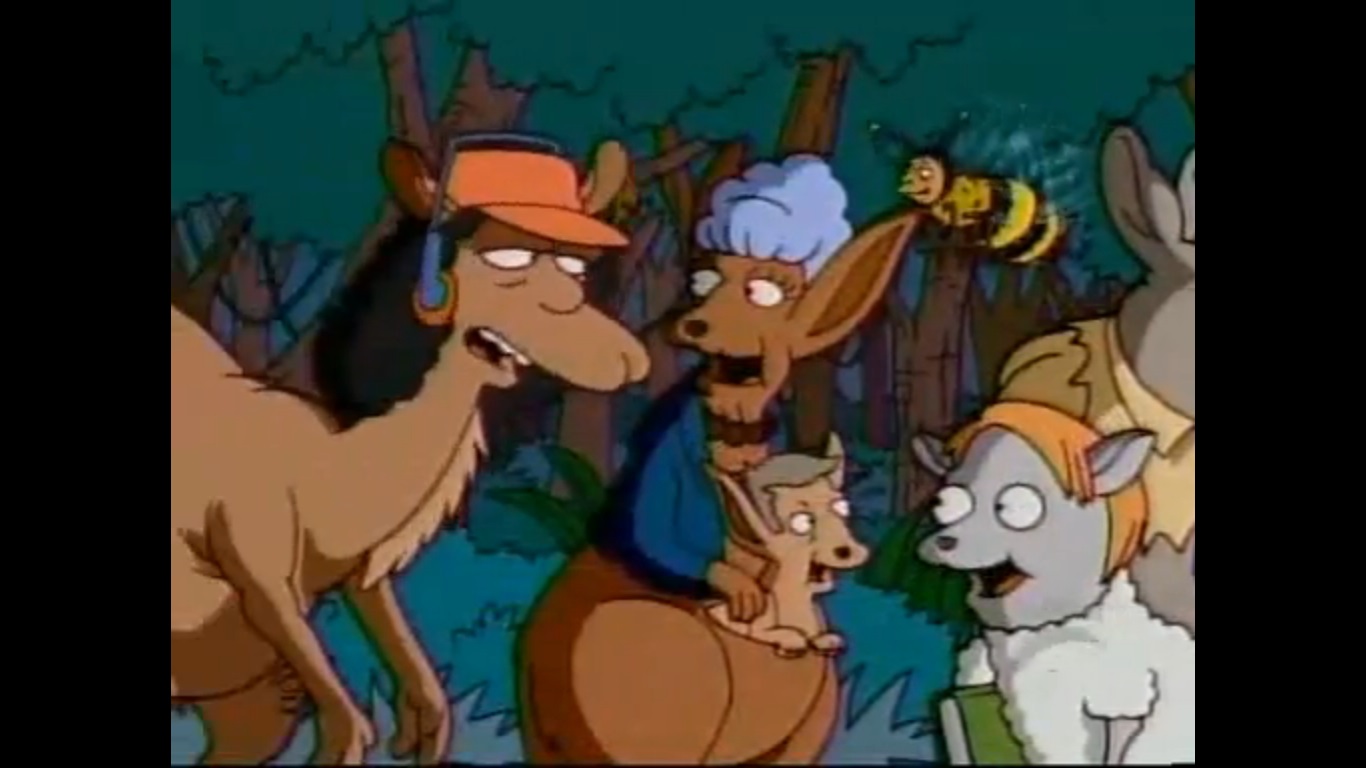 The Final part  is as oddball as a convention hall full of Simpsons-cosplaying furries. Dr. Frink's turkey death scene is rivalled only by the creepy scene where Homer has to milk cow-centaur Flanders.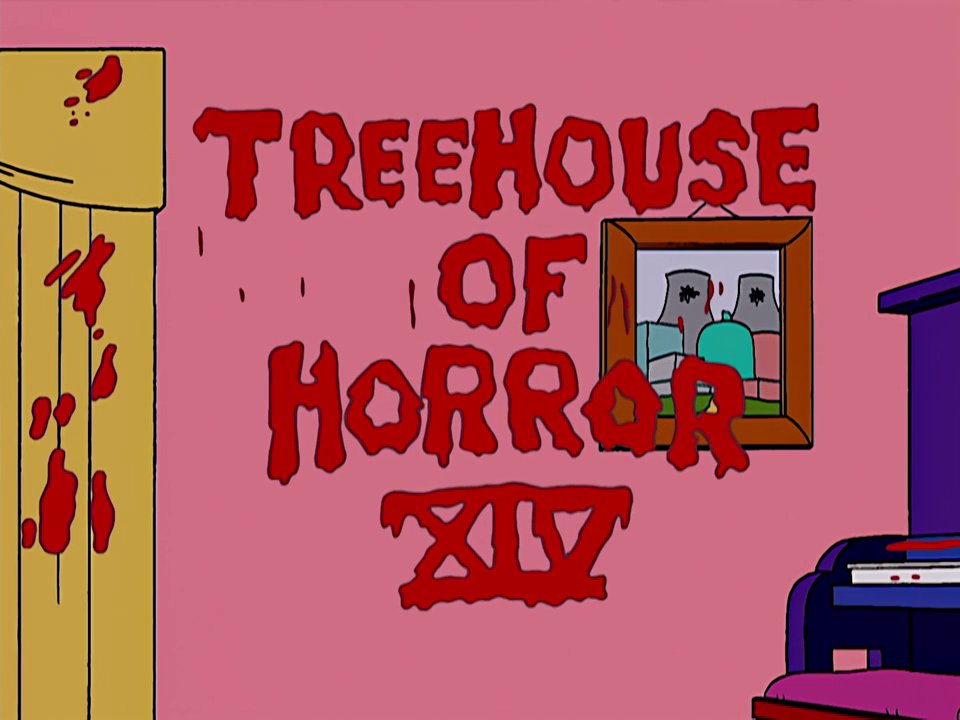 TREEHOUSE OF HORROR XIV
Bart and Lisa, dressed as Charlie Brown and Lucy van Pelt from the Peanuts series, discuss their Halloween treats, and Lisa claims that hers are better than Bart's. The two then fight violently until Homer intervenes and orders them to stop fighting. He throws a burning log at them, but misses and hits Grampa, though he complains "I'm still cold". Homer gets Bart and Lisa rolled up in the rug and starts to "beat the lumps". A gun-wielding Marge intervenes and says that she does not approve of Homer's parenting techniques, and shoots him. Homer's blood splatters on a nearby wall, and spells "Treehouse of Horror XIV". Meanwhile, from their spaceship, the two aliens Kang and Kodos criticize the Simpson family for airing a Halloween special in November, as they are already set up for Christmas.
Reaper Madness

In a parody of the Family Guy episode "Death is a Bitch", the Grim Reaper enters the Simpson house attempting to take Bart but the family goes on a Benny Hill-style chase to elude him. Death eventually manages to pin Bart's shirt to the wall with its scythe. As Death is about to sentence Bart to an eternity of pain, Homer kills him with a bowling ball in revenge for killing Snowball I and President John F. Kennedy. The Simpsons find that no one can die since Death is dead. The scene cuts to two examples of a world where no one can die: Frankie the Squealer (last seen in "Insane Clown Poppy") is repeatedly but unsuccessfully gunned down by the Springfield Mafia, much to their frustration, and Moe hanging himself unsuccessfully from the ceiling. On trash day, Marge tells Homer to take the dead Death to the curb. Homer does, but puts on Death's robe, inadvertently turning himself into the new Grim Reaper. At first, he refuses to reap souls, but when the cloak begins to give him a wedgie, he complies. He kills many people who are on God's list (and some who are not) until he is asked to kill Marge. Homer does not want to kill his wife (or himself, an alternative he is given but quickly rejects), and pleads with God that he wants to get out of the job after leading Him to believe that he killed Marge. God agrees, but he finds that Homer tricked him by substituting Patty's body (which God initially mistakes for Selma's) for Marge's. The annoyed deity tries to punish Homer with a deadly sunbeam but gives up after a chase, proclaiming that he is "too old and too rich". Marge thanks Homer by giving him extra pork chops. Homer then jokes that he will make sure to not kill Marge every week from now on.
Frinkenstein
In a parody of Frankenstein, Homer gets a call from the Royal Swedish Academy of Sciences telling him that he is the winner of the Nobel Prize; however, Lisa learns that it is actually for Professor Frink. Frink is depressed because his father, an adventurer, had a falling out with him and died from a shark bite before they could reconcile. Frink, who kept the corpse frozen, reanimates his father. Unfortunately the revived man decides to steal body parts to improve himself. Eventually, Lisa convinces Frink Sr. to stop when he realizes he is causing his son anguish.
At the awards ceremony in Stockholm, Frink Sr. tries to make amends with his son for his recent behavior; however, he goes on another rampage through the audience, killing many and taking their brains. Frink Jr. manages to stop his father by kicking him in the crotch, killing him. Before dying, Frink Sr. is proud of his son for standing up to him, however he is able to hold on to his father's soul, which talks to him from a box.

Stop the World, I Want to Goof Off
In a parody of the Twilight Zone episode, "A Kind of a Stopwatch", Bart and Milhouse get a stopwatch through an advertisement in an old comic book magazine that actually allows them to stop time. Realizing the power behind the watch, they set off to prank Springfieldians with impunity, such as depantsing Principal Skinner. They have a blast using the watch to terrorize the town, but they are eventually outsmarted by Mayor Quimby, who laid ultraviolet powder on the floor at the town meeting where they committed their most recent joke. Upon discovering the perpetrators, an angry mob goes after Bart and Milhouse. Just as the mob is about to converge on them, the boys use the watch to once again freeze time. The watch breaks after stopping the time together, leaving the two in a frozen world. For a time, they have some fun with the entire world (such as giving the Pope a wedgie and punching Oscar de la Hoya in the stomach) but soon become bored. They find a watch repair manual, but it takes the two 15 years to repair the device. Just before they re-activate the watch and realizing that they need a scapegoat to avoid the mob's anger, they place Martin in the middle of the mob that was just about to maul them; he is viciously attacked. Later, Lisa makes light of the fact that Bart is much older, and asks to play with the watch. She finds a secondary function that changes reality, altering the family in many ways (including switching genders, bobble-heads, TV Guides and the Fantastic Four). Homer has her stop when the family, now normal with Bart at 10 years old again, is playing with hula hoops.
All three parts are great and its nice to see three decent Halloween stories.
TREEHOUSE OF HORROR XV
Kang and Kodos star in a fictional sitcom, entitled Keepin' it Kodos. In it, Kodos is preparing their boss' visit by cooking dinner: Homer, on a baking tray (continually eating himself), Bart, on a fryer, Marge and Maggie in a pie, and Lisa in a soup. The boss gives the meal a delicious rating, but his stomach bursts ends up liberating Bart. Kang and Kodos are given a hyper-galactic promotion, much to the aliens' delight. Bart is sad about the loss of his parents and younger sisters, but Kang and Kodos decide to adopt him, which comforts Bart. The theme song from Perfect Strangers plays as the Treehouse of Horror logo appears on the screen; an alien tentacle stamps the "XV" underneath which makes it say, "Treehouse of Horror XV" in the fashion of the Mark VII Productions company logo.
The Ned Zone

In a parody of The Dead Zone, Homer tries to get his frisbee from the roof by throwing a bowling ball after it. The ball strikes a passing Ned on the head. When Ned recovers in Dr. Hibbert's hospital, he has a vision of Dr. Hibbert falling out of a window to his death. Homer then asks Hibbert to retrieve his frisbee from a ledge on the hospital. As Dr. Hibbard reaches for the ledge, he slips out of the window, causing Ned's vision to come true. Ned realizes that he can see the deaths of people whom he touches. After he gets out of the hospital, he attempts to save Hans Moleman from falling down but has a vision of him being eaten by alligators. In shock, he drops Moleman into an open manhole full of alligators. He also predicts the closing of the Rosie O'Donnell Musical, but says he "didn't need special powers to know that was coming!". A later vision depicts him shooting Homer. When Homer finds out, he taunts Ned and even gives him Chief Wiggum's gun to shoot him with, and says he could not even shoot him by accident. Ned refrains from shooting Homer, seemingly changing the future, but then has another vision of Homer blowing up Springfield by pressing the 'Core Destruct' button at the nuclear power plant. Ned tries to dissuade Homer from going to work, but Homer goes anyway because of ice cream cake for Lenny's birthday. Ned rushes to the power plant to stop Homer, but his warning is scrambled by static over the intercom, sounding as if he is encouraging Homer to press the button. In desperation, Ned grabs a nearby security guard's gun and forces himself to shoot Homer (fulfilling the original prediction), but in his death throes, Homer presses the destruct button with his tongue. Ned has enough time to say "You stupid son of a…" before the power plant explodes and Springfield is destroyed. Ned, The Simpsons, and their garage (which Homer was assigned to clean, leading Marge to believe he blew up the town specifically to get out of doing so) go to Heaven as angels and meet God (again), who proceeds to give Homer "what he deserves" – his Frisbee.
Four Beheadings and a Funeral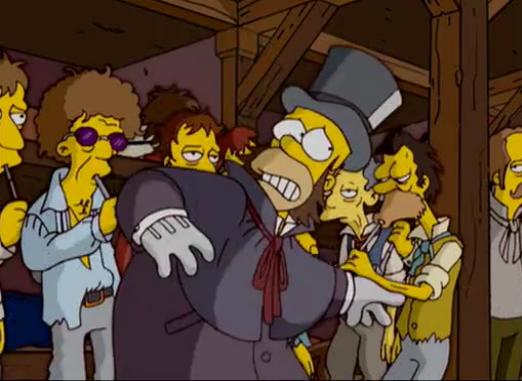 In a parody of From Hell, taking place in 1890, London's prostitutes are being killed with swords in a series of unsolved murders by "Jack the Ripper" (referred as The Muttonchop Murderer). Scotland Yard's Inspector Wiggum challenges Master Detective Eliza Simpson and her easily amazed assistant Dr. Bartley to solve the crime. Their first piece of evidence is a bloody sword found by a "proper-Cockney flower girl". Simpson takes the sword to an oddities merchant, who recognizes the sword as part of a set he had sold, called The Seven Swords of Osiris. He goes to check his records to see who he sold the swords to, but is killed by Jack the Ripper. Looking at the ledger, Simpson and Bartley discover the swords were sold to C. Ebenezer Burns, an industrialist who "makes coal out of babies". Bartley knows where to find Burns and tracks him down at Mao's Den of Inequity, an opium den. Burns instantly recognizes the sword, and tells Simpson that he sold them for opium to a "fat man with sideburns", and notices a man nearby who resembles the description, Homer. Simpson and Bartley chase him down and Homer gets caught by Wiggum, who happens to be at the opium den as well, to help Ralph Wiggum go to sleep. Simpson and Bartley congratulate themselves for solving the crime, until they find another body, Selma, stabbed by another Sword of Osiris. Bartley first dismisses the body has having been killed days prior, pointing out the body as bloated and the face rotten, though Selma is alive long enough to say it was just "5 minutes ago". Simpson takes the sword and recognizes a certain scent on the sword handle. The next day, just before Homer is hanged for the murders, Simpson arrives, declaring Homer innocent due to the smell of eel pie on the handle, which Wiggum loves to eat. It is then revealed Wiggum has muttonchops as well, exposing him as Jack the Ripper. He starts to explain that he just wanted to come up with a case that Simpson herself could not solve, but then flees in hot-air balloon stolen from Professor Frink, but it gets pierced by a steampunk-style flying saucer flown by Kang and Kodos, who consider Earth's air fleet as destroyed. It is then shown that the whole story was an opium-caused dream by Ralph.
In the Belly of the Boss

In a parody of Fantastic Voyage, at the "Invention Expo", Professor Frink creates a machine that shrinks objects. Maggie (thinking that it is a ball pit) crawls inside a giant pill, which is miniaturized and swallowed by Mr. Burns. The rest of the family agrees to be shrunk within a craft and injected into Mr. Burns' body. Homer is the captain, Lisa is in charge of science and research, Bart is in charge of security, and Marge is just herself. When Homer refuses to follow Frink's instructions, the ship gets stuck in Burns' heart. The crew manage to get the ship free and are able to reach the stomach by catching a ride on a nerve impulse, which Lisa calls "the body's information superhighway". They manage to save Maggie, but are forced to leave Homer behind when their craft does not have enough power to save them all due to the addition of Maggie's weight. Homer becomes initially despondent at his family leaving him behind, but finds consolation in finding a marshmallow in Burns' stomach. The submarine successfully escapes, and Prof. Frink tells them there is time to save Homer, but he is wrong, as Homer instantly returns to his original size inside Mr. Burns' skin. Even though Homer complains that Mr. Burns needs several extra holes, Burns is confident that things will work out. The episode ends with Burns and Homer leading a dance to the tune of "I've Got You Under My Skin" (along with characters from all three segments and the opening sequence).
for the 15th anniversery of the Treehouse of Horror's They did some great stories  the best is the From Hell Parody.