CAST
Jim Parsons (Garden States)
Johnny Galecki (Hancock)
Kaley Cuoco (Killer Movie)
Simon Helberg (Dr. Horrible's Sing-A-Along Blog)
Kunal Nayyar (Ice Age: Continental Drift)
Mayim Bialik (Beauty and The Beast 1989)
Melissa Rauch (I Love You, Man)
Kevin Sussman (Ugly Betty)
THE BATH ITEM GIFT HYPOTHESIS
GUEST CAST
Michael Trucco (Wishmaster 4)
At the university, Sheldon is educating the guys that Superman cleans his uniform by flying into the sun. Howard questions what happens if he gets something Kryptonian on it. Sheldon is pretty sure that all Kryptonian condiments were destroyed when Krypton exploded. Leonard points out that Superman's sweat is also Kryptonian, and Howard laments over what to do about Kryptonian pit stains. Sheldon counters that Superman doesn't sweat on Earth, and could always wash his clothes while visiting the shrunken Kryptonian city of Kandor, where he has no superpowers and his clothing wouldn't either.
A scientist, David Underhill walks in. Not only is he a winner of the MacArthur Genius Grant (it's a real thing), but even according to Sheldon, his observation of high energy positrons has provided the first conclusive evidence of the existence of dark matter. Everyone but Leonard seems to respect him. Sheldon points out that Underhill's discovery has essentially made Leonard's line of research useless. Leonard points out that Underhill was just at the right place at the right time. Underhill approaches Leonard and asks if he has time to work with him. Leonard is thrilled and gives him all his phone numbers, including his parent's number in New Jersey. Leonard arrives at the apartment, missing Wii Bowling Night. Dave is very cool, as he is a Black Diamond (advanced) skier, collects vintage motorcycles, and does a spot-on impression of Stephen Hawking having phone sex. Dave and Leonard are getting along very well and are going to the gym the morning. Penny asks if the guys are putting up a Christmas tree to which Sheldon explains. "We do not celebrate the ancient pagan ritual of Saturnalia. Sheldon explains, "In the pre-Christian era, as the winter solstice approached and the plants died, pagans brought evergreen boughs into their homes as an act of sympathetic magic to guard the plants and preserve their essences until spring. This custom was later appropriated by northern Europeans and eventually becomes the so-called Christmas tree." Howard quips "And that, Charlie Brown, is what boredom is all about."
Penny says that she'll put their presents under her tree. Sheldon is upset, stating that Penny is not giving him a present, rather an obligation. He must give her something of equal value based upon on her present and her perceived level of friendship. Sheldon ponders if obligations such as this are a contributing factor to the increased suicide rate during the holidays. Raj and Howard end up taking him to the mall. Leonard and David are heading up the stairs helping Leonard after the motorcycle fell over on his leg. They run into Penny who is surprised that David is a physicist and they became quickly smitten with each other. Penny claims to be a geek who would love to see his lab. David proposes to take her out to dinner and up the coast his bike. Leonard is left on his own to figure out what just happened. Sheldon's shopping does not go well in a bath & body shop which is a "cacophonous assault of eucalyptus, bayberry, cinnamon, and vanilla." To be fair, though, it is less scary than the Build-a-Bear shop next door. Howard picks a gift basket to purchase, but Sheldon stops him. He has no knowledge of what size gift basket to get. He experiments by "giving" the gift basket to the sales clerk. Since she acts just like Penny, Howard claims that they'll take it.
Leonard gets a little shock in the university's cafeteria finding Penny with David and having taken his offer of looking around the labs even though he had also offered to show Penny around. David is totally into Penny, saying she has an agile mind (among other things) and he has forgotten about working with Leonard. He is more interesting in doing some research with Penny about the effects of tequila shots on a gorgeous 22-year-old woman.  Back at the apartment, Leonard is upset and lying on the couch when Raj and Howard enter carrying several huge gift baskets. Sheldon's plan is to open Penny's gift first, then excuse himself with some "gastric trouble," and get the appropriately-priced basket, returning the others later. Howard wonders if Leonard has already gotten Penny the perfect gift; a new boyfriend. Leonard goes over to Penny's finding her drinking rum and eggnog minus the eggnog. He demands an answer to why Penny is suddenly dating someone smarter than himself when she thought he was too smart for her, the very thing that broke them up at the beginning of the season. Penny bursts into tears wondering why he was yelling at her. Leonard immediately retreats and tries to find out what's wrong. She says that David is an idiot because he should have taken the nude photos of his wife off his cell phone before taking nude photos of his girlfriend. Leonard asked about the nude pictures to which Penny responded, "THAT'S what you got from that? The guy is married!" Penny also asks that if he is 'perfectly happy' with the way things are, then why is he jealous. Leonard apologizes and asks her to give him this one since it is Christmas. They end up cuddling. She relents and wishes him a Merry Christmas. Then Leonard brings up that his leg is still in pain.
Later Penny brings over her Christmas presents. Sheldon gets a napkin, which when turned over was signed by Leonard Nimoy. "To Sheldon, Live Long and Prosper." First he is speechless and then Penny apologizes that it is dirty because he wiped his mouth on it. Completely overwhelmed and emotional, Sheldon then exclaims that he now has the DNA of Leonard Nimoy and can grow a clone of his own before quickly running off to his room. Leonard gives Penny a set of children's science experiments because she told David she was so into science. Leonard gets some motorcycle lessons to prevent any future accidents. Sheldon returns to the room with all of the gift baskets he bought and gives them to Penny, much to her surprise. However, thinking that it still doesn't equal the value of his gift, Sheldon gives Penny something he rarely gives anyone… a hug. Leonard considers this day is a Saturnalia miracle (i.e. Sheldon version of a Christmas miracle.).
Such a great Christmas episode and is one I watch every Christmas, the ending is the best part and so touching.
THE MATERNAL CONGRUENCE
GUEST CAST
Christine Baranski (Into The Woods)
The episode begins with Penny and Leonard decorating Leonard's Christmas tree. After being asked to contribute, Sheldon gives them a bust of Sir Issac Newton to hang on the tree partially since he was born on Christmas day and Jesus was not. A visit from Leonard's mother, Dr. Beverly Hofstadter (Christine Baranski), delights Sheldon and horrifies Leonard. Penny is upset because Leonard didn't mention his mother's visit to her, but that is nothing compared to when Leonard learns that Sheldon knows more about his own mother than Leonard does. Leonard learns about his parents' pending divorce, his mother's surgery, and his dog Mitzy's death all after Sheldon has known. Beverly questions
Howard and Raj about their "ersatz homosexual relationship" (alluding to her last visit in "The Maternal Capacitance") and Howard tries to tell Leonard's mother that he has a girlfriend, but she doesn't seem to believe him. He asks Leonard to tell his mother, but Leonard responds, "I have no idea what you're talking about.", but Leonard tells her Howard has a girlfriend after Howard makes him since Leonard knows and Howard scoffed at Leonard not knowing what's Howard's talking about. Penny and Beverly go out drinking at the Cheesecake Factory bar and get terribly drunk. Penny tells her about her relationship with Leonard and Beverly tells her about her interest in the busboy. When they get back to the apartment, a drunk Beverly scolds Leonard for not telling her that he is in a relationship with Penny. Leonard then confronts her about not telling him about her surgery, her divorce and his dog's death and he wants a closer mother and son relationship, so Beverly hugs him. After Leonard is gone, Beverly kisses Sheldon much to Penny's horror. Afterwards, she says that she would rather have the busboy.
The next day, Penny and Beverly are hung-overand Leonard and Sheldon are taking Beverly to the airport. Beverly asks Leonard to take care of Penny and hopes Sheldon will forgive her for her actions the previous night; however, they all decide to keep it a secret from Leonard.
The second Christmas episode is brilliant seeing Penny interact with Leonards Mother was hilarious.
THE SANTA SIMULATION
GUEST CAST
Dakin Matthews (Lincoln)
Leonard is assembling a cardboardfireplace decoration for his apartment. He is amazed that he assembled an entire fireplace with his own bare hands hands, even though he did get a papercutpaper cut. Leonard tells Penny that the guys are playing Dungeons and Dragons together because they haven't in a long time. Penny asks him if he'd rather play a fantasy board game on a Saturday night rather than be with his girlfriend who let him have sex with her. Amy tells Sheldon that she always wanted to play Dungeons and Dragons. Sheldon replies that she isn't invited because men at times have to get away from civility and break out into their primal selves.
Bernadette tells Howard that she worked late so that they could be together on Saturday night. Howard tells her that if he doesn't come, then the guys will blame the failure of their night on her. Raj and Stuart had planned to have dinner and see the ChristmasChristmas lights in Griffith ParkGriffith Park, but are even more excited about joining in the game.Their Dungeons and Dragons quest starts with a Christmas gift given to Sheldon who, as usual, is complaining about Christmas, like the overuse of "t'is" and "t'was". He pulls out a scrollscroll from the Christmas stocking that describes their quest that starts in a village of massacred elves. They must rescue their leader Santa Clausfrom a packdungeon of ogreogres. Leonard explains that a holiday-themed quest would be a good idea. Sheldon replies that it was like a sandwich of grape jelly and petroleum jellypetroleum jelly. In-game, Howard finds a secret door, tries to set up an invasion strategy, however; Raj rushes in. He hits a tripwaretrip wire that triggers a cannoncannon, leading to his death and disqualification.
Penny pokes her head into the room and tells the guys that she thought that they should see what they are missing out on. Acting like runway modelfashion models, Bernadette shows off a tight short red dress from Forever 21″Forever 21″ and Amy a flowered dress from "Forever 63", actually showing a lot of ankle, and new shoes. Penny is wearing a very short little black dress that got her out of two speeding ticketsspeeding tickets and jury dutyjury duty. Raj says he wants to go but first the girls tell him that he can't come because its girls' night but, after the girls leave, Penny pokes her head back in and invites him. At the nightclubbar, Bernadette wants to find a girl for Raj but needs to know whether he should find a girl to get laidhook-up or a quality relationship. Amy announces that they should get him laid. The girls tell him that they could find someone and introduce him. Raj doesn't want the girl to know that he has money, but she has to be a nine or ten. Or eight if she brings another eight to the hot tub. According to Bernadette, he'll have any girl that will have him and Raj agrees.
Back at the game, the boys' characters find a large chest. Howard wants to bury his head (i.e. boobs) in it even though he is married. The door locks behind them, and glowing words appear on the chest as the walls start to close in. The answer of the clues has Sheldon singing "Good King WenceslasGood King Wenceslas" to stop the walls from closing in. Sheldon knows the song from when his grandparents would sing carols at Christmas time. They tried to resume the game, but Sheldon insists on singing the remaining verses. At the nightclub, Raj finds a hot girl at the bar, they talked for a while, and he leaves her to return to the girls. He finds that she gave him a phony email email address. Raj complains that is really his fault since he falls for girls that are out of his league. He did when he fell for his friends' hot girlfriends, Penny and Bernadette. Amy then concludes at some point he'll fall her. Raj says a definite "no" but Penny and Bernadette urgently try to get Raj to change his comment about Amy, but he keeps saying "no", and that he wouldn't fall for her. Back at the apartment, Sheldon finishes the last verse of "Good King Wenceslas". Next, they find a pool of melted snowmansnowmen that Sheldon wants every detail about. Afterwards he picks up a cup of eggnogeggnog. Leonard says he's glad Sheldon is finally in the holiday spirit, but Sheldon claims that he is not and that he drinks eggnog all year-round. Leonard wishes Sheldon would get in the spirit since he had enough crappy Christmases when he was a kid. Instead of leaving Santa milk and cookies, Leonard's family left research paperresearch papers for Santa, and then in the morning they were graded. Sheldon thinks they must have been great Christmases.
At the nightclub, Raj apologizes to Amy if he upset her. Amy says her first kiss was at 22, but only before she returned some guy's medicine to him. Raj claims that during a game of spin the bottle, the girl the bottle landed on said if he came close to her she would break the bottle and cut him. Amy says she fell asleep at a fraternity party in collegecollege and woke up with more clothes on. Raj says that he would sit on one hand, make it numb, and then hold hands and feel like it was another person. Amy says she does the same thing, but hers sometimes would cops a feelcup her breast. Amy tells Raj that she knows what it's like to be alone and Raj agrees as they seem to connect. But Raj reminds her that she has Sheldon now. Then Amy tells him that he'll eventually find somebody too. Raj says that he hopes that she is as half as a lovely person as Amy. Amy then says that Raj "wants me; now I'm good". She says that they can leave now, obviously getting back at Raj who then tells Penny on the way out that now he may fall for Amy. Penny looks strange at him. During the next game stunt, Sheldon puts numbers on the whiteboard and the three players start playing "Jingle BellsJingle Bells" with bells. This act lowers the drawbridgedrawbridge and they find the bloody and beaten Santa in the dungeon. Sheldon casts a spell of paralysis on Howard and Stuart, goes in and yells at Santa. Sheldon confesses that when, he was five, he asked Santa to bring back his Pop-Pop, Meemaw's husband, who had just died and was his only relative that urged him to follow his dream into science. Instead Santa brought him a set of Lincoln LogsLinkin Logs. Sheldon kicks Santa and leaves him to the ogres. The others are completely shocked as they now know that Sheldon doesn't like celebrating Christmas as he was struggling to recover from such a traumatic family tragedy at the time. Leonard just comments that he gave up sex with Penny for this unhappy ending.  That night, Sheldon comes into the living room and finds Santa Claus leaving him presentpresents and he apologizes for not bringing back his Pop-Pop because he says that his magicpower is limited. He also has something special for Sheldon, who seems excited, thinking his presents are trains. But because Sheldon left him for dead in the game, Santa fires a cannon at Sheldon for his revenge. Sheldon quickly wakes up from his dreamsnightmare, coming to the senses that he shouldn't blame Santa for his Pop Pop not coming back to life.
Another great xmas episode, seeing Sheldon seek revenge of Santa was fun and even more fun the dream he has afterwards.
THE COOPER EXTRACTION
GUEST CAST
Laurie Metcalf (3rd Rock From The Sun)
Carol Ann Susi (Sabrina: The Teenage Witch)
Brian Smith (Casual)
Rushing down snow covered hills, Amy and Penny are video skiing. Amy is winning because her center of gravity is very low; she is built like a pyramid. Leonard sprained his ankle playing. While Penny wants him to go to the hospital, Leonard refuses to go into the ER with another video game injury. Sheldon enters the living room and turns down a chance to play the game since he is on is way out to Texas. He is leaving immediately. Leonard inquires if someone is sick. It seems that Sheldon's sister Missy is about to have a baby. Penny brightens up and is happy for the new Uncle Sheldon. Sheldon tells everyone that he is going to be Uncle Dr. Cooper. Amy wonders why no-one knew that his sister was pregnant. Sheldon also didn't mentions his brother's kidney stones. He then asks everybody people want to know everything that was coming out of his family's genitals. Sheldon is going to fill in for his brother-in-law that was in a horrible motorcycle accident. Sheldon feels that he is lucky since he doesn't have to be there for the blessed event. His sister Missy is due the next day, but since it took her six years to get through high school, Sheldon doesn't know how long it's going to take. Amy offers to give him a ride to the airport, but he doesn't want to inconvenience his girlfriend. He does turn to Leonard and tells him that they have to leave in ten minutes.
Everybody minus Sheldon is together for a tree decorating Christmas party. Since Sheldon is absent, so are all of his tree decorating rules (including the required spacing of the ornaments.) Now, both Star Trek and Star Wars ornaments can now be on the same branches. The fact that Howard is enjoying trimming the Christmas tree might cause his mother to have a heart attack. Bernadette then takes the opportunity to photograph Howard trimming the tree. Penny is a little short of funds this year so her Christmas present is going to be giving him herself, which is what Leonard got last year and last night. Stuart then joins them as Amy's computer notifies her of an incoming video chat from Sheldon. He thinks that they are so thoughtful that they have a Christmas party after he left since he isn't into Christmas. His sister has been in labor for an hour and is having a home birth. Raj points out that many women want to give birth at home in a warm comfortable environment. Sheldon feels that she will also turn her bedroom into an "amniotic Slip and Slide." Sheldon then gets called away to have a family picture taken because his sister is fully dilated and there is no blood yet.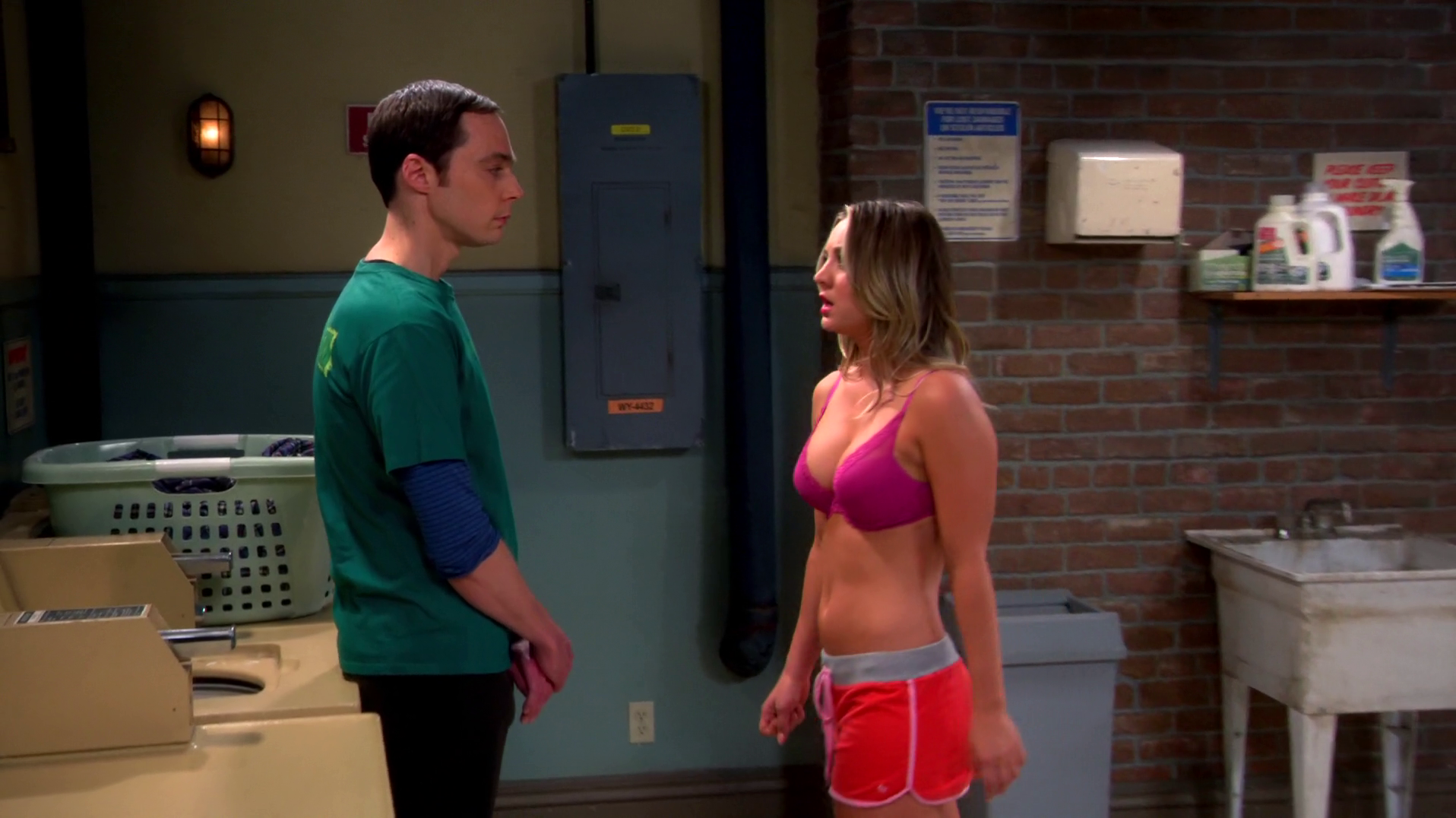 Raj wants to know if Amy would want Sheldon there if she was having a baby. Penny breaks in that she doesn't think Sheldon will be there when they make the baby. Bernadette brought over the holiday film "It's a Wonderful Life," to watch. Neither Raj nor Stuart has seen it. Amy describes the movie as being at Christmastime, Jimmy Stewart is really depressed and wants to jump off a bridge and kill himself which is pretty much Stuart's life story. Bernadette then adds that he gets to see what life would be like if he never was born. Penny wonders if anyone ever considered life without someone. (Leonard: "Knock… knock… knock… What do you think?… Knock… knock… knock… What do you think?… knock… knock… knock… What do you think?" doing Sheldon's knock.) Amy points out that despite the jokes they make about Sheldon, none of them would be there if it wasn't for Sheldon. None of them would know Amy. Bernadette would never have met Howard. Leonard would not have been dating Penny. Leonard disagrees because he has been going to The Cheesecake Factory for years and he could have still picked her up causing everybody to laugh. Penny then explains what would have happened.
Howard, Raj and Leonard are having a meal and Leonard tells them that he is going to finally ask her out. Penny comes over to ask what they want to eat and Leonard can't even speak to her. He then walks over to her, introduces himself and tells her that there is something he has wanted to ask her for a long time. If she is not too busy he wants to know if she could tell him…where the restroom is. Penny remarks that he is too late looking strangely at him. Back in Apartment 4A, Leonard objects that he would not have wet himself though Raj and Howard think that she got the story right. Leonard did ask Penny out, but that could not have happened if he hadn't moved in with Sheldon. Of course, Penny would never have been introduced Howard to Bernadette. Howard replies that he could have also met her when she was a waitress. Bernadette explains her version where she tells Penny that she finds Howard cute. Then she sees Raj feeding Howard a bite of his dessert and then cleaning off his mouth with a napkin and Bernadette changes her mind. Leonard then confronts Penny that she wouldn't have done so great herself due to the type of guys she had been dating. In Penny's apartment she is preparing food and in walks Zack Johnson who calls her babe. She asks if he paid the rent and instead Zack bought some magic beans. Then Leonard makes them both pee on themselves since Penny did the same thing to him.
Sheldon calls back claiming that he has seen lady things that he "shouldn't have seen." According to Amy, they don't normally look like that. Sheldon then says that that is people should not be coming out of people to make new humans; to him, it's like a "dirty magic show." Sheldon's mother calls him to bring a mop. Sheldon is distraught that despite having two PhDs, he is reduced to being the janitor of his sister's birth canal. Sheldon sends everyone a holiday email including a picture from the birthing room that disgusts Leonard, Penny, and Raj. Back to the "It's a Wonderful Life" discussion, Penny would still have met Sheldon. Amy describes how without Leonard there, Penny would try and seduce Sheldon. Penny stalks Sheldon in the laundry room wearing her short shorts. She sunders over to him and asks if he is doing his laundry. Of course, because Saturday night is laundry night and he is in a laundry room. Sheldon tells her that her inference is justified which Penny thinks is so funny. Penny is going to do her dirty laundry, which isn't as dirty as the dirty girl wearing them, who starts to undress. The real Penny wants her to stop, but the guys disagree. Now in her bra, Penny asks Sheldon what he thinks. He finds her a tad asymmetrical, but nothing to worry about. Penny tells him that they are going to do it in the laundry room right now. Sheldon reminds her that he is saving himself for a bespectacled neurobiologist who has hair the color of mud as Amy tells the story.
Sheldon calls back from Texas saying that things are going better. His mother asked him to get some towels, so he left and went to "Bed, Bath and Beyond". Missy then screams while Sheldon is on the phone which he finds very rude. Amy has now diagrammed the absent Sheldon premise and tells Penny that she would never have met comic book legend Stan Lee. Howard would have always known Raj and Leonard. Leonard never got an apartment with Howard because of the latter's "serious relationship with his mother". Bernadette again mentions that if they had not met, he would still be living with his mother. Howard tells his version, first he is taking his mother her lunch in her bedroom and that she didn't get enough food. Later he is seen feeding her, but she is still in the bedroom dead reminiscent of the mother in the movie Psycho with Howard now doing her voice. Howard is neutral on whether she starved to death or if he actually killed her. Leonard and Raj did not move in together because Raj thought he was going to be a ladies' man. In Raj's scenario, Leonard is living with him as Raj cooks dinner for a fat Leonard. Since he had no girlfriend, he compensated by overeating, so Raj deep fried some food. Then Leonard also makes Raj fat in the living together scenario. Then Stuart shows up (fat) to have dinner with them because to be in someone's story. In Amy's case, without Sheldon she is alone in her apartment crying over a cupcake and singing "Happy Birthday" to herself. (Happy Birthday to me, Happy Birthday to me. There's tears in the frosting, Happy Birthday to me) Stuart shows up and blows a party favor in her face to be in another story.
Sheldon is back reports that his sister had a baby boy. Sheldon was not sure he was going to make it, however his mother gave him some ice chips and his sister (in labor) kept giving him encouragement. He's not going to go back because he finds the baby irritating since he has literally been crying his entire life. Howard tells him that the baby is already taking after Uncle Shelly. Amy tells him to return to be an intelligent role model for his nephew, to which Sheldon agrees. They were amazed that Sheldon did exactly what Amy asked him to do. Even though Amy kept telling the gang the impact Sheldon had on them, he has had an impact on Amy too. Amy felt if that were really true she wouldn't still be living alone. Leonard tells her that Sheldon cares for her more than she really thinks. Amy doesn't believe him so he shows that her picture is on Sheldon's screen saver along with Swamp Thing, Madame Curie, Stephen Hawking, etc. Amy gets excited that Sheldon is really into her. And she doesn't mind Madame Curie being there because she is already dead. After Sheldon returns, Amy is walking up the stairs and staring at Sheldon. She tells Sheldon that she missed him to which he quotes Han Solo, "I know." After Amy asks if he missed her, he replies that he would have liked her to be with him (or had gone in his place). Amy also wonders how he felt holding his nephew hoping that he might want one with her someday. He looked into the blank innocent eyes of someone who didn't comprehend anything he said, which he said was like another day at the office for him. Finally, a fat Raj and Leonard are eating at the Cheesecake factory and again Leonard asks Penny out. She already has a boyfriend, a very suave looking Stuart. Of course, this situation was Stuart's Christmas fantasy.
A great Christmas episode showing the gang how much Sheldon has changed there lives and how much he means to them.
THE CLEAN ROOM INFILRATION
GUEST CAST
Brian George (Ghost World)
Dakin Matthews (Lincoln)
At dinner Raj tells everyone that his parents are divorcing and getting themselves lawyers. Sheldon would not hire the She-Hulk as a lawyer, if he ever needed one. Penny compliments him for almost staying on topic for once. Sheldon adds that since she is the only monster at her law firm, she must be an affirmative-action hire. Since Raj's father is visiting, he can't host Christmas eve dinner so Amy volunteers since she always wanted to host a traditional English Victorian Christmas for gang including parlor games, goose, figgy pudding. Sheldon doesn't like figgy pudding because of all of the raisins and won't come. Amy replies that he is coming. Sheldon claims that she hates him; however, Amy corrects him that she loves him, Sheldon adds that there are still a lot of raisins in it. Raj is a little miffed about themed-holidays since they didn't like his "Tom Hanks"-giving.
On Christmas Eve, Leonard and Howard are in contamination garments in the university cleanroom constructing an experiment to detect cosmic particles. Leonard likes the fact that he has no allergy problems due to the sterile room. A pigeon flies in the room because Howard left the loading dock door open. Now they have to get rid of it before the bird soils the dust-free room. Howard doesn't want to call facilities and get blamed. First he suggests they turn off all the lights except for one, but that is to attract moths. At Amy's apartment, Amy and Penny are visiting with Raj and his father who has nothing good to say about his wife. On his twenty hour airplane flight without his wife, he didn't pray for the plane to crash. The guys call Raj to help them deal with the pigeon. Dr. Koothrappali stays with the girls since he just had a long flight which doesn't make Penny happy. Bernadette has picked up Sheldon and is singing Christmas carols about Santa Claus in her car with too much Christmas joy until Sheldon turns off the music. Sheldon's uncle did many of the things that Santa is known for and got arrested.  He and Amy decided not to get each other something for Christmas since Sheldon doesn't enjoy it. While they were Christmas tree  shopping, Amy kissed him under the mistletoe in public making Sheldon very unhappy. He felt he was part of a Tijuana sex show. Sheldon has decided to punish her to make her feel as miserable as he does so he is going to buy her a Christmas present. Since she has not gotten him one, that would ruin her Christmas and make her sad according to Sheldon's logic. She should be so unhappy that she won't make him celebrate the holiday again ever.
Howard is trying to catch the pigeon in a garbage bag with a Slim Jim which Leonard thinks is stupid. He just wants to call building services. Howard doesn't want to get the blame even though he always tries to hide his culpability. Raj arrives and wants to know the situation. Leonard explains that Howard wants to catch the bird in a garbage bag with a Slim Jim which he holds up and the pigeon snatches and flies off. Back at Amy's place, Dr. Koothrappali thinks that it is too soon to think about dating again. Penny volunteers if she were free and he didn't talk about Star Trek all the time. Amy brings out her first parlor game that involves blowing a ball of wool across a table. Penny also tells Raj's father that Amy is also taken. While trying to catch the pigeon, Howard tells Leonard that he is jealous because they used to be best friends till Raj came along. Leonard thinks that happened because Howard can push Raj around. Then they start arguing who is smarter and conclude that Raj is smarter than Howard though since its Christmas they decide that Howard is smarter one. Raj is sure that it was Howard that let the pigeon in. Bernadette and Sheldon are shopping for the perfect gift to ruin Amy's Christmas. Bernadette's favorite gifts from Howard were based upon what Howard knew about her. Amy likes Chaucer, medieval literature and old French movies which make her eyes light up according to Sheldon. He also like the way her fingers dance around whenever she hears harp music. He does admit that he really loves Amy and wants to find a gift to make her feel small and worthless.
Amy and Raj's father are now blowing the ball of wool back and forth across the table with increasing boredom. Dr. Koothrappali wins though Penny quips that it probably doesn't feel that way. He remembers the theme parties that his wife used to throw. She and Raj spent a lot of time together since he worked a lot. Penny brings up Raj's girlfriend Emily also works a lot. She thinks that that is funny.Sheldon is now sitting on Santa's lap telling him that he wants their picture together to punish his girlfriend for making him celebrate Christmas. Santa thinks that dating Sheldon is punishment enough. They smile for the camera.
Back in the clean room, they are trying to catch the bird with a blanket and a fire extinguisher to get him out the door. Howard has the blanket and then complains that they don't think he is smart enough to use the fire extinguisher. They trade tools and Howard attacks the pigeon with the fire extinguisher which causes the bird to fall dead onto the floor. Howard is upset because that something similar happened when he was a child and the tried to revive the bird with electricity, setting the poor thing on fire. The bird is not breathing so Howard gives it CPR thus reviving the bird. As they carry the bird toward the door to let him out, a crow flies into the room because no one has yet closed the door. As the crow looks down at the guys, they debate calling building services on Christmas Eve. Penny calls Leonard and just tells them to leave. Even though they signed into the clean room, she tells them to erase their names off the list and get out of there. The next scene shows them in the car singing "Jingle Bells" heading toward the party. After finishing the figgy pudding, Sheldon first complains about the raisins. Amy tells him that they were figs, so Sheldon is fine with that. Dr. K offers to help; however, since he Heimliched a ball of wool out of her, he didn't have to. Sheldon gives Amy his gift of his picture with Santa in a frame that plays a personal Christmas greeting to her from him and she loves it. Sheldon tells her that she got him nothing expecting her to be sad. He is happy because they will never do it again. Despite what she said, she made Sheldon a gift, his favorite cookies from his Meemaw's recipe. Amy talked to her to get the recipe. Sheldon tries one and calls them perfect because they taste like her hug.
Amy wishes Sheldon Merry Christmas. Everyone is happy and Sheldon wonders if giving is what Christmas is all about in a softer gentler tone. Raj ends Sheldon's festive mood when he reaches for one of his cookies and Sheldon tells him to take his hands off them. Finally Amy wants them all to sit down and play "Hot Boiled Beans." Amy explains that one person leaves the room while the rest hide a small item in the room. The first person is invited back in by saying, "Hot boiled beans and bacon for supper, hurry up before it gets cold!" Raj shakes his head and claims that if they think this holiday theme is better than his idea for a "Tom Hanks"-giving, then they are all crazy.
Another great Xmas episode. The highlight being Sheldon trying to purchase the best Christmas special for Amy even thou his motives are devious it all works out and ends up being very touching come episodes end