PRESIDENT EVIL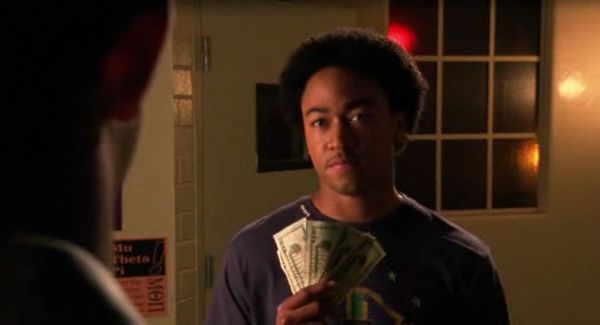 CAST
Kristen Bell (The Boss)
Jason Dohring (The Originals)
Percy Daggs III (Izombie)
Michael Muhney (The Young and The Restless)
Francis Capra (Heroes)
Enrico Colantoni (Powers)
GUIEST CAST
Robert Ri'chard (The Vampire Diaries)
Michael B. Silver (I Am Sam)
James Jordan (True Blood)
Ryan Devlin (Deck The Halls)
Daran Norris (Izombie)
Blake Shields (Heroes)
Ryan Pinkston (Bad Santa)
Krista Kalmus (Fired Up!)
Jaime Ray Newman (Bates Motel)
Ed Begley Jr. (Batman Forever)
Brandon Hillock (Villains)
Dianna Agron (Glee)

Veronica shows one of the rape victims (Krista Kalmus) the photo of a suspect, but she doesn't recognize him. In criminology class, Veronica does a case study of Weevil (Francis Capra), and the class enjoys it. After the study, Veronica tells Weevil that she's dating Logan (Jason Dohring), and he reacts negatively. Veronica then walks into Mars Investigations and finds Cyrus O'Dell and his wife (Jaime Ray Newman) talking with Keith, while Veronica herself does some detective work. Keith informs Veronica that Dean O'Dell's stepson is dying and that he wants Keith to find the boy's biological father. At Mercer's (Ryan Devlin) party, two masked men enter and steal everyone's valuables, including the necklace that Lilly gave Veronica. Wallace (Percy Daggs III) is failing his mechanical engineering class, a subject in which he wanted to major. Meanwhile, Keith tracks down the husband, and Veronica accuses Weevil of robbing the party.

At the meeting, Dean O'Dell's wife asks the ex-husband to give their son a bone marrow transplant. Meanwhile, Sheriff Lamb (Michael Muhney) arrests Weevil for the robbery. Veronica visits Weevil in prison before she decides to look into a pizza delivered to Weevil's house. Sheriff Lamb tells Keith that the ex-husband has disappeared before accusing Keith in the ex-husband's disappearance. Keith thinks that Dean O'Dell was involved in the disappearance, but when he visits Dean, it turns out that Dean's wife and stepson have disappeared to a hospital in Mexico, presumably taking the ex-husband with them. Wallace visits a "tutor", who gives him a mysterious "study guide" before going back to for the "answers." Veronica notices the masks being used in a short film, but they were stolen. When they are in Mexico, Dean O'Dell reveals that he lied to Keith about their whereabouts. Veronica tracks the casino robber down to a volunteer police officer. She has evidence, and the police comes to arrest him. However, they don't find the necklace. At the hospital, Keith hesitates when O'Dell asks him what he would do if Veronica were in danger. Veronica gets her necklace back from the perpetrator's daughter. Because he gave bone marrow, the ex-husband now has a much more favorable divorce settlement. Veronica tracks down the suspect in the photo, Wang Yi, but his roommate tells Veronica that he is Claire's boyfriend.
Veronica Mars will be one of my favorite shows of past, this episode although being a Halloween themed is also very important to the overall season 3 episode. As a standalone episode its also fun to see Veronica and Logan in Halloween gear. all in all a great episode from a great show.