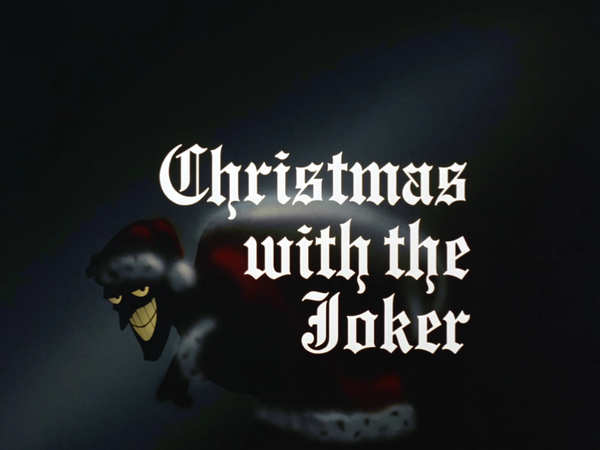 CAST
Kevin Conroy (Batman Beyond)
Loren Lester (American Pie 3)
Bob Hastings (McHale's Navy)
Robert Costanzo (Total Recall)
Mark Hamill (Star Wars)
Clive Revill (Freakazoid)
Mari Devon (Digimon)
It's Christmas Eve and even the inmates of Arkham Asylum are celebrating. They sing "Jingle Bells" and set up decorations. The Joker is given the golden ornament to put on top of the Christmas Tree. However, as soon as he places it on top of the tree, a hidden rocket activates and Joker rides out to freedom. Meanwhile, back at the Batcave, Robin tries to convince Batman to kick back and relax as there's no need for them to go out on Christmas. Batman believes otherwise since Joker has escaped. Robin makes a deal with him: if they go out on patrol and find no sign of the Joker, then they'll return home and watch It's a Wonderful Life. Batman agrees and the duo heads out.
All seems quiet in Gotham for a change and Robin is convinced they aren't needed. Batman is his usual self: seeing a man running after a rich woman and believing that she's going to be robbed, he heads out after them. However, the man calls to the woman and tells her that she dropped a package a couple of blocks back and returns it to her. Robin asks to go home and Batman silently swings off. Now back at Wayne Manor, Dick and Bruce wait for dinner and turn on the TV. However, they discover that It's a Wonderful Life isn't on. Instead they find that Joker has hijacked the television waves and has a "Special" for Batman. Joker shows a tank with a giant Santa Claus on top crashing through the city. The show is announced to be "Christmas with the Joker". Batman and Robin instantly work to find the Joker's location by checking power surges and head out to find him.
Joker continues his show and shows everyone his stolen family, the Awful Lawful Family: Commissioner Gordon, Summer Gleeson, and Harvey Bullock. Joker tells Batman that he can have them if he can find them by midnight. If he fails, they will die. However, before Batman and Robin can reach him, Joker reveals "Laughy" his own Christmas Elf. Laughy and Joker explain that they will blow up a rail bridge just in time for the 11:30 train to arrive. Summer becomes agitated and explains that her mother is on that train.  Batman and Robin go to the train and while Batman goes after the engineer, Robin uncouples the passenger cars. The tasks are simple enough and they save the passengers. Afterwards, they pinpoint the source of Joker's signal: the observatory at Mount Gotham. However, when they reach it, they find that Joker simply left a transmitter there and replaced the observatory telescope with a cannon. Batman draws the fire of the cannon while Robin runs in to disable it. Unfortunately, the outer controls are ruined and the cannon starts firing erratically at parts of Gotham.
With Joker's men and traps down, the duo sets out to find him but he reveals himself. His hostages are dangling over a vat of molten plastic and Joker threatens to drop them in if Batman doesn't come and get his Christmas present. Batman takes the present and opens it to discover a spring-loaded pie inside. Joker has a laugh and cuts the rope holding his hostages. Fortunately, Batman saves them and goes after Joker. Joker manages to evade him for a while but trips on a roller-skate and almost falls into the vat. Batman saves him and bids him a Merry Christmas. Joker simply says, "Bah humbug!" Later, Bruce and Dick finish watching a recording of It's a Wonderful Life and Bruce has to admit that it "has its moments". Meanwhile, Joker spends his Christmas alone in his cell, but seems to be in good spirits, singing and laughing.
One of the best Christmas episodes of any show made, its well plotted,  and seeing the Joker being a men ace upon Christmas is just plain awesome. This episode clearly shows just how excellent Batman: The Animated Series was. A True Classic.