MAIN CAST
Joseph Morgan (Immortals)
Daniel Gillies (Young Hercules)
Phoebe Tonkin (Bait)
Charles Michael Davis (Battle Scars)
Leah Pipes (Sorority Row)
Danielle Campbell (Behind Closed Doors)
THE MAP OF MOMENTS
GUEST CAST
Claire Holt (Mean Girls 2)
Nathaniel Buzolic (Pretty Little Liars)
Sebastian Roche (Odyssey 5)
Sonja Sohn (Shaft)
Daniel Sharman (Teen Wolf)
Maisie Richardson-Sellers (Star Wars: The Force Awakens)
Keri Lynn Pratt (Cruel Intentions 2)
Aleeah Rogers (Django Unchained)
 We start things off in New Orleans in December of 1914, where Kol, Mary Alice Claire, and Astrid—whom you might recognize from The Originals: The Awakening—are looking for the paragon diamond. Only, by the time they find it, Klaus and Marcel show up, with an even more powerful witch in tow. Within minutes, they've got the diamond, and they've locked Mary Alice and Astrid in the house, from which they will never escape. The lesson:  Back in present day, Rebekah and Elijah are preparing for the holidays with wreaths, patronization, and a bonfire ritual they used to partake in as a family. While Elijah holds the baby—still one of my favorite images in the entire world—Rebekah prepares the bonfire, and Klaus and Hayley practice another family tradition: Fleeing from one of their deranged parents. Just like that, Hayley and Klaus are reunited with Hope, who wins the emoting award for the adorable smile on her face when Hayley grabs her. Well done, small baby actor. Well done, indeed. Once everyone has reunited, Klaus shares Finn's story about Dalia and the curse of the first born, which sounds like a Harry Potter book, does it not? Dalia and The Curse of the First Born. Sorry, now's not the time to worry about Dalia. Instead, Rebekah tells everyone to write down wishes for one another, which they will then burn for good luck. And because it's Hope's first bonfire season, they all agree. Or rather, Hayley makes the men participate.
So while the Originals come up with wishes, we travel from Arkansas to New Orleans, where Davina and Kol are performing a spell to protect Cami's body from Esther's magic. In other words, Kol is protecting Marcel from the awkwardness of having his old ex jump into his new ex. And once that's taken care of, he tells Davina that Marcel has the diamond they need to create a Klaus-worthy dagger. And suddenly, Davina is blinded by the accent—or is it the eyes?—and practically rushes to betray her sort-of father. And speaking of sort-of fathers, we catch up with Mikael in the woods, where he's enjoying a classic holiday tradition: Ripping a werewolf to shreds. But what's a holiday tradition without family? When Esther shows up—or rather, an illusion of her—Mikael immediately recognizes his beloved. Oh, these two. Move over, Romeo and Juliet! But seriously, these two are so much more fascinating. Apparently, Mikael found out about Esther bringing Ansel back from the dead, so he's been slaughtering wolves to try to get to him.  With Cami at a loss for how to protect herself, Marcel agrees to let her talk to Finn, but only for a moment. Of course, that moment gets dark fast when Finn starts questioning Cami's morality and the way she slept with one vamp while "half in love with another." That then quickly leads into Finn's discussion of Klaus' redemption and how he doesn't believe in it. For the most boring Mikaelson, things are black and white, good and evil. That's why he intends to kill all the vampires in New Orleans (and all those who stand by them).
Let's head back to Arkansas, where it's time for Klaus to write down his wish. After Hayley pulls the "I went through labor and literally died to give you this child" card—because labor wasn't enough?—he agrees. Well, not really. He basically just tells her to confront Elijah about her upcoming marriage to Jackson. But before she can, Rebekah finds Elijah once again having visions. And in a weak moment, the moral sibling is considering taking Esther's deal, wondering if their mother will be satisfied with three out of five kids and therefore will leave the rest alone.It's a fleeting thought, one that's soon replaced with the how-to's of #selfies. "Do you think you can cram us into a selfie," has to be my favorite thing Rebekah has ever said to Klaus. I've missed these always-and-forever siblings and their banter. But when said rather impressive selfie has to be burned immediately due to the risks of it getting into the wrong hands, Rebekah is ready to fight back. She agrees to take Esther's deal, but only long enough to take her mother down with her.  From one selfie-lover to another—Davina's a teen, right?—Davina and Kol get to snooping around Marcel's room, during which she finds an old picture of Kol's less attractive—but still very attractive—self. He then tells her a story about Christmas in 1914, the one time Rebekah did him a solid in helping him get the diamond back from Klaus. More on that later
Using Kol and Davina, the siblings come up with a plan. They will distract Esther by making her do the body-jumping spell for Rebekah and then kill her before she herself can jump bodies. And if all else fails, they can put Rebekah right back into her smokin' hot body later.Well, before they can worry about that, they have to get Kol on their team, which means one thing: helping Kol to help himself. In exchange for the paragon diamond, Kol is in. But also, he needs his mother's hourglass, which means he needs to visit his mother, which means he needs to show up with the White Oak Stake in hand. The good news? He gives his word that he'll return the stake, and even the sketchiest of Mikaelson brothers is good for his word.Once he's on board, Kol is quick to find a new body for Rebekah to jump into other than Cami and head home to mother. And by the time Rebekah shows up, Esther is ready to do some magic. After a quick cheers of red wine between mother and daughter, Rebekah and Esther head outside to do the spell. Twist number one: Esther asked for the White Oak Stake so that she could destroy Bekah's vampire body after the spell was complete. So that whole "if this all goes wrong just put me back" thing isn't exactly an option anymore.And at the first sign of this all going wrong, Klaus shows up to try and stop the spell. But just before the plan is set into motion, Esther lets it slip that she made an alliance with Mikael who wanted the right to kill Klaus. Too little too late, mama. Klaus stabs Esther in the neck just at the right moment as Davina uses magic to protect Cami. Suddenly, Cami and Rebekah both collapse.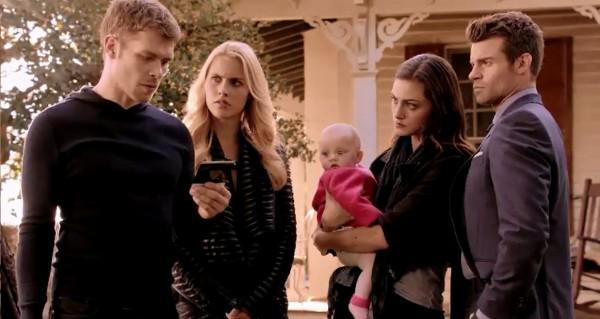 Brief pause! You're angry now, but you'll  thank me later. Because before we get back to our witchy aftermath, it's time for our Elijah moment of the week, which is all about one thing and one thing only: Sex. Sex. Sex. Elijah has sex. See, just when I thought Elijah holding a baby would be my favorite moment of the hour, Hayley goes to tell him about the marriage ritual with Jackson. When she says, "I have to marry Jackson," his face might as well be my face because of all the tears. Dear God, he's such a pretty crier. And he's an even prettier kisser. Elijah pulls Hayley in for what must be their most intense kiss yet before he tells her to marry Jackson. It's the only way for her to save her wolves and make the city a safe place for Hope. . After Cami wakes up, it's clear that Davina's magic worked. She's still herself. As for Rebekah, well, Kol reveals exclusively to Davina that she actually betrayed him in 1914. She told Klaus he was looking for the diamond and in turn, he was daggered. So now? He's stuck her in the same witch prison as Mary Alice and Astrid. As for Finn, Mikael broke him out. And Esther? Let's just say Rebekah's time away made her the smartest Original in town. When Esther wasn't looking before the spell, Rebekah slipped her blood into her mother's drink. Therefore, Esther died with vampire blood in her system. Now, she can either "be the thing you hate the most or you can be dead … your choice, which is more than you ever gave us," Klaus tells his mother.
An amazing episode that left viewers hanging till January of 2015. Simply amazing.