CAST
Johnny Galecki (Hancock)
Jim Parsons (Garden State)
Kaley Cuoco (Killer Movie)
Simon Helberg (Dr. Horrible)
Kunal Nayyar (Trolls)
Sara Gilbert (Poison Ivy)
Kevin Sussman (Ugly Betty)
Melissa Rauch (I Love You, Man)
Mayim Bialik (Blossom)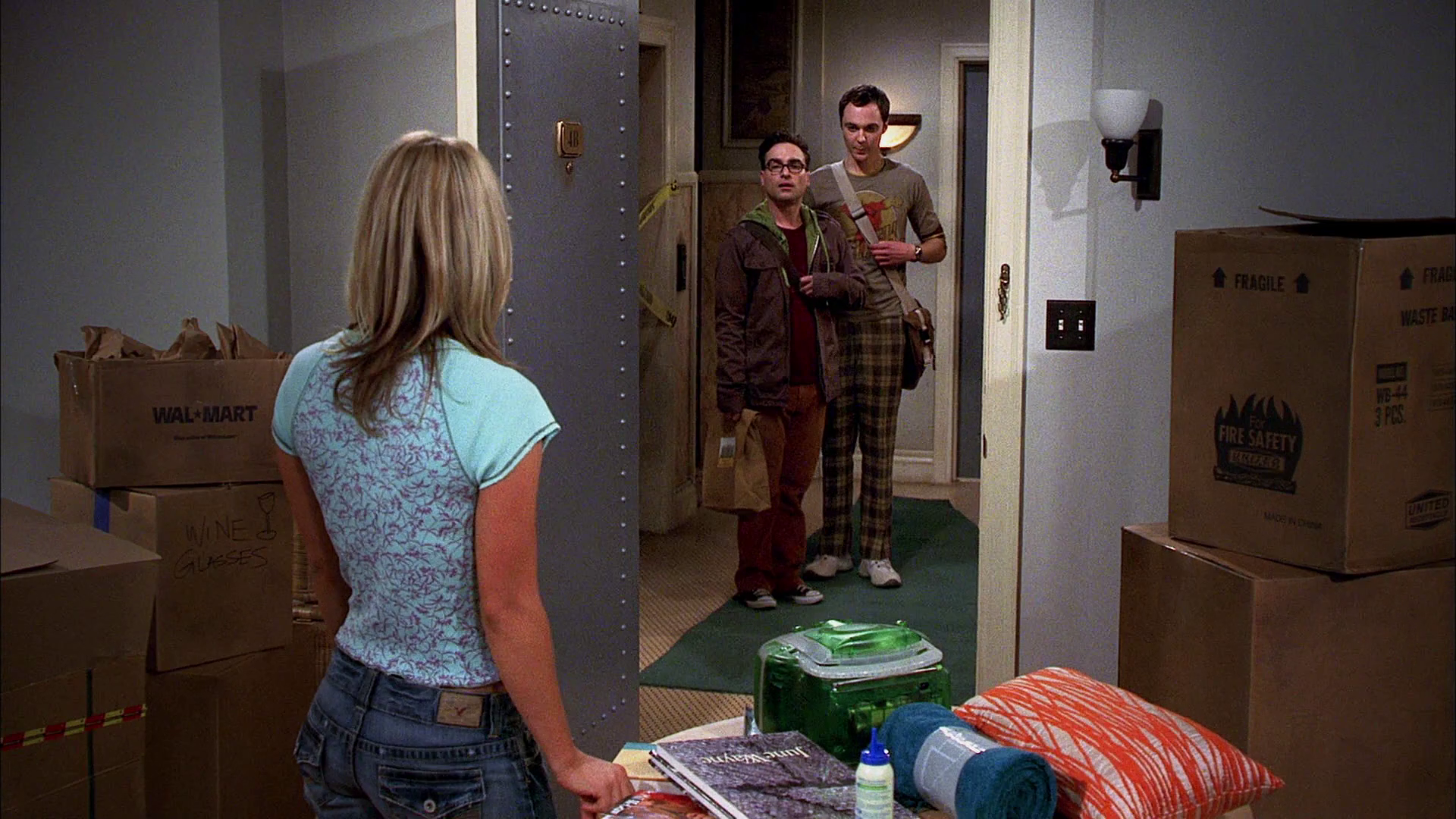 RECURRING / NOTABLE GUEST STARS
Vernee Watson (Mike & Molly)
Brian Patrick Wade (Agents of Shield)
Laurie Metcalf (3rd Rock From The Sun)
Mark Harelik (Election)
Rachel Cannon (Fresh off the Boat)
Brooke D'Orsay (Two and a Half Men)
James Hong (Blade Runner)
Carol Ann Susi (Cats & Dogs)
Brian George (Ghost World)
Alice Amter (The Good Girl)
Sarayu Blue (Monday Mornings)
DJ Qualls (Road Trip)
Charlie Sheen (Hot Shots)
Octavia Spencer (Insurgent)
Riki Lindhome (The Muppets)
Sara Rue (Mom)
Michael Trucco (Battlestar Galactica)
John Ross Bowie (The Heat)
Christine Baranski (Into The Woods)
Summer Glau (Terminator: TSCC)
Valerie Azlynn (Julia X)
Jodi Lyn O'Keefe (The Vampire Diaries)
Will Wheaton (Powers)
Katee Sackhoff (Riddick)
Danica McKellar (The Wonder Years)
Yeardley Smith (The Simpsons)
Stan Lee (Avengers Assemble)
Judy Greer (Ant-Man)
Ally Maki (Wrecked)
Brian Smith (The Flip Side)
George Takei (Heroes)
Aarti Mann (The Monogamy Experiement)
Eliza Dushku (Dollhouse)
Eric Andre (2 Broke Girls)
Jesse Heiman (Chuck)
Keith Carradine (Dexter)
Rick Fox (Holes)
Jessica Walter (Dinosaurs)
Joshua Malina (Scandal)
LeVar Burton (Star Trek: TNG)
Katie Leclerc (Switched at Birth)
Brent Spiner (Star Trek: TNG)
Courtney Ford (Revenge)
Lance Barber (Gangster Squad)
Becky O'Donohue (Fast & Furious)
Peter Onorati (Goodfellas)
Leonard Nimoy (Star Trek)
Stephen Hawkings (Futurama)
Margo Harshman (Sorotiy Row)
Ken Lerner (The Running Man)
Howie Mandel (Gremlins)
Ryan Cartwright (Bones)
Casey Sander (16 Blocks)
Meagen Fay (Barton Fink)
Regina King (Ray)
Kate Micucci (Teenage Mutant Ninja Turtles 2012)
Bob Newhart (Elf)
Brian Posehn (New Girl)
James Earl Jones (Conan The Barbarian)
Carrie Fisher (Family Guy)
Tania Raymonde (Texas Chainsaw)
Laura Spencer (Bones)
Billy Bob Thornton (Bad Santa)
Stephen Root (King of the Hill)
Nathan Fillion (Firefly)
Kevin Smith (Daredevil)
As the series opens, into this world in walks Penny (Kaley Cuoco). She's literally the beautiful girl next door since she moves into the apartment across the hall from Leonard and Sheldon. She's an aspiring actress, which naturally means she's making a living as a waitress. Most of the guys immediately develop crushes on her, but it's Leonard who is the most serious about her.
And despite how little they have in common, the five main characters form a friendship. But first, Penny has to deal with Sheldon and Leonard cleaning up her place for her while she slept. Sheldon gets fired for telling his new boss exactly what he thinks of him. Leonard and Sheldon stop speaking to each other after Leonard decides to present a paper they both authored. Sheldon tries to tell a sufficiently complex lie to Penny. And Penny must take care of a sick Sheldon. If there is any standout character that makes this show hilarious, it's Sheldon. The guy may be brilliant when it comes to his job, but he is a complete idiot when it comes to interacting with anyone. His reaction to things, or lack of reaction, makes for some of the best jokes in the show.

The acting on the show is universally great. The main actors are great as breathing life into their characters and really rounding them out. Yes, even Simon Helberg is good as Howard. Special praise must go to Kunal Nayyar whose Raj is too terrified to talk to women. His facial expressions alone are priceless. But the undisputable star of the show is Jim Parsons. He makes anti-social Sheldon completely believable and funny without resorting to too many stereotypes. He was born for this role pure and simple.

Due to the writer's strike of the fall of 2007, there were only 17 episode in the first season. All of them are here on three discs in widescreen and stereo sound. They look and sound great. There is one 17 minute behind the scenes type featurette that talks about the creation of the show and the characters.
In season two, the laughs continue as the goofy cast gets into many hilarious situations, as the combined brain power of The Big Bang Theory is no match for normal life. This season continues to build upon the romance between Leonard and Penny, which has its ups and downs. Leonard also dates a couple girls and Howard has his eye on both. Sheldon's neurotic and weird portrayal of life continues to be the butt of almost every joke, as he is far from normal. Raj has his fifteen minutes of fame, which go to his head. Overall, it is a strong season.

The season premiere episode is "The Bad Fish Paradigm". Leonard and Penny have their first date. Unfortunately, it is their only date. At first, Leonard thinks the date went well. However, his odd friends convince him that things did not go as he thought. Penny confides in Sheldon. She does not feel smart enough for Leonard and fears he will get bored with her. She forces him to keep it a secret, which causes Sheldon to move out of the apartment, staying with Raj and Howard. Eventually Leonard learns about Penny's fear and only makes it worse. The episode is fun way to start the season with Sheldon's neurotic behavior stealing the spotlight.
In the next episode "The Codpiece Topology", Leonard is jealous of Penny who is dating again. He considers his options, which are slim. Oddly enough, Leslie Winkle (Sara Gilbert) has her eyes on him. They had a brief romance in the past, but Leslie was only looking for short-term fun. Now, she wants to settle down and thinks Leonard might be Mr. Right. The new relationship causes complications for Sheldon and Penny. The episode is really fun. Gilbert and Galecki have great chemistry together, which is a rehash from their time together on Roseanne. Gilbert shows up in additional episodes this season and has a romance with Howard.
"The Griffin Equivalency" is a fun episode where Raj gets put in the spotlight. He is listed by People magazine on their '30 Under 30 to Watch' for his contributions to science. When Raj tells his friends about it, they do not give supportive reactions. Sheldon attacks him for getting lucky. Leonard and Howard decide to take him out to dinner to celebrate his accomplishment. However, the tables turn when Raj is given special treatment by the university, which causes jealous amongst his friends. He invites them to a party and they refuse. Penny agrees to go with him and it turns out to be a little more than she bargained for… Penny meets Raj's parents and it does not go well for anyone.

In "The Barbarian Sublimation", Penny is feeling down about not accomplishing any substantial with her life and turns to Sheldon for comfort. He gets her hooked on online gaming, which is a real fun sight to see. Penny takes on an odd persona and even scares Leonard. It is a classic and geeky episode. In "The Euclid Alternative", everyone is tired of Sheldon leeching off of them for rides and force him to get his driver's license, which he is apparently incapable of. Sheldon, again, steals the spotlight with his neurotic physical comedy and turns this very common situation into a bunch of laughs.

"The Lizard-Spock Expansion" introduces a multi-episode story arc and Stephanie Barnett (Sara Rue), a new love interest for Leonard and Howard. Howard uses his access to the Mars Rover to pick up Stephanie, but when he crashes it, he calls on his friends for help. Leonard and Stephanie hit it off and start dating, behind Sheldon's back. Oddly enough, Howard thinks they're together. The Leonard-Stephanie-Howard threesome produces a lot of laughs. Stephanie also appears in "The White Asparagus Triangulation", Sheldon tries to help Leonard's relationship, but only dampens his style, and "The Vartabedian Conundrum", Leonard realizes Stephanie is living with him.
As for the rest of the season, there are many more fun episodes, such as "The Cooper-Nowitzki Theorem", Sheldon gets a girlfriend (sort of) and no one understands what is happening, "The Bath Item Gift Hypothesis", Penny dates Dr. David Underhill (Michael Trucco), Leonard's better looking counterpart, "The Friendship Algorithm", Sheldon befriends someone at work to everyone's amazement, "The Maternal Capacitance", Leonard's mother visits and her personality is identical to Sheldon, " The Terminator Decoupling", the guys run into Summer Glau (Firefly, Serenity, Terminator: The Sarah Connor Chronicles) on a train, and "The Hofstadter Isotope", Penny goes with the guys to the comic book store and exchanges phone numbers with someone, and it eats away at Leonard.
Overall, The Big Bang Theory's second season continues to be very strong. The cast has a great dynamic together. The leading males' geeky views of life provide neurotic and hilarious situations. Cuoco is a good balance to them, and also provides her own silliness. However, Parsons repeatedly steals the spotlight with physical comedy and excellent delivery of dialogue. He manages to turn many common situations, as he interacts with the other cast members, into a riot. The show's writing is also topnotch. It provides witty dialogue that leaves you laughing. The plotlines can be simplistic, but they work and never fail to draw in your attention. In the end, The Big Bang Theory is a major success with its second season.
At the end of season 2, Leonard, Sheldon, Raj and Howard were leaving for a three month expedition to the North Pole to test one of Sheldon's theories. Leonard was sad to be leaving Penny behind, though they weren't dating and surprisingly, Penny was upset to be away from Leonard too. As this season opens the group has just gotten back from the far north and when Leonard knocks on Penny's door to inform her of their return she leaps into his arms and kisses him passionately.  Turns out Penny really missed Leonard, and they go into her apartment and close the door.

The Big Bang Theory continues to remain one of the funniest sitcoms on network television today. eason 3 showed us exactly why this is the case bringing us some of the funniest BBT episodes yet to date. This show is at its very best when its five main characters, rather than being shoehorned into conventional sitcom devices like hook-ups and infighting, are simply allowed to be their smart, socially awkward, idiosyncratic selves. And for the most part, they were.
One of the pleasures of this show is that you can throw together practically any two characters and have a unique, unpredictable and funny dynamic. Forget Leonard and Penny — perhaps the best odd-couple pairing we got all season was Sheldon and Penny, who despite all odds, have figured out that they enjoy each other's company. Something about his smug childishness gels perfectly with her unsinkable good humor and ability to deliver a zinging comeback. "The Adhesive Duck Deficiency" showcased Sheldon and Penny's unique chemistry to great effect on multiple levels — not only did Sheldon have to tolerate hours alone with Penny, but he was forced to adopt the role of caretaker while the other guys were off getting stoned in the desert. The episode culminated in a newfound trust between the two, who by the end of the season grew to think of each other as friends.
Speaking of Sheldon, he continues to be an amazing comic force. Jim Parsons shone this season, and the writers wisely showcased him at every possible opportunity. It's hard to imagine this actor ever playing any other role. We followed Sheldon from the North Pole to his home state of Texas (where Laurie Metcalf did a very funny turn as his uber-conservative mother), learned the back story of his friendship with Leonard, and best of all, saw him face off against his sixth most hated rival, Wil Wheaton. Wheaton's guest appearance in "The Creepy Candy Coating Corollary" was so well received that the show brought him back a second time, in "The Wheaton Recurrence." Sometimes you can tell when actors are really enjoying themselves onscreen and this always seemed to be the case when Wheaton showed up, so hopefully he'll continue to play himself on a semi-regular basis. Season 3 also introudced us in the finale to  Amy Farrah Fowler, (played by Mayim Bialik) who would become a regular in season 4.
The writers introduced two female characters to the regular cast this year, although both did show up in season three. Melissa Rauch returns as Howard's girlfriend Bernadette. And Mayim Bialik, who appeared in the final few moments of season three, is back as Amy Farrah Fowler, Sheldon's not girlfriend but friend who is a girl. Since both either have doctorates or are going for doctorates, that still leaves Penny as the only non-super smart person of the cast. However, everyone has trouble relating to us mere mortals, and that's where Penny really shines. Her heart comes through in every moment she is on screen..

Over the course of the season, Sheldon breaks up with Amy Farrah Fowler over scientific differences and buys a bunch of cats to ease his loneliness. Howard's past mistake comes out when the FBI investigate him for a security clearance. The guys enter a New Year's Eve costume contest with some surprising additions to their group. Leonard's idea for a smartphone app gets out of hand when Sheldon gets involved. Raj begins to have feelings for Bernadette while Leonard starts seeing Raj's sister Priya (guest star Aartia Mann). Everyone winds up at an out of town science convention where friendships get tested. And in one of my favorites, Amy Farrah Fowler and Sheldon decide to experiment with gossip by starting rumors and seeing how long it takes the entire group to find out.


Of course, with this show, some of the sub-plots can be just as great as the main plot. I'm especially fond of one involving Howard performing a magic trick that Sheldon can't figure out. Another memorable one involves Sheldon and his new three person chess game. The new additions haven't dampened the acting at all. The original cast knows their characters and invests everything they have in bringing them to life every week. Melissa Rauch and Mayim Bialik slip into the cast seamlessly and feel like they've been playing these characters just as long. Jim Parsons went into this season having just won a well-deserved Emmy for Lead Actor in a Comedy, and his work is just as impressive here.

Season 5 picks up exactly where season 4 left off. Penny (Kaley Cuoco) has just spent a drunken night with Raj (Kunal Nayyar). While it wasn't quite what it appeared, they quickly go back to normal, which isn't hard when Raj will only talk to women when he's drunk.

Meanwhile, Leonard (Johnny Galecki) tries to maintain a long distance relationship before putting his relationship with Penny back in a beta test. Sheldon (Jim Parsons) is forced to take his relationship with Amy (Mayim Bialik) to the next level – and he insists they both sign a relationship agreement. Leonard finds a loophole in his relationship with Sheldon when he voids the friendship clause. And Howard (Simon Helberg) gets ready for a trip into space and his marriage to Bernadette (Melissa Rauch).
That's just a few of the bigger storylines of the season. Each episode is filled with laughs. Some people complain the show isn't as funny as it used to be, but I find it hysterical just about every week. Yes, they have one or two weeks that fall flat, but they are by far the exception rather than the rule. And even then, there are some great lines and classic moments. Howard and Bernadette have the biggest story arcs of the season, and I must say I love watching the two of them interact. Usually, they are so sweet together, although when they fight it can be pretty funny as well. Howard used to annoy me like crazy, but now I actually find I like him.
As far as guest stars we've got Wil Wheaton, Brent Spiner, and Dr. Stephen Hawkins appear as themselves, and Leonard Nimoy voices a Spock doll. The show pasted the 100 episode mark this season, and that means the cast is very familiar with their characters. It shows, too, in the acting. Everyone is believable and comfortable with their parts, and it's easy to just sit back and laugh as the show plays.

Season 6 starts off with 5 overarching plot episodes based around Howard's trip to space and return to Earth with a less than warm welcome. These are some very good episodes, the premiere has some nice moments during Amy and Sheldon's anniversary. Another highlight in the first 5 is when Game night turns into Men vs Women. These episodes put quite a bit of spotlight onto Howard and his accomplishment that no one else acknowledges, and I enjoyed them immensely, some character developing episodes for him.
The season has some great highlight episodes. We get a very good dramatic episode (rare for TBBT) called "The Closet Reconfiguration" where Sheldon being Sheldon, he cleans out Howard's closet and comes across an unopened letter sent to Howard from his father who abandoned him. They all get to show off their acting chops in this episode (especially Helberg). We get another appearance from Wil Wheaton in "The Habitation Configuration" (Which Jim Parsons just won an Emmy for his work in) that turns into another fantastic episode when Sheldon has to choose between his friend or his girlfriend. "The Closure Alternative" involves one of Sheldon's favorite shows being cancelled, and lastly "The Proton Resurgence", which features Bob Newhart in an Emmy award winning guest appearance as Sheldon's childhood hero, Professor Proton.
As for the relationships, this season was a huge one. Leonard and Penny finally take the next step in their relationship. Sheldon and Amy continue to move forward at a Snails pace, with Sheldon finally considering more. Raj gets some much needed character development when he finally finds a girlfriend, who is essentially A reflection of himself, named Lucy. The cast is as great as ever, with their chemistry remaining tip top…Parsons again steals the show with his excellent physical comedy and strong delivery of his dialogue. Galecki plays off perfectly against Jim. Simon Helberg gets some meat to chew on this season and he kills it, especially the episode where he finds the letter from his father that was sent years earlier. The writing remains witty and top notch, that is conveyed perfectly on screen through the excellent performers. The writers need to continue with this great writing, The Big Bang Theory proves here why it's still one of the funniest shows on TV.
This season picks up exactly where the last one left off. Leonard (Johnny Galecki) is on a ship in the middle of the Atlantic Ocean on a research trip. Back at home, the gang must learn to deal with his absence, especially his roommate Sheldon (Jim Parsons) and his girlfriend Penny (Kaley Cuoco-Sweeting). However, when he comes back, his desire to spend some time with Penny over Sheldon shows the beginnings of the first changes in the group, a theme that actually echoed through the season.
Following up on the sixth season finale, Raj (Kunal Nayyar) is now able to talk to girls even when he's sober. What didn't change there is that he still isn't a lady's man, although it does open up a few new relationship possibilities for him. Speaking of relationships, Sheldon and Amy (Mayim Bialk) wind up taking what for them is a huge step forward in their relationship on a romantic train ride up to the Napa Valley. Penny makes a huge change to forward her career as an actress and finds herself in a less than desirable roll opposite a surprising co-star. I would argue that the only main characters not to have major changes this season are Howard (Simon Helberg) and Bernadette (Melissa Rauch), but since they adjusted to married life last season, maybe that's for the best. They still get some great stories, like Howard's drastic change after trying to help out his mother and how they deal with having Raj has a house guest for a week.
And the geekiness continues. Stuart (Kevin Sussman) and his comic book store regularly appear in the series. When the guys don't get into Comic Con, Sheldon decides to start his own, leading to a day with James Earl Jones. Speaking of which, the show finally celebrates Star Wars day in what is a touching and funny episode featuring the third appearance of comedy legend Bob Newhart.
Relationships are a key element of the season, which starts with the socially-awkward Sheldon stuck in an Arizona railroad station without any pants, the victim of poorly-received changes in his life. What exactly is going on between him and Amy, as well as what is happening with Penny and Leonard and their extended engagement, are the engine of this run of episodes, as Sheldon faces the need to overcome his off-putting personality, and Leonard has to overcome Penny's new-found success. After seven seasons, the show hasn't felt the need to artificially change its main characters and their lives, instead going in a more organic direction, choosing to highlight change that happens naturally in a relationship. That evolution also powers an impactful cliffhanger of a season finale.


The series did have a sudden change to cope with though, when Carol Ann Susi, the actress who gave voice to Howard's unseen harpy of a mother, died, and her passing was written into the series, creating more change for Howard and giving a bit of a goose to the other characters, who took from her death in different ways.
Season 8 once again had excellent guest stars such as  Laurie Metcalf, Christine Baranski, Billy Bob Thornton, Nathan Fillion, Wil Wheaton and Stephen Hawking. The Shocking Cliffhanger leaves fans wondering where certain relationships will end up.