MAIN CAST (VOICES)
Seth MacFarlane (Family Guy)
Wendy Schaal (Small Soldiers)
Scott Grimes (Robin Hood)
Rachael MacFarlane (The Batman)
Dee Bradley Baker (Star Wars: The Clone Wars)

RECURRING / NOTABLE GUEST CAST
Curtis Armstrong (New Girl)
Jane Krakowski (Alfie)
Daisuke Suzuki (I Am Gangster)
Fred Tatasciore (Hulk Vs)
Mike Henry (The Cleveland Show)
David Koechner (Anchorman)
Swoosie Kurtz (Mike & Molly)
Paul Reubens (Batman Returns)
Patrick Stewart (X-Men)
Kim Kardashian West (2 broke Girls_
Constance Marie (Puss In Boots)
Corey Stoll (Ant-Man)
Cristian Solimeno (Highlander: The Source)
Kat Purgal (Her Story)
Cedric Yarbrough (The Boss)
Becki Newton (Ugly Betty)
Kevin Michael Richardson (The Cleveland Show)
DJ Qualls (Road Trip)
Stephen Fry (Bones)
Lorenzo Lamas (CIA)
Dean Norris (Breaking Bad)
Kerri Kenney (Anger Management)
Andrea Martin (Wag the Dog)
Uma Thurman (Kill Bill)
Peter MacNicol (Agents of SHIELD)
Kristin Chenoweth (Pushing Daisies)
Lyndsy Fonseca (Agent Carter)
Jeremy Sisto (Wrong Turn)
June Diane Raphael (New Girl)
Stan Lee (Avengers Assemble)
Adrienne Barbeau (Swamp Thing)
Kate Mulgrew (Star Trek: Voyager)
Carl Reiner (Two and a Half Men)
Mickey Rooney (Night at The Museum)
Kathy Bates (Misery)
Robert Wuhl (Batman)
Ted Danson (Cheers)
Sinbad (Jingle All The Way)
American Dad! returns for an iconic series' 11th volume. The series centers on super-patriotic CIA agent Stan Smith and the misadventures of his unconventional family in Langley Falls, Virginia. Stan's blissfully unaware wife Francine has an unfaltering loyalty that allows her to turn a blind eye toward Stan's unabashed arrogance. Meanwhile, Stan constantly butts heads with his 18-year-old, left-wing activist daughter Hayley who knows just how to push her father's buttons, whether it's by helping the homeless, demanding women's rights or advocating gun control. Hayley's 14-year-old brother is the geeky-yet-confident Steve, is a kid who spends his time playing video games and obsessing about the opposite sex. The Smith cabinet is rounded out by two rather unconventional members: Roger, the sassy, sarcastic and routinely inappropriate space alien who is constantly trying on new disguises and, with them, new personalities, and Klaus, the attention-starved goldfish with the brain of a German Olympic skier who always throws in his two cents, regardless of whether anyone is listening.The Highlights on this Volume are.
ROGER PASSES THE BAR: Roger is forced to sell his beloved attic bar to a restaurant chain after suffering a heart attack, and a new next-door neighbor (Jane Krakowski), who was recently registered as a sex offender, promises to take Steve and his friends' virginity in return for housework.
A BOY NAMED MICHAEL: Roger moves in with Greg and Terry as their adopted Russian son "Michael" after growing tired of the Smiths not being sophisticated. Meanwhile, Stan orders a La-Z-Boy and slowly becomes white trash to annoy Roger while he's living with the Corbin/Bates.
BLAGSNARST: A LOVE STORY: A furry pink female alien (Kim Kardashian) is discovered in the woods by Francine and Roger, who begins a relationship with her, but quickly tires of her many quirks and eccentricities after having a one-night stand. Roger makes several attempts to get rid of her, including calling the CIA, but then realizes that he can't go through with it.
BLONDE AMBITION: Hayley decides to become a blonde when her efforts to save the planet get no attention. Meanwhile, Stan and Steve go on a journey to search for a new Smith home.
BIG STAN ON CAMPUS: When the CIA is forced to make cutbacks, Stan inadvertently volunteers to go on furlough and gets a job as a security officer at a local college. Meanwhile, Roger opens a bed and breakfast to boost the family's income and must give in to the demands of an eccentric guest.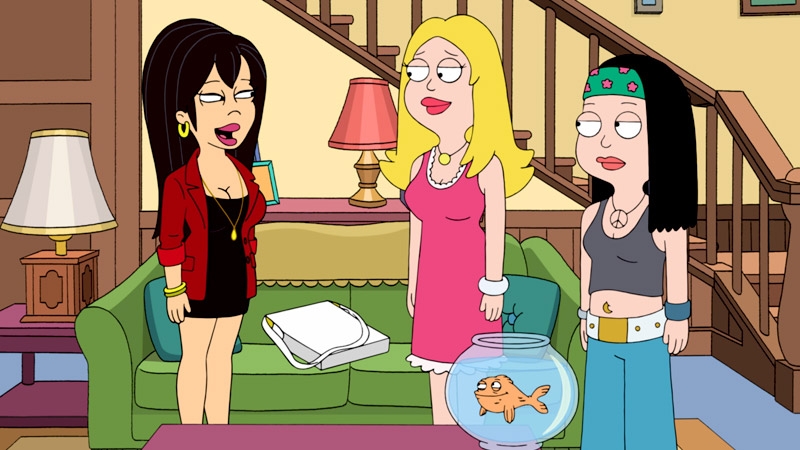 NOW AND GWEN: Hayley suspects that Gwen, Francine's sister, is up to no good when she comes to town. Meanwhile, Roger tries to find out the location of a treasure from a guy in a coma, Stan teaches Steve the art of man-hugging, and Klaus shadows Roger's dramatic comments.
DREAMING OF A WHITE PORSCHE CHRISTMAS: In a parody of It's a Wonderful Life, Stan wishes to have Principal Lewis' swinging bachelor life, however, he soon regrets the wish when he finds out that Francine is married to Principal Lewis in an alternate reality.
LGBSTEVE: Steve has a gender identity crisis when Hayley convinces him to join an all-girls roller derby team with her. Meanwhile, Stan and Francine hire a magical repairman to fix the backyard, but everything he does makes them angry.
MY AFFAIR LADY: Hayley considers having an affair with a married man when she gets a new job from the help of Roger, her new life coach. Meanwhile, Stan tags along with Steve and Francine to a mother-son dance.
A STAR IS REBORN: Stan and Francine win a trip to Los Angeles, however, upon arriving, an old starlet believes Stan is the reincarnation of her deceased husband. Meanwhile, Roger kennel-trains Steve and Hayley by trapping them in crates, after they disrespect Roger's enjoyment of Bones.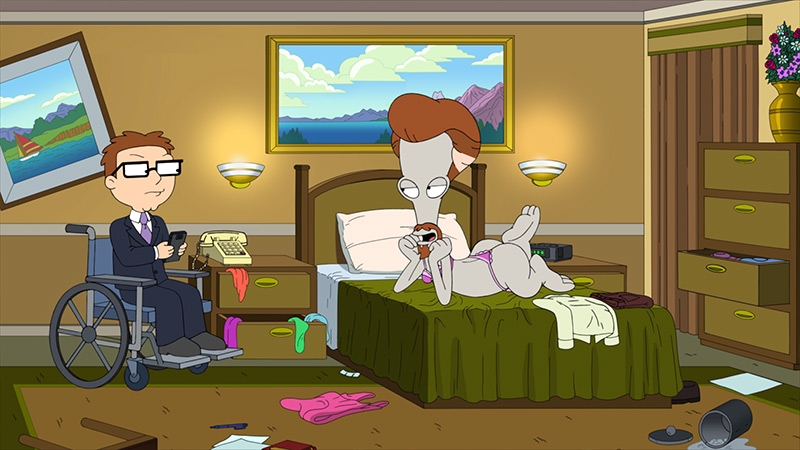 MANHATTAN MAGICAL MURDER MYSTERY TOUR: The Smiths head to the Big Apple when Francine is nominated for an award for her housewife novella. Meanwhile, Stan and Hayley hang out with actor Robert Wuhl and Roger and Steve re-create their fictional partnership, Wheels and the Legman.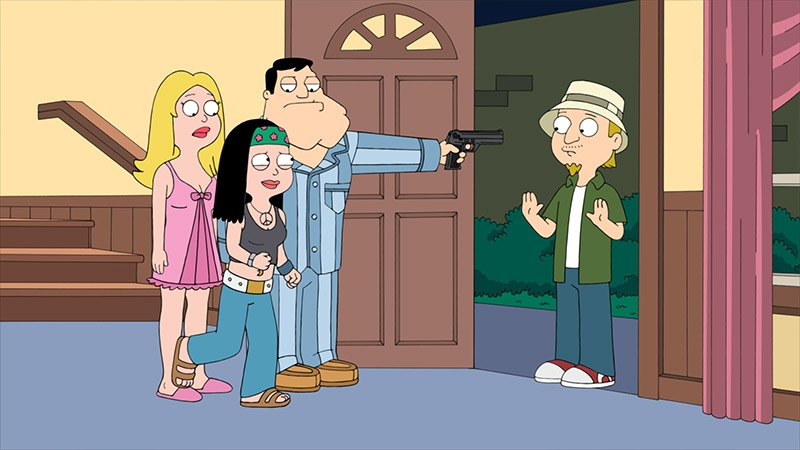 HOLY SHIT, JEFF'S BACK: Jeff makes his return from space after being abducted, but Hayley and Roger suspect that Jeff isn't who he seems to be. Meanwhile, Steve looks after Snot's hamster.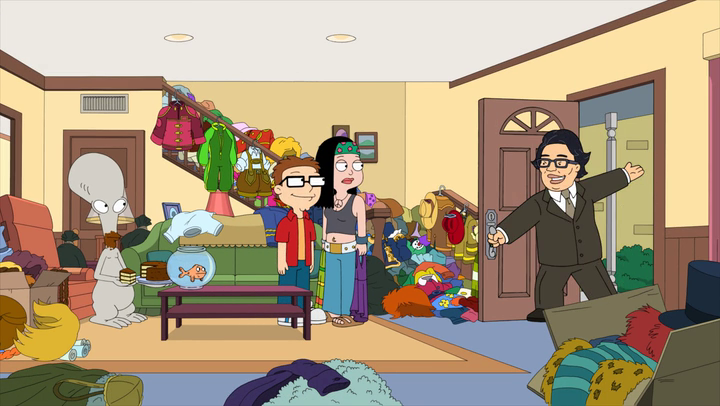 AMERICAN FUNG: Stan has Francine committed to a mental hospital so he can hide the fact that he once again forgot their wedding anniversary. Meanwhile, American Dad! is sold to a Chinese billionaire.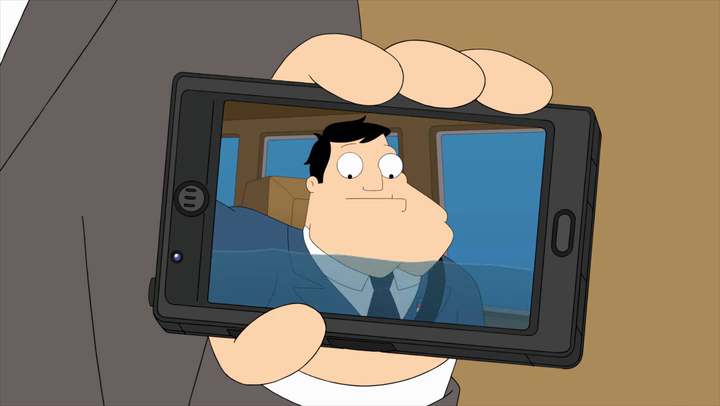 SEIZURES SUIT STANNY: When Stan warns Hayley about the dangers of texting, he soon learns of the enjoyment of texting, but when he gets into a car crash because of it, he fakes a seizure. Meanwhile, Roger helps Steve with his anxiety of performance.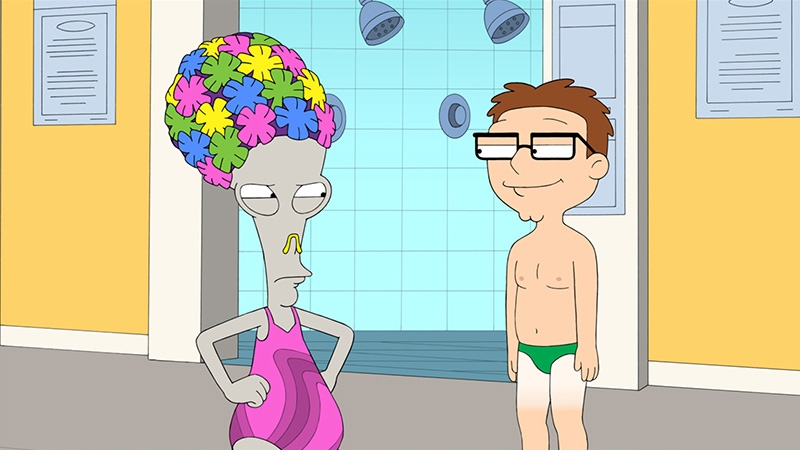 This has to be one of the best adult cartoons ever created. It's hard for me to compare them with South Park. I think that in many aspects, American Dad is way better than South Park. Probably because it addresses to a much larger public, while South Park contains jokes that sometime require some background knowledge, before you can fully understand them. Even for non-Americans, this series are equally funny and enjoying. Great job! I recommend this to anyone who enjoys some good humor.