MAIN CAST
Zooey Deschanel (Your Highness)
Jake Johnson (Jurassic World)
Max Greenfield (Veronica Mars)
Lamorne Morris (BLack Rapunzel)
Hannah Simone (Oldboy)
Damon Wayans Jr. (Happy Endings)
THE 23rd
GUEST CAST
Justin Long (Jeepers Creepers)
Stephen Amell (Arrow)
Gillian Vigman (The Hangover)
Michaela Watkins (Wanderlust)
Winston rolls around the apartment on the rollerskates Jess got him. Schmidt hates Christmas because everybody goes home. They're all planning on going to his office party tonight. He dresses up like Santa and gets dirty on all his coworkers when they tell him what they want and he uses that information to undermine and manipulate them the rest of the year, in the true spirit of Christmas. Schmidt gets up and we see he's in skates, too. He tries to tackle Winston at a slow roll. Nick, also in skates, tries to intervene, but they end up in a pile. Jess comes in, needing their help on getting a present for Paul. After only a month, she's not sure what's appropriate. She shows Nick the card she made for "Nerdy weird sex that works for both of us".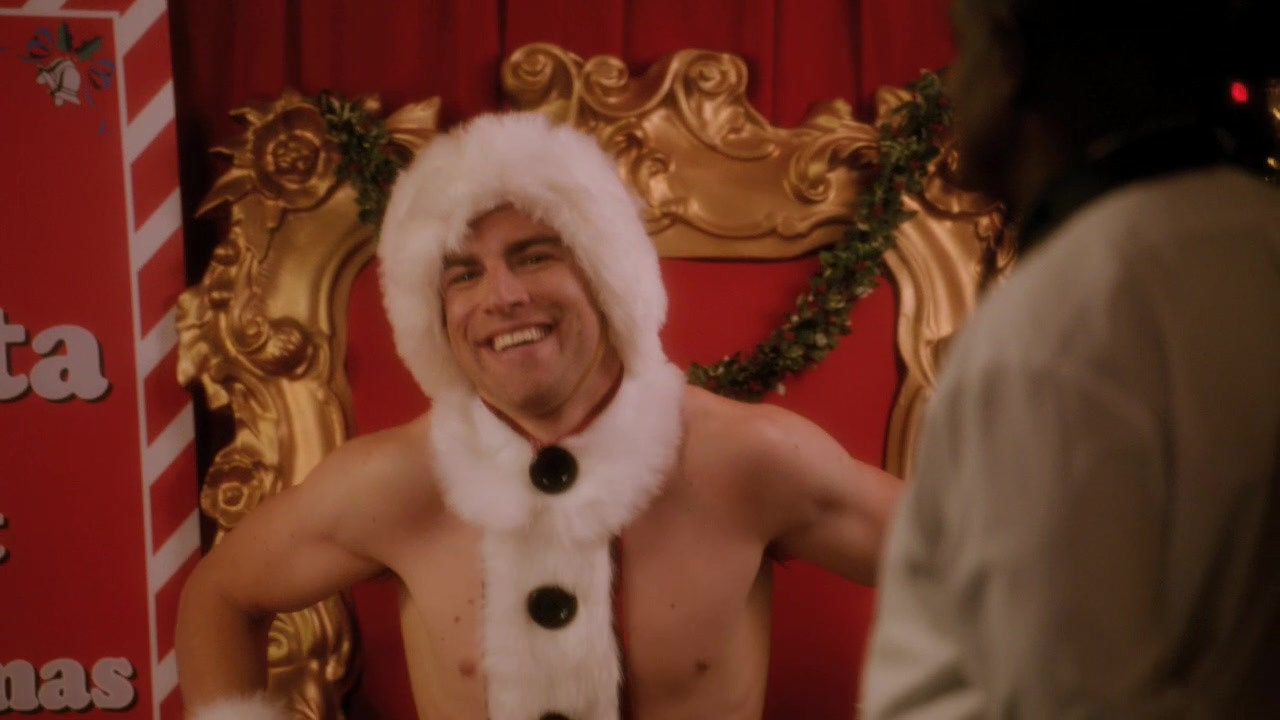 On the way from the mall, Jess drives them through a neighborhood decked out with Christmas decorations. She wants to come back at night on the way from the office party to the airport, but Nick is resolved not to miss his flight for the fifth year in a row. CeCe is at work on a set in a bra and panties. Schmidt drops by with a gift. It's a shoot for a before and after for a Bolivian diet pill. They're interrupted by Kyle, who frenches CeCe hello. Schmidt explains he designed the perfume for her. It gets awkward. Paul and Jess exchange gifts. He got her tickets to Vienna and passes to a show. She got him an anatomically correct fuzzy heart of a 50 year old non-smoker. It beats. She wants to get him something better, but he tells her it's fuzzy and quirky and sweet, just like her. He says he loves it several times, then hugs her and says he loves her. She pauses, then goes with "Thank you." The gang arrives for Schmidt's office party. They find him wearing only red boxers and dressed as "sexy Santa."
Jess tells Nick what Paul says and he advises her to tell Paul if she doesn't feel the same way. She tells him she'll do it. Instead, Jess hides in the bathroom. Nick sees Paul standing alone outside and goes to talk to him. He asks if Jess talked to him and Paul says yes, so Nick reassures him that just because Jess doesn't love him now doesn't mean she won't one day. Paul says she told him they might have to leave for the airport early. Nick tries to pretend he's drunk, or joking or anything to rescue the situation, but it's too late. Jess and CeCe hide in the bathroom. Kyle wants to go to another party. Jess thinks he's the "living worst" and asks if he even got her anything. He didn't. CeCe tries her Schmidt perfume, but inhales and hacks ferociously. Winston complains to someone about the rigors of having a job and office life. We see it's a kid. Schmidt's boss Gina comes over, it's her son. She's impressed he's talking to Winston since he doesn't usually talk to people.Schmidt sees Kyle mock CeCe for wearing the mustache Jess gave her. CeCe hears Schmidts mean coworker harassing him and tries to tell him to stand up for himself. He notices the bad smell and she tells him it's his perfume, but he's just glad she wore it.
Outside on the awkward balcony, Paul begs Nick to tell him what Jess says. Nick tells him that Jess said the sex was incredible but she doesn't want to rush into anything. Jess sees them hugging and goes outside. Paul tries to cover for what they were talking about but only comes up with they both like jazz music. Nick confesses he told Paul she doesn't love him. Jess starts yelling at him and Nick tries to leave, only to find he's locked out on the balcony with them. Jess tries to talk to Paul gently, saying she feels overwhelmed. She says she got really badly hurt and is trying to not get hurt again. Nick's cell phone rings and he answers, explaining that he can't talk because he's in a weird situation. Jess asks if they can keep going, just slow things down. Paul says he's not sure he can. Nick pipes up, but Jess shushes him. Schmidt finds Kim in the supply room with a bunch of women and tells Kim he's done being Santa. "Santa's dead, I killed him!" Schmidt says. Gina's son hears and runs screaming. Schmidt tells him she needs to start taking him seriously, so no more Sexy Easter Bunny, Cinco de Sexy or Sexy Martin Luther King Day. Kim says she can't believe it took him five years to say so. Winston fields a call from Nick's mom and assures her he'll make his flight. Gina comes over, panicked that she can't find her son. Winston helps look, sure somehow it's Schmidt's fault.
Back outside in awkwardtown, Paul tells Jess he can't slow down and if she needs to then he can't do this anymore. Jess says OK. Nick, the peanut gallery, tells Paul to consider the fact it's Christmas. Winston interrupts looking for the kid, freeing Nick from his awkward prison by opening the patio door. Winston wanders out front and finds Alvin in an igloo. He assures him Santa isn't dead. Alvin asks if Schmidt was just being a "d-bag", because that's what his mom said. Winston assures him he'll get extra presents this year. Alvin thanks Winston, but calls him "LeBron." Gina finds them and gives Winston her card. She says if he ever wants to hang out with Alvin again she'll pay him a lot of money, like whatever he's thinking, plus a lot more. The guys, Jess and CeCe drive to the airport. Nick, the driver, sees that Jess is bumming out and makes a detour. They pull into Candycane Lane, but it's late and the lights are all off. Jess laments her bad timing. Nick goes to knock on the people's door, shouting that there's a girl who really wants to see the lights. Everyone joins in, shouting at all the houses to turn on the lights. One by one they all come on, in an explosion of wonderful tacky lights. Back in the car, Nick gets a call from his mom and tells her he's going to miss his flight. He hands the call off to Winston as the lights go off.
 A really fun first Christmas for the New Girl team, The light up scene at the end was beautiful.
SANTA
David Walton (Fired Up!)
Olivia Munn (Iron Man 2)
The episode begins with Jess, Nick, Schmidt and Winston having some good old Christmas themed loft chats. The gang realise that evening is their last chance to have a 'holiday hang' before they go their separate ways before Christmas. They talk about the many parties taking place and agree to try hit them all. At the first party they attend Schmidt and Cece feel awkward and uncomfortable around each other and are not shy of admitting it. Jess freaks out when she sees Sam, who sees her at the last minute. Nicks new girlfriend Angie suggests they have sex, Nick pretends to be okay with doing it at a public place and to be as sexually adventerous as her.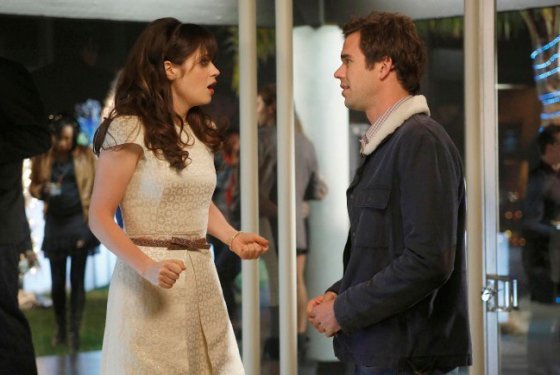 Sam follows Jess to the nex party and tells her he wants her back. She says no. Nick admits to Angie that he is not like her and misuses the word stripper. She leaves the party in anger. Cece gives Schmidt a gift and is hurt when he passes it on to another woman, without even looking at it. At the third party Jess thinks about rejecting Sam. Nick tells her he believes in second chances. Angie turns up Nick apologizes and they are back together. Cece tells Schmidt what the gif was and that she gave it to him as a thank you for him loving her. Jess keeps changing lanes when driving home as she is choosing whether or not to go see Sam. The car is pulled over by a big hearted Santa looking cop, who lets the Jess go free and who the gang dub 'black Santa'. Jess goes to the hospital to see Sam. They kiss. Schmidt tells Cece he never really gave away the gift. Nick and Angie are missing, everyone assumes they are off having sex.
Another great Xmas episode the two main relationships were the focus of the story and made it a heartwarming ending at the hospital.
CLAVADO EN UN BAR
GUEST CAST
Curtis Armstrong (Southland Tales)
Brian Posehn (The Devil's Rejects)
In an interesting move, New Girl's – season 3 midseason return kicked off with a bottle episode at Clyde's Bar — hence the episode's title "Clavado En Un Bar," which is not only a single by Mexican rock band Maná, but literally translates into "Stuck In A Bar." However, this installment was mainly driven by flashbacks — told in near-realtime, at that — as Jess came to the guys for advice on a big career decision that needed to be made in exactly 20 minutes — well, 19 minutes, according to Coach and his faithful stopwatch. ("I don't watch movies. I time them.") Of course, the majority of this episode was a round robin of origin stories, with each guy recalling their own critical life decisions and how they ended up where they are today. For Winston, this meant recounting his days as a Latvian basketball player. While these flashbacks weren't all that amusing, the payoff came at the end of his story, when Winston made the realization that he, in fact, had never actually made a decision in his life. I particularly laughed at Coach's matter-of-fact observation, "You decided nothing. That story contained zero decisions." Schmidt's story was perhaps the most bizarre, as we learned about his whirlwind transformation from hospital candy-striper to Christmas tree salesman to marketer. This account took a few too many oddball turns to really be considered funny — more just weird for weird's sake. This string of flashbacks was made all the more strange by a totally random cue of Coolio's "Gangsta's Paradise," and not it in a clever, anachronistic way. Coach's flashback, meanwhile, was a bit more entertaining, if only because we learned that his birth name is Ernie.
New Girl's 3rd run midseason return (which in actuality was probably supposed to be the midseason finale, judging by the Christmas tree subplot and bar decorations) was a strong entry in so far as shaking up the characters' career paths.
LAXMAS
GUEST CAST
Julian Morris (Cry Wolf)
Billy Eichner (What Happens in Vegas)
LAXmas tries to let all of the show's characters head off in different directions but finds a way to keep them together for just a little bit longer when all of their flights get delayed. Jess, who has agreed to spend Christmas in London with Ryan and his family, takes the delay as an omen of what's to come; maybe she'll be a giant disappointment to Ryan's parents, even with all of the presents that she's bought for them (which are stolen by "Reverse Santa" . And Jess isn't alone in her hesitation to travel for the holidays. Schmidt is reluctantly heading back home to Long Island, a place he's happy to have escaped from, while Coach can't get over the guilt of leaving his family behind to go on a Christmas vacation all by himself. Nick and Winston, on the other hand, have an entire plan for their return to Chicago, which involves lots of beer and women. Ultimately, New Girl uses this time at the airport to re-solidify connections between the group before they leave for the holidays. Not only do we have Jess doing everything she can to convince Billy Eichner's airline worker to book the soonest flights available for her friends (before ultimately bonding with him and scoring Nick and Winston some sweet first class seats), but we also have Schmidt and Cece's moments in the high-class, gold members' club before they ditch a jerky Barry Bostwick (with Schmidt embracing his Long Island identity: "New York. Long Island. Billy Joel. Nassau County. Billy Joel. Again. Goodnight Saigon") and share sodas in the food court.
It's there, in the food court, that we get the first of two standout moments from the episode, when Cece tells Schmidt that "I really like being your friend," a sentiment that he repeats back to her even though there's clearly romantic tension between them. Between that exchange and Schmidt's immediate refusal to even contemplate Bostwick's character's proposal , New Girl appears to be on the path of reuniting this dysfunctional couple. The other standout sequence from tonight's New Girl may have been slightly more predictable, but it still landed for me, as Nick's reassuring of Jess, telling her to go to England, proves yet again that this series will always come down to these two characters. Sure, the rest of the roommates and Cece join Nick outside the airport in order to fully convince Jess to fly to London and be with Ryan, but it's Nick Miller who throws away first class and risks getting kicked off the plane entirely in order to stay on the phone with Jessica Day for just a couple minutes more. It's a heartwarming moment that could be called cheesy if not for the steadily built connection between Nick and Jess.
LAXmas is a Christmas episode that directly references and even insults holiday favorites like Love Actually.  However, the episode's at its best when it embraces these conventions and puts New Girl's signature stamp on them, serving as a reminder to fans that this is a show that's meant to make you laugh but also make you feel. New Girl's specialty is blending wacky humor with real, genuine emotion, and it pretty much perfects that recipe in "LAXmas"