MAIN CAST
Topher Grace (Spider-Man 3)
Mila Kunis (Ted)
Ashton Kutcher (The Butterfly Effect)
Danny Masterson (Yes Man)
Laura Prepon (Karla)
Wilmer Valderrama (Minority Report)
Debra Jo Rupp (Big)
Kurtwood Smith (Robocop)
Tanya Roberts (The Beastmaster)
Don Stark (John Carter)
Lisa Robin Kelly (The Net: The Series)
Tommy Chong (Evil Bong)
Josh Meyers (Bruno)
THE BEST CHRISTMAS EVER
GUEST CAST
Marion Ross (Anger Management)
The episode begins with  the gang hanging out in the basement watching The Grinch Who Stole Christmas. Later, Eric asks if he can have a Christmas party in the basement, and surprisingly, Red says yes. when Eric asks for money for the party (for beer, actually) Red gives him $40 for the Christmas tree and says he can keep what money's left over. However, the gang decides to chop down a tree at the side of the road in order to spend all the money on beer. At work, Bob asks Red if he'll stay and work at the store on Christmas Eve. Bob says that since all the other stores are closed, some last-last-minute shoppers might swing by. To Red's dismay, Kelso ends up being the only one to show up, and he buys a set of hot rollers for Jackie and plays few rounds of Pong with Red, who ends up purchasing that game for himself. Back at the house, a jealous Laurie pours rum in the punch Kitty made for Eric's party. However, no one drinks it except for Jackie and three of her friends. Upstairs, two state troopers barge in to the party to inform Red and Kitty that their Christmas tree is a stolen one. Red then stops the party downstairs and takes Jackie and her friends home, and kicks everyone else out. Hyde then gives Donna her gift, a picture of the two in 5th grade. A jealous Eric then proceeds to give Donna White Shoulders perfume, the gift Hyde wanted to buy her but couldn't afford.
A first Christmas for That 70s Show and a classic Eric trying to throw a party using the money he would of spent on a Tree. Laurie spikeing the punch making all the girls drunk and trying to seduce Fez is great.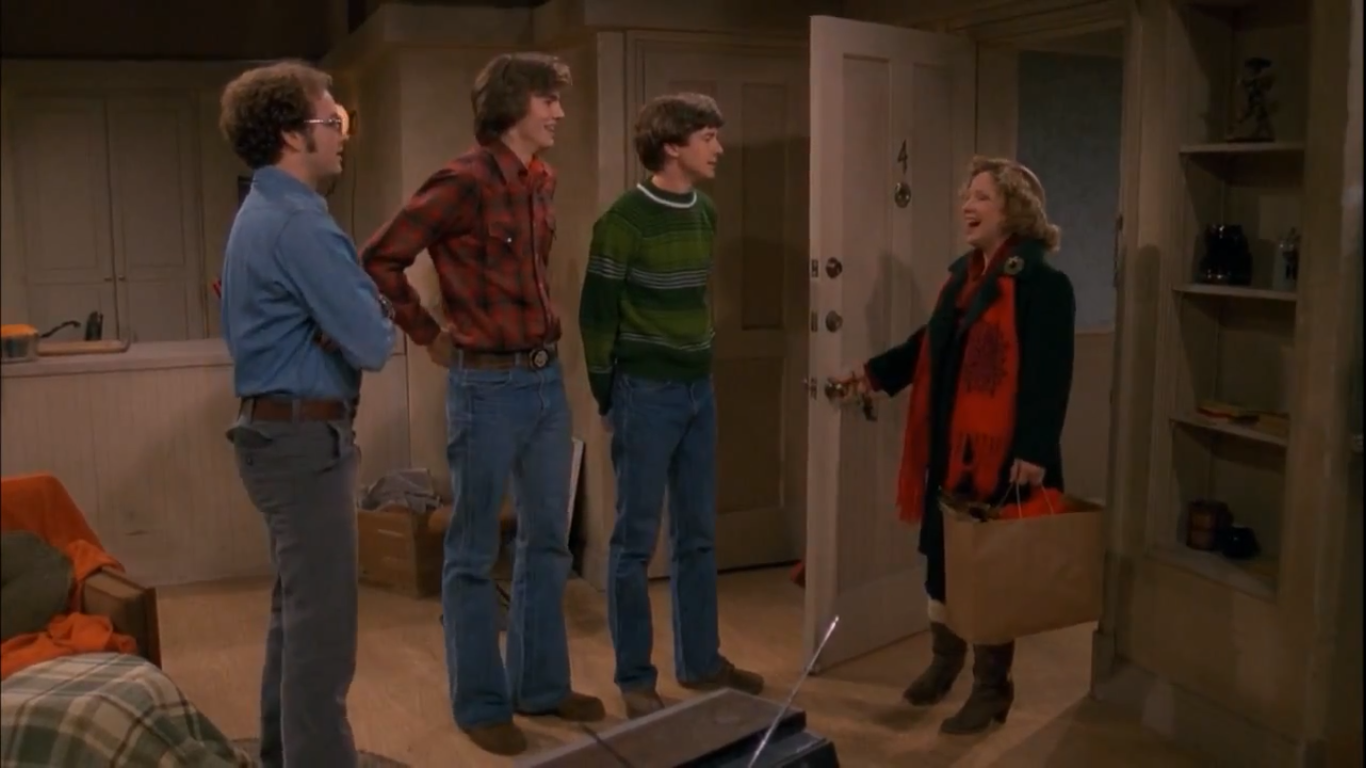 HYDE'S CHRISTMAS RAGER
GUEST CAST
Robert Hays (Airplane)
Matt Battaglia (Mike & Molly)
Now Hyde has moved from the over-protective Forman home to his carefree dad, barman Bud, the basement boys look forward to a keg party there, too frat-type for the girls' taste. Kitty nearly saw trough their 'Christmas' preparations aren't innocent, so the unsupervised drinking games deliver Eric so drunk he pours unprecedented disrespect and vomit all over Red's shoes. Kitty isn't interested in punishment, she cares for the utter lack of educational guidance 'her boy' Steven gets from his dad, so Red is made against his convictions to go read Bud the parental responsibility riot act.
A Second Christmas for the and another great episode. Hyde trying to bond with his father  whilst being allowed to get away with anything. Red finding the best punishment for Eric is a great highlight. That 70s Show always does great Christmas episodes.
AN ERIC FORMAN CHRISTMAS
GUEST CAST
Kevin McDonald (Epic Movie)
Nick Bakay (Sabrina)
The gang grumbles Christmas isn't real fun any more, like when they were little kids, except Kelso who looks forward to the traditional X-mas children's specials, but Jackie won't let him watch. Kitty gets them to volunteer for pastor Dave's church pageant, with Eric as director, who has an all too hard time stopping everyone for modernizing their parts most un-biblically. When Dave tries to take over directing and the lead, he is irreverently tied up, enough for Leo to give the sacrilegers heaps. Meanwhile Red is so angry at Bob's seasonal 'noise' that he hides his neighbors' decorations.
This is one of my all time favorite episodes, the best part is seeing the end result of the church pageant which you get to see over the episodes ending credits.
CHRISTMAS
GUEST CAST
Shannon Elizabeth (American Pie)
Ashley Eckstein (Star Wars: The Clone Wars)
Shonda Farr (Crossroads)
Red is chosen to be Santa claus, instead of Bob who grudgingly accepts to assist as an elf with Kitty, who by signing up the kids for the same duty unknowingly convinced the boys to attend the school dance they had sworn never to join again. Donna is furious when she learns Eric hangs out there and is now popular with a few schoolgirls, so she turns up during her radio show. Fez fears the football team will again lock him up in a locker. Hyde only came for Jackie's sake. Kelso only went to avoid going to the library as Brooke suggested
 It's great to see the gang growing up seeing how much they have come along. Red as Santa is creepy and disturbing but that's what makes it funny. Kelso has some lovely scenes especially when he realises he would rather spend Christmas with Brooke.
WINTER
GUEST CAST
Carolyn Hennesy (Click)
Kelso accidentally took the police department-donated gifts for needy kids, but Eric begs to keep some as Red never gave him any toys, just a rain coat and a hose-down to test it; opening 'just one' package leaves nothing unwrapped. The girls are flattered when Kitty invites them to help out the stuck-up 'Ladies of Point Place' (LOPPs) with their height of the year, the Christmas party, but angry because the boys couldn't care less, Jackie is furious Hyde even reneges on his promise to attend in favor of boyish basement toy-games. Posh Patty Ryals marches in to take charge instead of Kitty because of an incident in 1963, 'Santa' Bob fondly remembers dating Patty. Red catches the boys playing, but with rare seasonal mildness lets them bring the toys to the community center, forcing him and the gang to stall Kitty.
Kelso stealing the toys is hilarious with out realising they were meant for the needy kids, Red showing surprising Christmas spirit in not turning the kids in.  Poor Eric getting tricked into going down the chimney and landing in a cake shop. Thankfully Donna rescues him.
Fez almost loses his apartment when Jackie floods it. He's ready to say "Good day!" to their co-habitation, but Jackie manages to salvage things by bonding with Fenton, the landlord, over shopping, and convincing him to let them stay. Red and Kitty are concerned over the number of arguments that Hyde and Samantha are having. But when they learn the reason for all the fights, it causes some sparks to fly in their own relationship. Donna tries to raise money for charity through her radio show and ends up having to resort to less than considerable ideas to do it.
Not much of a Christmas episode with the exception of Santa showing up at the end but still a great episode in the shows final year