CAST
Dan Castellaneta (Fantastic Four)
Julia Kavner (Dr. Dolittle)
Nancy Cartwright (All Grown Up!)
Yeardley Smith (As Good As It gets)
Harry Shearer (This Is Spinal Tap)
Hank Azaria (The Smurfs)
Pamela Hayden (Hey Arnold!)
Tress MacNeille (Futurama)
SKINNER'S SENSE OF SNOW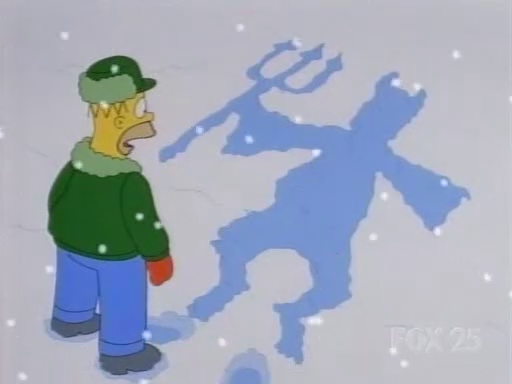 While the Simpsons attend a French Canadian circus called "Cirque de Purée", a wild blizzard hits Springfield, turning it into a snowsquall overnight. However, Springfield Elementary School stays open regardless of the storm, even though every other local school closes. Only some students, including the classmates of Bart and Lisa, show up while Skinner and Willie are the only faculty members at the school that day. To pass the time, Skinner plays his professed favourite film, a very low-budget, long-running, 1938 holiday movie called "The Christmas That Almost Wasn't, But Then Was". When the kids try to leave school, however, snow has piled up, trapping the kids inside with Skinner and Groundskeeper Willie, much to their horror.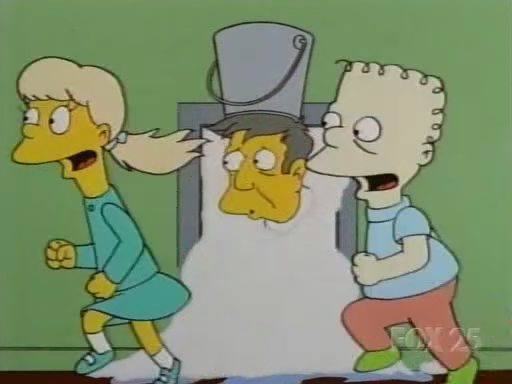 Skinner tries to keep the children under control, forcing them to stay together in the cafeteria and eat apples, relish and (only if they behave well enough) mayonnaise and will not let them go home until the snow melts. After Nelson tries to escape, Skinner unearths his U.S. Army memorabilia and is reminded of the days when he commanded respect from his troops. Skinner tries to command respect from the students, and briefly succeeds after threatening to hang them in their clothes on hooks on the wall if they rebel. Bart tries to tunnel his way out, but Skinner stops him, and after Willie refuses to destroy the tunnel, Skinner tries to, but is stuck in the resulting cave-in. The students rebel and eventually tie Skinner up in a dodge ball bag. They then set about 'going nuts' such as racing trolleys in the school hallway, even burning numerous books in the school's library.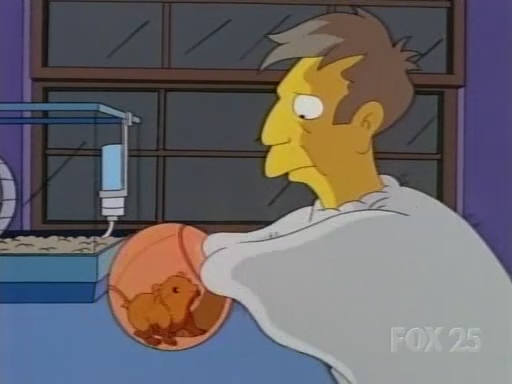 Meanwhile, Homer, with the help of Ned Flanders, sets out to rescue the children but crashes Flanders' car into a fire hydrant, which sprays water that freezes the car in place. Homer's repeated gunning of the accelerator causes carbon monoxide to flood the front of the car. Flanders and Homer get high from the fumes and wildly hallucinate. While the trapped children go wild with power, Skinner uses the school hamster, named Nibbles, to get a message to the outside world. Nibbles makes it to Ned and Homer, breaking the window and reviving them: they crash into a salt silo, melting the snow around the school and badly rusting the car but freeing the kids in the process.
Superintendent Chalmers appears and is ready to blame Skinner for the school's current poor state when Bart takes the place, amending things with Skinner. As he and Lisa leave with Homer and Ned, Homer starts hallucinating again making him see Lisa as a camel and Bart as a dancing girl. Homer tries to kiss Bart, who tries his best to escape, causing the car to lose control and crash, and camel Lisa, then says "Merry Christmas from the Simpsons"!
SHE OF LITTLE FAITH
 GUEST CAST
Richard Gere (Pretty Woman)
While watching a 1950s science fiction movie, Bart and Lisa see a commercial for a model rocket kit and Bart orders it by using Homer's credit card number. Homer helps Bart and Milhouse build it, but it blows up before launching. Jealous that Ned Flanders built a superior rocket, Homer enlists the help of his former nerdy college roommates, Gary, Doug, and Benjamin, to build a rocket piloted by the hamster Nibbles. The rocket lifts off successfully, but it develops complications and Nibbles bails out. However, Homer makes an attempt to shoot down the rocket with a 12 gauge shotgun, but the rocket crashes into the church. The church council meets up to decide how to come up with money to fund the repairs to the church, and with no other aid available they accept help from Mr. Burns and Lindsay Naegle. The two rebuild the church as a commercial monstrosity, complete with advertising signs, a Lard Lad statue, and a Jumbotron. Lisa is appalled at this and abandons the church, feeling her religion has lost its soul.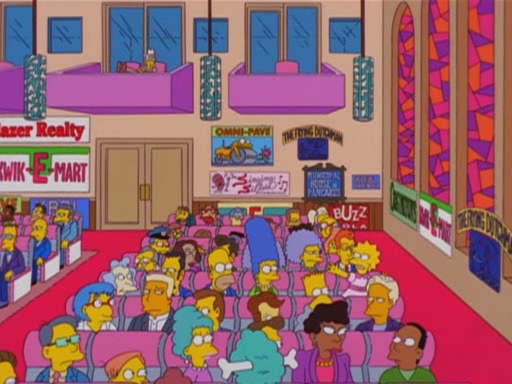 That night, Lisa prays to God and assures him she has not turned her back on him, but plans to seek a new path to him. While on a walk around town passing many sacrilegious signs, she finds Springfield's Buddhist temple. Inside she sees Lenny and Carl meditating, and Hollywood actor Richard Gere teaches the core concepts of Buddhism to her. An intrigued Lisa takes a pamphlet on Buddhism and studies it at home. It convinces her of the virtues of the faith, and Lisa announces out her window she has become, and forever will be, a Buddhist. Lisa plants her own bodhi tree in the back yard and begins to meditate, but Marge grows increasingly worried about Lisa's soul and tries to convince her to come back to Christianity.
At the church council, Reverend Lovejoy tells Marge to use Christmas to bribe her back. Marge bakes cookies, decorates the home, and has Ralph and Milhouse dress as a pony in wrapping paper to tempt her, but Lisa runs from the home when she realizes what is happening. At the Buddhist temple she tells Richard Gere her family tried to trick her, but Gere informs her that while Buddhism is about one finding inner peace, it is also about respecting the diversity of other religions based on love and compassion – thus, Lisa is free to celebrate any holiday with her family including Christmas. Lisa goes back home, falling asleep beside the Christmas tree and tells everyone that she will be celebrating Christmas with them and continue paying lip service to Christianity while practicing Buddhism for the rest of her life. As Marge takes her to the kitchen to get some cookies for her, Lisa asks about her pony, and Marge tries unsuccessfully to change the subject as Lisa calls out for her gift.

DUDE, WHERES MY RANCH ?
GUEST CAST
Jonathan Taylor Thomas (Smallville)
Andy Serkis (Lord of The Rings)
David Byrne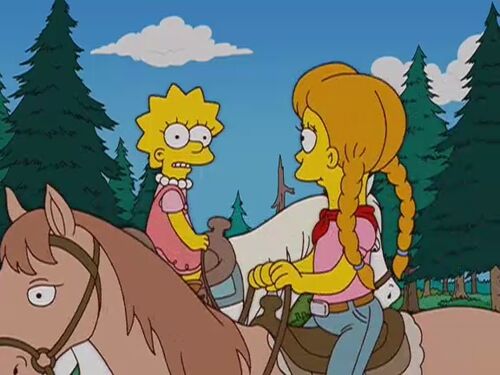 It is Christmas time, and the Simpsons go caroling around Springfield. They sing to Snake (who is busy robbing the family he has gagged and tied up), Krusty and his dad, and Mr. Burns and Smithers. The Simpsons continue until they reach the Blue-Haired Lawyer's house. He tells the family that they cannot sing Christmas carols, unless they pay a royalty. In response, Homer makes the lyrics for his own carol. Later, Ned Flanders comes in and tries to help Homer, until Homer kicks him out, but even then Flanders annoys him. Homer finds new inspiration in an anti-Flanders song, "Everybody Hates Ned Flanders". He plays the song at Moe's, and when David Byrne comes in, he likes the song so much, that he wants to produce and record the song. "Everybody Hates Ned Flanders" becomes so popular (even with Ned and his sons themselves) that even William Shatner does a cover of it. This leads to mass publicity, which annoys the Simpsons, who want to avoid it. They find a brochure for a dude ranch, the Lazy I Ranch, and go there.
The family arrives at the Lazy I Ranch, owned by the Rich Texan, who tells Lisa that the ranch was built on cruelty to animals and oppression of indigenous people, which annoys her. It makes her want to leave, until she meets a cowhand, named Luke Stetson, who stops her stepping on a rattlesnake egg, and shares her views on the ranch. The family meet a man called Cookie who shows them around and sets out some dinner. Homer and Bart also have their own adventure when they meet a tribe of Native Americans who want a dam removed so they can reclaim their land. Homer agrees to do so if they build a Casino on their land, which is accepted. They are confronted by beavers when trying to kick it apart and they start making Homer part of the dam, but Bart manages to tie a rope to Homer and drags him away on his horse, but the rope breaks and the beavers continue to bite Homer. They eventually destroy the dam after luring the beavers away with old wood and removing the master log, and give the land back to the Native Americans who include them in their tribe by giving them cups to drink from which contains bear urine (and then say it actually contains Fresca, at which point Homer and Bart spit it out). Meanwhile, Lisa thinks that Luke is off-limits, because she overhears him on the phone promising a last dance to a girl named Clara and telling her that he loves her; causing Lisa to think Clara is Luke's girlfriend and she goes to her bed crying and jealous.
When Lisa encounters her, she deviously tricks her into going the wrong way. At the dance, Lisa finds out that Clara is Luke's sister and runs to the beaver dam with Bart. They find Clara standing on a rock in the middle of a torrential river; she cries out to Lisa and Bart for help, explaining that she cannot swim. Bart taunts some beavers and runs up a tree; the beavers chew through the tree, causing it to fall and making a bridge that drowning Clara can go across. However, when Lisa comes clean about what happened to Clara, Luke is offended and they separate. As the Simpsons return to Springfield, they hear a self-deprecating cover version of the Andrea True Connection song "More, More, More", (entitled "Moe, Moe, Moe"), on the radio, sung by Moe and produced by David Byrne (who Moe kidnaps earlier in the episode), and turn around to spend another week at the ranch.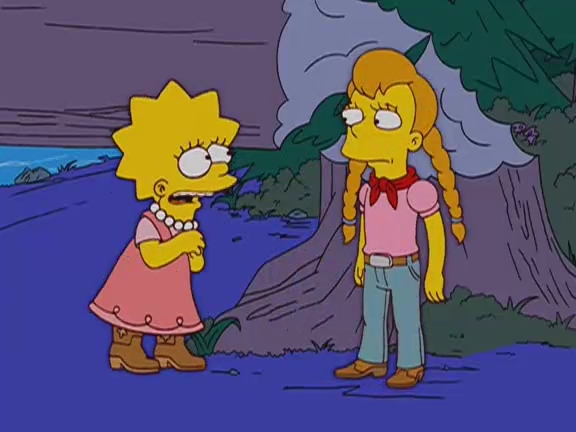 'TIS THE FIFTEENTH SEASON
For Christmas, Carl gives Homer a DVD player and the first season of Magnum, P.I. with commentary by John Hillerman. However, Homer forgets he is Lenny's secret Santa and gives him a pack of Certs out of desperation. Instead of giving bonuses, Mr. Burns gives everyone a cafeteria voucher and Homer a Joe DiMaggio rookie baseball card for Bart. To get money for Christmas shopping, Homer gives the card to Comic Book Guy, who gives Homer everything in his cash register. With their small fortune, the Simpsons go shopping at the Springfield Heights Promenade. Homer promises to buy a massive Christmas tree that will cause mudslides and flooding when it is removed, but he instead spends the tree money on a Personalized Talking Astrolabe for himself. Homer gets shunned by his family when they find out, and becomes even more depressed when he finds out that the Astrolabe cannot be exchanged, thus meaning that Homer cannot undo his mistake. While staying up late at night, Homer watches Mr. McGrew's Christmas Carol. There, he realizes just how selfish he is. Homer decides to reform his ways and become the nicest guy in town. Homer's acts include giving hobos his old clothes, giving Lenny a photo cube, giving Marge the last pork chop (causing her to break down in tears of joy) and building a skating rink in the Simpsons' backyard (to the delight of Comic Book Guy). After Gil Gunderson's comment of "Homer, you're the nicest man in town!", and Nelson Muntz's comment of "Haha! Your position has been usurped!", the actions cause jealousy to stir in Ned Flanders.
Flanders finds himself barely able to control his anger. He decides to buy everyone in town a Christmas present (and gets the money by renting out his house to a fraternity). Homer begins to think of beating Flanders by buying everyone a car. However, Lisa tells him not to and that, as a Buddhist, she believes people would be happier without presents. Homer gets the idea to do the ultimate good deed: steal Christmas. In the morning, an angry mob confronts Homer. The mob calms down when they see a star which they think is a sign from God; it is actually a flare from Hans Moleman. Homer gives everyone back their presents and the entire town sings Hark! The Herald Angels Sing. During the carol, however, Snake steals Homer's Astrolabe.

SIMPSON CHRISTMAS STORIES
.1 The First Do'h-El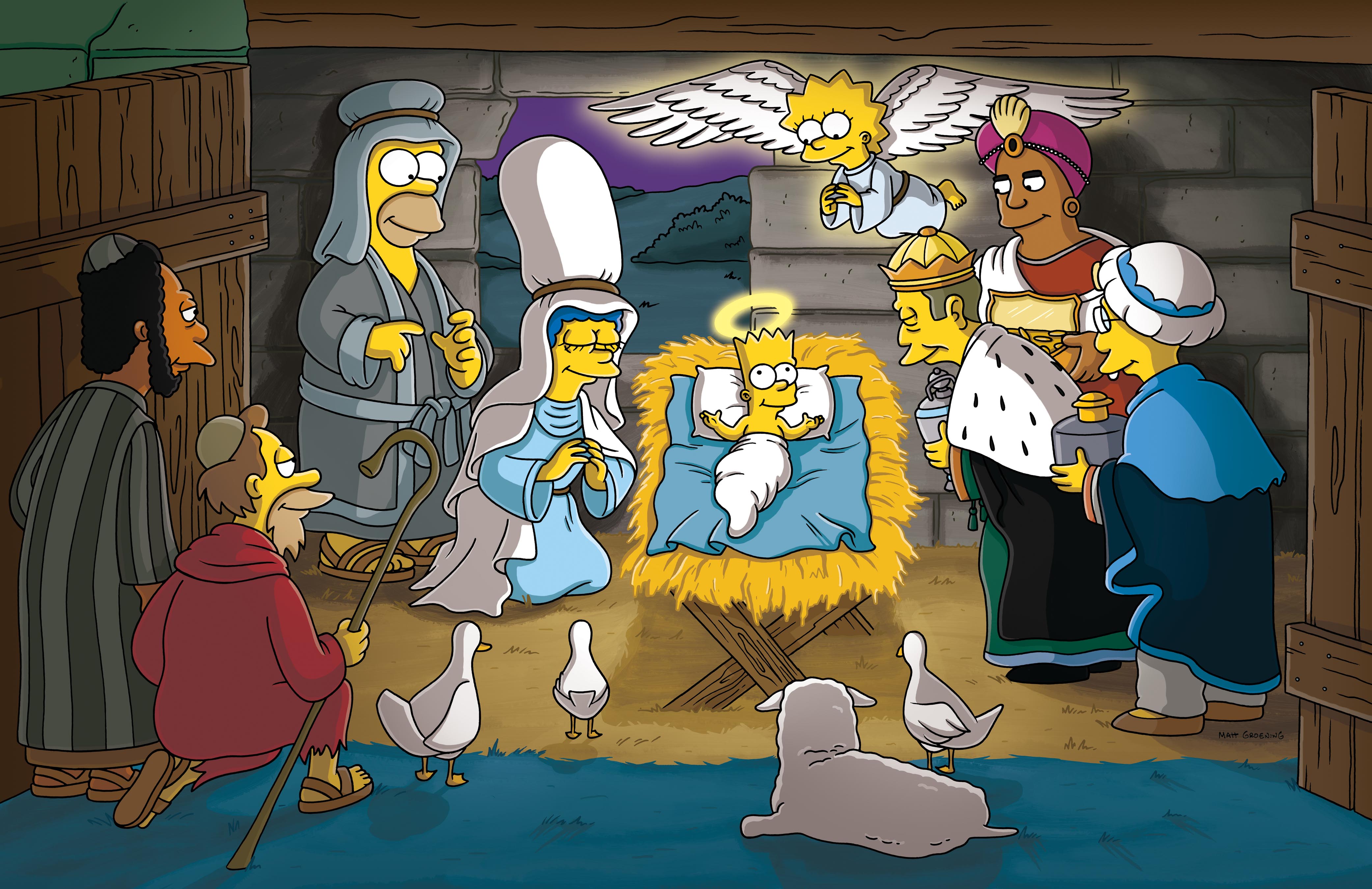 When Reverend Lovejoy can not attend the Christmas sermon due to a horrible train wreck (on his train set), Flanders immediately takes over. However, he gets a paper cut and faints. Homer decides to lead the sermon and tells the story of the first Christmas, with Marge as Mary, Homer as Joseph, Lisa as the angel Gabriel, Mr. Burns as King Herod, and Bart as Baby Jesus.
Mary tells Joseph that she is pregnant, even though she is a virgin. The angel Gabriel appears to them and explains that Mary is going to give birth to the Son of God. The three wise men (Dr. Hibbert, Principal Skinner, and Professor Frink) tell King Herod that they are going to give gold, frankincense, and myrrh (which Professor Frink is re-gifting) to the King of the Jews. When Herod thinks that the gifts are for him, the men explain to him that they are for the infant. Herod becomes angry and claims that he will kill the baby.
At the Bethlehem Inn, the innkeeper (Moe) tells Mary and Joseph that he has plenty of rooms available with brand new carpeting. However, when Mary's water breaks, he forces them to stay in the barn. Mary successfully gives birth to the baby, and the three wise men, along with the two shepherds (Lenny and Carl) come to see Jesus. Joseph is upset because he is not Jesus's father, and when he drinks some wine, the baby turns it into water.
When the infant keeps crying, Mary gives him to Joseph. He entertains him by hurting himself and one of the wise men (Skinner). When Baby Jesus finally falls asleep, Herod and his troops find the manger that they are staying in. They escape and trick the soldiers by putting Jesus' halo on a duck. On top of the hill, Joseph cuts down a pine tree, and as it rolls down, the soldiers get caught in it. The soldiers, along with Herod, are arranged like ornaments on the tree, and the duck, still wearing the halo, stands on top of the tree. Mary calls it a Christmas tree, and Homer concludes his service by ending his story with "And did you know that that little baby Jesus grew up to be….Jesus?".
.2 I Saw Grampa Cussing Santa Claus
When Bart and Lisa find Grampa trying to stick a bear trap on top of the chimney, Grampa tells them that he is trying to get his revenge on Santa Claus. Bart asks why, and to their dismay, Grampa tells them one of his many stories. Back in World War II, Grampa and his brother Cyrus (not mentioned before or since this episode aired) were fighting off Japanese planes when Cyrus got shot down. Shortly after, Grampa, who was accompanied by Mr. Burns, have their plane's wings shot off and are stranded on an island. After a few months, they see a plane in the sky, and Mr. Burns shoots it down. However, when they go over to investigate, they see that it is actually Santa Claus. They build him a new sleigh and gather up all the presents. When Santa is about to leave, Mr. Burns knocks him unconscious with a coconut and flies away in the sleigh and claims that he is going to keep all the presents.
Grampa catches up to him on Prancer, who has been left behind because Santa could not find him, and jumps on board the sleigh. After he beats Mr. Burns with a tricycle, he gives the sleigh back to Santa. As Santa leaves, he tells Grampa that he will be back in a few days. However, he never comes back, and Grampa has to get off using a jet ski he made out of coconuts. Bart and Lisa believe that it is just another one of Grampa's far-fetched tales, but when they hear a thump in the den, they find that Santa is there. He tells them that Cyrus did not die, but instead crashed into Tahiti. Santa takes Grampa there, and they meet up with Cyrus and his fifteen wives. Santa explains to Grampa that he did not come back for him on the island due to his procrastination and eventually feeling embarrassed about it. When Abe comments on Cyrus's fifteen wives and the sex he must have, Cyrus points out that they are wives, not girlfriends.
.3) The Nutcracker…Sweet
After the children of Springfield Elementary perform The Nutcracker, everyone begins to go about their business singing to the tune of the songs from the play. This is done after mentioning that these songs are in the public domain and thus can be (and are) played constantly for free. After the opening number (sung to the tune of "Marche"), Moe continues his holiday tradition (done to the tune of "Dance of the Flutes") and attempts suicide thrice, first by hanging himself with popcorn string which breaks under his weight, next by riding a sleigh into open traffic only to have all the cars swerve and miss him, and then by shooting himself in the head with a revolver that sends a "Merry Christmas" flag out through his other ear. In a fourth attempt, Moe asks Barney to kill him instead of buying him a present, but Barney has already gotten him a wool hat and Moe gives up on the idea for now.
That evening, Marge tells Homer that he will like the present that she got him. Having forgotten to buy her anything and not wanting to upset her, Homer tells her that his present for her is outside; he then frantically rushes out to find a gift (sung to the tune of "Trepak"). Every store is closed, and all Apu has at the Kwik-E-Mart is some jerky made out of trout. Homer searches in garbage cans, gutters, trees, and he even chases down Milhouse, but he cannot find anything.
When he gets home, Marge gives Homer his present (done to "Pas De Deux"). He opens it and sees that it is another present with a tag that reads, "To Marge, From Homer." Marge tells him that she knew that he would forget to give her a present, so she gave him one to give to her. He gives it to her and she unwraps it, and Homer sees that it is a picture of him dressed up as Santa with Marge on his lap. They hug and kiss, and Moe attempts suicide a fifth time by riding a sleigh toward a fully loaded tractor-trailer, without success ("Eighteen wheels and they all missed me!").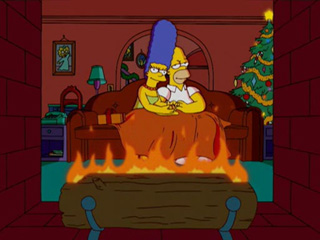 The next five episodes show a welcome return to Christmas, the best of the bunch would be Tis the Fifteenth season and has remained a favorite of mine over 10 years later. all the Christmas episodes are great to get out this time of year and just relax for some good decent laughs.