CAST
Taylor Kitsch (John Carter)
Alexander Skarsgard (True Blood)
Liam Neeson (Batman Begins)
Rhihanna (Bates Motel)
Brooklyn Decker (The League)
Tadanobu Asano (Thor)
Hamish Linklater (The Crazy Ones)
Peter NacNicol (Ghostbusters 2)
John Tui (Power Rangers SPD)
Adam Godley (Powers)
Josh Pence (The Dark Knight Rises)
Erich and Jon Hoeber (Red) wrote the screenplay "Based on HASBRO's Battleship" which Peter Berg (The Kingdom) directed. The film includes a pair of brothers. Stone Hopper (Alexander Skarsgard, True Blood) is Commander of a ship in the Navy, and his brother Alex (Taylor Kitsch, Friday Night Lights) is a Lieutenant in the Navy, but is more of a renegade and screw-up that his brother has to always cover and apologize for because of his roguish behavior and covert insubordination. Alex is dating Samantha (Brooklyn Decker, Just Go With It), who is the daughter of the Admiral (Liam Neeson, Unknown). Kind of sounds like a general conflict story that we have all seen before, right? How wrong you are! The Hoppers' participation in a Naval exercise with Japanese sailors (an occasional occurrence, since they are stationed in Hawaii) soon becomes pear-shaped, as a mysterious presence comes to Hawaii. They are, in fact, aliens, who have come to Earth to establish contact with their home planet in the hopes of future colonization here.
The basic framework for the story is decent enough for the first act or so, but then it starts getting a little weird in its execution. The premise for the aliens coming to Earth is that they are responding to a signal that Earth is sending to other planets of similar atmospheres, in the hope that people of Earth can explore other planets. So , the aliens are not only beating Earth to the punch, but taking it a step further and occupying our house before we did the same thing to theirs. It's this scientific element which allows us a bit of access to Cal (Hamish Linklater, The New Adventures of Old Christine), a computer scientist who knows what the signals are like and what's coming. However, when the invasion/occupation starts to unfold, his scenes are scant, occasionally getting time next to Decker's character, who is a physical therapist who works with wounded soldiers in their Iraq and Afghanistan recoveries (particularly one ornery character who returned home with no legs and is getting used to replacements). And the simple fact of the matter is neither Decker nor Linklater carry the story or provides moments that make them look engaging or charismatic. Though admittedly Decker is nice to look at.
Which brings us back to the action. The aliens are formidable, some of the action makes for exciting moments, but other parts of it just look silly and overreach. The aliens begin to move inland and damage other things like roads and an airfield to further isolate Hawaiian residents who are already several thousand miles away from the mainland. But like other films before it like Independence Day who set the stage for a seemingly unbeatable alien force, there always a fatal flaw that is academic and somewhat stupid. I won't reveal it here, but suffice to say it is Shyamalan-esque. And as a tangent, allow me to vent on the bait and switch that seemingly occurs both in the film's marketing and in the film itself. Neeson is all over the trailers (or at least was from my memory), but is in the film for a cup of coffee. This goes to a certain degree for Skarsgard. As a result Kitsch is the focus of the action, playing to a degree off of fellow FNL alum Jesse Pleamons (who plays a crewmember on the Hoppers' ship) and singer Rihanna. THAT Rihanna. Far be it for me to bring up her personal life when discussing her acting, but she should stick to singing. Her acting is wooden, she is not a very likeable person on screen, seemingly assigned to perform the film's one-liners, which she can't even do right, much less entertaining.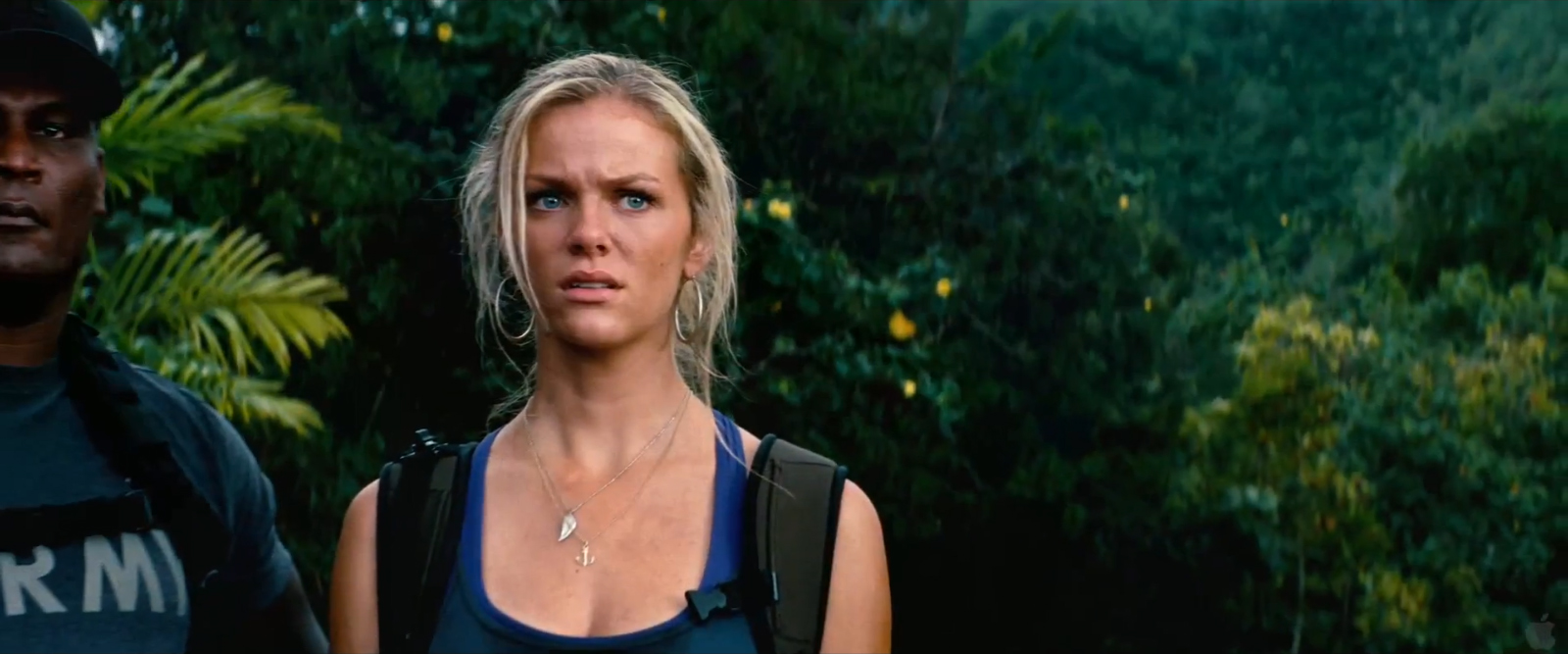 And another thing; this movie is long. Way too long. At credits it runs two hours and twelve minutes, and the epic moments of alien transformation eventually morph into story flaw after story flaw, resulting in a third act battle on a stage that is simply not believable. It uses said stage to do things that are not believable, and result in stupid 'pat themselves on their backs' moments after the film that are also for lack of a better phrase 'not believable.' Really, the Navy is going to have an awards ceremony after a good portion of Hawaii has been destroyed and/or obliterated? Child, please. Even at its base levels, Battleship not only asks you to leave your suspense at the door, but wants you to bury it in the backyard before renting it.