CAST
Sissy Spacek (The Help)
Piper Laurie (The Faculty)
Amy Irving (Alias)
William Katt (Sparks)
John Travolta (The Punisher)
Nancy Allen (Robocop)
Betty Buckley (Eight Is Enough)
P.J. Soles (Halloween)
Priscilla Pointer (Blue Velvet)
Sydney Lassick (Alligator)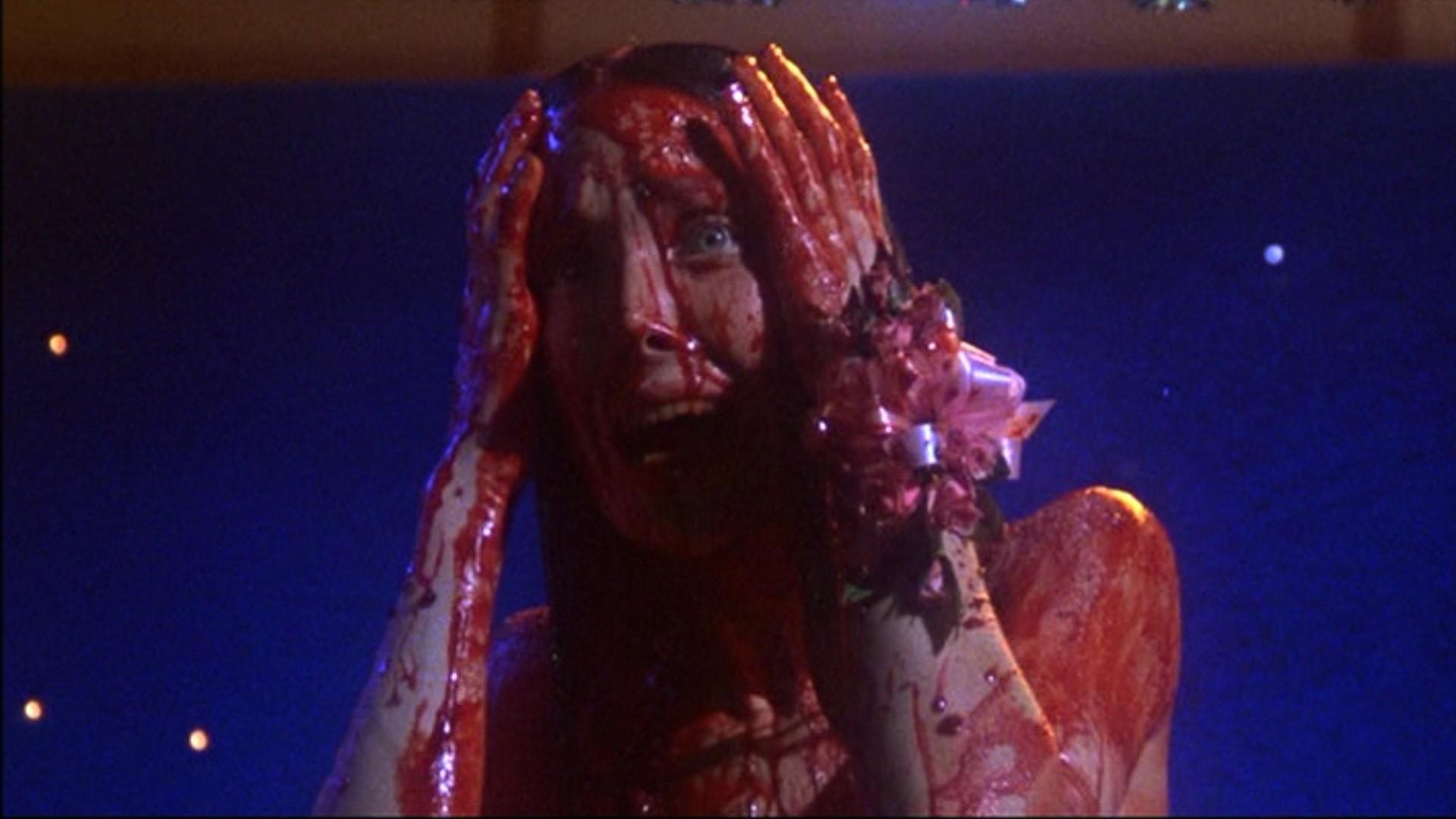 Carrie White (Sissy Spacek), a shy and friendless 17-year-old girl, is the scapegoat and outcast of her school. At home, she is abused by her mentally unstable mother Margaret (Piper Laurie), who is a Christian fundamentalist. While in the showers after gym class, Carrie unexpectedly experiences her first period and fears she is bleeding to death. The other girls, including Chris Hargensen (Nancy Allen) and Sue Snell (Amy Irving), add to her shame and humiliation by pelting her with tampons and sanitary pads. The gym teacher Miss Collins (Betty Buckley) intervenes and as Carrie becomes more frantic, a light bulb bursts in the showers.
Further examples of Carrie's telekinetic power are shown: when the school principal repeatedly calls her "Cassie" instead of "Carrie", an ashtray on his desk spontaneously flips onto the floor; as Carrie walks home a boy on a bicycle taunts her, but falls off his bike when Carrie glares at him; and when Margaret tells Carrie that the "curse of blood" is divine punishment for sin and forces her to pray for forgiveness, Carrie stares at her bedroom mirror until it shatters.  Miss Collins punishes Carrie's P.E. class with a week-long detention, threatening the students with suspension from school and the prom if they do not attend. Chris becomes defiant and is slapped by Miss Collins; Chris storms out angrily swearing vengeance.
Ashamed of her participation in Carrie's taunting, Sue persuades her boyfriend Tommy Ross (William Katt) to invite Carrie to the prom, but Carrie declines, fearing a trick. Tommy later visits Carrie's house and repeats his invitation, which she eventually accepts. Carrie tells her mother she is going to the prom, but Margaret declares the prom to be a sinful occasion. Carrie demonstrates her power by causing all the windows to slam shut, leading Margaret to believe she is a witch. Chris tells her delinquent boyfriend Billy Nolan (John Travolta) that she wants revenge on Carrie. He sneaks into the school and places a bucket full of pig's blood above the school's stage. At the prom, Chris' friend Norma (P.J. Soles) rigs the voting so that Carrie and Tommy are named prom king and queen. When the crown is placed on Carrie's head, Chris drenches Carrie in the pig's blood. Chris and Billy leave the gym laughing, as Carrie hallucinates that everyone (including Miss Collins) is laughing at her.
Immediately concerned, Tommy tries to help Carrie, but he is knocked unconscious by the bucket falling from the beam overhead before he can do anything. Carrie telekinetically seals the exits and attacks the students with a fire hose, killing Norma. She kills Miss Collins by pinning her to the wall with gym equipment as the horrified and helpless Chris and Billy watch from a window. She electrocutes other staff before igniting a massive fire, killing all the remaining students and staff. Carrie calmly leaves the inferno and begins walking home, still covered in blood. Chris and Billy attempt to run her down, but Carrie telekinetically flips the car over and causes it to explode, killing them both. Upon returning home and taking a bath to wash off the pig's blood, Carrie prepares for bed, but encounters Margaret and breaks down in her arms. They recite the Lord's Prayer together, but halfway through, Margaret stabs Carrie in the back with a butcher's knife. Carrie falls down the stairs and is cornered in the kitchen by a crazed Margaret, who attempts to stab her again. Carrie sends all the kitchen knives and sharp objects hurtling into her mother, crucifying her in the doorway. The house starts to shake and then collapses around them as Carrie embraces her mother's body.
Some time later, Sue, the sole survivor of the prom massacre, has a dream in which she visits the lot where Carrie's house once stood. As she places flowers on the ground, Carrie's bloody hand shoots out of the ground and grabs her elbow. Sue jolts awake in her own bed with her mother desperately trying to calm her.
Perhaps for younger generations this may be a bit lame as the thing these days seems to be loads of blood and gore from start to finish, with no proper strong story. Carrie is still a great little chiller and Sissy Spacek in the title role really makes it her own and brings the character to life in a thoughtful way.