CAST
Stephen Amell (The Vampire Diaries)
Katie Cassidy (Black Xmas)
Colin Donnell (Chicago Med)
David Ramsey (Pay It Forward)
Willa Holland (Legion)
Susanna Thompson (Dragonfly)
Paul Blackthorne (The Dresden Files)
Emily Bett Rickards (Brooklyn)
Manu Bennett (Spartacus)
Colton Haynes (Teen Wolf)
RECURRING / NOTABLE GUEST CAST
Colin Salmon (Limitless TV)
Jamey Sheridan (The Ice Storm)
Annie Ilonzeh (Beauty and The Beast)
Brian Markinson (Izombie)
Derek Hamilton (Disturbing Behavior)
Hiro Kanagawa (Heroes Reborn)
Kelly Hu (The Vampire Diaries)
Ty Olsson (X-Men 2)
Byron Mann (Dark Angel)
Roger Cross (First Wave)
Euegen Lipinski (Goosebumps)
Michael Rowe (Tomorrowland)
John Barrowman (Reign)
Currie Graham (Agent Carter)
Kyle Schmid (The Covenant)
Sarah-Jane Redmond (V)
Jessica De Gouw (Dracula)
Jeffrey Nordling (Tron: Legacy)
Tahmoh Penikett (Battlestar Galactica)
Sebastian Dunn (The Other Half)
Andrew Dunbar (Leprechaun: Origins)
Danny Nucci (Eraser)
Ben Browder (Stargate SG.1)
Christie Laing (Scary Movie 4)
Patrick Sabongui (The Flash)
David Anders (Izombie)
Ona Grauer (V)
Adrian Holmes (Smallville)
Agam Darshi (Sanctuary)
James Callis (Battlestar Galactica)
Rekha Sharma (Dark Angel)
Chin Han (The Dark Knight)
Janina Gavankar (True Blood)
Alex Kingston (Flashforward)
Anna Van Hooft (Flash Gordon)
Celina Jade (The Man with The Iron Fists)
Seth Gabel (Salem)
J. August Richards (Angel)
Summer Glau (Firefly)
Dylan Bruce (Heroes Reborn)
Caity Lotz (The Machine)
Michael Jai White (The Dark
Valerie Tian (Izombie)Knight)
Kevin Alejandro (Ugly Betty)
Bex Taylor-Klaus (Scream: The Series)
Teryl Rothery (Stargate SG.1)
Audrey Marie Anderson (The Unit)
Jimmy Jean-Louis (Heroes)
Cle Bennett (Flashpoint)
Dylan Neal (Sabrina: TTW)
Cynthia Addai-Robinson (Spartacus)
David Nykl (Stargate: Atlantis)
Sean Maher (Firefly)
James Kidnie (Robocop: The Series)
Katrina Law (Chuck)
Michael Eklund (Bates Motel)
Nicholas Lea (V)
Robert Knepper (Cult)
Tara Strong (Batman: The Animated Series)
Lochlyn Munro (Little Man)
Jorge Vargas (Power Rangers Ninja Storm)
Carlos Valdes (The Flash)
Navid Negahban (Legion)
Danielle Panabaker (Sky High)
After turning the story about Clark Kent's evolution from humble teenager to world's greatest hero into one of the most successful science fiction TV series of all time, what exactly do you do for an encore? The obvious answer would be a series about a young Bruce Wayne. Or maybe a crime procedural starring the men and women of the Gotham City Police Department. Instead, The CW gave us Arrow, a series that simultaneously explores Oliver Queen's first months as a vigilante hero and the painful hero's journey he undertook while stranded on a remote island. Even considering Green Arrow's popularity in Smallville and Justice League Unlimited, it wasn't the most obvious choice. Nor was it the choice many DC fans wanted. But ultimately, it was a choice that paid off.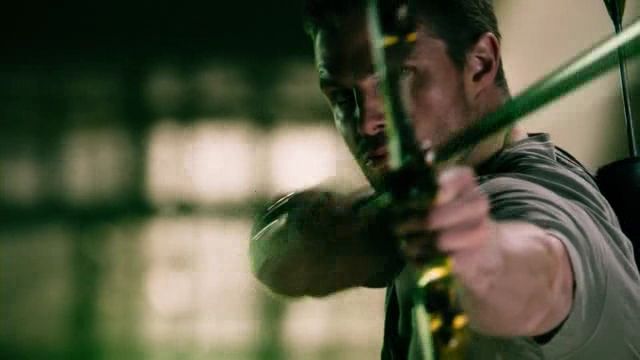 To their credit, they succeeded. Even right off the bat, there were many notable elements that he writers introduced into the Green Arrow mythos. Generally a loner in the comics, here Ollie was given a full family and circle of allies. Some were inspired by characters from the comics, while others were entirely new creations. Probably the most successful new addition was John Diggle as Ollie's personal bodyguard-turned-ally in his war on crime. Watching the dynamic between Ollie and Diggle morph from cold and hostile to warm camaraderie was a treat. And the two sequences featuring Diggle in the costume rather than Ollie suggested that this show could have a life beyond that of its lead character.
Amell's performance grew stronger over time, and the subtle ways in which he distinguished his performances during the present-day and flashback scenes stood out.With other characters, it was more a question of the scripts shedding light on motivation and relationships before they really came into their own. This was certainly the case with Moira Queen (Susanna Thompson), who was a bit of a hard sell as a sympathetic mother figure until viewers came to understand her role in "The Undertaking." Similarly, Tommy Merlyn (Colin Donnell) came across as a fairly flat and unimportant character at first. But by the end of the season, Tommy had emerged as the emotional heart of the series and Donnell's one of the strongest performances.
Felicity Smoak (Emily Bett Rickards) was endearing, her instant charm made fans fall in love with her making her a regular was the best choice when they headed into season 2. As Laurel, Katie Cassidy was excellent as future Black Canary, dealing with her emotions of seeing her former boyfriend back from the dead and the lost of her sister.  Structurally, the season started out strong and finished even stronger. The writers managed to weave together an overarching narrative as Ollie slowly uncovered the truth of The Undertaking and his own parents' involvement while contending with various smaller villains and conflicts. Anchoring the series throughout were the frequent flashbacks to Ollie's five years on the island. The pilot episode offered a tantalizing glimpse of what had transpired over the course of those five years with the Deathstroke mask discarded on the beach. Various plot twists revealed just how complicated that story is, teaming Ollie with Slade Wilson (Manu Bennett) and Shado (Celina Jade) in an ongoing guerrilla war against mercenary leader Edward Fyers (Sebastian Dunn). Particularly once Slade entered the picture and his bond with Ollie became a major focal point, the flashbacks emerged as one of the strongest elements of the show.
Everything in Season 1 culminated in two climactic episodes as Ollie fought for the survival of Starling City in the present and to stop Fyers from sparking an international incident in the past. These episodes offered a satisfying blend of big action scenes and emotional character showdowns. In particular, the final scene between Ollie and Tommy that closed out the season was perhaps the best the show has delivered so far.
Right off the bat, "City of Heroes" set the tone and direction for Season 2. We saw a despondent Ollie still crushed by the death of his best friend, Tommy, and having retreated to the island in a self-imposed exile. Though Colin Donnell only briefly reprised his role as Tommy this season, his character was very much a lingering presence driving the actions of Ollie and Laurel throughout the year. And his death formed the crux of Ollie's renewed mission. It was right there in the revised opening sequence – "To honor my friend's memory, I can't be the killer I once was." And that, more than Ollie's battles with Slade Wilson or Sebastian Blood or Isabel Rochev, was the core conflict of the season. It's easy enough to fight criminals by shooting them dead. But could Ollie muster the strength and the courage not to kill, even if it meant putting himself, his family, and his city in greater danger? It was a struggle, but the most satisfying element of the finale was the way Ollie definitively answered that question and established himself as a better class of vigilante.
Overall, Season 2 was a good showcase for Stephen Amell's acting talents.  Ollie was haunted by demons and shouldering heavy burdens throughout the year. He suffered more often than he succeeded, and Amell conveyed that pain well. Most impressive was the way Amell was so capable at portraying Ollie at different periods in his life. We saw plenty more of Ollie's life on the island in the various flashback scenes. Having already spent a year fighting for his life against men like Edward Fyers and Billy Wintergreen, flashback Ollie was closer to the man he is in the present, but not all the way there. And we even caught glimpses of a pre-island Ollie, most significantly in "Seeing Red." More than the changes in hairstyle or fashion, it was Amell's purposeful shifts in vocal intonation and body language that differentiated the different versions of Ollie.
Having established himself as one of the better supporting players in Season 1, it was very gratifying to see Manu Bennett step fully into the spotlight and become the big antagonist of Season 2. That's despite him not even being revealed as the secret mastermind of Brother Blood's uprising until the mid-season finale, "Three Ghosts." But it was crucial that the show spend so much time, both this season and last, in building up the brotherly bond between Ollie and Slade and the island. We needed to feel the pain of seeing them broken apart and Slade become a vengeful villain hellbent on tearing his former friend's life down. And it wasn't until much later still that we saw how that rift occurred and Slade turn his wrath against Ollie. It's a testament to both the writing and Bennett's acting that the character never quite lost his aura of sympathy even as he murdered Ollie's mother and tried to do the same to Felicity. This was a man driven half-mad by the loss of the woman he loved and an injection of a super-steroid. But conversely, I appreciated how the finale took pains to establish that it wasn't just the Mirakuru fueling Slade's anger. Even now, super-strength gone and exiled back to the island, Slade is a clear and present danger to Ollie's world.
The show introduced Sebastian Blood and Isabel Rochev as Slade's subordinates, with Blood serving as the most visible villain for much of the season. I really enjoyed Kevin Alejandro's portrayal of Blood. Alejandro's Blood was so disarmingly charming that it was often difficult to reconcile him with the masked man kidnapping drug addicts and turning street thugs into super-soldiers. Ultimately, Blood became the sort of villain who does the wrong things for the right reasons. He had an honest desire to make Starling City a better place. And when it became clear to him that Slade Wilson wouldn't leave a city left for him to rule, Blood did the right thing and aided Team Arrow.
Most of the increasingly large supporting cast were given their moments to shine in Season 2. I was often disappointed that Diggle wasn't given more to do, but at least he was able to take a starring role in "Suicide Squad." Diggle's backseat status was mainly the result of Sara Lance stepping into the limelight early on and eventually becoming the fourth member of Ollie's vigilante crew. The Arrow had his Canary finally. Sara's own struggles with the desire for lethal force and reuniting with her family often made for good drama. But among Team Arrow, it was often Felicity Smoak who often had the best material.  Emily Bett Rickards had much better material to work with this year, whether it was her unrequited love for Ollie, her burgeoning relationship with Barry Allen, or her desire to pull her weight alongside her more physically capable allies. The final three episodes all featured some standout moments for Felicity as she established herself as a force to be reckoned with.

Elsewhere, Roy Harper was often a focus as he transitioned from troubled street punk to superhero sidekick. Roy's temporary super-strength powers were a welcome story swerve and a fitting physical manifestation of his inner rage. His character arc received a satisfying conclusion in the finale when he proved himself worthy and received his own red domino mask, but lost Thea as a result.
As for the various women in Ollie's life, Felicity and Sara aside, Season 2 was a little more uneven. Moira definitely had an interesting ride. She started out Season 2 fighting for her life while on trial for her role in the Undertaking. Then, in an unlikely turn of events, she was spurred to run for mayor. And finally, her life did end when she became a pawn in Slade's cruel game. It was a terrific finish for Moira, proving once and for all that, whatever wrongs she committed, she was only ever trying to ensure her children's survival. Thea was more up and down throughout the season. She was often underutilized, but received a boost late in the season when she learned the truth about her parentage. Laurel's character  had her own crucible this season, spiraling into into drug and alcohol addiction and losing her job before hitting bottom, rebounding, and playing her part in saving Starling City.
The Mirakuru drug served as a plausible, pseudo-scientific way of introducing super-strength and allowing Slade to transform into Deathstroke. And even when it came time to introduce the Flash midway through the season, Barry Allen never felt too out of place alongside the more grounded characters. Season 2 really opened the floodgates as far as drawing in characters and elements from other DC properties. Barry Allen's debut was the most high-profile, but we also saw plenty more of Amanda Waller and A.R.G.U.S. "Professor Ivo became a recurring villain, along with a very different take on Amazo. And in a welcome twist, it turned out that even the Batman franchise is fair game with this show. Early on we learned of Sara Lance and Malcolm Merlyn's connection to the League of Assassins. Nyssa al Ghul appeared in a couple of episodes, and we know her father is out there in the world, leading his shadowy organization in the hidden city of Nanda Parbat. Even Harley Quinn had a brief cameo.
And beyond the introduction of all these new elements, the scope of Arrow really opened up in Season 2. The action was bigger and better choreographed. The scale of the conflicts was bigger. The producers simply seemed to have more money to throw around. And whether that was actually the case or just the result of experience and planning, the end result was the same. Arrow became a bigger, more cinematic TV series this season.