CAST
Robert Downey Jr. (Sherlock Holmes)
Terrence Howard (The Brave One)
Jeff Bridges (R.I.P.D)
Gwyneth Paltrow (Contagion)
Leslie Bibb (The Skulls)
Shaun Toub (Lois & Clark0
Faran Tahir (Supergirl TV)
Clark Gregg (When A Stranger Calls)
Bill Smitrovich (Ted)
Paul Bettany (Legion)
Jon Favreau (Daredevil)
Tim Guinee (Blade)
Stan Lee (Avengers Assemble)
Samuel L. Jackson (XXX)
Nazanin Boniadi (How I Met Your Mother)
America Olivo (Bitch Slap)
Tony Stark (Robert Downey Jr.) isn't just an industrialist or one of the most brilliant minds on the planet: he's practically a rock star. C'mon, when was the last time you saw a billionaire weapons manufacturer on the cover of "Rolling Stone"? Following in his late father's footsteps and mentored by Stark Industries CEO Obadiah Stane (Jeff Bridges), Tony keeps the world safe for democracy — and rakes in eight figure paychecks and a parade of "Maxim" cover girls in the process — by engineering the most efficiently destructive arsenal that the U.S. military has ever had at its fingertips.
During a trip to Afghanistan to show off the latest and greatest missile technology that Stark Industries has on the table, Tony's convoy is attacked by an underground group of soldiers using his own weapons against him. Despite being on the brink of death from the shrapnel embedded deep in his heart and kept alive only by a jury-rigged electromagnet in his chest, Tony is ordered by his captors to recreate the Jericho missile. Tony's brilliant mind immediately starts spinning — not to build a missile but to create a suit of armor that'll carve through the waves of heavily-armed thugs and get him and his newfound friend Dr. Yinsen (Shaun Toub) far out of harm's way. Fueled by months of bottled-up rage and the miniature arc reactor that keeps the shards of shrapnel from skewering his heart, Tony does manage to escape in his armor, and the devastation he's seen his own weapons wrought makes him vow to leave that life of arms manufacturing behind.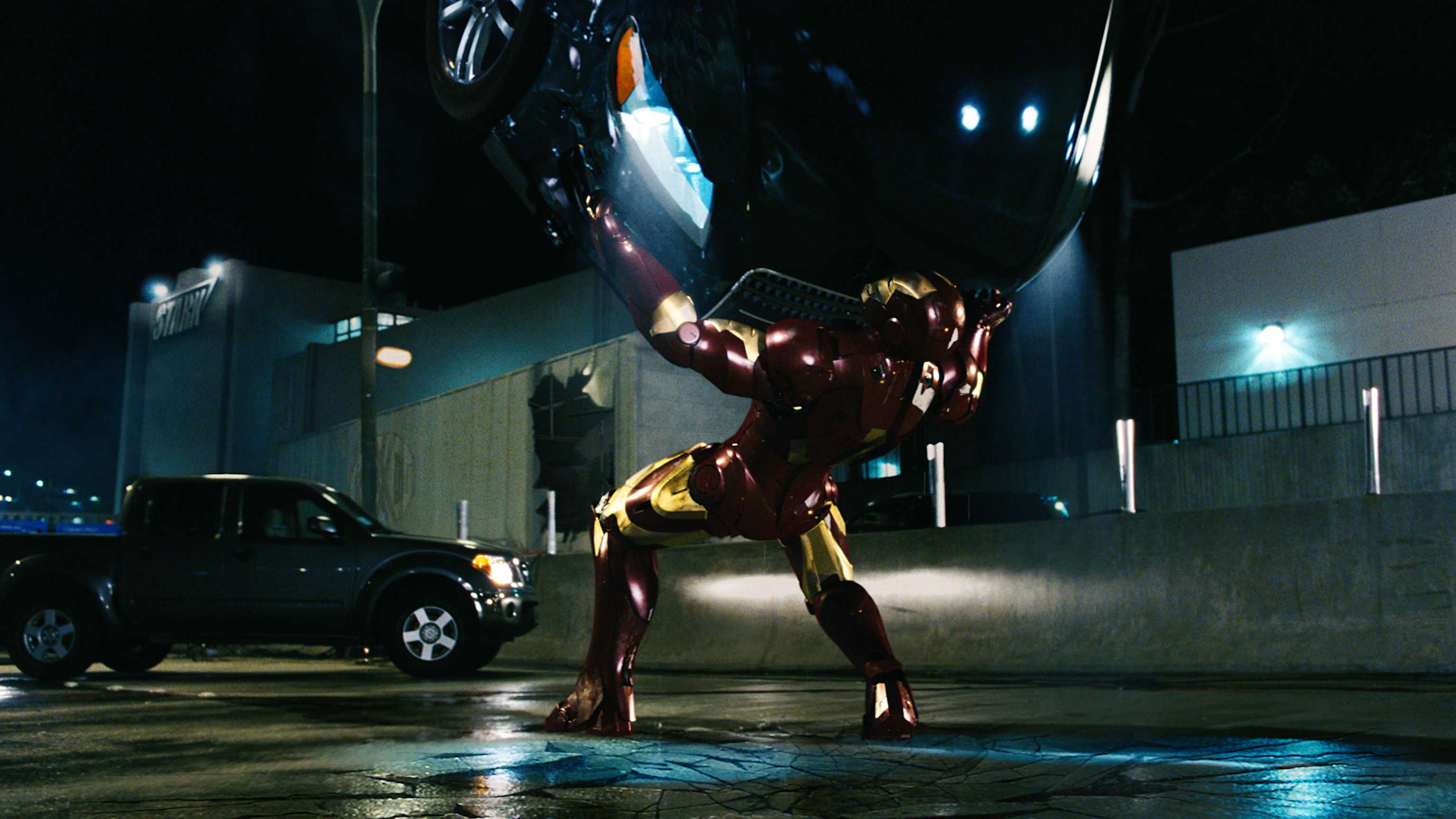 Stane nods his head when Tony drops that bombshell in a press conference, asking the weaponeering wunderkind to lay low for a few months while he smooths things over with the company's board of directors. Tony uses that time to rebuild and refine his armor technology, assembling a more efficient arc reactor and learning to fly with boot-jets and flight stabilizing gauntlets. He's not setting out to build a weapon, but when Tony learns that his company's hardware is being sold under the table to butcher untold thousands of innocent people, he slips on his newly-crafted armor to destroy every last trace of that arsenal. This attracts the unwanted attention of the U.S. military — including Tony's old friend Jim Rhodes (Terrence Howard) — as well as what's left of his captors in Afghanistan, who start piecing back together the scraps of the ramshackle suit that Tony used to escape.
Robert Downey Jr. is the most inspired casting choice for a superhero flick since Christopher Reeve back in the Superman days. Even before the camera pans over to Downey's face for the first time — when all we see is a hand holding a glass of scotch, with chunks of ice clinking around as a Humvee bounds up and down a barren stretch of Afghan desert — he is Tony Stark. The smirking charm, that swaggering confidence, a brilliance that he tends to keep restrained until he's off by himself…Downey's so perfect in Iron Man that it's hard to believe the script wasn't written with him expressly in mind. One of the hallmarks of a truly great superhero story is if it's still compelling when the character isn't in the suit, and that's certainly the case here.
Still building it for most of the movie — but some of Iron Man's best moments are when he's working out the kinks in the hardware. Tony's inventiveness and half-bungled experiments in refining the tech in the Mark I armor score some pretty enormous laughs while also bringing out that wide-eyed sense of wonder I had reading comics growing up. As for the supporting cast, Gwyneth Paltrow — looking more drop-dead gorgeous than she ever has on-screen — captures the dogged loyalty of Tony's right-hand, Pepper Potts, while infusing her with a charming sort of awkward energy.
Iron Man is and always will be one of my all time favorite movies.