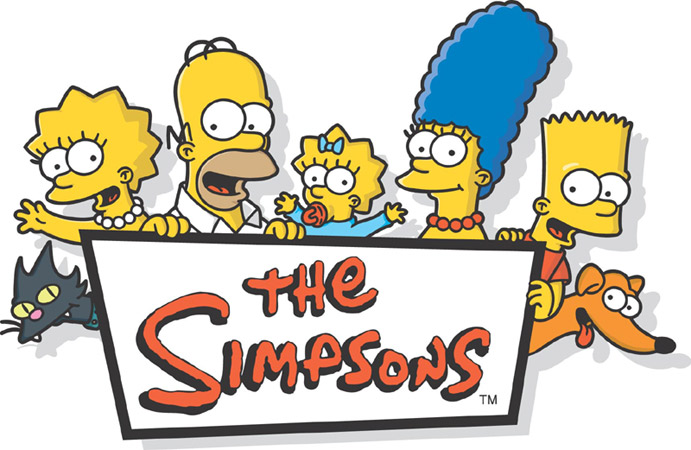 MAIN CAST (VOICES)
Dan Castellaneta (Fantastic Four)
Julie Kavner (Dr. Dolittle)
Nancy Cartwright (Kim Possible)
Yeardley Smith (As Good as It Gets)
Harry Shearer (Godzilla)
Hank Azaria (Mystery Men)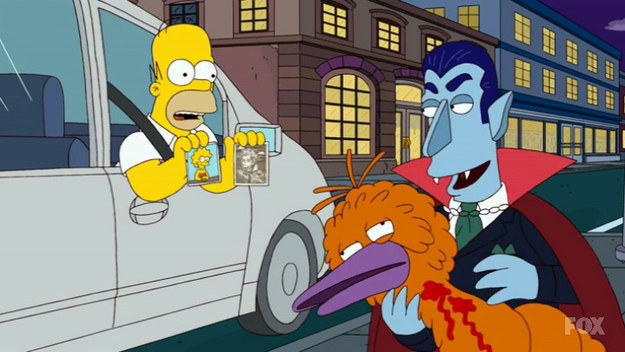 GUEST CAST
Hugh Laurie (House)
Daniel Radcliffe (The Woman In Black)
Tress MacNeille (Futurama)
Kelsey Grammer (X-Men: The Last Stand)
Maggie Roswell (Pretty In Pink)
TREEHOUSE OF HORROR XXI
While carving pumpkins, Bart takes a knife and etches a smile into Homer's pants. Homer responds by choking Bart, and Bart puts a flaming pumpkin on Homer's head. Professor Frink then welcomes the audience and warns them of the content of the show, presenting a TiVo remote control to fast forward through the scary stuff. But after accidentally fast forwarding to the end of the special, and exposing spoilers, a shameful Frink uses the remote on himself and fast forwards his life until he is turned to a pile of dust. The Frankenstein's Monster who was created by Frink makes a reference to The Office, and remembers his days working at "Monster Mifflin" with the Mummy, the Wolf Man, a zombie and a witch.
War and Pieces
In a parody of Jumanji, Marge, worried about the effects of excessively violent video games, encourages Bart and Milhouse to try playing some of the classic board games in the attic. After rejecting the "lame" ones, they discover an old board game called "Satan's Path." Upon playing it, all the rejected games come to life turning the town into a giant game board. Lisa reads the instructions, which are in Latin, and says the two must beat all the games to finish Satan's Path and restore everything to normal. Milhouse dies during the game of Scrabble, but Bart manages to finish it, returning everything back to normal (even bringing Milhouse back to life). Bart and Milhouse state that they will just play hangman but the game brings the hangman to life. With only one more letter remaining (WHEEL _F F_RTUNE), Milhouse guesses the number 3, which results in Bart and Milhouse being hanged.
Master and Cadaver
In a parody of Dead Calm, Homer and Marge set sail on a romantic second honeymoon. Their time together is interrupted when they rescue a castaway. Introducing himself as Roger, the castaway explains that he was a chef on a yacht called the Albatross, and was knocked out after attempting to stop a poisoning on his ship. Roger makes them a pie, but Homer becomes convinced that Roger poisoned the guests on the Albatross. He grabs the pie from Marge and throws it out the window. Marge chastises Homer, but looks out a window and sees a dead shark with the pie pan in its mouth. Homer and Marge take matters into their own hands as they seemingly kill Roger using a metal pole, and knock his body overboard. However, finding the Albatross, they realize Roger was telling the truth and that some of the passengers are still alive, as one of the people administered an antidote. Roger appears and explains that the shark they saw had died from a fuel leakage from Homer and Marge's boat. Homer then kills Roger, the surviving Albatross crew, and a pelican, to cover their tracks. However, unable to bear the guilt, Marge eats the poisoned pie, much to Homer's horror. The story is then revealed to be Maggie's imagination while she is taking a bath. Homer asks Marge what Maggie thinks about while bathing, which she responds, "Just sugar plums and buttercups." Maggie then shadily moves her eyes (revealing eyeliner over one eye), puts on a hat, and drinks milk like Alex from A Clockwork Orange as the theme from the movie briefly plays in the background.
Tweenlight
In a parody of Twilight, Lisa falls in love with a mysterious new student named Edmund. After saving Lisa from a bus, two cars, a bicycle and a Segway PT, Edmund reveals he is a vampire. Lisa is not frightened by this and the two begin a romance, much to the dismay of Milhouse, who turns into a were-poodle. Marge invites Edmund and his father, Count Dracula, to dinner. Edmund and Lisa are both embarrassed by their fathers and decide to leave. Homer and Dracula track them down to a cathedral in "Dracula-la Land". They see Edmund climbing up a tower with Lisa, so Homer forces Dracula to carry him up. Lisa wants to become a vampire, but has second thoughts after learning that she would be eight years old forever. Edmund says that "the blood-lust is upon him" and he has to bite something. Homer stops Dracula with a cross, and is amazed to learn vampires love their kids also. Edmund and his father reconcile, and Homer saves Lisa by offering himself up in her place as the two vampires feast on him. However, they both die from the bad cholesterol in Homer's blood as he is turned into a vampire. Transforming into a bat to fly home, Homer's fat causes him to fall to his death. His body is carried off by were-poodle Milhouse while Lisa watches in dismay.
The Twilight parody is the best out the three, The Jumanji part was a pretty good too.
TREEHOUSE OF HORROR XXII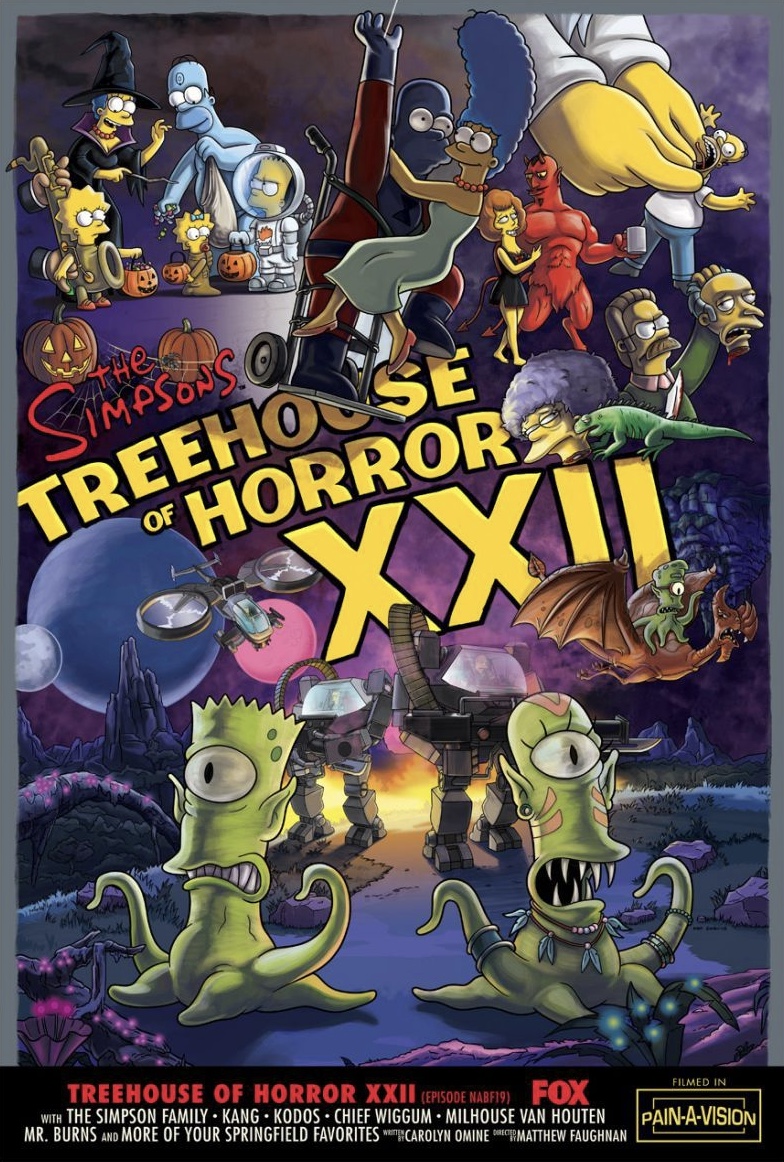 When Bart, Lisa and Maggie come home from trick-or-treating, Marge switches out the candy with dental hygiene products and asks Homer to deliver the candy to a drive for the troops overseas. Homer instead runs off with the bag to eat its contents in privacy at a canyon cliff. Unfortunately, Homer trips and falls to the bottom of the canyon with his arm pinned. Fueled by his need to get the out-of-reach bag of candy, and reluctant to wait twenty minutes for help, Homer is forced to chew off his arm. Though he manages it after a few tries, Homer learns that he was carrying a bag of vegetables, as Bart, Lisa and Maggie had secretly stolen back their candy, inciting an upset Homer to scream in rage.
The Diving Bell and the Butterball
In a parody of The Diving Bell and the Butterfly, Homer begins to decorate the house for Halloween and is reaching for a decoration in a box. Unfortunately, there is a real Black Widow spider in the box and when Homer grabs what he thinks is a plastic spider, he is bitten by the real one. The bite leaves Homer unable to move or talk. When Lisa reads for him, she discovers that he can communicate through flatulence. The Simpson family is amazed at the result and Lisa helps Homer tell Marge how he feels about her. When he is again bitten by another spider (a radioactive one this time), he gains the ability to shoot spider webs out of his rear end and have the same abilities as Spider-Man, though he is still paralyzed.
Dial D for Diddily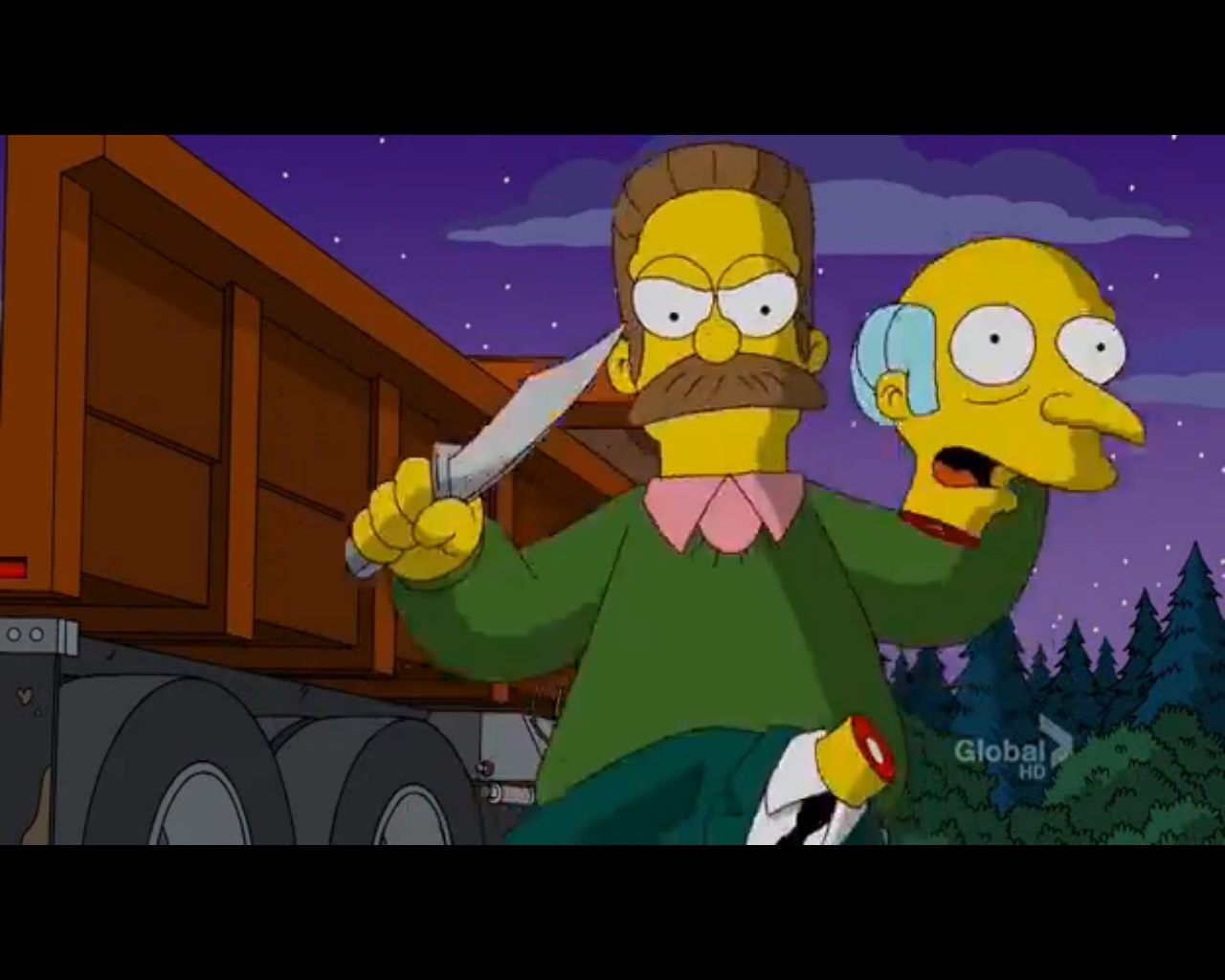 In a parody of Dexter, after hearing who he thinks is God tell him to murder people, Ned Flanders becomes a serial killing vigilante, targeting characters who are Homer's enemies. When Flanders discovers that Homer is the one who has been duping him into committing murder (by way of a Bible-shaped receiver), Homer argues that God does not exist and starts burning Ned's bible only to be stopped and strangled to death by God Himself. Marge begs God to reverse everything that has happened, but God tells her that Satan is the one who is running the world. When Flanders thinks that this scenario cannot get any worse, it is revealed that Satan is having sex with Ned's deceased wife, Maude.
In The Na'vi
In a parody of Avatar, taking place in the future, Krusty the Clown is still alive, but has trouble entertaining his Nazi audience. On the distant planet Rigel 7, there is a sacred extract called Hilarrium, which causes people to get in a better mood. Krusty desperately needs this sacred extract and uses military force to obtain it. The military recruits Bart and Milhouse to befriend the alien race in avatar bodies. They succeed in this and Bart ends up getting Kang's daughter pregnant. It turns out that the extract Hilarrium, which is excreted by their queen, is primarily used by the natives to reduce the mood swings of pregnant women. After Bart and Milhouse are shown where the alien race gets the Hilarrium, Milhouse then reveals the location of the extract to the military, which then attacks the natives. In the battle, the natives are helped by all the animals of the planet, which eventually defeats the military. Kang and Kodos then admit that they would have just given the Hilarrium to the humans.
Ending
At the end, a Christmas carol is played as all of the characters that appeared say various things about Christmas, such as Marge saying that making a sweater causes 27 people to lose their jobs. At the very end, Grampa Simpson shows up in a black tutu, asking when the Black Swan comes up, and everyone wonders when the Black Swan will come.
Out of the three episodes the avatar parody was the classic its good to see the Simpsons version of the movie.
TREEHOUSE OF HORROR XXIII 
At the height of the Maya civilization, in the city of Chichen Itza, a sacrifice is about to take place to prevent the end of the world from happening at the end of the 13th Baktun. A Mayan Homer, who has been fattened up to be sacrificed, hears about it for the first time (as he did not pay attention during orientation) and attempts to back out to no avail. However, his wife, a Mayan Marge, tricks a priest, a Mayan Moe, into getting himself sacrificed instead by promising him sex. After the sacrifice, a Mayan Professor Frink confirms that the world will end after the 13th Baktun, which, accounting for the Gregorian calendar and the birth of Jesus, puts the end of days in the year 2012 (with the Mayan Mayor Quimby placing the blame on President Barack Obama).In the present, Homer encounters three Mayan stone gods, mistaking them for the trick-or-treaters. One of them crushes Homer underfoot, then the second one jumps on Flanders' house. The stone trio wreak havoc on Springfield with one stone god throwing fireballs at City Hall and throwing Lard Lad's donut at a UFO and then popular landmarks like the Eiffel Tower crashing to Big Ben, ripping up the Great Wall of China, and making the George Washington head kiss Abraham Lincoln's head in Mt. Rushmore; causing rivers of lava to appear, and splitting the earth into large fissures. Once their destruction is done, they high five then fly off, leaving the Earth to explode. In its place, the bloodied title, "Treehouse of Horror XXIII" appears.
The Greatest Story Ever Holed
The citizens of Springfield gather to witness the activation of the Springfield Particle Accelerator; they originally wanted to use the money to build a new baseball stadium, but Lisa convinced them otherwise. Professor Frink activates the machine and it works, but nothing exciting happens, and everyone blames Lisa for her suggestion. When everyone is gone, two particles collide with each other and create a small black hole which floats off. Lisa finds it, and after it sucks up Ralph and Nelson, she takes it home so that it will not cause any more trouble. The Simpsons put it in the basement and Lisa warns them not to throw anything in it or otherwise it will grow bigger. Despite the warning, Homer, Bart and Marge use it as a trash disposal, and Homer even opens a business allowing people to throw their junk into it. The black hole becomes huge and consumes everything in sight. The only person who is not sucked in is Maggie, whose pacifier flies into the black hole, inexplicably stopping it. Meanwhile, all of Springfield has been warped to an alternate universe, where aliens worship their trash.
Un-Normal Activity
When strange events occur at the Simpson house, Homer sets up cameras to photograph what is haunting them. The culprit is revealed to be a Moe-like demon with whom Marge made a deal to save her sisters when they summoned the demon as part of a Satanic ritual. As part of the deal, the demon would return 30 years later to take Marge's favorite child as payment (which turns out to be Maggie, much to Lisa's shock). Homer manages to convince the demon to relinquish the bargain in return for Homer to reluctantly engage in three-way sex with him and another demon. After learning that the safe word is cinnamon, Homer throws his robe over the camera and the demons are heard yelling cinnamon.
Bart and Homer's Excellent Adventure
Bart travels back to 1974 in Professor Frink's time machine to buy a comic book for 25 cents instead of the current $200 price at the Android's Dungeon. He then finds Homer in high school, just moments before he meets Marge for the first time (as seen in the season two episode "The Way We Was"). Before Bart returns to 2012, he tells Marge (who is already angry at teenage Homer for strangling Bart and constant demanding over her to be his prom date) to never get married to Homer. When Bart returns to 2012, he finds that Artie Ziff is now his father and the family is rich and successful, to the point where Nelson Muntz is now hired as Bart's butler and personal punching bag. 1974 Homer, who stowed away in the trunk of the time machine, finds out about Marge and meets 2012 Homer, who wants Marge. The two summon every time incarnation of Homer (dubbed "The United Federation of Homers Throughout History") to beat up Artie. Though the Homers lose badly despite greatly outnumbering Artie, they wind up winning over Marge, who then takes pity on the beaten Homers and lets all of them live with her.
A Great episode all 3 parts were awesome and the episode was even nominated for an emmy.
TREEHOUSE OF HORROR XXIV
The episode's couch gag, conceived by film director Guillermo del Toro, is a mash-up of horror movies and TV shows, including all of del Toro's own films, ending with Lisa falling through the couch, dressed as Alice from Alice in Wonderland, and getting brainwashed by The Hypnotoad from Futurama, then happening upon a palace room in a send-up of the end of Pan's Labyrinth.
Oh, the Places You'll D'oh!
It is Halloween night in a Dr. Seussian take on Springfield. The Simpson children are home with the mumps and unable to go trick-or-treating. Once their mother Marge (in a Catwoman costume that every other woman—and The Comic Book Guy—is wearing) leaves for a costume party, they are visited by The Fat in the Hat (Homer) who gives them vaccinations so he can take them out to get candy for them and beer for him. However, instead of helping the children get their treats, he takes them on a casual rampage of death and destruction: blowing up Mr. Burns' mansion and feeding him to a homeless shelter; robbing Moe and skinning him; robbing Apu and forcing him to spend time with his wife and children; killing two DMV workers (Patty and Selma) and tossing car licenses to people waiting in line; blowing up town hall while wearing a Guy Fawkes mask; and committing "aggravated Flu-Fluffel-cide". The children are alarmed at those events and manage to elude him with the aid of several animals; a Barney Gumble-esque camel, a Krusty-esque bull, and on the wings of the Mexican Bumblebee Man. However, Fat is waiting for them when they get home and gloats that he will never leave them right before baby Maggie stabs Fat in the chest with his own umbrella. Marge comes home, unaware of what happened, and the children fake their mumps by stuffing the collected candy in their mouths and have turned the Fat in the Hat into a rug.
Dead and Shoulders
In a parody of The Thing with Two Heads, after getting decapitated during a day of flying his box kite in a fly zone near the Springfield airport, Bart is surgically attached to Lisa's body in order to extend Bart's life and cut Lisa's short. Though the two eventually get along, Bart learns that he can control Lisa's body while she is unconscious and resolves to get rid of her to have total control. Unfortunately, the attempt on the sawmill results with Bart transferred to Selma's body (who needs a karaoke partner) while Lisa is grafted onto Krusty (who needs a comedy partner for an upcoming act).
Freaks, No Geeks
In a parody of Freaks, at a 1930s' circus, the self-serving strongman Homer gets his lover trapeze artist Marge to marry sideshow freak Moe after learning of the emerald ring he inherited from his mother on her death bed. At their wedding reception, the other "freaks" announce that they accept Marge in spite of her being a "normal" outsider (even though Marge claims she is a freak because she has one blue eye and one pale brown eye). After finding Homer attempting to poison Moe's wedding wine glass, Marge kicks him out of her trailer. Homer is then cornered by the freaks with weapons as they advance on him with the intention to mutilate him into a freak like them. The scene then cuts to the present, where it is revealed that the whole story was told by a "Duck Man" Homer of how he met Marge.
Del Toro's opening sequence was critically acclaimed, The stories were strong and entertaining.
TREEHOUSE OF HORROR XXV
The episode opens with Kang and Kodos hosting a TV special, in which all of the celebrity guests have been killed and displayed to spell the episode's title.
School Is Hell
Principal Skinner has put Bart in detention. While dusting a desk, he finds an Aramaic inscription. Lisa uses an app to translate it which transports the pair to Hell, which is a school. Bart excels in the diabolical subjects and asks his parents if he can study there permanently. For his final test, he must torture Homer; despite Bart's hesitation, Homer lets him. A disfigured Homer proudly watches Bart graduate from Hell school as valedictorian.
A Clockwork Yellow
Moe has a Clockwork Orange-style gang in London along with Lenny, Carl and Homer. Homer falls for a girl (Marge) who convinces him to quit and the gang falls apart. Years later, Moe is attacked at home in a style similar to his gang's former ways and asks Homer to bring the gang back together; Lenny and Carl (who have become police officers) join them. They attack an Eyes Wide Shut-style masked orgy and several other of Stanley Kubrick's films are parodied in a fight sequence. As Moe gets beaten by two party guests, he narrates that he was "Beaten, bruised" and "couldn't score at an orgy" but was happy to be back with his old gang. Kubrick is then shown in an editing room and asks for the entire film to be re-shot.
The Others
In a parody of The Others, the Simpson family find unexplained frosty chocolate milkshakes and that their TV only shows Married… with Children. After a ghost attacks him in his sleep, Homer summons the ghosts, who are the family's former selves from The Tracey Ullman Show. Homer is attracted to the ghost Marge who prefers him to the former grumpy Homer, so the jealous living Marge kills herself to become a ghost. The ghost Homer becomes jealous and bludgeons the living Homer to death with a toaster while he is in the bathtub. Bart fakes suicide to join the ghosts, tricking Lisa into actually killing herself, her ghost then murders Bart as revenge. Groundskeeper Willie takes the children's corpses to make stew and it is implied that he murdered Maggie. Homer chooses his modern-day wife over the older ghost. The next morning at the breakfast table, Lisa asks if there could ever be any other incarnations of the Simpsons and a range of Simpson families based on other animations are then shown. The segment ends with the original version of Homer unsuccessfully trying to photograph a good portrait of the two families together.
Loved  the cinematic quality of the first two segments while  the third was the poorest. I was impressed by how the Kubrick references in the second segment used originality rather than being a perfunctory checklist.
TREEHOUSE OF HORROR XXVI
The episode opens with a Kricfalusi-animated couch gag where the Simpson children are trick-or-treating before being set upon by soul-hungry spirits with a monstrous Frank Grimes among them. The spirits chase after the Simpson children to their house with the Frank Grimes monster taking Homer's soul.
Wanted: Dead, Then Alive
Sideshow Bob lures Bart to his school's music class and finally kills him with a harpoon to the chest. Bob goes on to become a professor at Springfield University, but is disappointed by his lazy students and misses the thrill of killing Bart. He reanimates Bart with a machine in order to kill him in various ways and revive to repeat. The rest of the family find Bart in Bob's basement, just as Bob was about to kill them legally before Homer beheads him with a lamp. Bart then puts Bob's head on the machine with various animal parts, reanimating him into a hybrid creature. Bob still remains a full time professor, but is annoyed when one of his students asks what he is supposed to be.
Homerzilla
In a parody of Godzilla. Which is in the year 1950 at Japan, the grandfather of the Simp-san family frequently sacrifices a doughnut to a giant reptilian sea monster (played by Homer) to keep it at bay. But when the grandfather dies and no more doughnuts are sent, Homerzilla comes to shore and wrecks the city. The event is revealed to be a classic Japanese movie watched by movie producers who attempt to create a remake. But the movie fails at the box office and the producers have everything related to the film dumped at sea. Coincidentally, the dumping site happens to be where Homerzilla is sleeping.
Telepaths of Glory
In a parody of Chronicle, Lisa and Milhouse get superpowers after they and Bart are exposed to nuclear waste, though Bart appears to be unaffected. Despite Lisa's insistence to keep their powers a secret, Milhouse quickly goes mad with power before he is stopped by Maggie who also gained powers. Maggie then uses her powers to benefit the world (like turning Homerzilla into a larger Barney) before taking a nap. The segment ends with Kang and Kodos disappointed that they made a cameo at the end again.
The Latest Treehouse of Horror was funny the Godzilla parody was the best, even taking a swipe at the 98 film.