CAST (VOICES)
Hayden Panettiere (Heroes)
Glenn Close (Guardians of The Galaxy)
Patrick Warburton (Family Guy)
Joan Cusack (Addams Family Values)
David Ogden Stiers (Two Guys and a Girl)
Bill Hader (Superbad)
Amy Poehler (Inside Out)
Martin Short (Mars Attacks)
Brad Garrett (Finding Nemo)
Andy Dick (Road Trip)
David Alan Grier (Jumanji)
Cheech Marin (Cars)
Tommy Chong (That 70s Show)
Phil LaMarr (Free Enterprise)
Tress MacNeille (Futurama)Danny Pudi (Powerless)
Wolf (Patrick Warburton), Granny (Glenn Close), and Twitchy (Cory Edwards) are on a rescue mission to save Hansel and Gretel (Bill Hader and Amy Poehler) from an evil witch named Verushka (Joan Cusack). The plan goes wrong however and Granny is kidnapped as well. Meanwhile, Red (Hayden Panettiere) is in training with a mysterious group called the Sisters of the Hood where she learns that a secret all powerful truffle recipe has been stolen. She teams up with Wolf and Twitchy to find the recipe and save her grandma, but she and Wolf can't get along and the team splits up. Meanwhile, Verushka, who stole the truffle recipe, tries to force Granny into making it for her.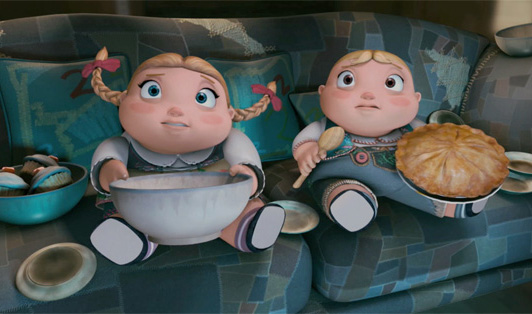 Granny escapes and finds Hansel and Gretel, but learns that they are actually the masterminds behind the plot. Granny is recaptured and learns that Verushka was an old classmate of hers when they were both in training with the Sisters of the Hood; Verushka was always second behind Granny's accomplishments. Eventually Red, Wolf, and Twitchy team back together and infiltrate Hansel and Gretel's base. Red accidentally reveals the final ingredient for the truffle recipe and the truffles are made.
Hansel and Gretel eat the truffles transforming into giants and go on a rampage through the city. Hansel and Gretel betray Verushka, whereupon Granny convinces her to join forces with her, Red, Wolf, and Twitchy. They trick Hansel and Gretel into eating more truffles which make them so obese that they can no longer move their arms and legs, before the two are arrested.
The Plot is not nearly as clever or well written as the original. However, since the characters are already developed, the the jokes are well presented, well timed and come quickly. This movie is far more action driven than the original. The plot seems merely the vehicle. Don't expect unique take on an old tale as the movie primarily moves forward developing current characters and back stories. Additional fairly tail intersections are used for story structure. Overall it's a fun movie and if you enjoyed the first one you will enjoy this.