CAST
Kristen Bell (Frozen)
Percy Daggs III (Izombie)
Teddy Dunn (Jumper)
Jason Dohring (The Originals)
Francis Capra (Heroes)
Enrico Colantoni (Flashpoint)
Lisa Rinna (Nick Fury: Agent of S.H.I.E.L.D)
Lisa Thornhill (The Family Man)
Emmanuelle Vaugier (Human Target)
Harry Hamlin (Clash of The Titans)
Kyle Secor (The Purge 3)
Brad Bufanda (A Cinderella Story)
Alona Tal (Cult)
Michael Muhney (The Young and The Restess)
Max Greenfield (New Girl)
Steve Guttenberg (Police Academy)
Season 1:
An Echolls Family Christmas
Veronica and Keith decorate their Christmas tree. Meanwhile, Duncan (Teddy Dunn) dances around drunkenly at a poker party with Logan, Weevil (Francis Capra), and two others, Sean (Kevin Sheridan) and Connor (Travis Schuldt). Weevil wins $5,000 from Logan when they both go all in. However, when Logan opens his money box, he finds that the money is missing. Weevil grows angry and asks each of the other members for $1,000. The next day at school, Duncan confronts Weevil, who stole his laptop. Veronica approaches him, and Duncan tells her about his problem. Duncan tells Veronica that his computer contains some private information regarding their past relationship. Veronica asks Weevil for the computer back, but he refuses. Weevil explains why he was at the card game and says that Logan had an opportunity to hide the money during the game. Logan's mother, Lynn (Lisa Rinna), visits Keith and tells him about threatening letters that a mysterious person sent to her husband. Later, Veronica talks to Duncan, who gives his side of the story. Duncan also blames Logan. Later, Duncan confronts Logan about stealing the money, but he refuses to give any details. When Keith visits the Echolls' house, he finds a pumpkin outside their front door with Aaron's face on it and a knife through it. Veronica stops by the Echolls' house and talks to Logan, and he says that he thinks that Connor stole the money.
Veronica visits Connor's movie set, and she questions him about the poker game. However, he does not know who could have stolen the money. Veronica attempts to visit Sean, but his father turns her away. After deducing that the pumpkin probably has something to do with a halloween encounter or incident, Keith goes to the caterer of the party Aaron was at that day. The caterer tells him that Aaron was having an affair at that party. The next day, Veronica talks to Sean, who tells her that he thinks that Weevil stole the money. Keith talks to Aaron, who admits to the affair and says that it was with his agent's wife, Monica Hadwin (Emmanuelle Vaugier). Veronica frets about Duncan's diary before Veronica comes up and makes a deal with Logan: He will host another poker game so Veronica can determine who the thief is. At the poker game, Veronica reveals her findings: Duncan was faking being drunk in order to win the money, not steal it, Connor was simply using a muscle enhancer, and Logan is not the thief because his room was messy (and Veronica figures that if he hid the money, he wouldn't tear apart his room looking for it. Veronica figures out that Sean is the criminal, not Weevil. Sean stuffed the money into the recycling and picked it up the next morning. Sean and Weevil go off by themselves, presumably so Weevil can punish him.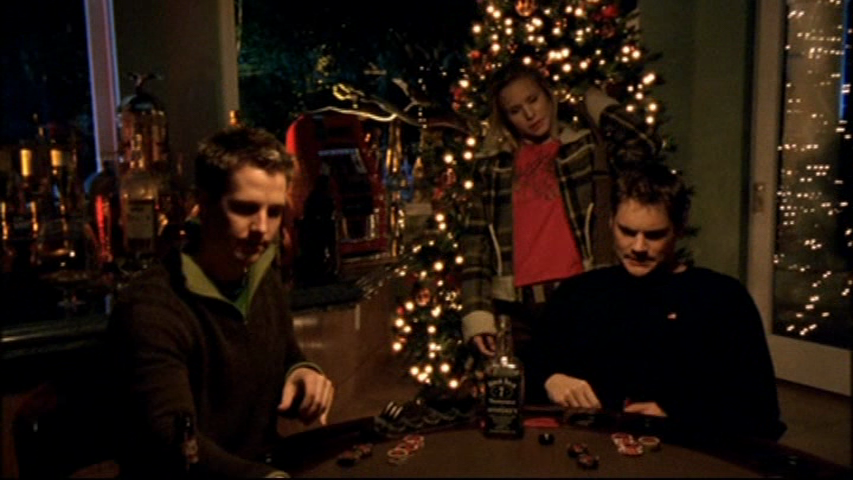 Keith talks to the caterer again and asks her to describe the woman she fired. The poker guests then go to Aaron Echolls' party. Veronica, off by herself, finds Jake Kane and confronts him about the pictures of her taken by his security chief, Clarence Wiedman. Jake screams at her that he doesn't know, and Keith views the scene. Jake then angrily talks to his wife, Celeste (Lisa Thornhill), who actually sent Clarence to take the pictures. The majority of the guests go outside to sing Christmas carols while Aaron is confronted by his stalker, the woman whom the caterer fired. The stalker stabs Aaron, but the other guests do not notice because they aren't there. Keith tackles the stalker, and Lynn calls for an ambulance as Logan looks on, ending the episode on a cliffhanger.
An excellent first Christmas episode for an iconic show.
Season 2: One Angry Veronca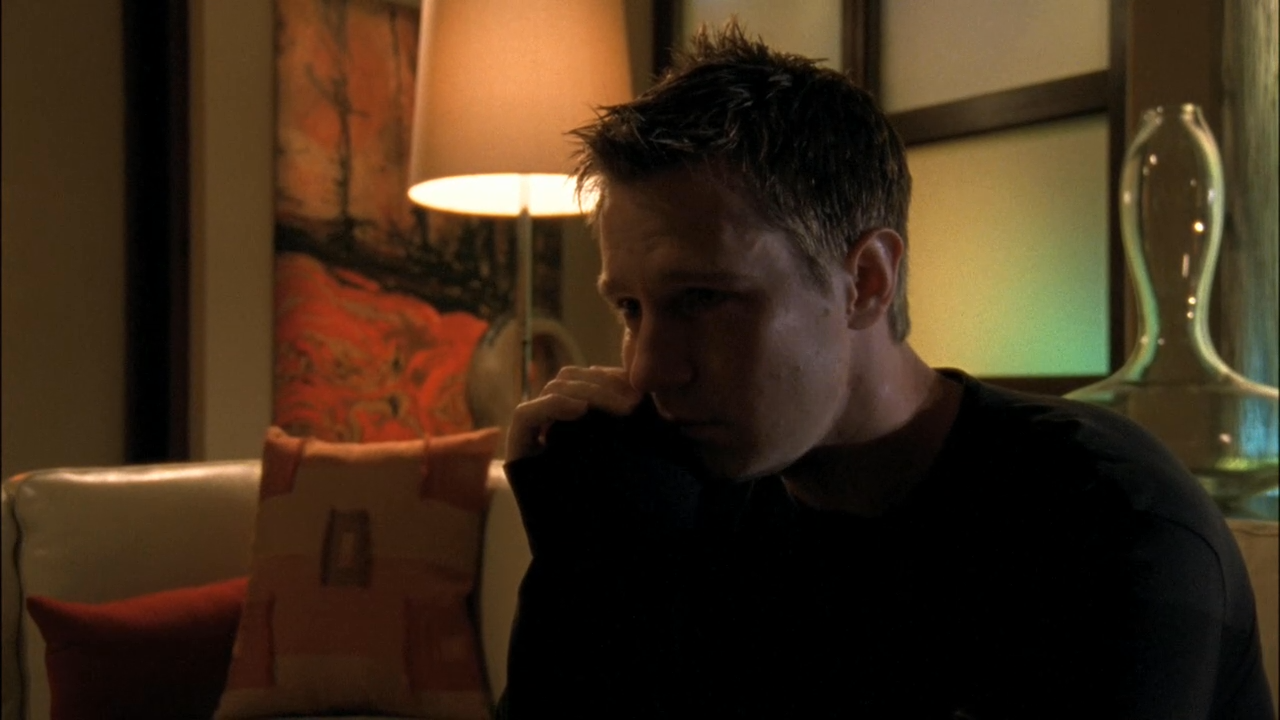 It is almost Christmas break at Neptune high. Veronica tells Duncan (Teddy Dunn) that Meg (Alona Tal) is pregnant, and Duncan says that he already knew because of the letter he got previously. Dick (Ryan Hansen) comes up and invites Veronica and Duncan to a party while informing them that Meg has woken up. Veronica decides to sneak into the hospital. Woody Goodman (Steve Guttenberg) tells Keith that someone has stolen the Lilly Kane-Aaron Echolls sex tapes. Keith agrees to help him with the case. Veronica and Duncan visit Meg, who talks to them. Meg says that her parents want to give the child up for adoption and don't want Duncan to have a say in the matter. After Duncan leaves, Meg asks Veronica to prevent the adoption if "anything happens to" her. That night, Veronica learns that she has jury duty. Veronica is voted jury foreman. Keith talks to Sheriff Lamb, who says that the Sheriff's department is secure. One member of the jury gives the facts of the case—two men are charged in the assault of a woman named Anissa. The prosecution and defendant have very different accounts of the incident. Veronica takes a vote, and the vote is 11 innocent, 1 guilty.
Keith interrogates another member of the Sheriff's department but gets nowhere. The holdout identifies herself and makes the other jurors question their votes. Keith talks to Leo D'Amato (Max Greenfield), who says that someone probably sold the tapes. Keith talks to an acquaintance in journalism, who agrees to contact the tabloids. One of the bikers comes up to Veronica and threatens her about the jury case. The holdout makes more deductions that support the guilty vote. Keith interrogates Logan before the journalism insider tells him that the sex tapes are on the open market for $500,000. The jurors take another vote, and another juror and Veronica have switched over to guilty. Veronica decorates the apartment for Keith. Veronica finds out that Anissa's "pimp" was actually a sports star. Veronica ties up some loose ends that show that the defendants are guilty. However, one juror refuses to change his vote no matter what. The entire Sheriff's department received an email about the sex tapes.
Logan (Jason Dohring) has the tapes and is watching them, crying. Afterwards, Logan burns the tapes. Keith comes in and finds out that Logan bought the tapes. The remaining juror changes his vote, believing that the defendants will appeal and win. After, one of the jurors invites Veronica to Heart College. Veronica finds that her car is vandalized. Leo actually stole the tapes in order to pay for his sister with Down syndrome to go to a private school. Leo knowingly sent the tapes to Logan. Later, Keith tells Veronica that Meg has died, but her baby daughter has survived. On New Years' Eve, Veronica hears a knock on the door, and Wallace (Percy Daggs III) appears. They spend New Years' Eve together.
 A great Christmas episode, seeing Veronica do jury duty is hilarious.