CAST
Wesley Snipes (Demolition Man)
Stephen Dorff (Brake)
Kris Kristofferson (The Jacket)
N'Bushe Wright (Dead Presidents)
Donal Logue (Gotham)
Udo Kier (Ace Ventura)
Traci Lords (Zack & Miri Make a Porno)
Tim Guinee (Iron Man)
Sanaa Lathan (The Cleveland Show)
Kenny Johnson (Bates Motel)
Judson Scott (Star Trek II)
Jenya Lano (Mutant X)
Stephen Norrington's 1998 release "Blade" (based on the Marvel comic character) is the film that arguably lead to the recent trend of comic-book movies. It's success (along with that of "X-Men") caused people to do something they always should have- take comics seriously as an art form and a medium for storytelling. The film is an incredible, Gothic ride with great performances and unique visuals, and should be seen by any fan of action, horror or film in general. Blade (Wesley Snipes) is a half-human, half-vampire. His mother was bitten while pregnant, and his blood was infected by the vampire virus, granting him some vampire-like powers (such as inhuman strength), although he also suffers from "The Thirst"- the vampire's natural need to feast on human blood, which he combats using treatments and serums, almost like a drug addict. Blade and his mentor Whistler (Krist Kristofferson) spend their nights hunting and killing vampires who feed on the humans.


At the same time, a vampire named Deacon Frost (Stephen Dorf) is plotting to overthrow the noble heads of the various vampire clans, and using them as sacrifices to bring about "La Magra" a vampyric blood-god, to destroy humanity and grant himself untold power. Blade and Whistler (along with help from a pathologist played by N'Bushe Wright) must figure out a way to stop Frost's deadly plans before he wipes out all of humanity. The film is truly dark and Gothic. Norrington's direction sets an ominous and deadly mood, and the visuals are all well-crafted. The score by Mark Isham is tragic and melancholy, with some nice techno-y action music thrown in for good measure.Acting is generally good (though Dorf does get a little hammy at times) and everything meshes quite well. The action is great, It is the bloodiest of the three movies, and has a lot of gore, which actually almost took me "out" of the movie a few times- some scenes felt campy with the sheer amount of carnage and goo being flung at the screen.
CAST
Wesley Snipes (Demolition Man)
Kris Kristofferson (The Jacket)
Ron Perlman (Hellboy)
Leonor Varela (Monsterwolf)
Norman Reedus (The Walking Dead)
Thomas Kretschmann (Dracula)
Luke Goss (Hellboy II)
Matt Schulze (The Fast and The Furious)
Danny John-Jules (Red Dwarf)
Donnie Yen (Highlander: Endgame)
Karel Roden (Orphan)
Marit Velle Kile (The Girl In The Cafe)
The sequel, also scripted by David S. Goyer, has half-vampire Blade returning to his fight against his vampire foes. Soon after the film opens, he's reunited with his former mentor, Whistler (Kris Kristofferson), who was captured by the vampires. During an early attack, Blade finds out that the vampires actually want a truce in order to have him lead a band of warriors to wipe out a new breed of vampires called "Reapers", who want to attack both vampires and humans.


Director Norrington approached the original film with a crisp, cold feel that actually aided the drama – the story was more involving because the characters were played with such perfect seriousness. Del Toro goes a different way, but one that's still equally involving – the sequel doesn't take itself quite so seriously, but still remains serious enough so that the story has punch and remains engaging. The sequel is a little less dark visually as well as a lot more graphic in terms of the violence, too.
The acting is again quite good in the sequel. Going with the overall tone, Snipes remains serious, but there's also a few more moments of underplayed humor here. Fine in supporting roles are Ron Perlman ("Alien: Resurrection"), Norman Reedus ("The Walking Dead") and Lenor Varela("Stargate:Atlantis"). The film delivers almost continuous action, moves along at a crisp pace, delivers a few surprises and provides the visuals and performances that fans were expecting. Again, I must praise director Del Toro, cast and crew for delivering a sequel that at least partially surpasses an original film.
CAST
Wesley Snipes (Demolition Man)
Kris Kristofferson (The Jacket)
Dominic Purcell (Legends of Tomorrow)
Jessica Biel (The A-Team)
Ryan Reynolds (Deadpool)
Parker Posey (Superman Returns)
Mark Berry (Quiet as Kept)
John Michael Higgins (Still waiting…)
Callum Rennie (Flashforward)
Triple H (Inside Out)
Paul Anthony (American Mary)
Francoise Yip (Smallville)
James Remar (The Shannara Chronicles)
Natasha Lyonne (American Pie)
Patton Oswalt (Two and a Half Men)
Christopher Heyerdahl (Sanctuary)
I must say that going into seeing Blade: Trinity I was not expecting a masterpiece, I merely wanted to be entertained by this movie. With that said, it did a pretty decent job. People can criticize this film with having a thin plot, being corny at point.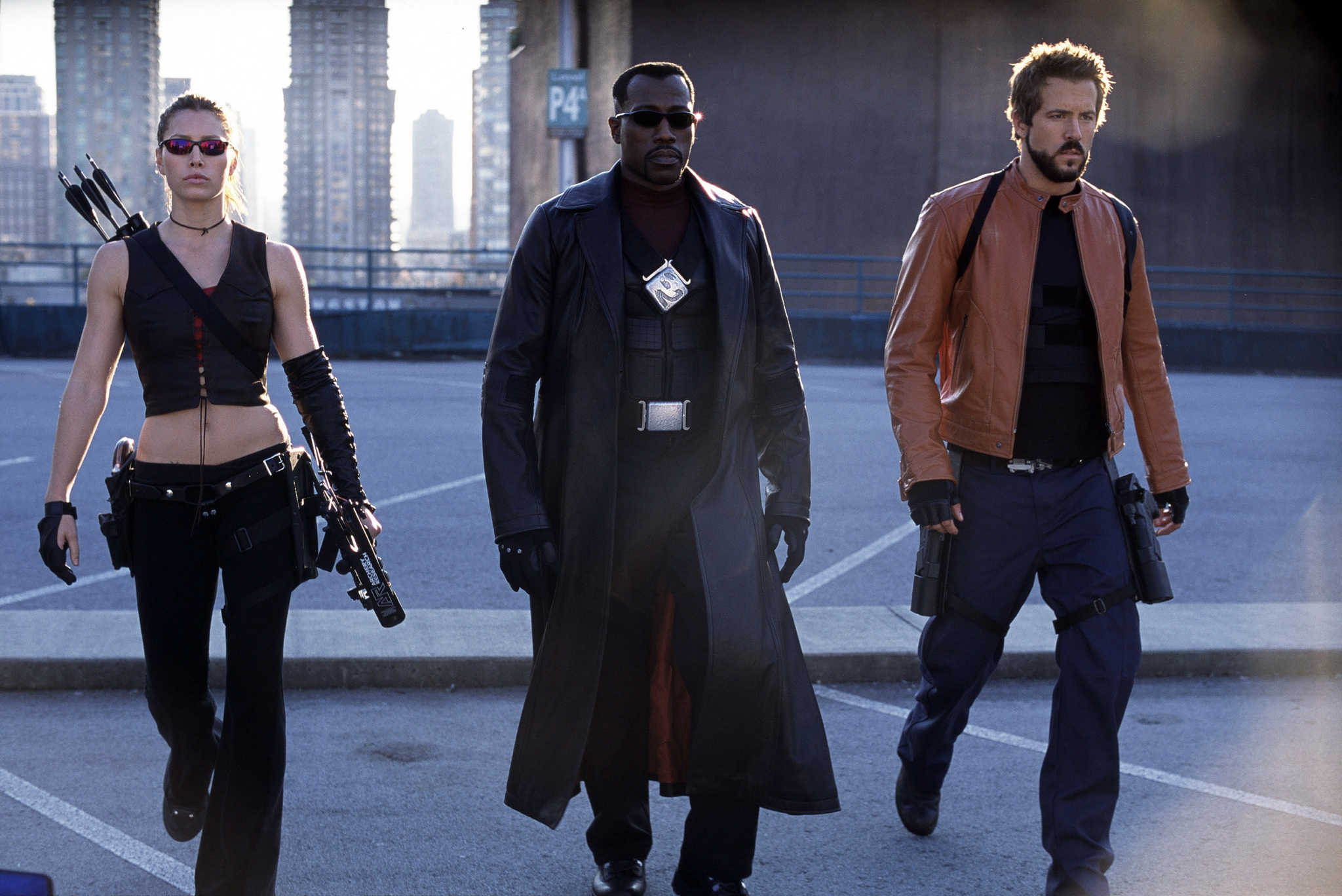 Aa group of vampires bring back Dracula to help combat Blade, while they also get Blade to the top of the FBI's most wanted, now Blade needs help of his own, this comes from a group of new young vampire stalkers. The newest additions, Ryan Renyolds and Jessica Biel, do their jobs pretty well. I must say that Renyolds had me laughing almost any time he was on screen. Biel was very nice to look at, she is just incredibly beautiful, and she does well considering the lines she is given. Paul Levesque, better known as Triple H makes a decent debut, He had some funny parts, but really I can't see how his job was that hard considering his role was to beat people up, and that's what he gets paid to do for the WWE so it's not a real stretch. Well overall the supporting cast did a good job and kept me entertained.


Much of the work was very well done in this film, Snipes is his usual acrobatic self and disposes of vampires in interesting ways while showing off his martial arts skills.  Biel did some nice fight scenes to.  It was a fun movie to watch just for the action, and comedy of Renyolds.
Theres an unrated edition with a new ending
The body retrieved by the FBI is Blade's, but he's not really dead. Drake's body is nowhere to be seen, hinting at his survival. At the morgue, Blade sits up abruptly, attacks the FBI agents, and appears ready to bite a nurse on the neck. The ending is ambiguous as to whether Blade has retained his humanity or given in to his vampire thirst as Drake predicted. This is the ending seen on the director's cut of the film, and commentary on the DVD indicates it was the ending director Goyer intended.