MAIN CAST
Mike Henry (Family Guy)
Sanaa Lathan (Blade)
Kevin Michael Richardson (Teenage Mutant Ninja Turtles 2012)
Reagan Gomez-Preston (That 70s Show)
Jason Sudeikis (Son of Zorn)
Seth MacFarlane (Ted)
Aseem Batra (Scrubs)
Glenn Howerton (Crank)
David Lynch (Twin Peaks)
GUEST CAST
Fred Tatasciore (Hulk )
Will Forte (MacGruber)
Rob Riggle (21 Jump Street)
IT'S A GREAT PANCAKE, JUNIOR BROWN
Cleveland crushes Cleveland Jr.'s spirit when he forbids him from trick-or-treating because he thinks he is too old. Depressed when he sees everyone else in the family dressing up and left with passing out the candy. Cleveland Jr. decides to dress up anyways but is harassed and egged by kids from school. After getting chewed out by Cleveland, Cleveland Jr. decides to pack up his childish things and become one of the cool kids. Jr. decides to attend Oliver Wilkerson's party where he finds himself still teased and tormented. Cleveland follows and sees some of the torment but wants Cleveland Jr. to tough it out. Donna convinces him to let Jr. be himself. Cleveland leads the guys with Jr. to go back to the party where they return some of the previous eggings.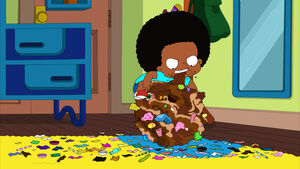 Rallo is told by Donna that he can only have one piece of his Halloween candy per day, so he decides to roll it into one giant piece. Finishing one last stray bite, one of Rallo's teeth come out causing him to panic. After trying to hide the missing tooth from his mother, he decides to hide it under his pillow. When he awakes the next morning, he finds the tooth has been replaced with a quarter. Yelling with fright, he causes Donna to come rushing in and explains what happened. She admits she knows and tells him about the Tooth Fairy.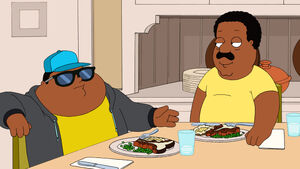 Some nice moments, like Cleveland and his friends dressing up like breakfast foods to help out his son. The story about Rallo losing his tooth after eating too much candy had alot of laughs  and I did like Roberta as a slutty ghost.
NIGHTMARE ON GRACE STREET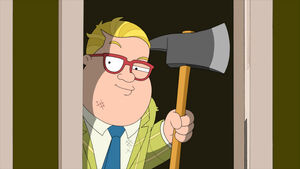 After an introduction by Gus while he retrieves ingredients for his hairy turkey sandwiches, Donny stops by the guy's table at The Broken Stool where he annoys them with his sense of humor. Back at the house, Rallo is preparing for his first sleepover at his friend Walt's house but Cleveland Brown Jr. is disappointed as he isn't allowed to come. At school, Roberta is taking a break from Federline Jones while he takes his SATs prep classes when she catches a glimpse of Edwin Mullins, a new student. Noticing his pale, dark looks and a trickle of pizza sauce dribbling from his lips, Roberta gets the idea that Edwin could be a vampire. Introducing herself, Roberta ignores hints from Edwin that he isn't interested in her.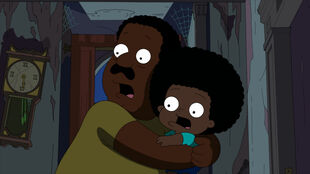 At the sleepover, Rallo gets frightened and calls up Cleveland to come get him. Cleveland tries to pass the task off to Donna but she orders him out to get Rallo himself. Cleveland teases Rallo about being scared and picks up a hitch-hiker to scare Rallo further. But kicks the hitch-hiker out of the car when he tickles Rallo without paying any attention to Cleveland. Later at The Stool, the guys win a jack-o-lantern contest by being the only ones Gus knows and Terry Kimple invites everyone except Donny back to his house. At the house, Cleveland gets scared by being in a strange place and calls Donna. When she picks him up, she makes him get in the back of the car where he gets frightened by Rallo and they continue to argue over who is the bigger chicken. The arguing continues into trick-or-treat where, thanks to Donny's annoying jokes, they fail to get candy from Wally's house. When the kids get on to Cleveland for Donny ruining their fun, Cleveland tells him to take a hike. The arguing over who is braver starts again with Cleveland and Rallo darting into traffic until Donna grabs them and forces them to call it a night.
Roberta tries to attract Edwin by jumping off of a cliff into a lake like she saw in the movies, but is rescued by a moonlight swimmer named Caleb. Roberta gets the idea that he is a werewolf and has to think over who she wants to be with. Donna drives Rallo and Cleveland to the abandoned McCafferty House and forces them to be brave by spending the night in the house together. As they try to settle in for the night, Cleveland and Rallo hear noises and investigate, discovering spooky surprises that Donna and Jr. planted as traps while they watch on a web cam at home, unaware that Donny is slipping into the house with an ax to extract revenge for being snubbed. When Donna gets up for some snacks, Donny bursts in looking for Cleveland. When they tell him that Cleveland isn't there, Donny decides to start by killing Donna and Jr. instead. Back at the McCafferty house, Cleveland and Rallo decide to call a truce and leave together. Pausing briefly at a driving range while stalling for time, Cleveland and Rallo decide to face the music together and head for home.
At a Halloween party, while trying to decide if either Caleb or Edwin should become her lover, she has them go into a room to fight it out over her. Nervous about what is going on, Roberta has her friend Anna look in on them and finds out that the two of them are having sex together. Back at the house, Cleveland and Rallo arrive to find Donny disguised as Donna who he has tied up with Jr. Donny attacks Cleveland with his ax. While they struggle, Rallo sprays the fluid from Cleveland Jr.'s "WD-40" costume onto the floor, enabling Cleveland to force Donny out the window to his death as he screams about hating black people. Cleveland ends by noting that they were pretty brave after all. Things come to a close with a musical number as Gus hauls away Donny's body
another great Halloween instalment to the show, the costumes were funny and the shining moments were hilarious.
ESCAPE FROM GOOCHLAND
After Donna forbids the older kids to buy costumes for Halloween, Roberta tells Federline who thinks he can get on Cleveland's good side. When Cleveland finds out that its his turn to be the designated driver when he and the gang visit their rival high school in Goochland for the annual football game, he sets out to find an alternate driver and Federline signs up. When Donna sets out to return Roberta's slutty costume, Cleveland admits he finds it sexy and they set up a rendezvous at a motel after the game. To get even with her mother, Roberta plots to play a prank disguised as her mother and enlists Cleveland Jr. to come along dressed as his dad. At the game, the guys get riled by Cleveland's rival Chet Butler. During halftime, Goochland puts on a halftime show presenting Stoolbend in a negative light and the wooden wife of President Harrison said to be given to the town. After the game, Federline accidentally backs the guy's car into another that belongs to Chet Butler, forcing the guys to flee for their lives, blending in by donning Halloween costumes until Federline nearly gives away the game. onna meanwhile gets arrested for prostitution while spending time in a bar waiting for Cleveland and Roberta and Jr. nearly get caught by Principal Wally when they plant thousands of toothpicks in the school field.
As the guys find safety in the woods, Cleveland berates Federline for his attitude, pointing out he isn't the gangster he thinks he is. Federline takes off. After the guys hop a train to Stoolbend, Federline catches up, having stolen the wooden statue of Eunice. Hot on his heels is a mob from Goochland which proceeds to tear apart Stoolbend. Taking shelter at The Broken Stool, Cleveland decides to use Stoolbend's deficiencies to their advantage as Gus reveals that the statue originally belonged to Stoolbend until "borrowed" by Goochland. Leading a group to face off with the mob, a rolling blackout leaves the Goochland group in the dark while those from Stoolbend reveal themselves to have developed mole eyes in the dark. As Cleveland notes that the Goochland people are taken off to be eaten, Donna is freed when the police wagon is overturned. Chet pursues Cleveland to the river but is confused when he mistakes Jr. for Cleveland. Cleveland ignites the river, burning the bridge but Chet makes it to the other side and holds a knife at Jr. throat. As Chet laughs at Cleveland apparently failed ploy to burn him, Cleveland note he only set the river on fire to catch the attention of a giant monster which proceeds to devour Chet. Cleveland and Donna bump into each other later when Cleveland propositions Donna and Donna accepts as they laugh it off and proceed to their rendezvous.
Meanwhile, Rallo enjoys the fact that he still gets to participate in Halloween until he accidentally cuts himself badly with a knife. As he periodically calls for help and leaving a large puddle of blood, he appears as a ghost in the end noting he dies but laughs it off reporting he'll be back the next episode.
Sadly the last Halloween episode of the show as after season 4 the show was cancelled. There was much that I really enjoyed here. From things like the War of Northern Aggression Memorial Stadium, to Tim dressed as He-Man and Hoult dressed as Katy Perry, all the way to our heroes praying to Tim Teabow for salvation and the extreme weirdness of Gus (voiced by David Lynch, btw). There were plenty of moments and gags that had me really laughing out loud (especially Roberta and Cleveland, Jr, dressing up as their parents).