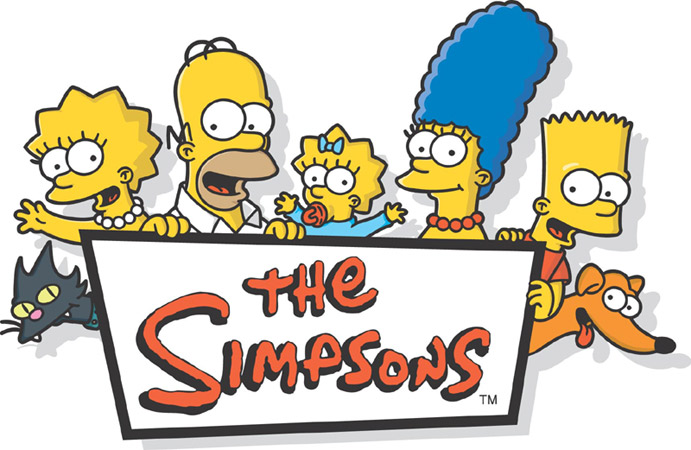 CAST
Dan Castellaneta (Fantastic Four)
Julia Kavner (Dr. Dolittle)
Nancy Cartwright (All Grown Up!)
Yeardley Smith (As Good As It gets)
Harry Shearer (This Is Spinal Tap)
Hank Azaria (The Smurfs)
Pamela Hayden (Hey Arnold!)
Tress MacNeille (Futurama)
SHORT – SIMPSON CHRISTMAS
Bart tells a story of Christmas with the Simpson family in the style of The Night Before Christmas.
SIMPSONS ROASTING ON AN OPEN FIRE
After attending the Springfield Elementary School Christmas pageant, the Simpsons prepare for the holiday season. Marge asks Bart and Lisa for their letters to Santa. Lisa requests a pony, and Bart requests a tattoo. The latter enrages Homer and Marge and they forbid Bart from getting one. The next day, Marge takes the kids to the mall to go Christmas shopping. Bart slips away to the tattoo parlor and attempts to get a tattoo that reads "Mother". With the tattoo partially completed, Marge bursts in and drags Bart two doors down to the dermatologist to have it removed. Counting on Homer's Christmas bonus, Marge spends all of the family's holiday money on the procedure. Meanwhile, at the power plant Homer's very mean-spirited boss, Mr. Burns, announces that there will be no Christmas bonus this year.
Homer, discovering there is no money for Christmas presents and not wanting to worry the family, takes a job as a shopping mall Santa Claus at the suggestion of his friend Barney Gumble. On Christmas Eve, Bart goes to the mall and harasses Santa, exposing Homer's secret. Bart is apologetic for the prank and actually supportive of Homer's moonlighting, remarking "You must really love us to sink so low". After Homer is paid less than expected for his Department Store Santa work, he and Bart receive a dog racing tip from Barney.
At Springfield Downs, Homer, inspired by an announcement about a last-minute entry named Santa's Little Helper, bets all his money on the 99-1 long shot. The greyhound finishes last. As Homer and Bart leave the track, they watch the dog's owner angrily disowning him for losing the race. Bart pleads with Homer to keep the dog as a pet, and he reluctantly agrees. When Bart and Homer return home, Homer finally comes clean to the family that he did not get his bonus, however the family assumes Santa's Little Helper is their present and are overjoyed by Homer's gesture. The Simpsons family then celebrate by singing "Rudolph the Red-Nosed Reindeer".
MARGE BE NOT PROUD
GUEST STARS
Phil Hartman (Small Soldiers)
Lawrence Tierney (Armageddon)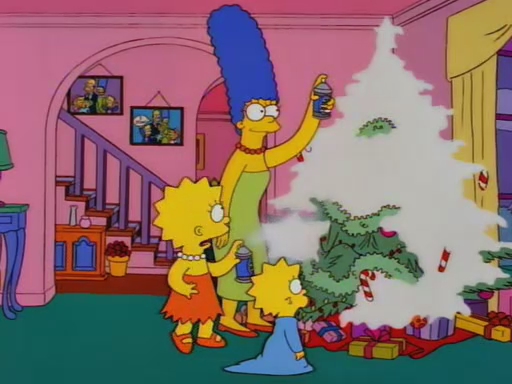 Christmas is approaching, and Bart wants nothing more than the new, must-have video game Bonestorm. However, Marge refuses to buy it, due to the violence and potential distraction from Bart's schoolwork. Discouraged, Bart visits the local Try-N-Save discount store where classic video game characters convince him to steal a copy of the game. On his way out of the store, Bart is caught by the store's strict security guard, Don Brodka, who tells Bart to leave and never return or risk spending Christmas in juvenile hall.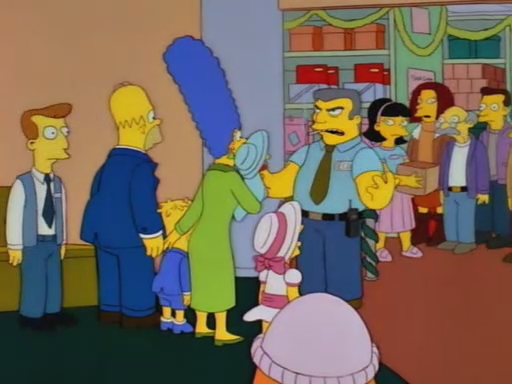 Unaware of Bart's shoplifting, Marge takes the family to the same store to get their annual Christmas picture taken. Bart tries to avoid detection and trouble, but is spotted by Brodka, who shows a disbelieving Marge and Homer the security tape of Bart shoplifting. Marge is disappointed by Bart's actions and becomes distant with him. Bart is left out of family activities, such as decorating the Christmas tree and making snow statues. He fears he has lost her love, and decides he must regain it.
Bart then returns home with a bulge in his coat. Marge confronts him, believing he was shoplifting again, and she finds Bart has hidden a picture of himself bought as a Christmas present for her . Marge is overjoyed, and in gratitude for receiving this early Christmas gift, gives Bart his — the new game that a store salesman told her "all the kids want", the golf simulator Lee Carvallo's Putting Challenge. Though profoundly underwhelmed, Bart looks into his mother's expectant face and thanks her.
MIRACLE ON EVERGREEN TERRACE
Homer and Marge go Christmas shopping at the Try-N-Save, where frenzied shoppers are quickly snatching the holiday season's most popular toys. Homer, posing as a store cashier, buys toys that customers were attempting to buy from him.
At home, the family makes their last-minute Christmas preparations. At bedtime on Christmas Eve, Marge tells everyone nobody can open presents until 7 AM, and just to make sure there is no cheating, she confiscates all of the alarm clocks in each bedroom. However, Bart, relying on an old Indian trick, drinks 12 glasses of water in order to wake up early to use the bathroom and get an early look at his presents. He awakens at 5:04 AM and secretly unwraps his gifts. One of the presents is the coveted Inferno Buster 3000, a remote-controlled fire truck. Bart has fun playing with the truck, until it sprays water on an overloaded electrical socket, and the Christmas tree bursts into flames. The flames immediately engulf the plastic Christmas tree and all of the presents beneath it. Bart manages to extinguish the fire before it spreads, and hides the burned evidence outside beneath the snow in the front yard.
When the family come downstairs at 7:01 AM and discover that the Christmas tree and presents are gone, Marge asks Bart what happened. Bart lies to them. He makes up a story about how he caught a burglary in progress, and the suspect made off with the tree and all of the family's presents. The police investigate, and Kent Brockman decides to do a human interest story on what he believes is the Simpsons' yuletide misfortune. As a result of Brockman's report, everyone in Springfield shows their community spirit by giving them a new Christmas tree and $15,000. With the donations, Homer buys a new car. Driving it home Homer gets impatient when he gets stuck behind the Plow King and decides to pass. He unknowingly drives the car onto a frozen lake. The ice cracks, causing the car to sink and blow up. The next morning, Bart's conscience gets to him, and finally he admits the truth when he disobeyed his family, which prompts Homer and Lisa to choke him. Soon, Kent Brockman and the Channel 6 news crew arrive to do a follow-up story. Homer slaps on a plastic smile and says everyone should stop looking for the "burglar" but that he does exist. The story quickly unravels when a cameraman, with help from Santa's Little Helper, finds the burned remains of the Christmas tree. The family is forced to explain, but it is too late for the viewers, who feel they have been scammed. The citizens shun and harass them until the family can pay back the $15,000.
Marge decides the only alternative is to try and win money by becoming a contestant on Jeopardy!, but she performs very poorly and ends up with -$5,200. After the show, Alex Trebek and two men approach the Simpson family demanding that they pay the $5,200 that Marge was in the red (which doesn't happen in real life), and the family runs away. When they get home, they find that everyone in Springfield (including Alex Trebek) has gathered on their lawn, and Marge thinks they have forgiven them. However, while everyone does forgive the Simpsons, they enter the family's house and steal things from it, except all the curtains and the living room and dining room window sill cushion seats, in order to cover the $15,000 debt. In the end, the family playfully fight over a tattered washcloth, the only thing they have left.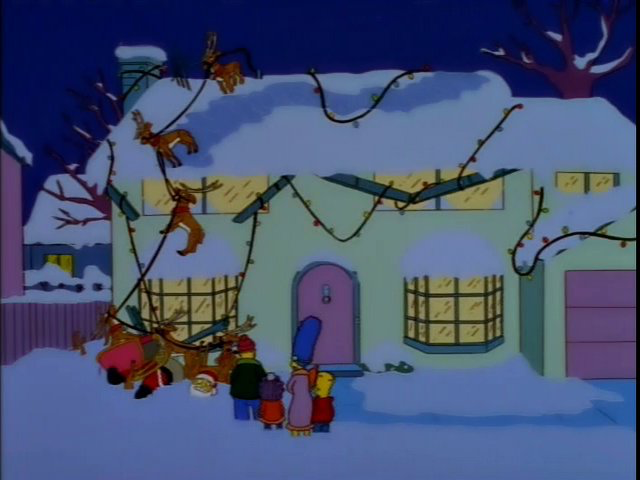 GRIFT OF THE MAGI
GUEST STARS
Tim Robbins (Howard The Duck)
Clarence Clemons (Bill & Ted's Excellent Adventure)
Gary Coleman (Different Strokes)
Joe Mantegna (Criminal Minds)
Bart and Milhouse have to remain inside the Simpsons' house when an ozone hole moves over Springfield. The two dress up as ladies and jump on the bed, singing "Sisters Are Doin' It for Themselves". When Homer comes in abruptly, Bart falls off of the bed and lands on one of Homer's bowling balls and breaks his coccyx. Dr. Hibbert informs Homer and Marge that Bart will have to use a wheelchair until the bone has healed. When Bart arrives at Springfield Elementary School the following day, he finds that he cannot enter because the school lacks ramps for the disabled. As Principal Skinner considers a ramp for the school, mafia boss Fat Tony emerges and suggests that his construction company would be a good choice of company to build it. Although the new ramp system almost immediately collapses, Fat Tony informs Skinner that the construction supposedly cost US$200,000 and that the school will still have to pay. In response, Principal Skinner decides to close Springfield Elementary due to lack of funds (having used them to pay off Fat Tony and thus avoid brutal mob reprisals).
All pleas for financial help are in vain, including a private school play performed in front of Mr. Burns at his mansion, until Jim Hope, the president of a company named Kid First Industries, buys the school and privatizes it. The school's staff is replaced, and classes now focus on toys and marketing. Lisa soon discovers that the company that bought Springfield Elementary is a toy company, using students for research to make a new popular toy in time for the Christmas shopping season. She is then frightened by the appearance of a robotic figure. When Bart and Lisa are back at home, watching television, they see an advertisement for a toy named Funzo. It has many features suggested by Springfield Elementary students during a brainstorming session at the school. They visit Jim Hope's office to complain, and he apologetically gives them a free Funzo toy. Bart and Lisa later discover that Funzo is programmed to destroy other toys.
On Christmas Eve, with Homer's help, the two steal all the Funzo toys from underneath every Christmas tree in Springfield with the intention of burning them in the town's long-running tire fire. However, Gary Coleman, who is a security guard at Kid First Industries, comes to stop them. The two parties argue all night until the next morning when they settle down into civilized discussion about the commercialization of Christmas. Coleman changes his opinion about the toy company and helps the Simpsons destroy the remaining functioning Funzo toys that were not destroyed in the tire fire. Afterwards, Homer invites Coleman to Christmas dinner at the Simpson family's house, where Mr. Burns shows up after deciding to donate money to Springfield Elementary following an epiphany he had that night.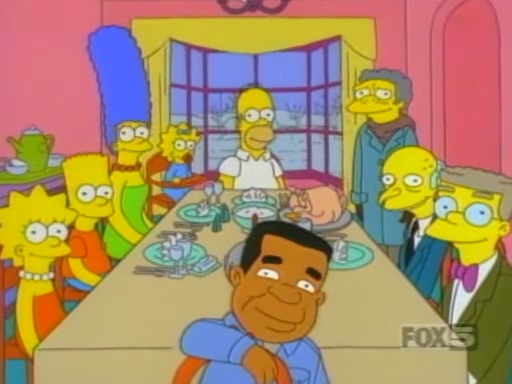 The first batch of Simpson Christmas episode each have there own unique quality to them, my favorite being Simpsons Roasting on An Open Fire as this was the first Simpson episode and the first one  I saw. Marge Be Not proud is also a classic and ranks highly upon the xmas episodes. Miracle on evergreen Terrace and Grift of the Magi are also good episode but the first two main episodes are the best out of the bunch.