MAIN CAST
Billy West (Pixels)
Katey Sagal (Sons of Anarchy)
John DiMaggio (Adventure Time)
Tress MacNeille (the Simpsons)
Maurice Lamarche (Frozen)
Phil LaMarr (Free Enterprise)
David Herman (Angel)
Lauren Tom (Bad Santa)
Frank Welker (Transformers)
XMAS STORY
GUEST CAST
John Goodman (Red State)
Conan O'Brien (The Simpsons)
While on a ski trip, Fry begins to feel nostalgic for 31th century Christmases. To cheer him up, the rest of the Planet Express staff decide to decorate for what is now called Xmas, which includes cutting down an Xmas tree (which are now palm trees, since pine trees are extinct). Fry decides to venture into the city to buy Leela a present as she has not felt happy about Xmas since she was an orphan. The others warn him to be back before sundown, or else he will be killed by a murderous robotic Santa Claus. In the year 2801, The Friendly Robot Company developed a robotic version of St. Nick himself to determine who has been naughty and who has been nice. Unfortunately, due to a programming error, the jolly robotic saint soon turned into a mad murderer when his standards were set too high. Thus, he will kill anyone who has been naughty, which, by his standards is essentially everybody. Meanwhile, Bender befriends several homeless robots and goes on a robbery spree.
Fry buys Leela a parrot, which escapes. Leela heads out to rescue Fry before Robot Santa arrives. After pursuing the parrot to the top of a tall building, Fry is saved from plunging to his death by Leela. Unfortunately, Fry and Leela's safety is short-lived, as sundown finally comes and the robotic Santa Claus makes his appearance and attacks the two friends.Fry and Leela take refuge in the Planet Express building after being saved by Bender and his homeless robot friends, but Santa breaks in through the chimney and claims that they "all have been very naughty" (except for Doctor Zoidberg). Thanks to some quick thinking by Doctor Zoidberg, Santa is forced back into the chimney, where an explosion sends him and his mechanical reindeer tumbling into the stratosphere. Everybody celebrates by singing "Santa Claus Is Gunning You Down". However, Santa promises: "I'll be back when you least expect it: NEXT XMAS!".
A classic holiday episode with a difference having Robot Santa think everybody is naughty and hunting them down. Seeing the crew scared of him is hilarious, thou is was funny to see that Zoidberg being the only that was good (according to Robot Santa).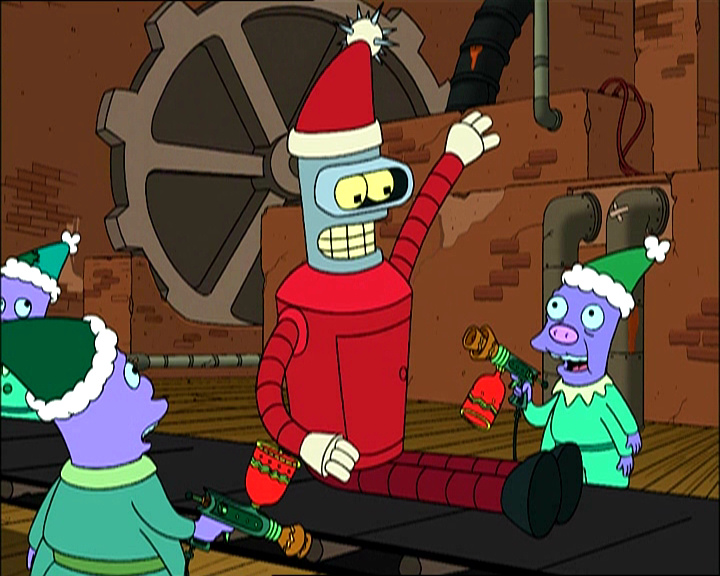 A TALE OF TWO SANTAS
GUEST CAST
Coolie (Daredevil)
It is Xmas again, and everyone is locking down for the arrival of Robot Santa. The Professor sends the crew to deliver children's letters directly to Santa at his fortress on Neptune. After reading some of the letters, begging Santa not to wreak havoc on the writers, Fry decides it's time to bring Christmas back to the way it was in the past. They land at Jolly Junction, Neptune, and enlist the aid of a pair of Neptunians in sneaking into the fortress.
The crew confronts Santa, and Leela presents him with what she believes to be a logical paradox intended to destroy him. Unfortunately, Santa proves immune to paradox, and he takes off after them with a missile launcher. The crew escapes the fortress, and is about to leave in the ship, but Santa grabs the engine and prevents the ship from taking off. The heat from the engine melts the ice under Santa's feet, and he sinks in the ice, which refreezes around him. With Santa frozen in ice, Bender takes over, and toy-making resumes in Jolly Junction. Bender heads to New New York, where he gets a less than welcome reception from citizens expecting Santa. While taking a beer break, Bender is arrested and put on trial for Santa's crimes against humanity. Bender is found guilty and sentenced to execution by magnetic dismemberment.
Fry and Leela rush back to Neptune to bring in the real Santa to prove Bender's innocence. They carve Santa out in a large block of ice, but the ice melts due to pollution from the toy factory, and Santa is freed. Fry and Leela escape in the ship, but Santa rides on the ship back to Earth. The Planet Express crew tries one last attempt to save Bender, with all of them pretending to be Santa and Zoidberg pretending to be Jesus. Their effort fails, and the execution device is activated. Moments later, the real Robot Santa bursts through the wall. He rescues Bender and the two go on a proper Xmas rampage. As the Planet Express crew huddle in fear of their lives, Fry concludes he has somewhat succeeded in bringing back the old spirit of Christmas, even if it is fear that is bringing people together instead of love. At the end of the spree of destruction, Santa tells Bender that if he tries a stunt like that again, he will kill him, and pushes Bender off the sleigh amid the burning buildings.
Another great Christmas episode, it also serves as a sequel to the first xmas episode. bender trying to be Santa made for a great episode it's a shame they could not get John Goodman back to do the voice of Robot Santa.
THE FUTURAMA HOLIDAY SPECTACULAR
GUEST CAST
Coolie (Daredevil)
Dawnn Lewis (Monsters University)
Al Gore
Xmas
Robot Santa attacks the Planet Express building on Xmas Eve, explaining in song how the holiday should be celebrated. The crew are inspired to revive the pine tree, which went extinct in the 2200s with seeds from the Svalbard Global Seed Vault. However, the seeds have been contaminated by a biological weapons repository neighboring the vault, causing pine trees to grow and spread at a rapid rate until they cover the entire Earth. Though the trees seem beneficial at first, returning the planet to a lush, wildlife-filled state, their uncontrolled growth produces too much oxygen in the atmosphere, which ignites and burns Earth to a cinder when Bender lights a celebratory cigar. Robot Santa states that everyone is dead and happily tells the viewers to stay tuned for more holiday hilarity.
Robanukah
Bender criticizes the crew for not celebrating his made-up robot holiday Robanukah from "Fear of a Bot Planet" and sings a song explaining it, detailing a tradition in which fembots must wrestle in petroleum oil for six and a half weeks. He is shocked to discover that they only have enough oil for four and a half weeks of wrestling and forces the crew to drill deep into the Earth with the Planet Express ship to find more petroleum, which is virtually nonexistent on the surface. As they approach the center of the Earth, the immense pressure crushes the ship and kills everyone except Bender, who decides to take a nap. 500 million years later, Bender wakes up and discovers that the heat and pressure over the years have turned his friends' bodies into petroleum oil. He returns to the now dilapidated Planet Express building and is surprised to find the two fembots still wrestling with the sufficient amount of oil, declaring it to be a Robanukah miracle. Bender wishes everyone a Happy Robanukah and states that there is more hilarity to come.
Kwanzaa
The crew visit Hermes and his family for Kwanzaa, learning more about the holiday through a song by Kwanzaa-bot. Hermes' wife LaBarbara learns that she does not have the traditional beeswax candles required for Kwanzaa and sends Hermes to get some. However, the crew discover there is no beeswax in the world due to a colony collapse disorder caused by an infestation of blood-sucking mites. They decide to return to the space beehive (from "The Sting") to retrieve the wax, discovering the space bee colony to be in disarray caused by the same mites. Hermes uses the Kwanzaa tenets to spread goodwill between the space bee drones, restoring harmony and killing the mites. However, this also returns the bees to their natural organization and they attack the crew, encasing them in beeswax "candles" for their larvae to feed on.
Finale
A curtain descends and Al Gore appears to close the segment. Al Gore reminds the viewer that the characters will return in 2011 featuring himself as a major character called Captain Lance Starman. He then reiterates the jingle for "Gunderson's Unshelled Nuts" as Amy dances in a Gunderson's Unshelled Nuts costume.
The final Futurama Christmas episode isn't as entertaining as the previous two, its split in to parts to tell the story of different holidays and how the crew celebrates them. It's a shame no more specials were made after this.