CAST
Nathan Fillion (Slither)
Gina Torres (Angel)
Alan Tudyk (I Robot)
Morena Baccarin (Gotham)
Adam Baldwin (Chuck)
Jewel Staite (Stargate: Atlantis)
Ron Glass (Agents of S.H.I.E.L.D.)
Sean Maher (Arrow)
Summer Glau (Arrow)
Chiwetel Ejiofor (The Martian)
David Krumholtz (Hail, Caesar!)
Sarah Paulson (What Women Want)
Tamara Taylor (Bones)
Glenn Howerton (The Strangers)
"I'm not going to say it's the best science fiction movie, ever. Oh wait, yes I am". The words of Orson Scott Card himself, author of the award winning scifi novel "Ender's game", and many others.

Not only is this a very fine movie, made on a fraction of the budget of any other scifi film I can think of, it also captivates those who have previously had no interest in science fiction before. Which is far more than I can say about almost any SciFi movie I can think of, the only other being Ridley Scotts 80's classic Bladerunner.


Even if you've never seen Joss Whedon's critically acclaimed series "Firefly", less than a quater of the way through this movie you'll suddenly realize, I care about these people, I care about what happens to them, so rich are their characters. They have flaws & insecurities just like we all do.

You can do alot more in a 15 Episode TV series regarding character development than you can in a 2 hr movie, so the focus here is mostly on 2 main characters. The captain of the cargo ship Serenity, 'Malcolm Reynolds', and 'River', the extremely intelligent but mentally traumatized teenage sister of Dr Simon Tam who Reynolds agreed to give sanctuary aboard his ship some eight months or so earlier. Having said that though, all the characters are here, and they all do a fine job. The script is very witty, clever and often very powerful.

The soundtrack in Serenity quite wondrous in it's self, with beautiful melancholic strings, echoing piano, and western and oriental influences. They work perfectly with Whedon's stunning camera work and lighting. There are special effects in this movie a' plenty, and they look fantastic, in fact they completely belie the fact that this film cost less than $40m to make. They really are quite beautiful but they are there to further a strong story, not to overcome it.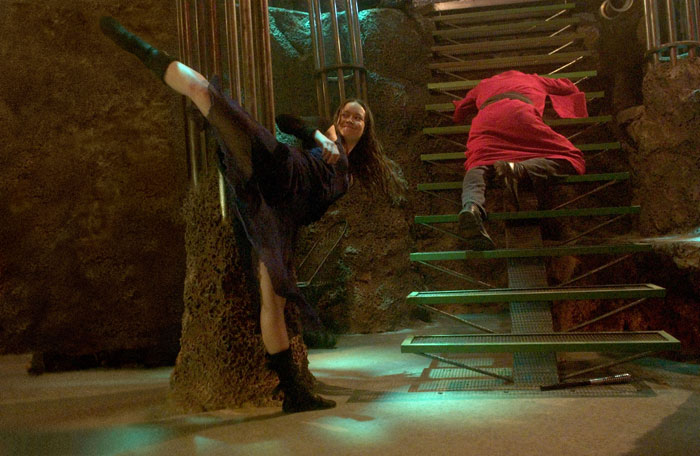 So emotionally powerful is this film that it has been described as 'art', and I really do think that it is, but will everybody like it? In the words of O.S.Card, "Not a chance…… it really is too strong for some people. Plus the story line is 'smart enough' and 'mature' enough that some people just won't get it. Can't be helped". Serenity was indeed voted film of the year 2005, did it deserve the top spot? Possibly not, but it did deserve to be very close to it. It was certainly the "only" Scifi based movie that deserved to be anywhere near the top ten movies of 2005.

Serenity is a very unusual film, a tiny film that went by almost unnoticed and was a difficult film to market. There are no big names in the cast, and it is based on a short lived TV series that sadly too few know about. So when you see it for the 1st time, nay, the 2nd, 3rd and 4th time and so on, you'll feel privileged that you did..