MAIN CAST
Nina Dobrev (Never Cry Werewolf)
Paul Wesley (8 Simple Rules)
Ian Somerhalder (Smallville)
Steven R. McQueen (Piranha 3D)
Kat Graham (Honey 2)
Candice King (Juno)
Zach Roerig (As The World Turns)
Kayla Ewell (Lucifer)
Michael Trevino (The Factory)
Sara Canning (Smallville)
Matthew Davis (Cult)
Michael Malarkey (The Selection)


GUEST CAST
Jasmine Guy (Dead Like Me)
Robert Pralgo (Fast & Furious 7)
Susan Walters (The Flash)
Natashia Williams (She Spies)
Tiya Sircar (The Internship)
Maiara Walsh (The Starving Games)
Malese Jow (The Flash)
Taylor Kinney (Zero Dark Thirty)
Arielle Kebbel (The Uninvited)
Kelly Hu (X-Men 2)
Olga Fonda (Real Steel)
Janina Gavankar (True Blood)
Rick Cosnett (The Flash)
Shaun Sipos (Final Destination 2)
Colin Ferguson (A Town Eureka)
Penelope Mitchell (Hemlock Grove)
Jodi Lyn O'Keefe (Halloween: H20)
Emily Chang (Total Recall)
Chris Wood (Supergirl)
Annie Wersching (24)
Elizabeth Blackmore (Evil Dead 2013)
Scarlett Byrne (Harry Potter)
Teressa Liane (Neighbours)
HAUNTED
Vicki attacks Tyler but Damon and Stefan stop her, and Damon compels Tyler to forget it all. Jeremy tells Elena that he will be joining the search party for Vicki. Vicki calls Matt and tells him she's okay. Stefan tries to get Vicki to drink animal blood, but Damon convinces her that she needs human blood instead. Elena arrives and Stefan promises her that he will get through to Vicki.  Bonnie talks to her Grams about witchcraft before she leaves for school. Damon overhears Richard and Carol discussing the vampire in town. Caroline gives Bonnie Damon's crystal and tells her she doesn't care what she does with it, as long as its gone.
Stefan gets Vicki drinking coffee and leaves briefly. Vicki tries to call Jeremy, but Elena refuses to let her, so Vicki pushes her against the wall and threatens to kill her unless she lets her see Jeremy. Stefan assures Elena that Vicki will calm down eventually. Damon tells Vicki that he only turned her because he was bored. Damon and Stefan take Vicki outside and Damon teaches her how to use her super speed. Vicki uses it to escape. She goes home where Matt's happy to see her. Stefan shows up, looking for Vicki, but she doesn't want to see him so Matt sends him away. Elena convinces Jeremy to attend the Halloween Party with her and tries to convince Jeremy to let go of Vicki. He and Vicki text each other and plan to meet up at the party.
Damon flirts with Carol to get information. He tries to compel her, but she's wearing vervain. She tells him about the Founder's Council and he offers to get vervain for her when he explains that Zach is out of town. She tells him that anybody who showed up during the day to the Founder's Party and Heritage Display was eliminated as a suspect of being a vampire. At the party, Matt tells Elena that Vicki's with him and she realizes that Jeremy's gone. Stefan finds Vicki and confronts her. Elena and Matt find them and Vicki tells Matt that Stefan won't leave her alone. Vicki escapes, and Stefan tells Matt that he's trying to help Vicki. Vicki finds Jeremy and they kiss. Damon discovers Bonnie has his crystal, but when he tries to take it from her, it burns him. Elena finds Vicki and Jeremy kissing outside just as she loses control. Annoyed by Elena, Vicki bites her, and Stefan arrives and stakes her.  Grams tells Bonnie that the crystal belonged to her ancestor and a very powerful witch, Emily Bennett. Grams tells Bonnie that it is now hers and she has to protect it. Elena, blaming Damon, slaps him. Matt asks Elena if she's seen Vicki, but she says she hasn't, calls him a good brother, and then cries in her car.
Wen Elena gets home, she comforts Jeremy over Vicki's death and he begs her to "make it stop". Stefan arrives and Elena asks him if he can compel Jeremy to forget that Vicki died, but he says he isn't strong enough. Damon then appears and volunteers to do it, asking Elena what she wants Jeremy to remember. She tells him to make Jeremy believe that Vicki left town, he'll miss her, but knows its for the best. As Damon compels Jeremy, Elena explains her existing feelings for Stefan to him, but when Damon exits the house, she walks back inside alone.
In the earlier episodes, I wasn't that into Vicki as a person, but when she became a vampire, I was looking forward to seeing her evolve, so to speak. Now I'm sad that they've killed her off. Not only that, but it was fun watching Stefan and Damon coach her on what it means to be a vampire, each in their own unique way.
MASQUERADE
The episode starts with Damon handing a stressed-looking Caroline a glass of blood to comfort her. Stefan arrives and asks them what happened. Caroline tells the Salvatore brothers that she was confronted by Katherine at the Mystic Grill. There is a flashback to when Caroline got to the Grill. She runs into the bathroom after an embarrassing encounter with Matt. In the bathroom, Katherine suddenly appears behind her. Caroline pretends to think it's Elena, and Katherine pretends to be her at first and asks her if she is okay. Caroline plays along for a bit, until she runs to the door in vampire speed to escape, but Katherine anticipated it and is able to block her. She asks her to deliver a message to them and says: "Tell Damon and Stefan that I want the moonstone, or I will rip this town apart until it rains blood." She then instructs her that the deal is to go down that evening at the Masquerade Ball. Damon assumes that she got scared, noting that what she did to Jenna in the previous episode was desperate. Stefan states that they can't underestimate her. Caroline suggests giving Katherine the moonstone, but Damon says "No, Katherine isn't getting dick!" and explains that he's going to kill Katherine at the ball. Stefan interrupts, saying that Damon wouldn't be killing Katherine because he is going to do it himself. Meanwhile, Matt, Elena and Jeremy are bringing Jenna home from the hospital. It is revealed that Jenna was told that she ran into a knife while making dinner, even though in reality, Katherine had compelled her to stab herself earlier. Jenna  is embarrassed about it, but they all soothe her by telling her it was a freaky accident. While Jenna is resting, Jeremy and Elena are alone together and he asks his sister what they are going to do about Katherine. Elena says they're not going to do anything. She believes that Katherine hurt Jenna because she was still with Stefan and now that they're broken up, they're safe. Jeremy tells Elena she is being naive and walks away.
Katherine returns to her room at Mrs Flowers' Bed and Breakfast, and she helps her get comfortable by bringing her shopping bags. When she leaves, Katherine starts to take a dress out of one of the bags when suddenly, a woman (a witch named Lucy) slinks into the room. Katherine hears her and runs to her in super speed and presses her against the wall, scolding her to not to sneak up on a vampire. Lucy replies: "Don't attack a witch! .. It's good to see you, girl." They hug. Lucy says that she came because she asked her. "Like you had a choice," says Katherine. She tells Lucy about the Masquerade Ball and asks her to come with her and she smiles. Caroline opens the door of the Salvatores' house and Bonnie comes inside, holding the Grimoire in her hands. Alaric and Damon are seen in the background looking at weapons. Jeremy is also there and tells Bonnie: "We're gonna kill Katherine", when she asks what everyone is doing. Bonnie gives them a puzzled look, to which Stefan says "Let me explain…okay, we're going to kill Katherine.". Bonnie looks shocked. Stefan walks over to Damon and Alaric, the latter of whom is explaining how to use each weapon. Cut to Katherine straightening her hair and talking to Lucy in a snide tone: "I'm impersonating my dull-as-dishwater doppelgänger, Elena. She has the worst taste." Katherine says she became quite good at pretending to be Elena. She says she wants the moonstone and that she wants Lucy to help her. When she asks her what she wants to do with it, Katherine doesn't answer. "You want me to break the curse," assumes Lucy. "Let's just get it first," Katherine says, "What I really need is backup. I can't imagine that Damon and Stefan are just gonna hand it over without putting up a fight."
Bonnie tells Stefan that their plan is risky. Stefan clarifies that it's about more than wanting Elena back, that what Katherine did to Jenna crossed the line and that she needs to be stopped before it happens again. Bonnie is still not quite convinced, but reluctantly says she could do a spell to trap Katherine, similar to the tomb spell. Meanwhile, Elena is at her house with Matt. She tells him that Alaric will be coming over to spend time with Jenna. She invites Matt to join them, but he tells her that he's going to the Masquerade Ball. Elena responds that she's not going because of what's going on between her and Stefan. Matt tells her that he's going because there's something he has to do, but won't go into detail. She looks suspicious, but tells him to go and have fun. When Matt brings up Stefan, Elena says she doesn't think they're going to get back together: "There is so much about me and Stefan that will never work." Matt says that he's always there for her and they hug. At the Salvatores' house, Alaric, Stefan, Damon, Jeremy, Caroline and Bonnie, get ready to go through with their plan. Alaric asks if they're sure that they don't need his help at the ball, but Stefan says: "No. I need you to stay with Elena, I don't want her to know about this." Alaric promises that he'll look after her. When Stefan asks if anyone wants to back out, no one wants to. Caroline states that Katherine killed her and that fair is fair, but it takes Bonnie longer to reply; in the end, she says she is in as long as nobody gets hurt (except Katherine, anyway). At the Masquerade Ball at the Lockwood Mansion, artists are seen doing tricks with fire and people in masks are watching. Inside in the office, Tyler is getting ready. His mother, Carol, tells him it's already packed outside. Mother and son compliment each other on their looks. Tyler apologizes for his past behavior and asks his mother about Mason. She says she hasn't heard from him and doesn't think she will. Carol mentions that the Masquerade theme was her late husband's idea. She says that they both loved him and that "it's natural to feel abandoned. I just don't want you to feel alone." They decide to go outside and pretend to have some fun.
Katherine and Lucy arrive in masks. She runs into Matt and he thinks it's Elena. Katherine compliments him in his suit. She compels him, saying: "Do you know what you have to do?" Matt answers: "I'm going to get Tyler Lockwood really drunk. I'm going to start a fight with him and beat him until he snaps." "And then?", asks Katherine. "I won't stop until he kills me," says Matt. Katherine then asks him to leave. Stefan is outside looking around when Damon comes to him from inside the mansion. Neither brother has seen Katherine yet. They play mind games on each other about loving Katherine and whether one of them will or will not hesitate to kill her. Sarah and Aimee are inside the office dancing with each other, and Matt and Tyler are there too, drinking and talking. Tyler says he likes that for once, it's Matt corrupting him and not the other way around. "Okay, let's go party," says Aimee and Sarah and the guys follow her. Jeremy is seen going upstairs with a bag in his hand, followed by Bonnie. They enter a room, which Bonnie exclaims is perfect for what they need to do. Jeremy opens the bag and they take out weapons and Emily Bennett's Grimoire. Bonnie explains the spell to Jeremy. When he asks her about her magic, she explains that she doesn't want to know too much, and that she's only practiced spells that do good. She then admits that she doesn't really like any of this supernatural drama and doesn't really want to be a part of all of this. When Jeremy says being a witch must be cool, Bonnie says it's anything but that because of what she knows about what happened to her witch ancestors: "It never ends well for people like me." She says she only helps because she doesn't want anyone else to get hurt and that she doesn't know how to stay out of it. Jenna and Elena are at home eating pizza. Jenna says she feels like an invalid. When Elena asks her aunt where Jeremy went, she says that he went to the Lockwood party, which surprises Elena. Jenna says that she's glad he's having some fun. Elena, suspicious, pretends to go get napkins, but actually goes into the kitchen to talk to Alaric. She tells him that she feels like everyone is avoiding her and wants to know what's going on. Alaric says that he can't tell her anything, but when Elena suggests that maybe she should go to the ball after all, he clearly has a problem with it. He tries to deflect by telling her that he's supposed to keep an eye on her in case Katherine shows up and tries to hurt her while everyone else is at the party, but she just gets more confused and upset, saying that Stefan would never go to any of the Mystic Falls events by himself, because he only attended them for her. Alaric tells her to drop it, and she appears to go along with it.
Jeremy and Bonnie go to tell Stefan that the room is ready, but on their way, Bonnie gets a strange feeling and walks over to Lucy to ask if they know each other. Lucy deflects by saying that she's a plus one and knows no one and quickly takes her leave. "Are you okay?" asks Jeremy and Bonnie answers: "Just got a weird vibe. Let's find Damon." Outside, Stefan is seen, still looking around, until he finally eyes Katherine and walks towards her a little. Suddenly, she shows up behind him and asks him to dance with her. When Stefan refuses, Katherine asks him to choose someone at the party for her to kill instead. Stefan finally agrees to dance with her. Katherine tells Stefan she didn't expect Jenna to survive, acting innocent, asking: "How does one stab oneself?" Stefan tells her he doesn't want anyone to get hurt tonight. Katherine agrees and says: "Just give me the moonstone." He tells her that he doesn't have it on him, and tells him they would have to get it together. Katherine, who expected this, simply says "Or, you can go get it by yourself and bring it here, and I will try not to kill anyone while you're gone." Stefan then says: "My way or you don't get it." They are interrupted by Aimee Bradley, asking Stefan where Matt is. When she sees "Elena", she compliments her and her dress. Katherine thanks her and tells her she loves her necklace. She says it's twisted, pretends to go fix it, but instead cracks her spine, paralyzing her from the waist down, followed by another crack that kills her. Then she says: "The moonstone, Stefan. Tick tock!" and leaves, leaving dead Aimee in Stefan's arms to deal with. Back at the Gilbert house, Elena tells Jenna and Alaric she's going to bed, but she instead grabs a key and sneaks out the door to go to the Lockwoods'. Stefan tells Damon that he left the body in the trunk for now. Damon says they'll dump it later and writes it off as collateral damage. Stefan says that this is why they just need to call the whole thing off, but Damon convinces him to change his mind again, saying: "What? Who's hesitating now? Hey! Don't do this to me. This woman ruined our lives, she destroyed us. Tonight it ends. We can do it together. I got your back. Alright?" Stefan reluctantly agrees. Jeremy and Bonnie are outside and Jeremy asks her random questions. "Can you do a hocus pocus to pass a math exam?" "I don't know that spell." "Huh. That would be the first one I'd learn. Or a sex spell or something, I don't know." He asks her to dance while they are waiting, and Bonnie says "No!", like it is a crazy idea. Jeremy chuckles and plays it off well, and Bonnie says: "I mean… no, thank you." Jeremy's phone rings. He received a message from Damon, saying: "Now." They look at each other and Jeremy stands up. Lucy catches up with Katherine, saying: "You didn't tell me there was another witch here." Katherine plays dumb, but Lucy says that no one was supposed to know that she was involved in this. Katherine says she owes her dear friend – meaning herself – a favor. Jeremy appears, pretending to think that Katherine is Elena. He asks Lucy to let him talk to his sister alone and she leaves. He drops the act and tells her that Stefan and Damon want to meet her at the edge of the lake by the woods and that they brought the moonstone. She asks him why he's doing the Salvatores' bidding, and he responds that he's not afraid of her. She jokes that the Gilbert men are so courageous and reminds him how she cut off John Gilbert's fingers. She finally leaves, and Jeremy is texting when suddenly Elena pulls him behind a bush. She asks him: "What the hell is going on?"
Caroline sees Matt laughing and drinking with Sarah. Tyler appears and wants Matt to go somewhere with him, when Matt sees Caroline. They smile at each other for a moment, but Matt leaves. She receives a message from Jeremy saying: "Your turn." She goes into another room. Katherine appears and presses her to the wall, throttling her. She asks her what Stefan and Damon are up to, and Caroline purposely pretends not to know anything. She finally admits that they're trying to kill her. When Katherine asks for the moonstone, Caroline tells her that Bonnie has it and also tells her – after another bit more throttling – that she's upstairs. Elena is shocked to find out that they want to kill Katherine there. She tells Jeremy and Bonnie that they're crazy and that they'll get themselves killed, especially Jeremy, who she doesn't want to be involved in this sort of thing in the first place. Bonnie says they know what they're doing, and Jeremy explains that they saw an opportunity and had to take it; he also adds that Katherine went after Jenna and needs to be stopped, and that he's involved regardless of whether he wants to be or not. Caroline is whining while Katherine pulls her upstairs with her. She tells her in which room Bonnie is, and Katherine walks into it, asking: "Where is she?" She turns around and sees Caroline smiling before saying: "I did it. I didn't think I'd be able to fool… you, but… I did it." Katherine tries to run towards her, but is being held back by the trapping spell Bonnie cast earlier. Stefan appears in the room, and Caroline leaves. She taunts Stefan, asking him if he really thinks that he can kill her with the stake in his hand, and he just smiles and says no before adding "But he can." as Damon comes out of the closet and shoots a stake out of a crossbow into her back. As the stake impales Katherine, Elena is seen screaming outside, with a blooming red bloodstain on the back of her shirt. Damon stakes Katherine in the deltoids, and Elena screams in pain again, blood blossoming from the same spot in the same arm. Everywhere Katherine gets hurt, Elena feels the same pain and gets the same wounds. Bonnie finally realizes that the doppelgängers are linked to each other and yells at Jeremy to run and stop them before they kill Elena on accident. Katherine, Stefan and Damon continue fighting, and when Damon is just about to drive the stake through Katherine's heart, Jeremy appears and yells: "Stop! You're hurting Elena! Everything you're doing to her is hurting Elena." Damon looks confused and shocked at him, his arm frozen in mid-air. She gets up and says: "You think you two were the only ones with a witch on your side? Wrong. Something tells me that my witch is better than your witch." Stefan tells Jeremy to check on Elena and he leaves. "Let's all make sure poor Elena's okay," Katherine mocks, and starts to cut her palm with the stake just to hurt Elena even more. Katherine is about to stake herself in the stomach when Stefan stops her. Bonnie tells Elena that she can't undo the linking spell, but that she can do a spell to take some of the pain away. Jeremy comes back to Bonnie and Elena and tells them Katherine has a witch on her side. Bonnie realizes it's Lucy, the mystery woman she got the vibe from, and runs away to find her. Jeremy offers to give Elena his Gilbert Ring in case they try to kill Elena through Katherine, but Elena prefers to know that Jeremy is safe. Katherine reminisces about the old times in 1864 to the Salvatores, making snide comments about what a bore Damon was back then and how much of an inconvenience his obsession with her was. Stefan asks Katherine why she was working with a werewolf (Mason). Damon tells him not to waste his breath, mockingly apologizes about killing Mason and Katherine explains that Mason isn't the only wolf in town.
Sarah asks Matt and Tyler what happened to Aimee, and the boys don't know. Matt purposely spills alcohol all over the floor of the office and over a picture of his deceased father. Tyler asks Matt what's wrong with him. He gets Tyler mad by saying mean things about his father and bringing up the times that his dad beat him, and breaks the frame of the picture. Even though Tyler says: "I'm not gonna fight you", Matt makes the first move and they start fighting anyway, Matt because he is compelled to, and Tyler in order to defend himself. Caroline walks through a room, still smiling about her achievement, when she hears Tyler and Matt fighting in the office. She runs into the room, asking what's going on. She pulls Matt far away from Tyler. When Matt still won't stop, Caroline elbows him in the face and knocks him unconscious. Tyler looks at her, shocked about her strength. She immediately looks if Matt is okay. Meanwhile, Sarah grabs a knife, muttering: "If Matt fails, I can't." Caroline sees her coming and starts to warn Tyler, but it's too late; Sara stabs him in the clavicular area with a knife, and he instinctively pushes her away. She falls backwards, and her head hits the edge of the desk and cracks her neck, dying immediately. Tyler is shocked and doesn't know what to do when Sarah doesn't wake up. Caroline checks her pulse and realizes she's dead. Tyler freaks out, starts screaming in pain and his eyes change colors, signifying the werewolf curse being triggered. Damon, Stefan and Katherine are still waiting for Katherine's witch, Lucy. Stefan realizes something. He remembers that she told him that she gave George Lockwood something that he needed to make him help her fake her death. He figures it's the moonstone. He wants to know why she needs it back, but Katherine just changes the topic and says: "I love you in a suit. So dashing." Meanwhile, Stefan figures the moonstone wasn't hers to begin with and asks who she was running from in 1864 when she faked her death. She changes the topic again, saying that in 1987, while Stefan was in a concert with Lexi, she was there to see him. Stefan asks her again who she was running from and she just whispers: "I love you." Bonnie finds Lucy. She walks away when she sees her, but Bonnie follows her. She tells her her first name and says: "I should've known I'd run into a Bennett." Bonnie wants to know how she knows her. She says she doesn't want to fight her and that she will stop the spell that links Elena to Katherine if she gives her the moonstone. Lucy finally tells her about Katherine: "The bitch saved my life. And now I owe her." She's about to leave, when Bonnie grabs her arm. Lucy senses that Bonnie has the moonstone on her. "Can you feel that?" she then says, "You can trust me. Give it to me. It's okay."
Upstairs, Damon is about to kill Katherine with a stake, but Stefan holds him back. Damon says: "The second the spell's lifted, I'm gonna drive a stake right through your heart." Katherine isn't scared, just says: "God, you're hot." Lucy appears and gets their attention. She has the moonstone in her hand and tells Katherine that the spell is broken and that she can leave. "When I hand this over, my dept to you is over," says Lucy. "I owe you nothing." Katherine agrees and she gives it to her. Then suddenly Katherine starts gasping and falls. "You should've told me another witch was involved," says Lucy. She also says that Elena is fine and that the spell is broken and explains that with Bonnie with her, she will heal quickly. She apologizes for her involvement to the Salvatores and leaves. Caroline explains a different version of how Sarah died to Carol. After she leaves, she tells Tyler that Matt is in the car sleeping it off. Tyler asks her why she is covering for him. He says she doesn't know what it means that Sarah's dead. Caroline says she does, but Tyler shakes his head. She asks if his wound has healed and he asks: "How did you…?" Lucy is walking away from the house and Bonnie asks her to wait. She apologizes and makes it pretty clear that she is not more of a fan of vampires than Bonnie is. She asks Lucy how she could know she could trust her, and Lucy responds by asking her if she's ever felt that feeling before. Bonnie says that she has felt it before around family and her Grams. Lucy says that they're cousins. She says seeing her was a wake-up call, that she has to stop letting vampires control her. She thanks her and leaves. Bonnie asks her to wait again, saying she has so many questions and that she doesn't want to be in the middle of all of this either and asks her how to stay out of it. Lucy says: "Unlike me, you're one of the good ones, Bonnie. The middle of it is exactly where you need to be." She tells her to take care and that they'll see each other again and finally leaves. Bonnie looks after her. Jeremy walks over to her, saying he's going home and offers her a ride. He sees her face and asks if she's okay. She nods, giggles, and asks him when he got his driver's license. Jeremy laughs and tells her he's not a kid anymore. She says she'd love a ride home. Stefan sees Elena outside. She promises she will see a doctor about the wounds, but assures him that she's okay. She asks if Katherine is really gone. Stefan nods. They smile at each other. Stefan says he was so worried and comes closer to her, but Elena moves him away. "Katherine being gone, it doesn't change anything for you, does it?" he asks. "I wanna be with you, Stefan," she says, "You know that. But first, I need to wake up and know that the people that I love are safe. I need to feel safe. Do you understand?" Stefan says he does, even though he looks sad. Elena slowly walks away. Katherine is seen waking up. She is in the tomb, but still has the moonstone. She wants to get out, but she is trapped in the tomb by a new trapping spell. Damon appears outside of the tomb. When she asks him where she is, he says: "Where you should have been all along." She says he should have just killed her, but he retorts that death would have been too kind. Damon is almost done closing the heavy door to the tomb when Katherine pleads: "No. Damon, don't. Damon. Don't. You need me, Elena's in danger." Damon stops for a moment and furrows his brow. "From who?" he asks. Katherine refuses to answer. "You're lying," Damon says, "You're always lying." Damon closes the door further. "Why do you think I haven't killed her?" asks Katherine. "Because she's the doppelgänger! She needs to be protected." "Then I'll protect her," says Damon, "While you rot in hell." As he finally closes the door, Katherine starts screaming and begging desperately: "No. Damon, don't. I'll do anything, please, Damon, you need me. You need me. You need me!" She bangs her fist against the door and screams "You need me!" again, but Damon walks away, but not before swallowing hard.
Elena is in the driveway at the Lockwood's and is on the phone with Jeremy. "Yeah, Jeremy, I've got my car. I told Bonnie, whatever she did, I'm starting to feel better. Yeah, you can drive her home. I'm just gonna go straight to bed. Okay." She hangs up and suddenly, a masked man appears behind her. Elena realizes someone's following her. She turns around and the man places his hand on her mouth so she can't scream and carries her away. It is somewhat surprising that Katherine has been defeated this early in the season, but I am not complaining. The Vampire Diaries moves quickly, and it is better to move on before Katherine becomes one of those tiresome villains who can never be defeated. Although the show is wise to keep her alive; she hints that Elena is still in danger and that she has some information. I'm sure we will be getting back to Katherine and her information sooner or later.
GHOST WORLD
 Damon is seen tied to a chair with chains, and a poker in his chest. He notices his ring is on the ground, and tells Stefan that's a low blow; Stefan comes in, telling him he didn't do any of that. Stefan plucks the poker out, and rips off the binds on his hands, but leaves him chained. Mason, standing in the shadows, opens the curtains and lets Damon burn for a while. It is the Night of Illumination in Mystic Falls and everyone is helping out, hanging paper lanterns. Carol Lockwood introduces Tobias Fell, who gives a history lesson. Jeremy asks Alaric what they are doing there, where Alaric explains Tobias is the head of the history department, and why he's there. Elena joins them and asks what she has missed, Anna (who is tethered to Jeremy still) gives a witty reply which Elena can't hear, but Jeremy said she missed nothing. He laughs at something Anna says, which confuses Elena. Anna smiles, and takes Jeremy's hand. Caroline asks Bonnie whether the spell she did would make Anna disappear too, which she replies no and explains Jeremy still has a direct line to the Other Side, and could see Anna whenever he wished. Bonnie says she took a risk bringing Jeremy back, and was now paying the consequences for it. Damon arrives in his car, and tells Bonnie that she messed up during her spell because Mason Lockwood is now after him for revenge.
At the Mystic Grill, Elena asks for Jeremy's help with Stefan, wondering if he could contact Lexi—an old friend of Stefan's that always had a way to bring him back from his ripper ways. Jeremy said he's not sure if she's even on The Other Side and he had no previous connection to her whatsoever. Bonnie asks Matt whether he's contacted Vicki again, and he swears he hasn't. Caroline asks why she thinks it's Vicki and not Mason, to which she replies that if any other ghost has a foothold, something is very wrong. Bonnie grabs her bag, but her grimoire falls out, and it flips open to a Manifestation spell, used to reveal veil matter – ghosts. Alaric is not too comfortable with the idea of bringing back dead vampires, seeing as they already have enough vampires as it is. Anna silently tells Jeremy that not all ghosts go to the other side, that some find peace. Stefan joins them at the table, picking up his diaries, wondering how he could have cared so much. Stefan tells Elena it would be better if she moved on and let go of her feelings for him. At the place where the witches were burned, Bonnie and Caroline start setting up to do the Manifestation spell. Jeremy questions Anna why she didn't want Elena to know that she was there, and Anna replies that she wouldn't like it, seeing as Bonnie is Elena's best friend. Jeremy is extremely confused with his feelings, tells Anna he always loved her, and kisses her.
Bonnie does the spell, and Grams appears to her, holding her hands – all over town, ghosts of previous vampires start to appear. Elena walks in on Jeremy and Anna kissing, finally being able to see her again. Lexi appears to Stefan who's shocked. Mason appears to Damon and Alaric at the Grill, and knocks him over the head with a glass. Lexi tells Stefan he's off the rails, and that while she's materialized in the real world, she'll help him out of his mess. Lexi knocks Stefan unconscious after he refuses her help. Bonnie is emotional at seeing her Grams. Sheila tells Bonnie that the Original Witch unleashed everyone who had unfinished business – she has to close the "door", by destroying the talisman of the Original Witch. Anna overhears Caroline and Elena on the phone talking about the necklace, and she disappears. Elena walks out and bumps into Lexi, where she thanks her for thinking about her that day, bringing her back. Lexi tells Elena to come with her, as she could help Stefan. Mason tells Damon he's not after revenge, but an apology. The truth is he's there to help Tyler. Mason heard of a way to be able to kill an Original, and that the secrets are in the old Lockwood basement. In the City Jail, Lexi has tied Stefan to the torture chair. Lexi looks at Stefan in the eyes and gets inside his head, making him hallucinate. Damon goes to the basement where Mason is waiting for him, and they break through a wall, which reveals a tunnel, which they start to climb through. Stefan is starting to struggle, screaming to get out and Lexi starts to count the total years he's been without blood as he's hallucinating. Caroline calls Elena and tells her the necklace isn't where Damon said it would be. Elena says they should hold off on stopping the ghosts, and they need to help Stefan. Jeremy is shown to be searching for Anna. Frederick walks over to where Anna is standing in the celebrations, saying they have some unfinished business with the Founding Families. A scream erupts and Tobias Fell is shown, dangling from a tree, dead. Stefan is starting to beg Elena to release him, he's sorry and that he loves her. Lexi warns her that he'd say anything to get out of there. She goes on to say that he's now getting past the blood and he could feel things – she demonstrates this by stabbing him on the arm. Elena rushes off, not being able to handle it. Walking around the corner, she is greeted by ambulance lights and a body being taken away. Caroline and Bonnie are still searching for the necklace, but can't find it anywhere in the Salvatore house. Caroline gets a suspicion that Anna could have perhaps taken it, and asks Jeremy about it. Anna tells him no. Back in the caves, Mason is leading Damon through the tunnel. Damon walks forward and is struck by stakes, puncturing him in the sides
.
Elena confronts Jeremy about Anna being missing, and that she was the only one who knew about the necklace being needed to send the ghosts away. Jeremy fesses up and tells Elena he can touch Anna, and that he loves her and always will. Elena asks him whether he will love a ghost for the rest of his life. Anna reappears and Elena tells her she's holding Jeremy back. Anna holds up the necklace for them to see, and Elena instructs Jeremy to call Bonnie with the news that they have the necklace and can send the ghosts away. Mason comes back to Damon and breaks off the stakes. Damon can't believe that Mason isn't after revenge, but redemption. Mason only wants to help Tyler. Bonnie and Caroline drive back to the Witch House, but see Carol Lockwood's car and the tomb vampires approaching it. Caroline gets out and attacks. Jeremy tells Anna that they will still be able to see each other afterwards, and that they have nothing to worry about. Anna says that it should be the end, and that she is holding him back from his life. She is sorry she took the necklace, but hoped that with the tomb vampires out, maybe she would get to see her mother. Lexi repeatedly stabs Stefan with a stake – Elena enters and tells her they are running out of time, and the necklace will be destroyed. Lexi uses the necklace as determination, telling Stefan to focus on that as it once gave him hope. Damon cannot get into the small cavern, as it somehow looks like he has to be invited in. Mason goes on ahead of him to look at the cave walls. Bonnie starts to recite the spell, and her Grams joins her, resulting in the necklace being destroyed in the fire. Caroline is seen fighting off the tomb vampires. Frederick gets a hold on her neck, but he disappears, along with Mason in the cave and Lexi at the city jail. Anna sees her mother, Pearl, and they embrace, disappearing together, finally able to rest in peace. Grams is the last to disappear, telling Bonnie she is very proud of her. In the caves, Alaric arrives to help Damon out. Damon again gives the same apology he gave Mason Lockwood, but genuinely meaning it. In the city jail, Stefan asks Elena what she's gonna do now and if she's gonna wait till he dries out. Elena says that she'll go home and be the support her friends need right now. She's is headstrong and still has hope for him. Elena comes to stand right in front of Stefan, telling him to fight for it, to feel something, because if he doesn't, he will lose her forever. "I won't love a ghost for the rest of my life," she says to him. Jeremy goes to Bonnie, telling her he is sorry. She sends him away, not being able to handle his betrayal. Noises and sparks erupt from the fireplace, and on closer examination, Bonnie sees the necklace's quality is restored. In the cave, Alaric finds drawings on the wall, yet doesn't know what they are.
All of the ghosts' disappearances were handled well, from the heartfelt reunion of Anna and Pearl, or Mason, Grams and Lexie leaving after accomplishing what they needed to do, to the tomb vampires vanishing just in time before they overwhelmed Caroline.
MONSTERS BALL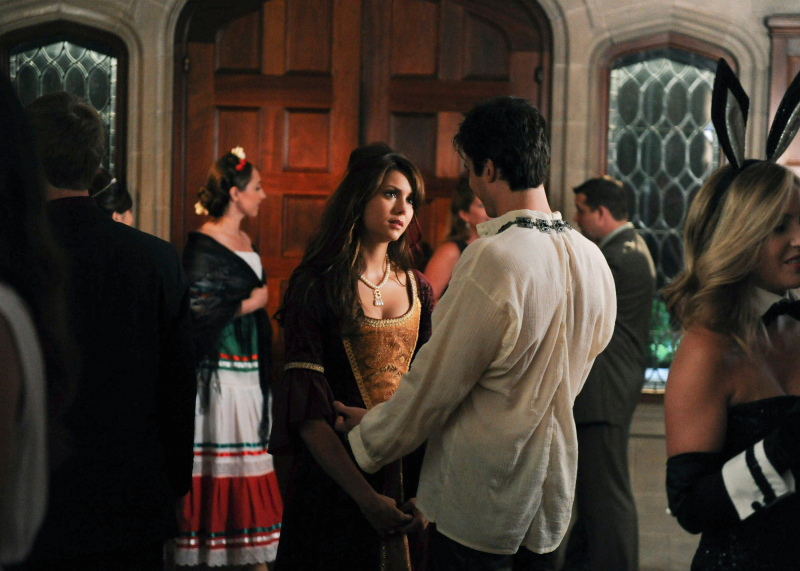 After Professor Wes Maxfield (Rick Cosnett) killed Jesse (Kendrick Sampson) at the end of the last episode, this episode starts with him performing experiments on Jesse for unknown reasons and it seems that this is not the first one. Meanwhile, Elena (Nina Dobrev) attempts to deal with Bonnie's (Kat Graham) death by distracting herself with her research about Megan's death and why Professor Maxfield covered the reason she died. While she ponders how to get the information she needs, she sees someone at Megan's grave. She approaches the stranger and asks him his name and if he knew Megan, but the man seems reluctant to answer her questions. It is later revealed that the man's name is Aaron (Shaun Sipos) and Professor Wes is his guardian. Wes asks Aaron to stay away from Elena and then, on an encounter with Elena at the Whitmore Historical Ball, he tells her to leave college and go back to Mystic Falls with her friends as there are people at Whitmore who are watching her. Tyler (Michael Trevino) returns for Bonnie's funeral and spends some time with Caroline (Candice Accola) who still tries to convince him to cease what he is doing and come to college. Tyler informs her that he cannot let Klaus get away with what he did to his mom, Carol, and that he will hunt him down and kill him. Caroline tries to change his mind with no such luck. The two part ways, ending their relationship.
Nadia (Olga Fonda) still has Katherine captured and Silas (Paul Wesley) commences to try to find them but is unable to without his mental power. Katherine consistently asks Nadia what she wants from her and Nadia reveals to her that she is her daughter whom she left behind in 1492 and the only reason she became a vampire was to find her. In the meantime, Damon (Ian Somerhalder) tells Jeremy (Steven R. McQueen) his plan about how they can bring Bonnie back to life. Because someone has to die to bring another back, Damon says that they should take advantage of the fact that Silas wants to die to be with his true love, Amara, so that Bonnie comes back. They have to work with Silas to do so and Bonnie does not agree with the idea. Damon meets Silas to inform him about his plan and Silas agrees but own his terms; he wants Damon to "kill" his brother. By "killing" Stefan, the link between the two of them will be broken and Silas will have his mental power back. Damon just has to keep Stefan "dead" as long as Silas will be pretending to be Stefan so he can get the information he needs from Quetsiyah's (Janina Gavankar) head.
The plan goes well until the moment Stefan escapes from Damon before he "kills" him again and lets Quetsiyah know that she is talking to Silas and not him. Quetsiyah becomes enraged, reaches into his heart and twists it whilst making a spell causing it to stop. The spell turns Silas cold and grey and unable to move or do anything, but not dead. Damon and Elena find him and take him back to the Salvatore house. Katherine arrives at the Salvatore home after Damon calls her and she is happy to see that Silas is gone, unbeknownst to the real reason Damon called her, to use her to bring Silas back. Silas starts to wake up after feeding on Katherine and while Katherine should be dead after this, she also wakes up with Elena and Damon not knowing why.
Though not the most surprising or action packed episode of The Vampire Diaries, "Monster's Ball" was full of enough emotion to overshadow these minor missing elements.
THE WORLD HAS TURNED AND LEFTED ME HERE
Trip (Colin Ferguson) calls Stefan (Paul Wesley) to thank him for turning in Enzo (Michael Malarkey) and informs him that he is trying to get out of him all the information he knows about vampires. Enzo told him that there is a vampire in Savannah, where Stefan is, and that leads Stefan to get back to Mystic Falls with Ivy (Emily C. Chang) to avoid the vampire hunters. Stefan arrives at Caroline's (Candice Accola) dorm and asks her help with Ivy. Caroline tries to keep Ivy in the dorm but Ivy snaps her neck and gets away. When Caroline wakes up, she tries to reach Stefan while she is out searching for Ivy, but he is not answering his phone.Ivy finds a guy and attacks him but she manages to stop feeding on him before she kills him. She tries to compel him but she does not know how to do it. To make sure that she will not kill him, she asks him to run away. In the meantime, Stefan listens Caroline's messages and comes back. When Caroline asks him where he has been all day, he admits that he was on his way out of town. Caroline is shocked that he would leave town leaving Ivy with her. Angry, she asks him to leave and then Ivy calls for her help.
Elena (Nina Dobrev) invites Liam (Marco James) to the annual "Homecoming Corn Maze" party as her date. She also convinces Alaric (Matt Davis) and Jo (Jodi Lyn O'Keefe) to go since they both need it but they have no idea that Elena planned it this way to set them up. While everyone being in the corn maze, the guy that Ivy attacked jumps in front of Tyler's (Michael Trevino) car and Tyler, on his attempt to avoid him, drives through the corn maze injuring many people, including the guy who jumped in front of him. Tyler is terrified and calls Elena to tell her that he was the one driving the car and she needed her to heal the person he injured. Elena tells him that there are many injured people and Tyler does not know what to do.
Jo and Alaric try to help those who got injured while Liam and Elena do the same. Liam finds a girl who is deadly injured and asks Elena's help. Elena tells him that she can handle it and he should go to help others. When Liam leaves, she feeds the girl her blood healing her and then compels her to forget about it. On their way out, Liam sees the girl alive and well and gets suspicious of what happened. When he asks Elena about it, Elena denies to tell him the truth and kisses him as a distraction.  Meanwhile, Liv (Penelope Mitchell) finds Tyler and tries to help him. When they find out that there is nothing they can do to save him, Tyler is desperate since his curse will be activated again, but Liv decides to kill the guy before he bleeds to death, so she will be the one who killed him and not Tyler. Back at the hospital, Jo confess her feelings to Alaric but Alaric compels her to forget about him. The compulsion though does not work on her and Jo kisses him before she leaves. Caroline is on her way to find Ivy but Tripp gets to her before Caroline. He shots her with vervain and takes her away while Caroline watches from her car in shock.
Back in 1994, Damon (Ian Somerhalder) tries to convince Bonnie (Kat Graham) that it is fine to take Kai (Chris Wood) with them because they will kill him the moment they go back but Bonnie does not agree to free him. When she realizes that Kai does not know the spell, she kills him and tries to find the spell on her own in her grandmother's Grimoire. Bonnie finds the spell and she and Damon get ready to get back home but Kai, who did not die, appears and shoots Bonnie with an arrow. Damon and Kai start to fight and when Bonnie realizes that she will not make it, she uses her magic to at least send Damon back leaving herself behind with Kai.
The episode ends with Stefan going to the Salvatore crypt and talking alone about his dead family and Damon. While he is there, Damon appears telling him he is alive and back and the two brothers reunite.
The episode was pretty solid and took viewers on emotional journey filled with ups, downs and some shocking twists. Also it had a nice cliffhanger with the fate of several characters in question.
Damon said goodbye for now to Elena during "I Carry Your Heart With Me," and Alaric said hello again to Jo.That's right, ladies and gentlemen. The Phoenix stone works! It's unlikely that this resurrection spell is going to come with no consequences. Resurrection spells, messing around with the laws of life and death, never come without their issues in this world. But that's okay. We'll deal with that later. Thanks to the flash forward, we know that the Phoenix stone resurrected not just Jo but also their girls. Twin girls. The Gemini coven has been reborn. Maybe they'll figure out a way to prevent that whole twin-absorption merging thing that caused a lot of family drama, but if not, my money's on Josie being the stronger of the two.
I'm still not buying that Enzo is in love with Lily and wants to be with her romantically. I think it's a ploy of his to stay in Mystic Falls and keep whomever happens to wander into town safe. Sure, he brought home a body, but that was more of a peace offering for Valerie than anything, right?
He's smart to want to know about Julian and who he was, and he's smart enough to know that Lily's a lovestruck, idiotic idealist when it comes to her family. There is no part of me who believes he wants to keep Julian away so that he can have Lily to himself. Enzo just sort of understands that if Lily would fall for this guy, he cannot be a good man. Keeping Julian away is for the good of everyone. Speaking of Lily, she does have a type. Damon was right when he said she prefers the sons who can't control their bloodlust, and Oscar definitely couldn't once he was resurrected. Whether that bloodlust is just who Oscar is or whether it's a weird side-effect of the Phoenix stone remains to be seen. So far, I'm leaning toward Oscar is a blood-thirsty maniac who just can't stop. That explains the body count in Myrtle Beach and his ravenous feeding frenzy post-awakening.
It's time for Damon to let Elena's body rest. If he's going to live, move on, whatever, he cannot do it with Elena's physical presence beside him. He can't keep her safe, and he has no idea who he is without her. Holding on to her body is his way of holding on to her, and the only reason he's doing that is because he doesn't trust himself to be a good man without her. He's already shown moments of it when he's protected Matt. In fact, listing "keeping Matt Donovan" alive as one of the reasons he wants to move back to Mystic Falls is a huge sign that he's already become someone Elena would be proud to know. He can do this. Letting go was the first step