CAST
Charlie Sheen (Anger Management)
Jon Cryer (Superman 4)
Angus T. Jones (Bringing Down The House)
Conchata Ferrell (Mr. Deeds)
Holland Taylor (Legalley Blonde)
Marin Hinkle (Dark Blue)
April Bowlby (Mom)
Jennifer Tayor (Wild Things)
Ashton Kutcher (That 70s Show)
Amber Tamblyn (The Grudge)
Edan Alexander (Outliving Emily)
SANTA'S VILLAGE OF THE DAMNED
GUEST CAST
Josie Davis (Bones)
Alan finds a new girlfriend, Sandy- his cooking class teacher. In the first scene Charlie wakes up and thinks that he had a one-night stand with her, but when Alan walks in and kisses and greets her he (Charlie) realises that Alan is with her. He also describes her as a "nester". But she is a great cook and gets Charlie and Alan hooked on to her food. They also gains lots of weight. When they sing Christmas carols on Christmas Eve, Charlie sees that his house has been transformed in to – what he calls – Santa's Village of the Damned. In bed she also remembers that she forgot to put out cookies and milk for Santa. They realise that she is crazy.
WALNUTS AND DEMEROL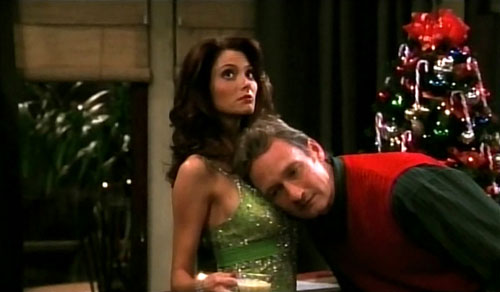 GUEST CAST
Melanie Lynskey (Up In The Air)
Ryan Stiles (Hot Shots)
Jessica Collins (Tru Calling)
Susan Sullivan (The Incredible Hulk 70s)
Charlie's friends and family put a crimp on his plan for a romantic Christmas Eve date. Evelyn talks to his date, learns about who she is, and then takes extreme measures to prevent them from having sex, but Charlie begins to have sex with her anyway until he learns that she might be his half sister.
Alan has to mediate when Herb becomes more interested in Kandi and her breasts, making Judith angry. Rose and Berta discover Charlie's boundery after following the couple around the house and stopping at his bedroom door to eavesdrop. Also, Jake gets into the egg nog, unaware that the egg nog's filled with burbon and becomes inebriated, starting with his dancing and muttering around the house and ending with his narrating "T'was the night before christmas" and throwing up all over the back of Herb and Judith's car on the way home.
WARNING IT'S DIRTY
GUEST CAST
Carl Reiner (Oceans Eleven)
It's holiday time at the Harper house and it has everything you'd expect—booze, singing, womanizing, and an old man soiling himself. This year, Alan has written the Harper Christmas newsletter to send out. Now, I sometimes get newsletters in lieu of a Christmas card and for me it just seems a little too impersonal. Unfortunately, there was nothing impersonal about this newsletter. In it we learn that Jake passed his class by the skin of his ass, Charlie is single no more after getting engaged to a lady, not a whore, and Evelyn rejuvenated her secret garden—turns out nothing rhymes with vulva. I think the best part of the scene, besides the poem of course, was Alan's responses, in his best Oliver Twist accent, to Charlie's bah-humbug attitude. I'm not sure if Alan was hitting the sauce or if the holidays just puts him in a jolly mood, but he was downright witty!
The real story of the evening, though, involves Charlie giving Jake some much unneeded advice about how to cheat. Charlie notices Jake scamming on some girl down at the beach and gives him a hard time for not going down to meet them. Jake reminds Charlie that he's in a committed relationship and, in turn, Charlie reminds Jake that he's only 13 (though he's actually 15) and shouldn't be tied down so young. Maybe Charlie is feeling a bit too tied down himself at the young age of 40 (though he's actually 42), because it seems that he wants to live vicariously through Jake. After much prodding, Jake finally agrees to go talk to the girl. Throughout the evening, and despite Alan's repeated objections, Charlie helps Jake with the rules.
Unfortunately, Charlie has no rules to help prepare Jake for when Celeste shows up unexpectedly with his Christmas present, and finds Jake with the other girl. As soon as the new girl learns of Jake's girlfriend she storms off, the now ex-girlfriend leaves in a huff, and Chelsea gives Charlie a look that would castrate a lesser man! In other Harper family news, Evelyn brings a Hollywood producer to the Christmas Eve dinner. Mr. Pepper, played by the ridiculously funny Carl Reiner, is a wheelchair-bound spitfire whom Evelyn just couldn't bear to see spending the evening alone in his $60 million estate—and with the $2 million she could make off of selling his house when he buys the farm, who could blame her? It turns out that he knows Lucille Ball wasn't a true redhead. He's willing to share with them how he knows but warns them, "It's dirty." and complains that he's sitting so close to the fire his chestnuts are roasting. In the end, it looks as though Mr. Pepper really does pass away. He slumps over and is unresponsive. As Evelyn mentally calculates her commission, Mr. Pepper awakens to say "She thinks she's going to sell my house when I'm gone. But I ain't going!" Then he looks down at his lap and realizes "Oops. I am going."
ONE FALSE MOVE, ZIMBABWE!
GUEST CAST
Mimi Rogers (Ginger Snaps)
Sophie Winkleman (The Chronicles of Narnia)
Jane Carr (The Five-Year Engagement)
Graham Patrick Martin (Major Crimes)
Jim Piddock (Independence Day
Walden wakes up on Christmas and gives Zoey a key to his house. Zoey says that giving her a key to his house is premature. He asks if he can meet her parents (who are flying in), but she tells him that next year might be a good time as they are still learning about each other, However, Walden counters by telling Zoey her eye color, pants size and that she runs the faucet to cover her peeing. Walden's mother is coming to visit him. Alan tries to get Evelyn to come over seeing as though this is the family's first Christmas without Charlie. She declines as she is having a "two man sandwich", which Alan learns over the phone in disgust. Walden then wonders where Lyndsey is, but Alan tells him that she has a new boyfriend now, leaving him single and lonely again. Jake calls and tells Alan that he is with Judith, Herb and his sister, actually not being there and is instead smoking pot with Eldridge somewhere else.
Walden's mother arrives and Alan is smitten with how young and beautiful she is. They have dinner, Walden's mother asks if Walden was now a homosexual and hiding it; they quickly due a recap of Season 9 to clear things up. She then explains that she is a primatologist and mainly works with gorillas. Walden mentions "Magilla", an imaginary gorilla friend that he had when he was a child. However, she tells him Magilla does exist and he shared the first four years of his life with him, which lead to Walden learning sign language; she wanted to see if a gorilla baby could learn as fast as a human baby. She sent him back to the jungle after he tried to kill a Jehovah's Witness. This revelation shocks Walden deeply as all his memories of Magilla clear up and he explains that he was so perfect during his childhood because he feared that he would be sent to Zimbabwe just like his gorilla "brother". He leaves in a huff.
At Zoey's apartment building, she opens the door to find Walden holding a bottle of liquor, inquiring if he was drunk; Walden himself is unsure, but thinks he is due to drinking and invites himself in. With hid thoughts muddled with alcohol and anger, Walden questions Zoey's parents, who are very British and appear to like him despite his odd behavior, if they would do something similar to what happened to him. At the beach house, they then get a call from Zoey, who tells them to come over as Walden is acting crazy. They arrive to see Walden has climbed up to the roof of the complex, where Zoey meets Walden;'s mother and briefly forgets the situation. Alan climbs up to talk some sense into him, telling him how he knows the pain of losing a brother (referring to Charlie's death). On the street, Jake and Eldrige, both baked, eat doughnuts and blankly comment on the situation before deciding to get more food. Later, Walden is taken to the place Magilla is being kept and reunites with his "brother" after identifying himself through sign language. Alan becomes shocked that Walden's mother brought a taser to stun Magilla if he attacked Walden.
GUEST CAST
Courtney Thorne-Smith (Melrose Place)
Brooke D'Orsay (The Skulls III)
Patton Oswalt (Agents of Shield)
Still pretending to be the poverty-stricken "Sam Wilson", Walden spends Christmas with Kate, who urges him to get a job. He then gets a call from his internet business partner Billy, who tells him that they have been offered $800 million for their "electronic suitcase". Billy wants to sell, but Walden wants to hold out for a higher price. "Sam" gets a job selling Christmas trees, which he takes to immediately and enjoys.
Billy stops by the Christmas tree lot multiple times with new offers, urging Walden to sell, but Walden repeatedly shoos him away, saying he will not sell for less than $1.4 billion. Just as "Sam" closes a $40 deal with a Christmas tree customer, Walden and Billy close a deal to sell their electronic suitcase for $1.2 billion. After Kate's sewing machine breaks, Walden uses his Christmas tree commissions to buy her a new one for Christmas. Walden feels much happier with Kate in his new blue collar world. Meanwhile, Alan plans to spend Christmas Eve with Evelyn, Jake and Lyndsey, but none of them are able to come. Jake plans to spend Christmas with his girlfriend and her children, Evelyn is having plastic surgery, and Lyndsey has to go to Cleveland to help her grandmother, who broke her hip. Alan begins to feel alone and miserable, until a less-than-willing Berta comes to seemingly comfort him.
ON VODKA, ON SODA, ON BLENDER ON MIXER!
GUEST CAST
Diane Farr (Roswell)
Aly Michalka (Izombie)
Paula Marshall (Veronica Mars)
 Jenny hooks up with a bikini wax technician named Brooke who catches Jenny's heart, but gives her a fake phone number. Walden visits Brooke's salon to get a painful wax, but gets Brooke to promise to call Jenny. Alan is still with Paula who introduces Alan to her former wife of 20 years, Rachel. Rachel starts coming onto Alan who initially refuses. After Alan finds out that he and Paula are not exclusive, he unknowingly takes Rachel to the same bar that Paula visits every Friday. Paula is pissed off to see them both together. They discover that they still have feelings for each other and that Rachel was going out with Alan only to make her jealous and then they get back together in a lesbian relationship.
The night of their date Jenny gets bombed and then Brooke shows up bombed because she usually never does second dates and passes out on the couch with Jenny.
Walden narrates that Alan is sleeping with lesbian dreams of Paula and Rachel. Jenny and Brooke slept together. While he and Berta are busy getting stoned.
FAMILY, BUBLE, DEEP-FRIED TURKEY
GUEST CAST
Richard Riehle (Halloween II)
Kari Klinkenborg (Castle)
It's Christmas time and Rose comes over and offers her help, but is turned down. Louis doesn't believe in Santa as he never got presents, so Walden and Alan want to prove him Santa exists by hiring a Santa who will be captured on video. Unfortunately, while Alan and Walden are in the garage putting together Louis' new bike, sex between Evelyn and the fake Santa leads to a trip to the emergency room for the latter. Sometime later, Louis can't sleep, and asks Walden and Alan to stay with him; the two wind up falling asleep. In the morning, however, they discover all the presents under the tree and a video of Santa. Walden realizes Rose was responsible when he sees "Santa" leaping over the balcony railing. Rose tells Walden she really does want to be friends with him, and surprises Walden with a Christmas gift – a cuckoo clock (that, unknown to Walden and Alan, is actually a spy cam).
A show lasting 12 years was bound to end up a few Christmas episodes 7 specials are all good I especially love Santa's village of the Damned. Josie Davis was a brilliant guest star playing a woman who still believe sin Santa and is obsessed with making every perfect for Santa. the second Walnuts and Demoral is just a brilliantly well plotted episode with several neat twists and turns. As you watch these specials you get see how much the show changed throughout the years especially when you get to the last 4 seasons, the years without Charlie, but even those xmas specials are just as good. All seven are worth watching over Christmas a good 3hours + to keep you entertained.