CAST
Eliza Dushku (Buffy)
Zach Galifanakis (The Hangover)
Shawn Reeves (Dandelion)
Jason Preistley (Haven)
GUEST CAST
Liz Vassey (Two and a Half Men)
Cotter Smith (Alias)
Eric Christian Olsen (Not Another Teen Movie)
Lizzy Caplan (Mean Girls)
Parry Shen (The New Guy)
Michael Reilly Burke (Mars Attacks)
Sue Cremin (The Tao of Steve)
Nicole Muñoz (Van Hesling)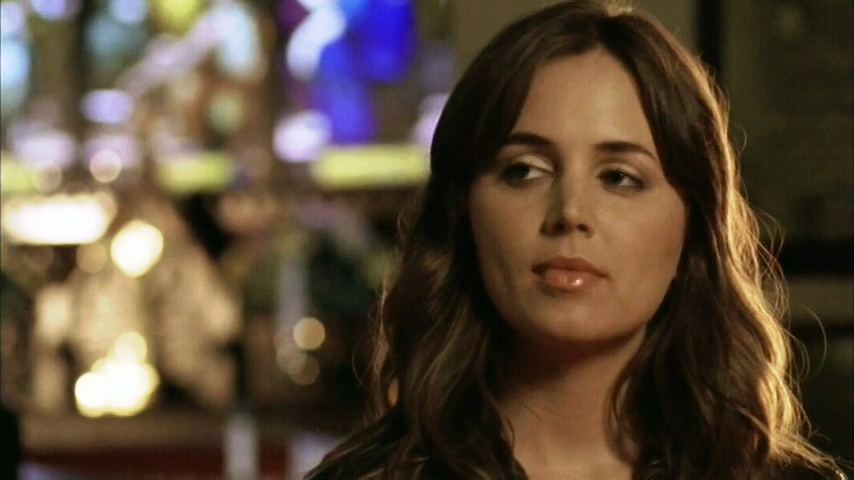 Befitting the last episode of the formula-breaking second season, "Twas the Night Before Christmas … Again" once again threw Tru into an unknown situation with her case of the week. On the one hand, this further engaged the audience and kept them guessing what would happen because of this new set of circumstances, but on the other hand, it also lowered the stakes for this particular case and created a more mellow episode than what we have grown accustomed to. The series did not go out with a bang, but it did go out on an intriguing note. Overall, this makeshift series finale partially satisfied the audience while still leaving room to imagine what happened next. must give props to the writers for coming up with six consecutive stories this short season that each took a different approach to the victim needing help. Each came with their additional challenges, and each still felt organic to the individual victim. My major note of praise is that these diversions from the first season did not feel like a ploy to attract more audience members or simply shock the already committed audience, but rather they were a natural progression of Tru's gift.
Other than the unique nature of the case and watching Tru and Jack team up, the story itself was rather lackluster. The murder of a mistress and her lover being suspected of the crime is a story we have seen time and time again across different procedurals, as well as a child taking revenge against his or her parent's murderer. At least this episode added another layer of mystery by having both of these common stories piled on top of one another. Although this episode did a sufficient job diverting attention from the true murderer in both cases, the reveals were still not as shocking or unique as they could have been. One wonderful, long-awaited aspect that this episode delved into was mending the relationship between Tru and Jack. While they should not be friends because of their opposite jobs, they should have a mutual respect and understanding that the other is simply trying to carry out that job which he/she has been chosen for. This episode provided minor indications that they were headed in this direction. Tru came closer to understanding that Jack is not the monster she claimed he originally was, and Jack sees that Tru does more good than just saving the victim. Whether it was because of their team up or the holiday season, the episode's conclusion especially allowed these two rivals to end on a peaceful note. "Twas the Night Before Christmas … Again" concluded Tru Calling in a calm way. It did not leave off on a massive cliffhanger with any character in mortal danger. For the first time in a while, Tru was happy with her friends, family, and love life, while Harrison was making a solid name for himself. Davis was also happy, though it was a false happiness on his girlfriend's part. Despite these positives, it did leave the audience with several lingering questions, especially regarding the future of Tru's secret. Having this episode rewind before Harrison could tell Tru about their father's involvement with Jack gave us a glimpse of a potential future storyline, but ripped it away with no indication if it would in fact come true later down the line.
This episode ended Tru Calling, it's a decent episode but as a series finale it was lacking but that was not the fault of the writers as the season was meant to have 13 episodes not 6 ,but fox pulled the plug.