MAIN CAST
Seth MacFarlane (Flashforward)
Alex Borstein (Big Bad Beetleborgs)
Seth Green (Idle Hands)
Mila Kunis (Ted)
Mike Henry (The Cleveland Show)
Patrick Warburton (Men In Black 2)
Adam West (Batman 60s)
Jennifer Tilly (Bride of Chucky)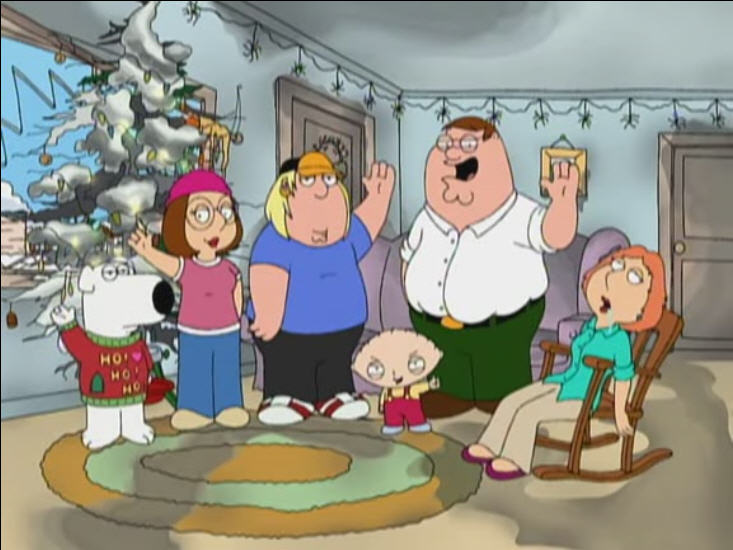 Lois signs Stewie up to star as baby Jesus in a nativity scene at the Quahog Christmas pageant. Stewie plays along in hopes of pleasing Santa, whom he believes is omnipotent and thereby can supply him with plutonium. After Lois repeatedly reminds Peter to donate a present to charity, he mistakenly donates all of the family's Christmas gifts to a needy kids' charity. Lois seems unfazed by the mistake, but insists that the entire family shop for new presents at the mall. Peter reluctantly agrees, although he only wants to watch KISS Saves Santa on television; Brian stays behind to keep an eye on the turkey cooking in the oven. While at the mall, Peter finds a pair of barrettes that Meg wanted and ends up chasing down an old lady to a pet fish store called "Age of Aquariums", where the old lady throws fish food on him so that all the fish jump onto him to feed while the old lady escapes.
Meanwhile at home, an ember shoots onto the family rug from the fireplace. While Brian tries to deal with this crisis, the overcooked turkey begins to burn. Brian finds a fire extinguisher, but to his dismay, it is merely a novelty item filled with plastic snakes, which, upon being released into the fire, promptly explode and make it worse. After using the real fire extinguisher, he slips on the foam from it and the TV falls on top of him. Afterwards the interior of the house is destroyed; Brian escapes, but with his paws burnt hairless. Amazingly, Lois maintains a cheerful attitude, saying that they just need to clean up a bit. However, when Meg tells her that they are out of paper towels, Lois suffers a nervous breakdown and screams at the family about how difficult it is to ensure that Christmas happens without a hitch, then runs from the ruined house on a rampage (Meg then ironically finds some paper towels mere seconds after Lois' rampage).
Lois storms through town, berating people for their Christmas optimism. When she reaches town square, she climbs the Christmas tree there and grabs the ornamental star on top, bent on destroying it. The rest of the family arrives and Stewie, eager to perform a good deed to earn Santa's grace, performs an extemporaneous monologue about Jesus and the meaning of Christmas. Lois, watching Stewie, regains her sanity, but Peter, who thinks Lois isn't getting the message, allows the police to shoot her with a tranquilizer dart, just after she puts the star back on the tree. The next morning at Christmas, the family opens their presents: Stewie gets his plutonium; Peter gets a week's vacation, a new VCR, and his own copy of Kiss Saves Santa; and Brian gets at what first appears to be a bottle of wine, but actually turns out to be a book. Lois is heavily sedated, sitting limply in a rocking chair and drooling. In the closing scene, the Griffins wish everyone a Merry Christmas (though Lois is still too numb to speak clearly).
The first time we got to see the Griffins celebrate Christmas and its become a classic. loved Stewie's quote about Jeffrey Hunt. The Kiss saves Santa bits were quite fun too. all in all a great episode to start the holiday season.
ROAD TO THE NORTH POLE
GUEST CAST
Drew Barrymore (Poison Ivy)
David Boreanaz (Bones)
Carrie Fisher (Star Wars)
Bruce McGill (No Ordinary Family)
Ron MacFarlane
Brian takes Stewie to the mall, only to get a rude brush-off from Santa. As a result, Stewie vows to kill Santa for blowing him off and forces Brian to take him to the North Pole. Attempting to trick Stewie, he brings him to a Santa's Village amusement park. Soon discovering the charade, Stewie threatens to shoot Brian if he does not take him to the real North Pole. Stewie hitches a ride with a trucker and so Brian follows him all the way to Canada. On the way, Stewie accidentally causes a traffic pileup by discharging a flare pistol in the cab of the truck, which catches fire and explodes. Crashing his car in a chain reaction, Brian becomes angry and tells Stewie that Santa does not exist. Stewie becomes frustrated and continues to attempt to hitchhike. The pair then encounter a Canadian who gives them his snowmobile.
Continuing north, they soon run out of gas, but receive help from the Aurora Boreanaz, who instructs them to stay at a nearby cabin. The two survive the night in the cabin and set out on foot the next morning. They finally make it to Santa's workshop, only to find a dark, gloomy factory in a dreary, polluted, lifeless wasteland, Santa a sickly and somewhat psychopathic old man, the elves horribly inbred and mutated from Santa's attempt to keep up with the increasing toy demands year after year, and the reindeer carnivorous feral monsters that eat the elves who wandered out into the snow to die of exhaustion. Santa suddenly collapses and is too sick to deliver the presents. Brian and Stewie agree to do it, only to waste time at their first stop and leave, after being discovered by a family, whom they later attack, The reindeer eat each other.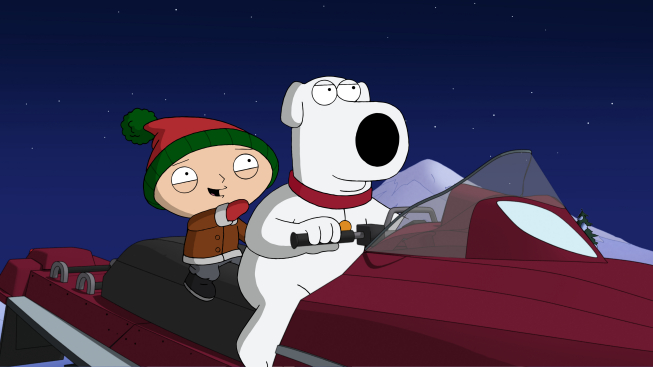 On Christmas morning, everybody wakes up to find no presents under their trees. They turn on the news, which is broadcasting the same story. Brian and Stewie appear on the broadcast and bring the dying Santa out in a wheelchair, explaining that humanity's greed is killing him and if they don't shorten their demands to one Christmas present a year, they may have to give up Christmas altogether. Chastened, everyone agrees and, one year later, Santa has recovered, the workshop is once again a lively, colorful Christmassy cottage and the elves and reindeer are all rejuvenated.
Road to the North Pole is an amazing feature length exmas special, making it a Road to episode also makes it memorable. the Musical numbers are excellent and well written. The episode also has a heartwarming message come episodes end.
JESUS, MARY AND JOSEPH
GUEST CAST
Cleo King (Mik & Molly)
Bruce McGill (No Ordinary Family)
Ryan Reynolds (Deadpool)
As the Griffins prepare for Christmas by decorating their tree, Meg finds an ornament of the manger and Peter tells the story of Christmas. Joseph (played by Peter) and his friend Robby (played by Brian) spot Mary (played by Lois) in their village. Joseph introduces himself to her. They have many dates, but Joseph is annoyed by Mary's reluctance to have sex. Mary claims that she is destined for something special. Later, Mary tells Joseph that she has been visited by an angel (played by Bruce) who told her that God has blessed her with his child. Joseph accepts this. Taking a break from the story, Peter and the family call their Aunt Helen to wish her a merry Christmas. The call does not go well and Peter returns to the story.
On the way to Bethlehem on a mule (played by Meg), Joseph is skeptical about the baby. Elsewhere, three wise men (played by Glenn Quagmire, Cleveland Brown, and Joe Swanson) are inspired to travel to Bethlehem themselves. They stop at the palace of King Herod (played by Carter Pewterschmidt) for water, and talk of their plans to see the Messiah. Herod decides to protect his title and win the love of Jodie Foster (a reference to John Hinckley, Jr.) by killing the child. Mary and Joseph arrive at an inn, but the manager (played by Mort Goldman) denies them a room. Mary goes into labor, and the manager offers them space in a stable. Mary ponders what to call the new child. The angel takes her list of possible names to God, who is inspired to name the child "Jesus" after something the angel said.
The wise men, who are following a light in the sky, argue about the nature of the light; they think it might be an airplane. A doctor tells them of an earlier messiah who was not successful. The wise men arrive with their gifts as the savior is born. A drummer boy (played by Chris) joins them. King Herod arrives with his army and demands the child. Jesus (played by Stewie) transforms the manger into a fighter plane and destroys Herod's troops with it. After Peter finishes his story, a pregnant couple arrives at the door. They explain that their car broke down and they need help, but Peter, thinking that they're faking, gives them the cold shoulder and threatens to call the police. When they press their request for help, Peter goes to get his baseball bat.
The Family Guy's retelling of the Jesus Myth. Family Guy makes the myth far more entertaining than other adaptations. Not as good as Road To The North Pole, but then nothing could beat that one.
The Griffin family goes to Quahog Mall for the annual Christmas Carnival, but they find the festivities have been cancelled, causing Stewie to go on a destructive rampage. Vinny learns that Carter, Lois's father, canceled the carnival. Peter confronts Carter who tells him that it was cancelled because he hates Christmas. Peter vows to help Carter find his Christmas spirit. Peter tries a fake story letter, making Carter drink egg nog in a hotel room, and having him masturbate, to no effect. When Peter accuses Carter of acting Jewish, Carter reverses his position on the carnival.
Despite being re-established at the Quahog Mall, the Christmas Carnival fails to raise Stewie's spirits. When the Mall Santa Claus asks Stewie what he wants for Christmas, Stewie realizes he wants Brian back. Vinny pretends to be Brian, acting like an intellectual and a writer, but fails to cheer up Stewie. Trying to raise his spirits, Vinny and Stewie return to the Quahog Mall, where Stewie spots his past self time travelling to purchase a gift. Remembering the time travel occurred prior to Brian's death, Stewie realizes he can use Past Stewie's return pad to save Brian. Vinny appeals to Past Stewie's vanity to obtain his backpack, and brings it to Present Stewie. Stewie says goodbye to Vinny, whom he and the family will no longer have met if Brian lives. Stewie arrives in the past, saving Brian from being hit by the car. After explaining the situation to Brian, Stewie sends the return pad back to his past self in order to prevent a temporal paradox. Now unable to return and having altered his past, Stewie fades from existence as Brian thanks him for his actions. Unaware of what occurred, Past Stewie comes out of the house and wonders who Brian was talking to.
In the present on Christmas Day, Brian is alive and well. Grateful to him for saving his life, Brian thanks Stewie, who remains oblivious to his averted death, as well as his alternate self's actions.
One of the most memorable Christmas episodes as it b rings back the beloved character Brian,  making Stewie's Christmas wish come true.
THE 2,000 YEAR OLD VIRGIN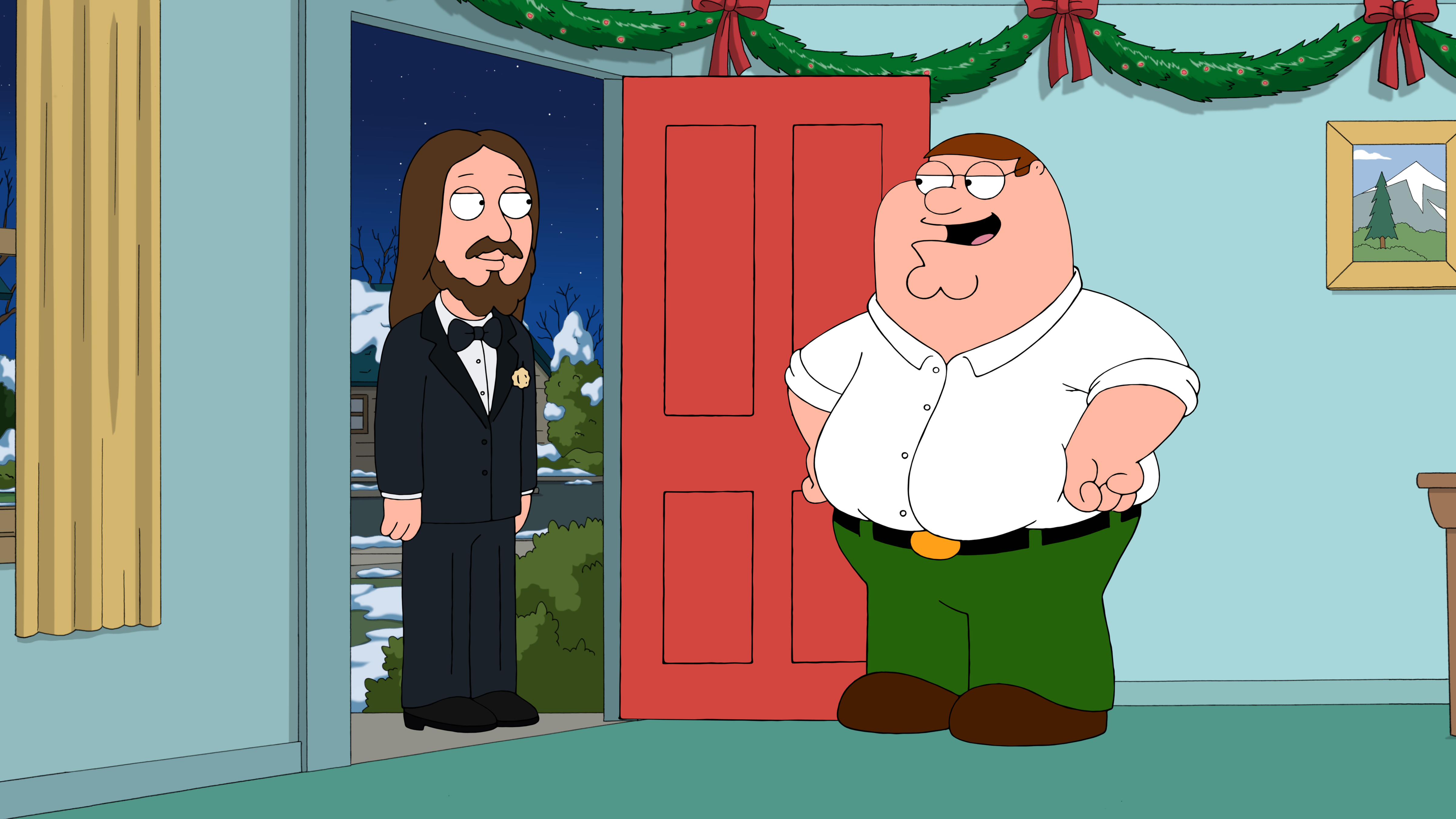 GUEST CAST
Ana Gasteyer (Mean Girls)
Lucas Grabeel (Smallville)
Emily Osment (Mom)
On a trip to the Quahog Mall before Christmas, Peter and Lois bump into Jesus and discover that he is still hanging around Quahog due to not being entirely comfortable dealing with his own home life with God. Jesus invites Peter over to his place. However, since it is a depressing bachelor apartment, Peter invites him out with Glenn Quagmire, Cleveland Brown, and Joe Swanson to have a drink. At the Drunken Clam, they start to plan a birthday party and Jesus tells them that he has never had sex: to make his birthday special, they promise to help him lose his virginity. Their attempts to achieve this fail, upsetting Peter. Lois tries to find out what Jesus likes, but her nice manners cause him to want to sleep with her. Approaching Peter about his issue to help him, Peter is shocked but agrees to help when Jesus promises him an expensive massage chair in return for sleeping with Lois. He lets Lois know about Jesus' interest in her and she reluctantly agrees.
As they head out together, Peter enjoys his chair at the Drunken Clam. During this time, Peter has a fantasy of Lois and Jesus having sex and has second thoughts. These are confirmed when other members of the bar confirm that Jesus is not a virgin, but pulls this annual stunt every Christmas to have sex with people's wives. Peter tries multiple ways to get to their liaison to stop things. Peter rushes to the room to find that no cheating took place as Lois decided that their marriage was too good. Jesus applauds their "lesson", making the excuse that he concocted this charade as a tale of resisting temptation, and leaves them to celebrate their Christmas.On Christmas Day, Rupert gives Stewie a Joni Mitchell CD for Christmas, disappointing him because Stewie had observed Rupert picking out a heart-shaped necklace. As Stewie tearfully listens to "Both Sides, Now" on the CD, he wonders whom the necklace was for, and it is revealed to be for Mayor Adam West.
A great Christmas episode that answers the question as to weather or not Jesus is a Virgin. Seeing Adam West as a crossdresser was quite disturbing thou.