CAST
Gage Golightly (The Asylum)
Matthew Daddario (Delivery Man)
Samuel Davis (Machete Kills)
Nadine Crocker (Deadgirl)
Dustin Ingram (Sky High)
Randy Schulman (Wild)
George Griffith (Insecurity)
Louise Linton (The Echo)
Teresa Decher (The Waiting List)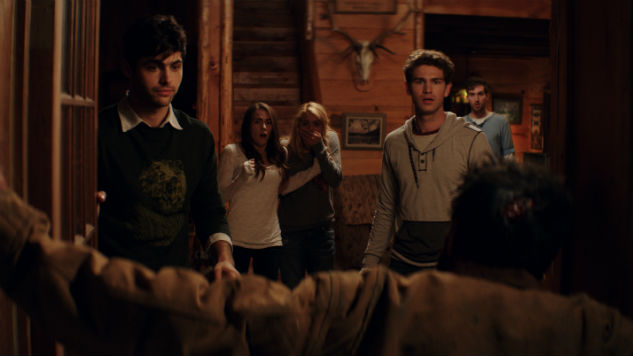 While not a shot-for-shot remake (the angles and cinematography are different), this remake uses the same script as the 2002 original with slight alterations. Despite this seemingly pointless exercise, I was prepared to give it a chance and not hate it for failing to aspire to anything original. I'll go on the record saying I -wanted- to like this film, despite some unease after watching the trailer. I'm sad to say it fails to live up to the original in nearly every regard.


What sets this remake apart from it's 2002 predecessor is the lack of any chemistry between the actors. It's not that any one particular actor is singularly bad, it's that none of them feel like they're in the same movie. It literally feels as if they pulled random strangers off the streets and asked them to make-believe they were friends for a weekend. I simply couldn't buy that any of them would take off for a weekend together, much less have known one another for years, as is the case for at least two of the characters. They feel like strangers and it doesn't help that all of them seem to be acting as if they're in completely different films–the disconnect is that apparent. It's upsetting that, despite having many of the same scenes and lines as their original characters, everyone in the cast feels so disconnected from the script that they utterly fail to bring any of their characters to life. They're the ghosts of what we saw in the original film, the acting completely lifeless. It's as if none of them wanted to be there.


Roth's trademark humor is also excised in favor of a few random throwaway jokes, delivered in such a deadpan tone by the actors that each one falls flat on its face. This time around, the director goes for a more serious approach to the material (a mistake, I believe) and attempts to paint the film as a tragedy. Nothing attempts to sell this more than the overly-ambitious music score, which is so epic at times that it feels like it belongs in a big-scale war movie. The composer feels the need to John Williams this thing up at times, which just leaves the viewer scratching their heads at why such a big spectacle of a score is being utilized for a film that largely takes place in a single cabin.
As if to keep from being too familiar, the deaths are altered just enough to qualify as being original, as long as you don't count on being surprised. Practically everything is telegraphed a mile in advance thanks in no small part to the reliance on the original script so that even the prospect of new deaths isn't enough to warrant much excitement. Perhaps the biggest blunder is the recasting of Deputy Winston as a woman, played by an actress with zero comedic timing (although this doesn't stop her from being handed humorous dialogue). The character is a painful reminder that no one invested in this remake knows how to bring life to their character.
The entire film is permeated with a depressing lack of passion on or off camera. It's as if no one wanted to be doing this. Roth's Original  film, while certainly underrated by many, at least felt as if it was made by someone who cares. This is a lifeless remake.