CAST
Johnny Galecki (Vanilla Sky)
Jim Parsons (The Muppets)
Kaley Cuoco (Hop)
Simon Helberg (Dr. Horrible)
Kunal Nayyar (Dr. Cabbie)
Melissa Rauch (The Bronze)
Kevin Sussman (Ugly Betty)
Mayim Bialik (Blossom)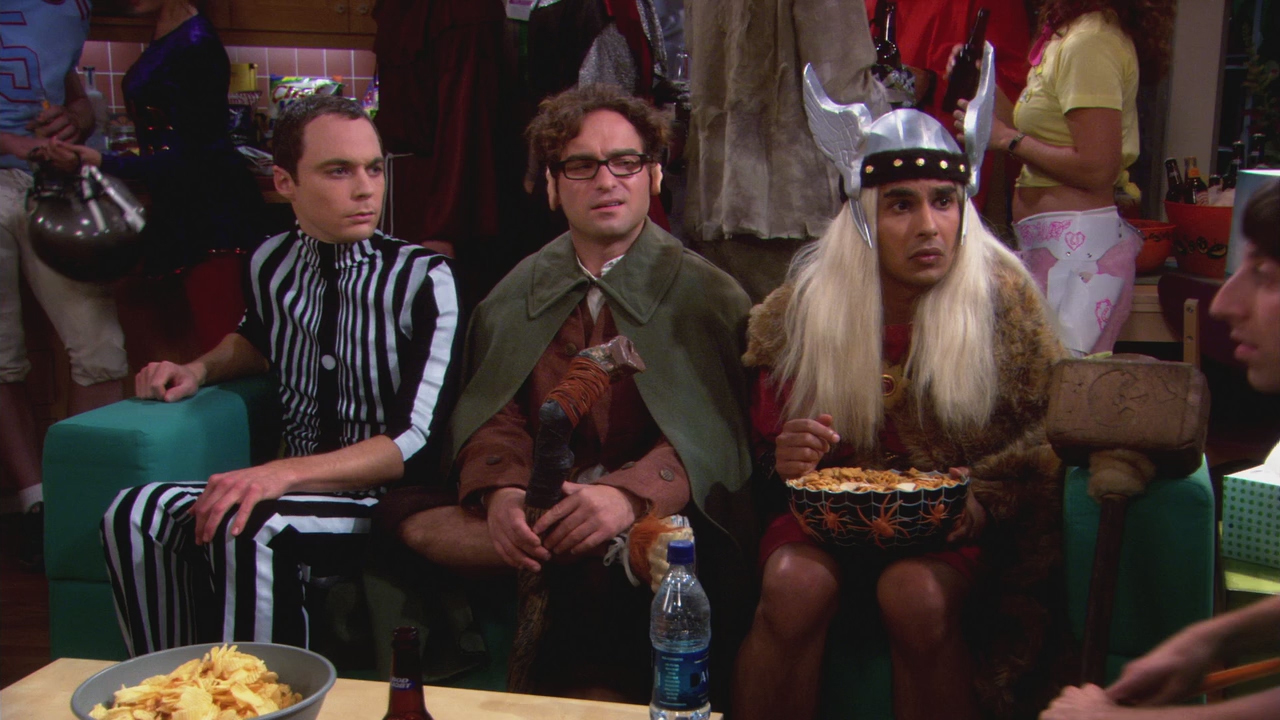 GUEST CAST
Brian Patrick Wade (Agents of SHIELD)
Rachel Cannon (Fresh Off The Boat)
Aarti Mann (Heroes)
Courtney Ford (Revenge)
Buzz Aldrin (Transformers 3)
THE MIDDLE-EARTH PARADIGM
After the gang gets their butts kicked (from 13-year-olds) at paintball, they meet Penny who invites them to her Halloween party. As the party is costumed, the gang is extremely excited. Initially, all four of them dress up as the Flash, so they all agree to change. Leonard calls for Frodo who is everyone's second choice. Leonard asks Sheldon not to embarrass him at the party as he feels this party could be a milestone in his relationship with Penny interacting with her social group.The gang arrives at Penny's apartment on time while everyone else arrives much later. Leonard is Frodo from Lord of the Rings, Sheldon is the Doppler Effect (which no one understands), Howard is Robin Hood (though everybody thinks he's Peter Pan) and Raj is the Norse God Thor (not the Marvel Comics character). After the party starts, the guys seem left out just sitting on Penny's couch. Howard spots a girl and manages to creep her out. As Leonard wants to talk to Penny's friends, but is afraid to do so, Sheldon becomes his wingman. A girl named Cheryl approaches Raj and talks to him asking him how "wasted" she is, but he still is unable to respond though does react with her.
Suddenly, Penny's ex-boyfriend Kurt arrives at the party. Penny greets him warmly. As they both want Penny, Leonard decides to confront Kurt. After saying Kurt is less evolved than himself and Kurt seems to understand Leonard, Kurt lifts Leonard up intimidatingly. Penny tells Kurt to stop and says that he was just having fun with his little buddy. Leonard is a little shaken up so he and Sheldon leave the party.
Later, Penny feels bad about what happened so she stops by at Leonard's apartment. She gets emotional and claims that she invited Kurt because he was all apologetic, but she can't go back to her party and wonders what is wrong with her. Leonard says that there is nothing wrong and that she is perfect. Penny realizes he feels that way and then kisses him. He stops her advances because she had been drinking. Then Penny tells him that he's really smart and Leonard sarcastically replies that he's a frickin' genius (for stopping Penny). Penny wonders why all guys couldn't be like him. Leonard replies that if all guys were like him, the world wouldn't survive. Despite that, when she leaves she kisses him again. This time, Kurt saw them and Leonard stands his ground saying, "that's right; you saw what you saw," and then quickly shuts and locks the door behind him. Later, Howard asks if Sheldon has seen Raj; Sheldon answers he hasn't.
Raj is seen having just finished having sex with Cheryl (the girl from the party), despite having not said a word the entire time he's been with her. Cheryl describes Raj as a good listener.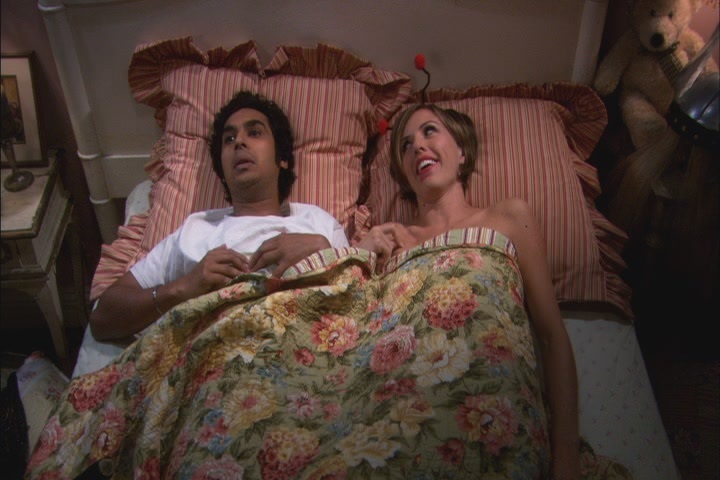 For a first attempt at a Halloween episode, it was fun, a few character developments too which is always nice.
THE GOOD GUY FLUCTUATION
Sheldon is working late in his office thoroughly frustrated since it's after nine o'clock. After a sudden blackout, Sheldon finds "blood" dripping down the walls. Then he is scared by a phosphorus-covered skeleton on a zip line. Sheldon is not impressed as Howard and Raj join him in his office. Sheldon turns around to find Leonard in a Balok mask from Star Trek causing Sheldon to faint.
At the comic book store, while Sheldon discusses his Texas background meaning that there will be revenge. A good looking girl wanders into the store which Stuart tries to talk to but can't. She picks up a Hellboy comic book that Leonard was purchasing and then connects with her. (You're cute.) She offers to make a trade for that one and gives him her phone number. Howard and Stuart were impressed. Stuart takes his picture for the store's "Wall of Heroes" display.
Sheldon booby traps the mailbox on Leonard, but Leonard turns the prank around and gets Sheldon with it. Sheldon might be from Texas; however, Leonard is from New Jersey.
Leonard gets together with Alice, where he shows her a drawing Jim Lee drew of him at Comic-Con. Alice shows him a comic she drew based on her life including her having sex with half of a Chewbacca. She then kisses him and they start to make out, while she offers to trade Leonard her comic for the Hellboy comic. Leonard then offers her his car.
Leonard admires the artwork of an amateur comic book artist named Alice. Sheldon's next target: Raj where he hides a snake in Raj's desk. Raj opens it and sees the cute snake and takes him to the biology lab to get it some mice.
Leonard goes over to talk to Penny about his  personal relationship dilemma. He wants both Priya and Alice. He wants be one of those guys who goes sneaks around and sleeps with more than one woman. Penny tells him that he is looking for a way to sleep with both women and have everybody be happy about it. That's what he's looking for.  Sheldon then approaches Howard with a joy buzzer and wants to shake his hand for various reasons. He hears Bernadette who now is sounding more like Howard's mother. Sheldon shocks Howard who drops to the floor and collapses due to his heart condition. Sheldon freaks out and Bernadette insists that he has to jab a needle of adrenaline into his heart because she isn't strong enough. Sheldon does it and then Howard wakes up because they pranked him. Sheldon can't believe he got duped and face palms himself getting stung by his own buzzer.
After consulting with Sheldon about his dilemma, Leonard actually had good advice from Nietzsche, morality is the fiction created by the weak masses to hold back the strongest in society. Leonard has a formal date with Alice. As they are heading toward sex, Leonard's conscience gets the better of him. He tells Alice that he has a girlfriend which seriously annoys Alice who calls him just another jerk. Leonard explains that he is a good guy and wants to just be friends. She throws him out of the apartment. As Leonard walks down the hall, he calls himself an idiot. Leonard confesses the incident to Priya over videoconference, and she instantly forgives him. Leonard first thinks she is wonderful and then asks why. She confesses to having slept with an ex-boyfriend. Leonard is very unhappy. Priya explains that it isn't a contest. Leonard disagrees and tells her that she won ending the call. And then Leonard gets the crap scared out of him by Sheldon hiding inside the couch jumping out dressed as a zombie. (Bazinga, punk! Now we're even!)
This was very enjoyable. The two plots were set up early on, both were clear and easy to get into with clear motivations for all involved. The Sheldon story played to his strengths. His inability to be subtle and hide his real motives make pranks ideal comedy.. Leonard's story was really good. It was a simple moral dilemma that anyone and particularly guys could relate to.
THE HOLOGRAPHIC EXCITATION
The episode starts with Howard presenting Stuart with his official NASA portrait (autographed, of course), [though Sheldon mentioned that he also gave one to the dry cleaners and Walgreen's drug store]. Leonard and Sheldon hypothesize that Howard will connect his trip into outer space with any subject, and decide to test their theory. Leonard succeeds immediately talking about dinner options; Sheldon initially appears to strike out when he brings up lemons, but Howard meets their expectations moments later. Stuart decides to organize a Halloween party at his comic book store, so Raj decides to become the party planner.
Amy and Bernadette are attending ladies' night at the Cheesecake Factory bar while Penny serves them. Amy claims that life doesn't get any better than right now, to which Penny says to herself that she hopes it does gets better. Leonard texts Penny about going out costume shopping. Penny confides in the girls that she's going to the comic book store Halloween party even though the guys that hang around there can be creepy.
Amy and Bernadette then asks, like their better halves? Bernadette also says that Leonard does things that he doesn't like to make her happy and that maybe she should take more interest in his work. Penny says that that is true but she doesn't understand what he does, and their explanations about experimental physics don't help. Later, Amy and Sheldon are discussing their Halloween costume ideas and Sheldon surprises Amy by agreeing to go in a couple's costume because that is one of the great advantages of being in a relationship. Amy wants to go as something like Romeo and Juliet; however, Sheldon's ideas for great costumes are R2-D2 and C-3PO or Hewlett and Packard. Amy is unmoved by his choices, and states that they should at least compromise. Penny visits Leonard's Lab and he shows her some of his "high techy techy" equipment, including a system that scans objects and generates rotating holograms. First there is a floating pencil, which changes into a rotating Earth and then a galaxy. Leonard muses about some scientists who think that the whole universe is one large hologram. Penny remarks that she forgets how smart he really is, gets turned on, locks the door, and they start to fool around on the lab table.
 In the cafeteria, Raj is discussing his Halloween themed party foods and Howard keeps talking about his time in space. Leonard wanders in with his hair messed up and a smile on his face. Asked about what is going on and he replies "nothing." Howard says that he knows where there is a lot of nothing is and the three of the guys say "space" simultaneously. Howard and Bernadette had just crawled into bed and started getting romantic, but after six space metaphors, Bernadette stops to talk. She tells him that people are getting tired of hearing about it. Howard complains that he can't talk about the greatest adventure of his life, and she suggests that he wait until they bring it up.
Penny is again visiting Leonard's lab as he demonstrates a floating iron ball levitated by a large magnetic force. Penny thinks it's very neat until Leonard mentions that sometimes he feels like Magneto from the X-Men. Penny replies now it seems less neat, until Leonard mentions he's wearing the black underwear she bought him. "There ya go," she replies, and starts to kiss him again. In the cafeteria, Raj is getting a Doctor Who TARDIS police booth for the party which excites Sheldon, while Howard is being very quiet and noncommittal. He finds that Sheldon and Raj agree that he was talking too much about space. Leonard enters again, all messed up and very happy. Amy and Sheldon, on Amy's proviso that the both of them should compromise, are still discussing their costumes. Sheldon suggests salt and pepper, but Amy has had a bad experience with both. She claims that there are three things that say that she doesn't have a made-up boyfriend: couples costumes, hickies, and sex tapes. She asks Sheldon to pick one, to which he asks what a hickey is.
At Howard and Bernadette's apartment, they are both dressed up as Smurfs. Howard isn't that excited to go since all his friends think he is boring. Bernadette asks if he is feeling blue, laughing that that's like the funniest thing she ever said. She then pushes him out the door since she just spent three hours painting herself blue and doesn't want people to think she is a very short alien from Avatar. At the Halloween party, Penny dresses as a sexy cop and Leonard goes as Albert Einstein. Bernadette mistakes her for a slutty cop, but Penny explains that that costume only came with a skirt and two badges. Leonard says (in a German accent) that later she was going to arrest him for traveling faster than the speed of light. Penny reminds him about their no-accent rule, to which he replies, "Sorry, officer." Stuart as Willy Wonka tries to pick up a girl, claiming to have come up with all the party food and decorations, much to Raj's disgust. Raj is Indian Jones, the love child of Indiana Jones. Amy and Sheldon show up as "Raggedy C-3PO" and Raggedy Ann due to "a compromise". Howard gets upset about not being about to talk about his space adventures because, otherwise, he is just plain old Howard Wolowitz. Bernadette reminds him that he is the best guy she knows and that she married him "on purpose." Penny and Leonard stumble out of the TARDIS all disheveled and Penny explains that there is nothing to see, only sexy police business.
At the end, Howard gets a YouTube clip from Raj showing Buzz Aldrin, the second man on the moon, handing out Halloween candy to kids mentioning his trip to space to every kid. Howard tells Bernadette that he now understands everybody's objections to his boasting.
It was half an hour of entertainment that satisfied.  I liked that we got four separate stories built around Halloween and an attempt to tell us something about each couple through them. A classic episode this was pretty entertaining.