CAST
Katy Woodruff (The Gallows Tree)
Tyler Sedustine (Jarhead)
Tiffany Shepis (Nightmare Man)
Tracy (Katy Woodruff) is a camp counselor working to close down Camp Placid Pines for the winter. Also there is counselors Sofie (Amanda Magarian), Mike (Kelly Gunning), Angela (Tiffany Shepis), Elvis (Raymond Novarro Smith), Ryan (Tom Mullen), James (Lane Anderson) and boss Rick (Arthur Benjamin). At night, the counselors are having a bonfire when Angela suggests a game of Bloody Murder. Upset, Tracy leaves with Mike, while Sofie reveals Tracy's brother, Jason (Tyler Sedustine), disappeared at the camp years previously, believed to be dead at the hands of the local myth Trevor Moorehouse. While taking Tracy back to her cabin, Mike upsets her, so he returns to the bonfire as the others are telling the story of Trevor Moorehouse, who was supposedly in an accident at the camp years ago and was put in a mental hospital. Continuing on to a game of bloody murder, James is chosen to be it. He is blindfolded as the others run through the forest to hide. Soon after, Mike and Ryan dress up as Trevor Moorehouse and scare James, causing a fight to break out. Everyone returns to their cabins apart from James, who remains at the fire. James is then confronted by the real Trevor Moorehouse, who chops off his legs with a machete, before crushing his head with a rock.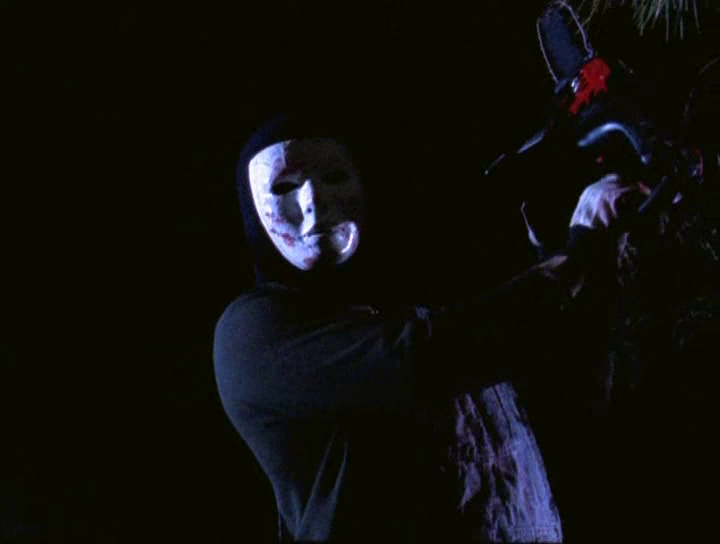 The next morning, Tracy and Mike make up, before the counselors meet in the mess hall for breakfast with an angry Rick who tells the group that James left a note saying he was leaving the camp. Camp cook, Juanita (Virginia Mendoza) becomes scared, thinking Trevor Moorehouse murdered James, and so decides she will leave the camp later that day. As the counselors set about their tasks, Sofie and Elvis contemplate the existence of Trevor Moorehouse, while Angela and Ryan take a shower together. Ryan gets a message from Rick on his pager that he wants to see him, so he leaves only to find a grave dug in the forest. Ryan is soon shot in the neck with an arrow, before Trevor Moorehouse buries him. Meanwhile, Tracy spots Trevor Moorehouse walking through the forest, and warns Mike, Sofie and Elvis. They call in Sheriff Miller (John Colton), who doesn't believe Tracy is telling the truth. As the day comes to an end, Tracy and Mike fall out once more, before Rick tells the group that Ryan paged him saying he had quit. Angela, upset, wanders off herself, while Tracy begins to believe something strange is happening at the camp. Tracy, Sofie and Elvis decide to find Mike and Angela and find out what is going on.
Mike comforts Angela and the pair have sex. Elvis sees them, and so returns to Tracy and Sofie telling them he had not found them. Mike realises his clothes are missing, before Angela discovers Ryan's body half buried in the ground. Mike leaves as he doesn't want Tracy knowing about him and Angela, as the others turn up. Tracy, Sofie, Elvis and Angela are taken back to camp by Sheriff Miller, who tells them they can not leave the camp as they are suspects in the death of Ryan. Sheriff Miller then leaves to find Rick and Mike, while two deputies, Deputy Tim (Carl Strecker) and Deputy Carver (Benjamin Schneider), take Tracy and Elvis to the showers as they are covered in mud. The deputies are knocked unconscious, while Elvis is stabbed to death and has his throat slit by Trevor Moorehouse. Sheriff Miller returns with Rick, and suspicion soon falls on a missing Mike, as a mask was found in his cabin.
The following day, Tracy finds a camcorder set up outside Mike's cabin. She plays the footage, which shows Mike entering the cabin, before Trevor Moorehouse emerges moments after. Mike then appears to Tracy, who screams for help. Mike flees, but is caught by the deputies and taken to prison. At night, Sofie comforts Tracy, before Tracy has a dream that Trevor Moorehouse reveals himself to be Rick. In the morning, Tracy, Sofie and Angela being to have doubts that Mike is the true killer, and decide to recover Ryan and Rick's pagers to see if Rick was telling the truth about the messages before Ryan's disappearance. Meanwhile, at the police station, Mike tells Sheriff Miller that he is innocent and someone has altered the recordings from the camcorder. Back at camp, Tracy checks Rick's pager while he is in the shower, and finds that there are no pages from Ryan. At night, Sofie cooks the dinner to stop Rick from becoming suspicious. While Tracy checks the recordings once more, she discovers the footage has been altered. As Angela searches for Ryan's pager, Trevor Moorehouse strikes her in the head with a machete, killing her.
Tracy warns Sofie, who sets off to find Angela. Tracy goes into Rick's office to find the keys, but Rick appears. Rick attempts to tell her of his innocence, but Tracy runs away. Meanwhile, as Sofie finds Angela's body, she is knocked unconscious. Tracy manages to phone Sheriff Miller, before she is chased by Rick. As Rick corners her, Sheriff Miller arrives and shoots Rick. Sheriff Miller begins to drive Tracy back into town, but he reveals he was the true killer, getting revenge for what happened to his son, Trevor Moorehouse. Tracy finds Mike's dead body in the back seat, before Sheriff Miller handcuffs her to a log. Sofie appears, and Sheriff Miller chases her back to the camp. Tracy frees herself, and meets with Sofie at the camp. They are chased by Sheriff Miller, however Trevor Moorehouse appears and decapitates him with a chainsaw, and drags his corpse away. Tracy and Sofie fall asleep in the woods and walk away together the next morning as the paramedics arrive.
This is actually the sequel to Scream Bloody Murder for some reason it was decided to rename it in the uk, If you liked the first one, then and check out this one, even if you hated the first one, this one is better, so check it out! It's good slasher flick and is very gory.