CAST (VOICES)
Kevin Conroy (Batman: The Killing Joke)
George Newbern (Superman/Shazam)
Susan Eisenberg (Justice League: Doom)
Phil LaMarr (Futurama)
Michael Rosenbaum (Smallville)
Carl Lumbly (Alias)
Maria Canals Barrera (Camp Rock)
RECURRING / NOTABLE GUEST CAST
Kin Shriner (Manhunter)
Nicholle Tom (Gotham)
Dana Delaney (Desperate Housewives)
Mike Farrell (Vanishing Act)
Josh Hutcherson (The Hunger Games)
Christopher McDonald (Fanboys)
Dakota Fanning (Taken)
Olivia d'Abo (Conan The Destroyer)
Dee Bradley Baker (American Dad)
Edward Asner (Elf)
Patrick Bauchau (Panic Room)
Michael York (Logans Run)
Charles Napier (The Silence of The Lambs)
Robert Foxworth (Syriana)
Cree Summer (Batman Beyond)
Billy West (Futurama)
Jeremy Piven (Mr. Selfridge)
Lori Loughlin (Full House)
Robert Picardo (Stargate: Atlantis)
Clancy Brown (Highlander)
John C. McGinley (Highlander II)
Will Friedle (Batman Beyond)
Oded Fehr (The Mummy)
CCH Pounder (Avatar)
Grey DeLisle (The Replacements)
J.K. Simmons (Whiplash)
Michael Beach (The Abyss)
Gina Torres (Firefly)
Ben Browder (Farscape)
Peter MacNicol (Ghostbusters 2)
Adam Baldwin (Chuck)
Nestor Carbonell (The Dark Knight)
Melissa Joan Hart (Sabrina: TTW)
Denis Farina (Get Shorty)
Virginia Maden (Sideways)
Morena Baccarin (Gotham)
Ioan Grufford (Ringer)
Farrah Forke (Lois & Clark)
Michael Dorn (Star Trek: DS9)
Dick Miller (Gremlins)
Michael Jai White (Arrow)
Armin Shimerman (Star Trek: DS9)
Juliet Landau (Buffy)
Alan Rachins (Showgirls)
Robert Englund (A Nightmare On Elm Street)
Jason Bateman (The Ex)
Glenn Shadix (Beetlejuice)
Jerry O'Connell (Sliders)
Nathan Fillion (Slither)
Elizabeth Pena (The Incredibles)
Hector Elizondo (The Princess Diaries)
Jeffrey Combs (Gotham)
Amy Acker (The Cabin In The Woods)
Robert Forster (Dragon Wars)
Lauren Tom (Futurama)
Powers Boothe (Agents of SHIELD)
Seymour Cassel (Rushmore)
James Remar (Flashforward)
John DiMaggio (Futurama)
Malcolm McDowell (Heroes)
Ron Perlman (Hellboy)
Alexis Denisof (Dollhouse)
Mark Hamill (Star Wars)
David Ogden Stiers (Two Guys and a Girl)
Sab Shimono (Teenage Mutant Ninja Turtles 3)
Ted Levine (The Silence of The Lambs)
Michael Ironside (Total Recall)
Daniel Dae Kim (Lost)
The first two seasons of Justice League were fantastic. Packed with action, humor and great storytelling the world of DC's heroes came to life thanks to the collaborative efforts of the folks behind the rest of Warner Brothers' successful cartoons. The show focused on the adventures of Superman, Batman, Green Lantern, Wonder Woman, Flash, Hawkgirl and J'onn (the Martian Manhunter). They spent most of their time fighting established villains and trying to save the world from impending doom as you'd expect. When Justice League Unlimited (the show's sequel series) was released it shook up the formula a bit and quite frankly, really felt like a new show.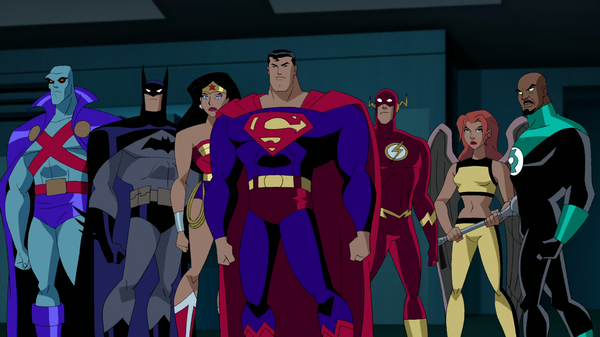 The reason behind this different atmosphere was the change in the cast. The main seven characters were still kicking around but their ranks had swelled since the end of the original series. The basic premise was that the Justice League felt they could do better with more members. Many hands make light work and all that. Therefore anyone with superpowers that could do some good was offered a spot on the team.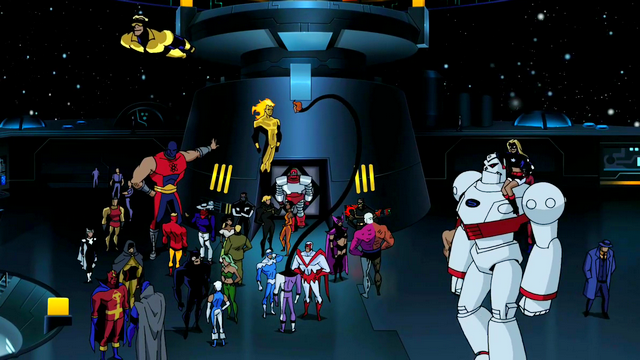 Not every character gets their chance in the spotlight but it certainly fleshed out the show with some of DC's more obscure characters. Most of these episodes focus on the original characters though many of the rookies become involved in the storytelling. Being a longtime comic book fan, seeing more of these characters was definitely a thrill. Getting Green Arrow added to the ranks was probably the best addition to the show in my opinion, but Supergirl, Booster Gold, Captain Atom, Black Canary and The Question definitely helped round things out. In all more characters were added to the series than the show actually featured so you can imagine the insanity that ensues. Many of these characters do get washed out thanks to the lack of coverage, but it's not handled to the point that they become obscure or disrupt the quality of the show.
There  are several episodes that made an impression on me. "Fearful Symmetry" was a very solid story that told a tale about Supergirl and really fleshed out her character. In it she is basically cloned and begins to have dreams that mirror the actions of her sinister clone. Green Arrow and Question get involved in order to help her out and we got to see some interesting facets of the DC Universe.
For my money "The Greatest Story Never Told" was probably my favorite episode. It doesn't have a lot to do with anything and it's a fairly weak story but it features Booster Gold as its main character. In case you are unfamiliar with Booster he's basically a smartass guy from the 25th century who travels back in time for fame and fortune. He's accompanied by a wisecracking robot named Skeets and finds himself not feeling the love from his other JLU teammates. In this episode he's given the noble duty of crowd control while the League fights to save the world. There's nothing particularly great about the story it's just that I love Booster's character and quite honestly, this episode was hilarious all around.

"Kid Stuff" was another fun episode that featured Morgan la Fey's son getting his prissy little hands on a powerful amulet. The item makes him more powerful than his mother and he casts a spell that sends all adults to another dimension. In order to set things right Morgan turns Batman, Superman, Wonder Woman and Green Lantern into kids so they can once again enter the world. As their younger selves the heroes start to let their juvenile side out and it's funny to see Batman and Wonder Woman banter as if they were childhood sweethearts.
Overall Justice League Unlimited was a great show.  Any comic book fan, or viewer who enjoyed Timm's other series, definitely owes it to themselves to check this set out. This release offers 26 episodes.

Unfortunately, as with all good things, Justice League Unlimited came to end. The show was cancelled before its time but luckily the crew was able to eek out another thirteen episodes before it went off the air. This season's collection of superhero antics follows an episodic pattern but keeps an ongoing plot bubbling beneath the surface. The two-part adventures from the earlier sessions of Justice League went away with this season but the fact that characters reference previous episodes helps to keep everything connected.
In the first episode of the final season of Unlimited Lex Luthor is on the run from the law after breaking out of jail. The affects of being joined with Brainiac are still being felt by him and throughout the episode you'll often see Luthor talk to himself because he sees Brainiac standing next to him. When Gorilla Grodd offers Luthor a piece of Brainiac old baldy finds it hard to resist. He agrees to join Grodd's Legion of Doom and work together with fellow supervillains to take down the Justice League. This set up continues throughout the season and you'll find bits and pieces of it in each of the thirteen episodes.
In the second episode of this season the shadow of the Thanagarian conflict lingers as an archaeologist discovers something an Egypt. Shayera (Hawkgirl) is lured there by Carter Hall who tries to convince her that he is Hawkman. This was a nice throwback to the prior season and early Hawkman comic books but was certainly not the best episode in the set.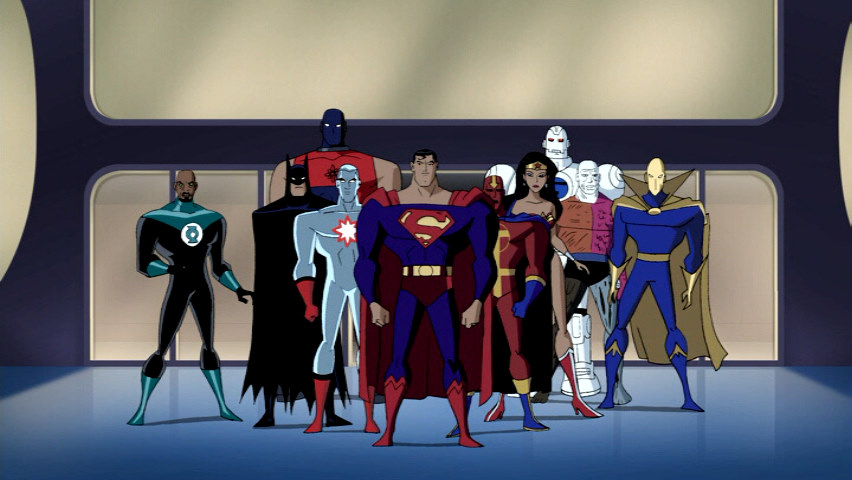 One of my favorite episodes from his collection easily has to be "Flash and Substance". Four villains from Flash's past team up to take down the red blur and they plan on doing it on the opening night of his new museum. Batman and Orion tag along with Flash in order to ensure that he's ok. The writing in this particular episode was easily the funniest that Justice League ever produced. I particularly enjoyed the villains all sitting around the table at a dive bar talking about making their mortgage payments and whatnot.
Anyone who has ever considered themselves to be a comic book fan at some point in their lives will find something to love about Justice League Unlimited. From the very first season through the last of Unlimited the series offered quality unlike any other. This is a definitive comic book cartoon and stands shoulder to shoulder with WB's Superman and Batman animated adventures. If you have been collecting the show to date then you'll be pleased to know that the thirteen episodes featured here are as good, if not better in some cases, as what came before it.