A CLEVELAND BROWN CHRISTMAS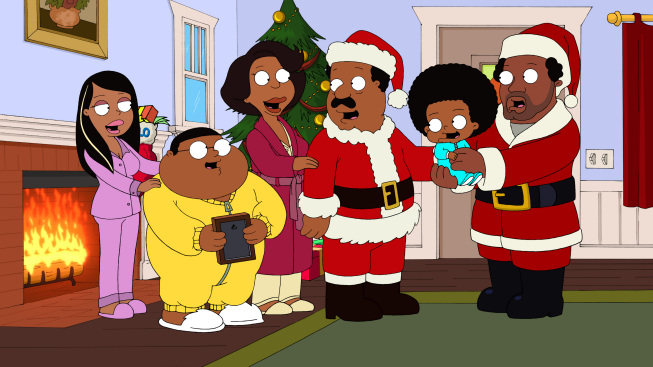 CAST
Mike Henry (Family Guy)
Sanaa Lathan (Blade)
Kevin Michael Richardson (Lilo & Stitch)
Nia Long (Boiler Room)
Seth MacFarlane (Ted)
Aseem Batra (Scrubs)
Arianna Huffington (John Q)
Jason Sudeikis (We're The Millers)
Reagan Gomez-Preston (Jerry Maguire)
Jamie Kennedy (Son of The Mask)
David Lynch (Twin Peaks)
GUEST CAST
Alex Borstein (Power Rangers Zeo)
Stockard Channing (Practical Magic)
Will Forte (The Lego Movie)
Cleveland and the family go to pick out a Christmas tree at Lester's lot. Cleveland has his eye on a nice large tree but Rallo insists on a smaller tree. Cleveland finds out that Donna and the family have been lying to Rallo, telling him the reason Robert can't come around during the holidays is that he is an FBI agent. When Cleveland fills in as Santa Claus at his office holiday party, he has one too many egg nogs and lets the truth slip about Rallo's father. Rallo fails to connect that it was Cleveland posing as Santa and takes out his hostility on figures of Santa. With Rallo's admiration for his dad destroyed, Cleveland tries to reconnect father and son in an attempt to save Rallo's Christmas spirit. He finds Robert at SKANXXX a strip club. Robert doesn't care at first but later has a change of heart. He shows up at the house dressed as Santa and tells Rallo another lie…he hasn't been around because he is the real Santa, making Rallo's Christmas a happy one.
Meanwhile, Roberta becomes an animal rights activist and tries to save a reindeer. When she sets it free, it goes on a rampage.
The first Xmas episode was a good decent comedy hour, and probably out of all the Cleveland show Christmas episodes it's the best.
MURRAY CHRISTMAS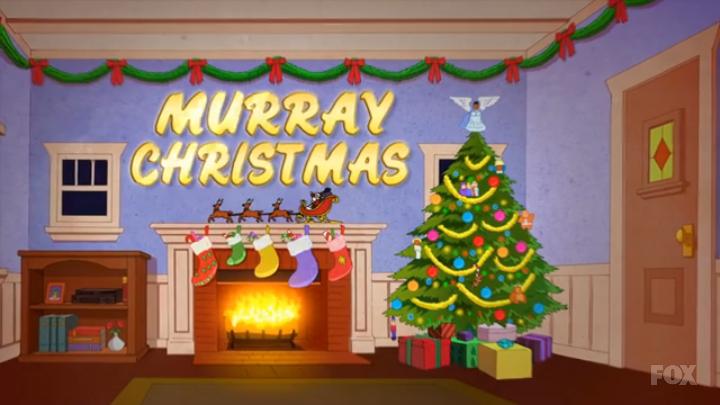 GUEST CAST
Edward Asner (Elf)
Carl Reiner (Oceans Eleven)
Craig Robinson (Pineapple Express)
Alex Borstein (Power Rangers Zeo)
While performing in a class choir at the Stoolbend Rest Home, Rallo observes one of the residents not paying attention and gets into a verbal battle of wits with him. When the home supervisor suggests they get to know each other better, Rallo's teacher forces him to spend the weekend at a retirement home to get to know the senior citizens during the holidays, Murray teaches him about Hanukkah. In an attempt to rekindle Murray's holiday spirit, Rallo helps him escape, but when his new friend's health begins to suffer, Rallo has to decide whether or not to bring Murray back to the home.
Meanwhile, Cleveland Jr. sees a picture of his dad with a black eye at Christmas and finds out how his grandfather spends "Boxing Day", by forcing his son to box with him for his gifts to toughen him up. Donna trains Cleveland for a boxing match against his father, which ends with Cleveland landing a surprise blow that triggers a heart attack in Freight Train. When Donna finds Murray's teeth in the dishwasher Rallo comes clean, which hurts Murray's feelings and trust. When Cleveland goes to see his father, Freight Train is forced to admit he is getting old and regrets not spending more time with Cleveland even if in the form of more beatings. Rallo decides to go back to the home and free Murray and the rest of the residents for Christmas with the help of Cleveland Jr. and Cleveland. In addition to Christmas at the Brown home with the rest home residents and Cleveland's parents, Rallo also treats Murray to the last night of Hanukkah
The second xmas episode shows us how other religions celebrate the holidays which was a nice touch. It also introduces us to Murray who would become a recurring character throughout the shows run.
To help pass time while posing in a holiday nativity scene, Cleveland tells his family his own version of one of his favorite holiday stories, "Die Hard". After detective Cleveland Brown flies into Los Angeles to meet his wife at her job at Waterman International, he tells his limo driver Rallo about some of his marriage troubles while he hopes to reconcile during the office Christmas party. Meeting with his wife, he takes off his shoes and tries to be romantic but Donna resists his charms and returns to the party alone. Meanwhile, a group of thieves led by Tim posing as terrorists take the party guests hostage and separate Mr. Waterman in order to gain access to the Waterman International vault.
Cleveland tosses his shoes out the window over a nearby poser line when he hears gunshots and arrives as Mr. Waterman is killed. Hearing noise from Cleveland, Tim sends Kendra out to investigate where she is killed by Cleveland. As the terrorists discover Kendra's body, they hear Cleveland trying to use his radio to call for police and start shooting. Police dispatcher Roberta sends officer Cleveland Brown, Jr. to investigate. As Cleveland dispatches another of the terrorists and escapes into an air shaft, Jr. arrives but is told by a guy that looks like Huey Lewis but is really one of the terrorists that all is well and starts to leave. To get his attention, Cleveland throws a janitor out the window onto Jr. squad car. Jr. frantically backs away as the terrorists fire on his car. As police surround the building, Cleveland taunts the terrorists but slips and gives away his location. As Robert Tubbs struggle to crack the vault, the gift exchange at the party hostages goes on. But when Donny's gift turns out to be a small package of golf balls in a large box he is shot too. As Cleveland and Jr. exchange banter over the radio, Tim arrives but is taken by surprise. Tim manages to come up with a name on the office list and fools Cleveland who gives him a gun which her turns of Cleveland. Cleveland manages to distract him momentarily and takes out another of the henchmen as he escapes. As Cleveland hides behind a wall of glass and keeps Tim and Lester pinned down, Tim orders Lester to shoot out the glass after noticing Cleveland's bare feet. Cleveland is forced to retreat through the glass picking up several shards in the process. Despite picking out much of the glass, Cleveland leaves bloody footprints behind him.
Two FBI agents arrive and order the building power to be cut off which results in the vault opening. The terrorists take Cleveland's friend Holt hostage but kill him after they learn that they also hold Cleveland's wife Donna. As Cleveland ponders his next move, Lester manages to sneak up on him but is hung from a chain by Cleveland after telling him that the hostages have been moved to the roof with explosives. Arriving on the roof, Cleveland orders everyone off but the FBI agents in a helicopter mistake Cleveland for one of the terrorists and open fire on him. Tim orders the roof blow as Cleveland ties a fire hose around his waist and jumps from the rooftop. The blast engulfs the helicopter as Cleveland shoots his way back into the building. As Cleveland catches Tim and his last henchman, Tim grams Donna and holds her at gunpoint forcing Cleveland to drop his gun. As Tim thinks he's won, Cleveland draws a second gun taped to his back and shoots Tim and the henchman, forcing Tim through the window. Tim grabs Donna's wig and holds her by the hair. Cleveland makes Donna undo her wig as Tim falls to his death. Outside as the surviving hostages are freed, Donna and Cleveland reconcile. Lester springs up shooting at the two to be killed by Jr. who also shoots Walt noting that he shoots kids.The scene returns to the nativity scene as only Jr. and Roberta remain awake. Jr. enthusiastically asks about a sequel to be told they will see what the internet has to say first.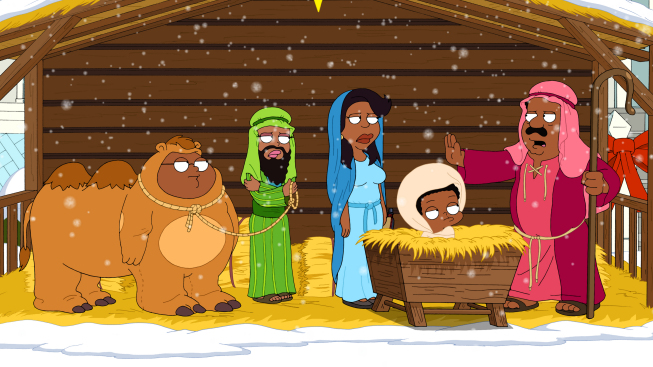 Not a huge fan of this special as its just Cleveland doing Die hard, it has some fun moments but as a Christmas special it fails.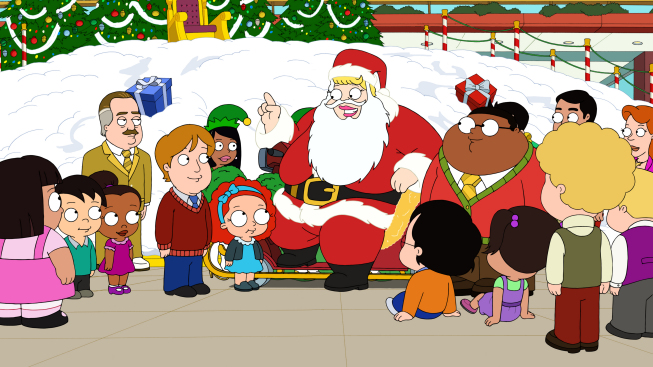 When the kids make their Christmas lists, Donna insists that they help by donating old goods. Roberta refuses and insists on getting a job to buy her own gifts. While helping out at the mission, Cleveland finds that the residents eat better food than he gets at home and decides to pass himself off as homeless, telling Donna that he is volunteering at the shelter. He succeeds despite being recognized by Tim and makes the acquaintance of several of the residents where he spins a wild yarn about how he got into his predicament. They help him out and take him under their wings. Cleveland finds that Donna nominated his as a special angel due to his work at the shelter and his con job is exposed on television. Cleveland becomes a pariah in town and tries to publicly apologize but makes things worse. As he wanders back to the shelter, he finds that the residents still accept him but the food has returned to the usual low standards. He sets off with the residents to make others aware of the situation at Grundle's.
At Grundle's Department Store, Roberta gets hired as a skimply-dressed elf and Kendra demands to get upgraded from Mrs. Claus to the role of Santa but is passed over in favor of Arch. Kendra finds a sympathetic ear in Roberta but when she points her to a job as Santa at a laundromat, Kendra turns her down, wanting the job at Grundle's. Arch uses his regular charm as Santa, telling the kids what they'll get regardless of what they want. Kendra recalls a special present Roberta once wanted and Roberta makes Kendra a special sleigh out of her scooter. But due to being depressed over not getting her dream job, Kendra gives up on Christmas.
When Arch bails on the job and the kids are left without gifts, Kendra gets back her Christmas spirit and takes on the challenge of providing Christmas although she has trouble getting to the store, sliding backwards into the snow and losing the Christmas gifts in the process. Cleveland and the homeless find Kendra frozen in the snow and help her get to the store. Roberta and her co-workers complain about continuing to have to wear their costumes and quit, tossing Mr. Grundle their shorts. Without the presents, Kendra tells the kids at the store to help themselves to the store goods, figuring that they can't all be arrested. Cleveland tries to apologize again but points out that everyone ignores the homeless after the holidays and strikes a chord, making Donna happy.
A much better special than season 3's with a funny story merges some good heart warming stuff too. Cleveland song of I'll be Homeless this Christmas was a funny song. This would be the last Christmas episode for the show as Season 4 became the final season.