CAST (voices)
Seth MacFarlane (Ted)
Wendy Schaal (Small Soldiers)
Scott Grimes (Critters)
Rachael MacFarlane (The Batman)
Dee Bradley Baker (Son of Batman)
Eddie Kaye Thomas (Carrie 2)
Patrick Stewart (Star Trek: TNG)
Jeff Fischer (Jennifer's Body)
Curtis Armstrong (Return to The Batcave)
Kevin Michael Richardson (The Cleveland Show)
THE BEST CHRISTMAS STORY NEVER
Guest voices
Lisa Kudrow (Easy A)
The episode begins with the family in the town square. Roger is horribly depressed and drunk complaining that since landing on Earth sixty years ago he's accomplished almost nothing; Stan, however, is overjoyed until he finds out that the Christmas tree has been banned due to its religious nature. He is further dismayed when more signs of secularism occur–the clerks at the mall aren't allowed to say "Merry Christmas" and the town goes so far as to rename the annual attacker, the Christmas Rapist, the "Holiday Rapist." Stan blames the whole thing on Jane Fonda–his logic being that her going to North Vietnam revitalized the "dying" hippie movement and that, since yesterday's hippies grew up to be modern liberals, modern liberalism is her fault. Stan finally becomes so enraged that he destroys the tree and the presents; the kids and Roger are horribly sad and Francine is so mad she banishes him to the couch.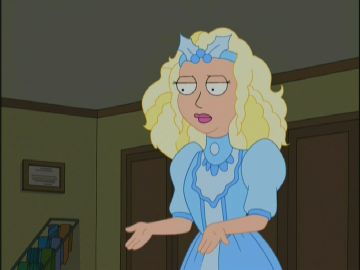 That night, Stan is visited by the Ghost of Christmas Past (a former Tooth Fairy named Michelle) who takes him back to 1970. Stan, however, runs away from her in an effort to find Jane Fonda so he can assassinate her thus changing the future. The Ghost, unsure where he has gone, goes back to the present to get Francine; the two then return to the past to find Stan.
Stan has tracked Fonda down to the set of Klute where he finds out that Donald Sutherland was the one who led her to politics and changes his plan to assassinate him instead. He finds Sutherland at a Hollywood party where he happens to meet Martin Scorsese and convinces him to give up drugs. Francine and Michelle then grab him and bring him back to the present where they are shocked to discover the street desolate with Soviet tanks patrolling. They eventually figure out what has happened–by getting Scorsese off drugs they stopped him from ever making the movie Taxi Driver; as a result John Hinckley, Jr. never saw Jodie Foster in the movie and became obsessed with her which resulted in him never trying to assassinate Ronald Reagan. This dented his popularity in the 1984 election as the near-death experience made him appear stronger; in the new reality he thus lost to Walter Mondale who then surrendered the country to the Soviet Union just 47 days into his Presidency. The group then goes back to attempt to fix what Stan did.
Stan decides to make the movie himself; however, he quickly alienates Robert De Niro and decides to make the movie with John Wayne instead. Stan and Francine follow Hinckley into a movie theater and watch the new Taxi Driver behind him. After the movie is over, Stan asks Hinckley what he thought of the movie and he says it was alright. Francine then asks him if he thinks Jodie Foster is attractive and he reacts very badly to this pointing out that she is 12-years-old. This means that the future remains unchanged. The Ghost then transports them to March 30, 1981, and tells Stan that the only way to fix the future is if he shoots Reagan instead. Stan is shocked; he is unable to shoot his favorite president. Francine reminds him how much he wanted Christmas and points out that it wouldn't exist at all if the Soviets ruled; Stan replies that he doesn't care about trees and presents but would be happy as long as he had Francine and the kids. The Ghost then informs him that in the alternate future Francine and Stan may never meet meaning also that Steve and Hayley won't exist. Stan then decides that he must shoot Reagan and shoots him. Just as he does, the two suddenly transport back into their bed on Christmas morning, 2006.
The two are relieved to find out that history is back to normal and, after fixing the presents and tree, the family enjoys a happy Christmas. The Ghost appears to Stan one last time to give him a gift for saving her job–a brand new gun she says she bought the previous night. When Stan asks how that is possible, as the Brady Bill requires a week long waiting period, she informs him that he only shot Reagan and not Brady meaning that buying guns is incredibly easy. Stan rejoices that he changed the future for the better (in his own eyes) and says "this is the best Christmas ever." In a subplot, Stan buys a "Best of Disco" cassette for Roger. When he goes back in time to 1970, the tape falls out of his jacket and is found by Roger. Playing it to executives, Roger becomes fabulously wealthy by inventing the Disco era. However, in 1981, disco becomes "dead" and Roger loses everything. Upon returning to the future, Roger still talks of his time as the inventor of disco and the episode ends with that timeline still in effect.
A great first Christmas episode for American Dad, Lisa Kudrow is brilliant thou when her character returns she does not voice it.
 THE MOST ADEQUATE CHRISTMAS EVER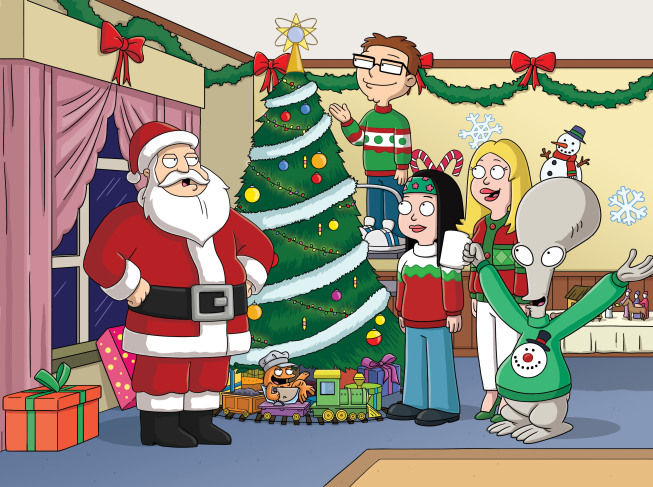 Guest Voices
Paget Brewster (Now You Know)
John DiMaggio (Futurama)
J.K. Simmons (Burn After Reading)
Jane Lynch (Role Models)
After Stan comes home from another dangerous mission, he finds that his family has decked the halls with boughs of holly and donned themselves with gay apparel, but just not to his satisfaction. He demands a grander Christmas starting with the search of a bigger and better tree in the forest. When his family has had enough, Stan powers on by himself, finds the perfect tree and meets an untimely end when it falls on him.
His soul ends up in Limbo, where an ice cream man tells him that he will get a ride to either Heaven or Hell. However, Stan believes that it's not his time and demands a second chance. Reluctantly, the ice cream man takes him to a courthouse where he can prove he deserves one. Unfortunately, Stan is assigned to Michelle, a lawyer who has a bad relationship with her father, the judge, and didn't earn her wings. The prosecution is Scott LaRose, who has won many cases, allowing him to become smaller and cuter. Scott proves that Stan does not deserve a second chance because of his stubborn and arrogant ego, as evidenced when he took a pregnant Francine to Africa against their doctor's advice;a baboon help her give birth to Hayley. Michelle tries exonerating Stan by showing him accepting Steve's advice to give his kidney to a homeless man. However, Scott shows the rest of the clip, revealing that it was all a dream. Stan's appeal for resurrection is denied. Worse, Michelle informs him that his family, except Roger, will die of hypothermia because he took the car keys.
 With the court refusing to at least help his family, Stan pulls out his gun, only to learn that Earthly weapons have no power in Limbo. Therefore, he grabs a Heaven gun, which can kill anyone and kidnaps Michelle to takes him directly to God. Stealing a chariot and evading the Archangels, they make it to Heaven. Michelle tries sneaking Stan in as a German man but when he speaks English, it rouses St. Peter's suspicions. When it seemed like Michelle turns on Stan, she knocks out St. Peter to help Stan. They then sneak into God's mansion, where Jesus is having his annual birthday. While Michelle mingles amongst the crowd, having never received an invitation.
Stan eventually finds God's study and pleads Him to save his family. God refuses his plea, so Stan puts the Heaven gun to his head. God asks Stan if he knows better than the Almighty, to which Stan admits that he doesn't and consents to God's judgement. God then reveals that this was all a test for Stan to show some humility and agrees to send him back to Earth, all because it's Jesus' birthday. Stan thanks God, before requesting that He give Michelle her wings in gratitude. Then suddenly, God then takes the Heaven gun and shoots Stan in the head. Next thing he knows, Stan is back at the beginning of the episode. Using the lessons he's learned in Limbo, Stan agrees with his family that all their decoration are perfects. As the Smith family hugs, Roger notices Michelle fly down to watch.
American Dad Christmas episodes are always a highlight to watch, Paget Brewster takes over from Lisa Kudrow from this point on, it's nice that there's some continuity between the xmas episodes.
RAPTURE'S DELIGHT
Guest Voices
Paget Brewster (Now You Know)
Will Forte (The Lego Movie)
Andy Samberg (Friends With Benefits)
Martin Mull (Sabrina: The Teenage Witch)
Tom Kenny (The Batman)
Skyler Gisondo (The Amazing Spider-Man)
Stan is upset when he cannot find his family a good seat for a standing-room only Christmas Day church service. To allieviate this, Francine takes him to have sex with her in the closet. When they come out, everybody in the church has gone, with their clothes left behind. Upon exiting the church, Stan discovers that he, Roger, and Francine are among those left on Earth during the Rapture (Stan and Francine because they had sex in a holy place, and Roger because he wasn't human to begin with), while Hayley and Steve have ascended. Francine becomes upset when Stan cares more about ascending into Heaven than being with her and leaves him; she soon meets Jesus Christ in his second coming and becomes his girlfriend.
Seven years pass and the war between Jesus and the Anti-Christ reduces the world to a post-apocalyptic wasteland, with the human race on the brink of extinction. The survivors have degenerated into savage bikers, militiamen, and prostitutes. Jesus travels by motorcycle to the war-torn city of Denver, Colorado and meets in a local bar with Stan, who has lost an eye and replaced one hand with a blade. Jesus convinces him to help rescue Francine, who has recently been captured by the Anti-Christ. Stan agrees to do so on the grounds that Jesus send him to Heaven afterwards. On their mission, they meet up with Roger, who for the past seven years has been trying to repair his spaceship in order to return to his home planet and escape the war. They get to the United Nations Building, where they find Francine bound in a manger.
Stan and Jesus meet with the Anti-Christ, depicted as an effeminate villain parodying The Riddler who claims to be the opposite of Jesus. When he tries to trap them, the container breaks apart; being the opposite of Jesus, he is a bad carpenter. After a drawn-out battle, Jesus jumps onto Anti's back and breaks his neck. Anti survives and attempts to shoot Jesus but Stan takes the bullet for him, giving Jesus enough time to throw a cross-shaped shuriken into the Anti-Christ's head, killing him. When Francine tears Stan's shirt away to look at the wound, she sees that he has always kept their wedding rings, and he admits that he had in fact come to save Francine. He activates a bomb to destroy the lair and end the war once and for all. Francine tries to rescue him but Stan asks her to leave lest the explosion kill her too. Stan dies in the blast and is sent to heaven. When Michelle guides him to his own "personalized heaven", Stan enters his home just the way it was at the beginning of the episode, the only difference being Klaus' dead fish body being mounted on a plaque hanging on the wall.
American Dad's version of the rapture is one of the best AD episodes of all time. Religious groups kicked off but it's there lost.
FOR WHOM THE SLEIGH BELL TOLLS
Guest Voices
Clancy Brown (Highlander)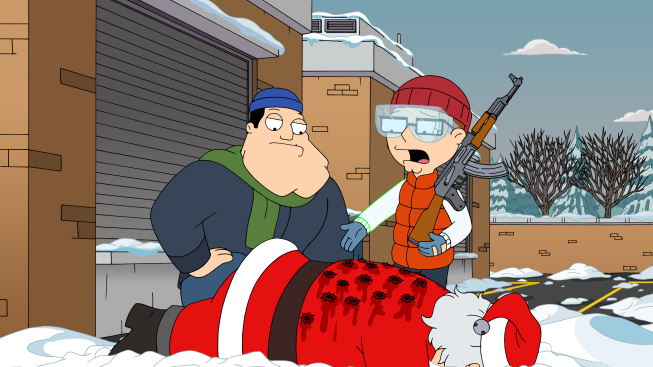 Stan Smith continues to reject the idea that Jeff Fischer is now a member of the family despite Francine's suggestion that he should be included in their family traditions. Despite Francine's objections, Stan gives Steve an Ak-47 assault rifle for Christmas and Steve accidentally shoots a mall Santa. Steve, in turn, is shattered emotionally and swears never to pick up a weapon again. Meanwhile, Roger goes off in search of the strongest whiskey possible and he is directed to a moonshiner in the Chimdale Mountains, named Bob Todd, who teaches him his ways.
Stan convinces Steve to hide the body from Francine and try to find out whom the Santa was with his fingerprint, but his DNA is not in the CIA database. Stan dismisses this and doesn't investigate further. Francine quickly discovers the body, and as the family buries the body; she chastises them for not letting her cut off the hands and smash the teeth out; much to their chagrin. The next day they receive threatening letters, stating that someone knows what they did and that they will be punished. They watch the news and discover that no one really feels like it is Christmas, as if someone killed Santa. Feeling a little doubt they then dig up the body and discover it is gone. When an elf appears and tells them that it was actually the real Santa that they buried and that he was recovered and rejuvenated in a Star Wars Bacta Tank at the North Pole and vows vengeance on the Smiths, they decide to take refuge with Roger in the moonshiner's cabin where Bob Todd lives. Jeff arrives to spend the holiday with Hayley, much to Stan's displeasure. However, Santa soon arrives since Jeff wrote a letter telling him where they would be staying. Bob Todd reveals that his airplane-house is also an armory, which includes an M60 machine gun, two RPKs and an M16 assault rifle, to fend off an attack of endless waves of armed elves, flying reindeer, and an enormous snowman (reminiscent of a Cave Troll from Lord Of The Rings) led by Santa. Francine snaps Steve out of his fears, ordering him to "pick up a gun this instant and send these toy makers to Hell!" and the family proceeds to defend themselves.
Santa tries to convince Jeff to abandon the Smiths, recognizing that he was not involved in their plot to hide his body, and by offering a relic from The Golden Compass. Jeff walks to Santa's side, but then turns on him and is able to pull Stan who was injured to safety. While Jeff takes care of Stan; Jeff says he thinks Stan is an ass. But, the two agree on their love for Hayley, causing Stan to see Jeff as a true member of the family. The family is almost overrun, until Santa and his army are forced to retreat because they only had until Christmas morning to get vengeance. Santa disappears, leaving behind a letter warning them that he will return next year to take his revenge and kill them, while the Smith family realizes that they have found a new Christmas tradition.
Another episode that shows American Dad knows how to do Christmas specials well. The fight against Santa and his elves was EPIC!.
SEASON'S BEATINGS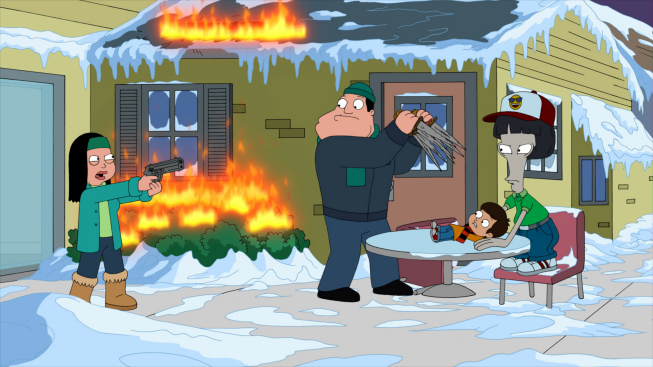 Guest Voices
Andy Samberg (Friends With Benefits)
Martin Mull (Sabrina: The Teenage Witch)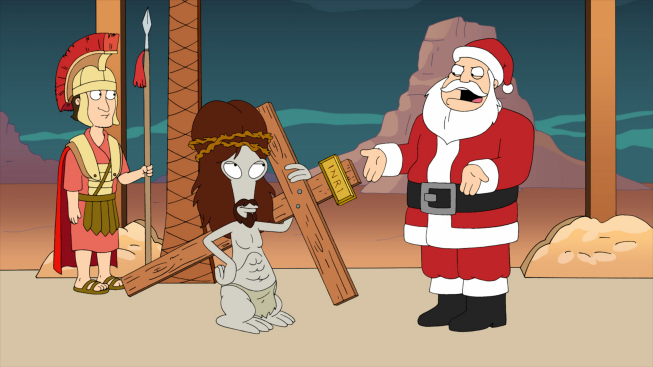 Stan hears of the church putting on the story of Christ at the mall and rushes to get the lead role, only to be told by Father Donovan that he is too fat. He is instead given the role of Santa Claus but when he finds out the Roger got the role of Christ attacks and beats him senseless. Shocked at the attack, church leaders around the world universally agree to kick Stan out of all religion. When Stan asks if there is any way to stay in the church, he is told it is almost impossible, given that the only three acceptable ways are to kill the anti-Christ, discover the Holy Grail, or donate large sums of money.Meanwhile, Jeff tries to talk Hayley into adopting a child. Hayley says no but Jeff adopts a child anyways and names him Nemo. Hayley at first is angry but is quickly charmed by Nemo. While Stan is watching Nemo, he discovers he bears the numerals 666 which is considered the mark of the beast and is convinced the child is the Anti-Christ. Stan gets Father Donovan to come see the marking and they agree to go to the orphanage where Nemo came from only to find it burned to the ground. as they search the remains of the orphanage, Father Donovan discovers Nemo's birth papers. Nemo senses the Father's discovery and causes the orphanage to collapse on him, severing his legs. Father Donovan is able to share that Nemo is indeed the son of Satan before he dies.
Stan, Roger and Jeff travel to the Vatican to obtain a set of sacred daggers to kill the anti-Christ. Although Stan is barred from entering, Roger and Jeff are able to enter the catacombs to search. Nemo sees them through the eyes of a rat and causes the catacombs to flood, washing Jeff away. Roger climbs out and finds the daggers and escapes with them after attacking a Cardinal. Roger and Stan return home to discover Francine putting up Christmas lights while a possessed Steve scampers around. When Stan tells Hayley that they need to perform a ritual killing of Nemo, she fights to protect him and ends up shooting Stan. Stan awakes in the hospital and finds everything is back to normal. He was accepted back into his church when it tuned out that Roger's eggnog "pimp" cup was really the Holy Grail. Nemo was sent off to Alaska to be raised by Sarah Palin and become the future Anti-Christ.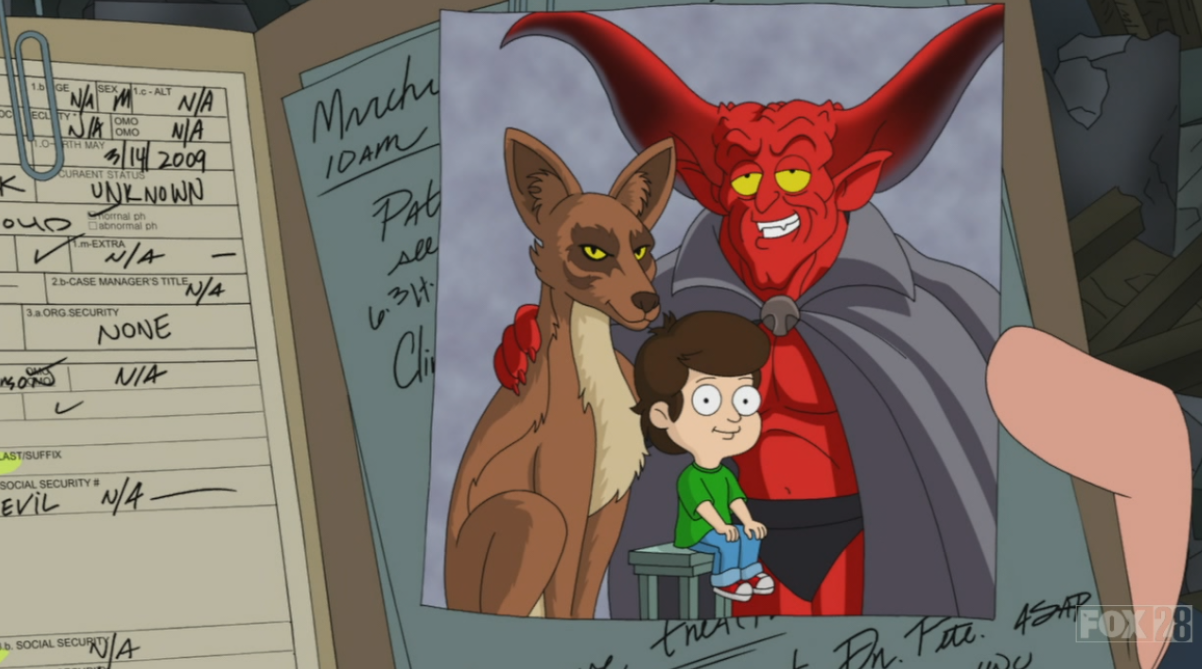 A Strange but fun Christmas episode, another American Dad Classic.
 MINSTREL KRAMPUS
GUEST (VOICES)
Danny Glover (Earthsea)
 As the holidays approach, Steve becomes a brat and Stan takes him to see his grandfather to be scared straight. Grandpa Jack tells him the story of Krampus, who punishes the naughty children at Christmas and Steve refuses to buy into it, as Jack tells how he captured the Krampus and keeps it in a copper pot in the basement. Steve starts opening his gifts early and Stan tries to hide them in the basement. There, he is called by the Krampus who talks him into being let out to punish Steve, but he kidnaps him instead and demands Jack so he can extract revenge. Stan tells his father what he did to Jack's horror as he promises to use his CIA connections to get him out. Instead, Jack takes off.
In the Krampus' Castle in Bavaria, Steve is imprisoned to his surprise and spanked. Stan talks to Roger who brings up Santa, but Stan is nervous about confronting Santa after their last encounter. Despite this, they set off to the North Pole and are captured. Santa beats Stan as he tells what happened. Santa only agrees to help if they can kill Krampus and also promises to take him off the naughty list. At the Krampus' lair, the household goods try to convince Steve that Krampus only punishes naughty children because he cares for their well-being. Steve realizes that it is the truth and discovers that the Krampus actually only intended to beat Jack to save him from being bad, but was captured in a moment of carelessness while eating strudel.Meanwhile, Hayley goes Christmas shopping but needs money. She goes to see Roger for a loan but he refuses her and gives her the help-wanted section where she spots a job at the airport. There, she bumps into Jack trying to flee as he tries to figure out why he should help the family. She gets the message through to him and he heads to Bavaria to save Steve. Santa and Stan arrive and take on the Krampus, killing the household items. As Steve tries to stop him, Santa shoots Krampus and finishes him off before turning the gun on Stan and Steve as he reveals himself to be the true bad guy due to being a partner in the toy business. As Santa tries to shoot Stan, Jack intervenes and saves Stan, injuring Santa who flees with his elves. As Jack lays dying, his and the Krampus' blood intermingles, allowing Jack to become the new Krampus to punish naughty children.'
American Dad's version of the Krampus myth, this episode aired a year late due to shootings in America but it was worth the wait. The ending was brilliant.
DREAMING OF A WHITE PORSCHE CHRISTMAS
Guest Voices
Peter MacNicol (Ghostbusters 2)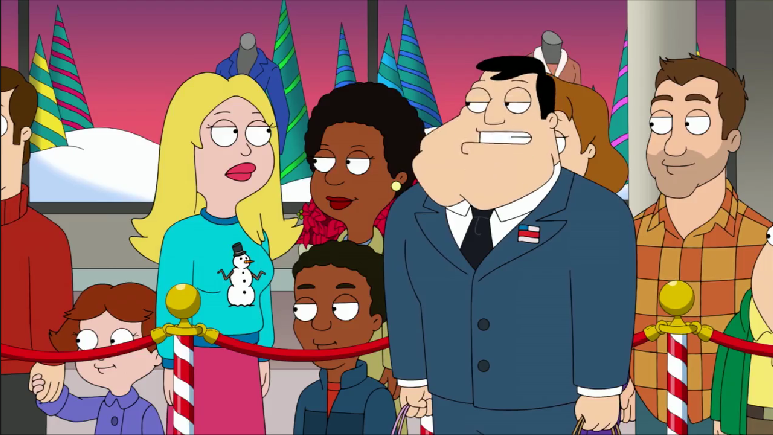 The family goes to the mall to get their picture taken for the family Christmas party invitation and Stan half-heartedly shops, just picking up whatever he can grab. When Francine points out that she is wearing a sweater that matches the one he picked out, he has to return it. When he bumps into Principal Lewis, he insists he come to the party since his antics excite everyone. When Stan is ignored at the party except for running errands, he wishes he had Lewis' life while placing the angel on the tree.When he wakes up the next morning, he finds that his wish has come true although Roger is still his companion, apparently due to touching Stan's bottom at the moment of the wish. He starts to enjoy his new life but decides he needs to consult with Lewis to get an idea of how to further enjoy it. But when they find Lewis, they discover that he has inherited the family. This causes Stan distress and he tries to wish things back without luck. Roger speculates that he might need to learn a lesson first but Stan refuses to be that patient and confronts the family, although they don't recognize him as their dad and husband. When Lewis reveals that he has also become a CIA agent, Stan takes his gun from his own accustomed place and takes the family back to his home, holding them at gunpoint.
As the CIA arrive, Stan desperately tries to get the family to remember him. Francine feigns remembering to get them turned loose and they go free to the CIA, who then lob gas at Stan. He tries to flee, but is caught when leaping off of a bridge and is riddled with bullets. Having apparently learned his lesson, an angel meets Stan and takes him to an ideal dream family that is not his own. Stan realizes that things are not correct and calls for his angel. He reveals that the dream family is his real family and the one he knows was given to his as punishment. When he wants to return to the family he knows, he is rejected. Opening gifts with the family, he finds he is still a bad father and when Roger arrives without knowing who he is, he tries to convince him and eventually succeeds in winning him over by telling him about his crazy habits. To try to reverse the wish, he has Roger place the angel on the tree and make a wish, but gets a Porsche instead. Stan tries to get the family to wish he wasn't around, but fails. Gazing at a wine glass that looks similar to what Francine wanted, he makes note of a small dirty spot and finds that his new wife hates her cleaning being criticized. He gets her to wish they weren't married and then places the angel on the tree, allowing Stan to go back to the family he knows, although Snot tries to pass himself off as a family member as well without luck.
The latest American Dad they decide to do there version of It's a wonderful Life with a few neat twists. It once again proves American Dad knows how to celebrate Christmas and makes people look forward to the next one.