MAIN CAST
Seth MacFarlane (Ted)
Alex Borstein (Catwoman)
Seth Green (Without a Paddle)
Mila Kunis (Oz The Great and Powerful)
Lori Alan (Inside Out)
Mike Henry (The Cleveland Show)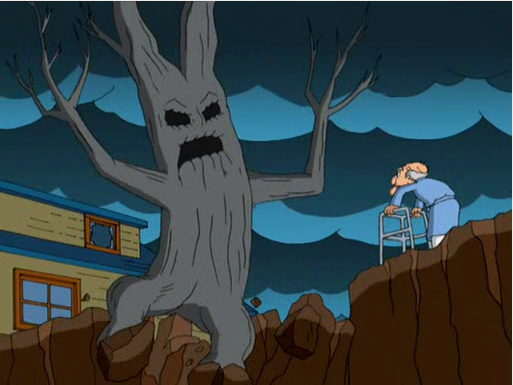 GUEST CAST
Adam Carolla (Road Hard)
Gary Cole (Chuck)
Judy Greer (Jurassic World)
Rachael MacFalrane (American Dad)
Kerrigan Mahan (Power Rangers)
Adam West (Batman 60s)
Patrick Warburton (Get Smart)
Stacey Scowley (The Brotherhood 2)
Christina Milan (Bring it On 5)
Fred Tatasciore (Hulk Vs)
FAMILY GUY VIEWER MAIL # 1 SEAGMENT 3: LIL' GRIFFINS

After the boys all refuse to have anything to do with girls, five-year-old Peter, and Quagmire compete for the attentions of new girl Lois who mentions that she likes her men brave. The kids make a bet to stay in a rumored haunted house and proceed to attempt to scare each other out until they encounter an apparently "real" ghost and they all flee in terror. Lois says that she is no longer impressed by bravery, however, and introduces Mort Goldman, whose intelligence she likes. Peter and Quagmire swear off girls forever in disgust; thirty-five years later they are still woman less but, without the distraction of women, they have become incredibly wealthy.

Not a traditional Halloween episode as it's only a small seagment of the actual episode, so it's not as good as the normal Halloween specials, still has some good laughs.
PETERGEIST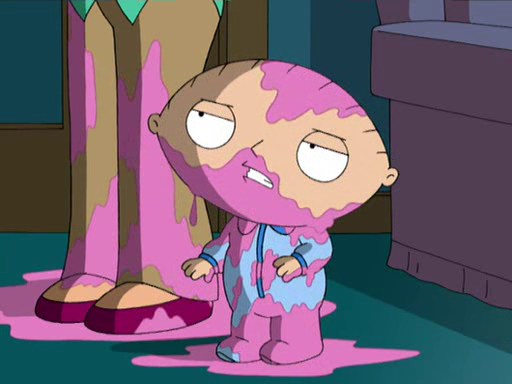 After Joe builds a home theater system, Peter decides to build a multiplex in his backyard out of spite. While digging, Peter finds the skull of a Native American buried in the backyard. Brian frequently urges him to return the skull to its resting place, but Peter treats it as a novelty (playing with it, urinating in it, wearing it as an athletic cup, etc.). That night the Griffins start experiencing strange paranormal activity: Stewie talks to the TV static, the chairs and refrigerator stack themselves upside down on the kitchen table, Peter rips at the flesh on his face until he uncovers Hank Hill's face, and Chris gets scared by a McDonald's clown, Ronald McDonald and he then gets attacked by an evil tree before being saved by Herbert. Lois is in denial of the events until Stewie gets sucked into his closet and disappears.

To find Stewie, the Griffins hire a spiritual medium (Bruce the Performance Artist in one of his many jobs) to contact the other side, and learn that the entrance to the spirit world is Stewie's closet, while the exit is "Meg's ass". Unable to wait for Stewie to come out of the closet (he is obviously reluctant to exit from Meg's rear end), Lois enters the portal and rescues Stewie. The enraged spirits emerge and ravage the Griffin house, sucking it into their world. As the Griffins drive off, Peter dumps the Native American skull in a garbage can.
Now homeless, Peter and Lois try and find a way to get their house back, and learn the Native American skull has to be put back in its resting place. After searching through the city dump, a garbage man tells them that the skull would be in the human remains bin, but it was cleaned out by Carrot Top for things to use as props. They go to Carrot Top's mansion and, after a chase through a hall of mirrors, they retrieve the skull and rebury it, thereby getting back their house and returning life to normal. At the end, Lois takes the TV and moves it outside the front door but Peter comes out, retrieves it and puts Meg outside instead.
A great episode I especially loved the Poltergeist takeoffs in the episode, even the music and special ffects, especially when Peter plays around with the portals that are in Meg's butt
HALLOWEEN ON SPOONER STREET
Peter and Joe target Quagmire for this year's Halloween pranks. This includes bombarding Quagmire with eggs, Joe dressing up as a girl and sleeping with him, and infecting him with an unknown disease carried by a mosquito from Senegal (But only after putting every known disease in a syringe and stabbing him, including Hepatitis and Meningitis). Returning home, Peter praises Quagmire for being a good sport and the two decide to go drinking. Deciding to approach Joe, they convince him to allow them to follow him in his police car. Agreeing to do so only if they stay in his car, Peter and Quagmire soon become a nuisance. Ultimately. they drive to an old airfield where they discover a Mitsubishi Zero, which is a Japanese fighter plane used during World War II. Quagmire flies the two into the sky and eventually takes them on a high speed dive into the ocean near Quahog Harbor, stopping only inches from crashing stating that it was payback for making him have sex with Joe.

Meanwhile, Stewie discovers trick-or-treaters (at first thinking they are real monsters and starts shooting at them with an m16), and soon wants to partake in the activity. Deciding to dress as a baby duck, he is subsequently bullied by a gang of three older children who steal his candy. Searching for Brian, Stewie blames him for causing him to lose his candy and convinces him to steal back the candy from the bullies. Approaching the bullies to get the candy back, Brian is immediately painted pink. Seeking revenge, Stewie half jokingly suggests to Brian that they kill the bullies, though they both agree they can't actually do that. When his plan to threaten them with a bazooka fails (and ends up killing a Godzilla-like monster instead), Stewie goes to "Plan B" and begins crying for his mother. Lois then confronts the lead bully Justin's mother and becomes her bully instead, demanding Stewie's candy back, demanding Justin's candy, and $40. But because she does not have any money, Lois takes their welcome mat and says she'll be back tomorrow for $80.


The same night, Meg decides to go trick-or-treating with her friends and goes to attend a party held at Connie D'Amico's house. Excited no one can see through her slutty cat costume (even her father, Peter, who said "Ugly Bitches!") Meg eventually wins at spin the bottle, and (unknown to her) begins making out with her brother Chris who was wearing an Optimus Prime costume while in a dark closet. When Connie opens the closet after they hog the closet for too long, the siblings in their underwear, are immediately shocked at the revelation.


During the credits, Stewie and Brian reminisce of the night while sorting their candy just as Meg and Chris come home. Meg and Chris both make light of the situation by convincing each other that they successfully hooked up with a hot date. Meg states that her date might even call back, but Chris immediately says that she might be disappointed.
A Great Halloween episode, alot of fun stuff in the episode including the commentary regarding Meg's slutty costume and the pranks by Peter and Joe on Quagmire.
QUAGMIRE'S QUAGMIRE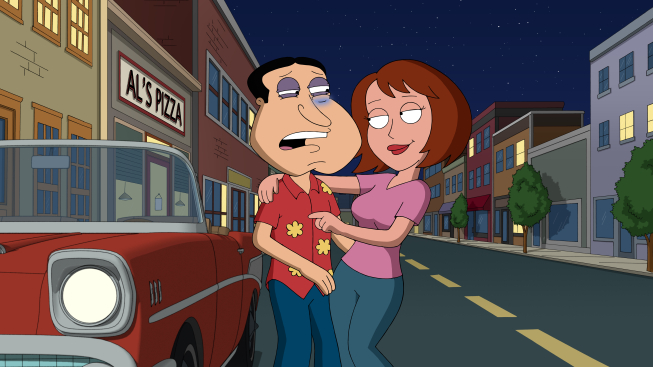 Peter and Joe help Quagmire pick out a new Apple computer at the mall. Quagmire later calls Peter for help finding his cat pictures, and his computer ends up crashing. Taking it back for service help the next day, the clerk, Sonya, discovers his tastes in porn, and they end up on a date. They find they have a lot in common, but Quagmire wakes up the next morning handcuffed to the bed, discovering he was drugged to have sex, and decides he's finally found his true love. Telling the guys at The Drunken Clam, they caution him to be careful. Quagmire and Sonya engage in a variety of wild sexual acts, such as having sex at the high school in front of Quagmire's former (now completely senile) high-school principal, Mr. Goodrich, (who once suspended Quagmire for showing his wiener at school), painting their bodies in black ink and making out until they've painted every letter in the Chinese alphabet, and Sonya watching Quagmire having sex with his transgender mother, Ida (née Dan)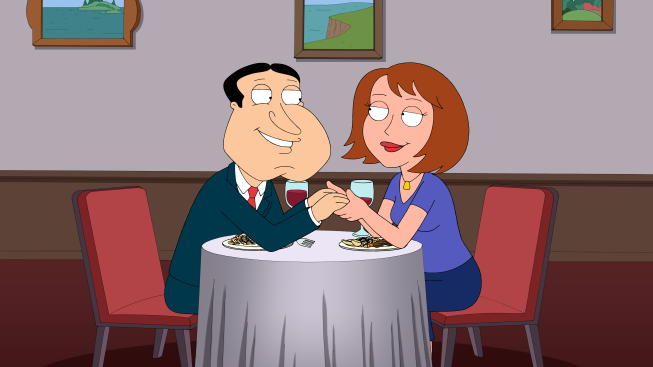 At the Drunken Clam, Peter and Joe discover Quagmire hiding black eyes behind sunglasses. They tell him his sex life with Sonya is getting out of hand but Quagmire feels he can't openly share their concerns in case Sonya overhears. Leaving the Drunken Clam, Sonya meets Quagmire outside, beats him and shuts him in the trunk of his car, claiming that she is satisfying his fantasies of being dominated and humiliated, as she drives away with him. The next day, Ida shows up at Peter's door and expresses concern that Quagmire hasn't been seen for days. Joe is also aware that Quagmire hasn't been around either. The guys search for Quagmire by going to all his usual hangouts. Wandering into a seedy area, they find Sonya has a reputation of sexual instability and are directed to a storage container. Finding Quagmire, they are cornered by Sonya who takes Joe's gun. He calls her bluff and closes in. She pulls the trigger without result and Joe tackles her, admitting he has to keep his gun unloaded after a mental breakdown in April. Sonya is arrested by Joe while Ida frees Quagmire. Sometime later at the Drunken Clam, Quagmire admits later that he will need to be the really kinky one in his future relationships. He also tells Peter and Joe that he worries about his dad being pregnant.


Meanwhile, Lois and the kids prepare for Halloween. While going though storage, Lois finds Stewie's first teddy bear, Oscar. Stewie rejects it until he finds himself wavering between Oscar and Rupert. Brian discovers Stewie in the attic playing "tea" with Oscar and he begs Brian not to tell Rupert, claiming he is suicidal. Later, Stewie stomps downstairs claiming to have had a fight with Rupert, and gives him to Brian. While he is spending time with Oscar, Stewie finds Brian humping Rupert and takes him back. Rupert is then forced to choose between Stewie and Brian, falling over towards Stewie which Stewie takes as a sign of choice. Brian is indifferent and drags another one of Stewie's toys out of the room. As Stewie rejoices with Rupert, he worries about how Oscar will take the news. Oscar is seen having apparently hanged himself in front of a painting of Stewie in the attic.
All in all, I had a really good time with this one. Both plots were really funny, Not your average Halloween episode but still fun.
PETERNORMAL ACTIVITY
Peter, Quagmire, Cleveland, and Joe are disappointed by horror film Manic Pope 2 and decide to write their own horror film at the Quahog Asylum. They get frightened and try to evacuate, but are locked in. They fall into a basement and soon encounter a man with a hook. When they run outside, they decide to punch him to death only to discover that he is the property caretaker Albert who works at the asylum and the hook is due to valor in the Korean War. Albert then dies leaving the four guilty. Although Quagmire wants to confess the murder, Joe recommends against it and they bury the man as well as his nearby car on a hill while they make a pact to keep the murder silent.
Peter has a sleepless night and is faced with coincidences that are similar to the circumstances of the murder. At the Druken Clam, Quagmire keeps denying his involvement in the murder, prompting Peter to head to asylum to frame Quagmire for the murder, but sees that his friends are there, attempting to frame each other. Before they assault each other with shovels, Peter sees this as inspiration for their horror film idea. When the film Cereal Killer is released and is starring John Goodman as Peter Griffin, they have a negative opinion of it upon leaving the theater. Afterwards, they see Albert in a newspaper as he is reported missing and revealed to be a Ku Klux Klan leader who stole war medals. This soothes their guilty conscience. Back at the Quahog Asylum, Albert's arm with the hook on it rises from his grave. The door to his car also rises in the same manner.
Meanwhile, Brian obtains a pair of glasses and begins acting more arrogant than usual, much to Stewie's annoyance. At a sauna, Stewie plans to destroy the glasses, but it backfires when Chris locks himself, Stewie, and Brian in there all weekend. Once the weekend is over, they get out sporting a near-thin appearance as they run into Mayor Adam West. At home, Stewie succeeds in his mission by hitting Brian with a baseball bat, shattering his lenses into his eyes. Stewie also tells him that dinner will be ready soon since that's what Lois wanted him to tell the family members.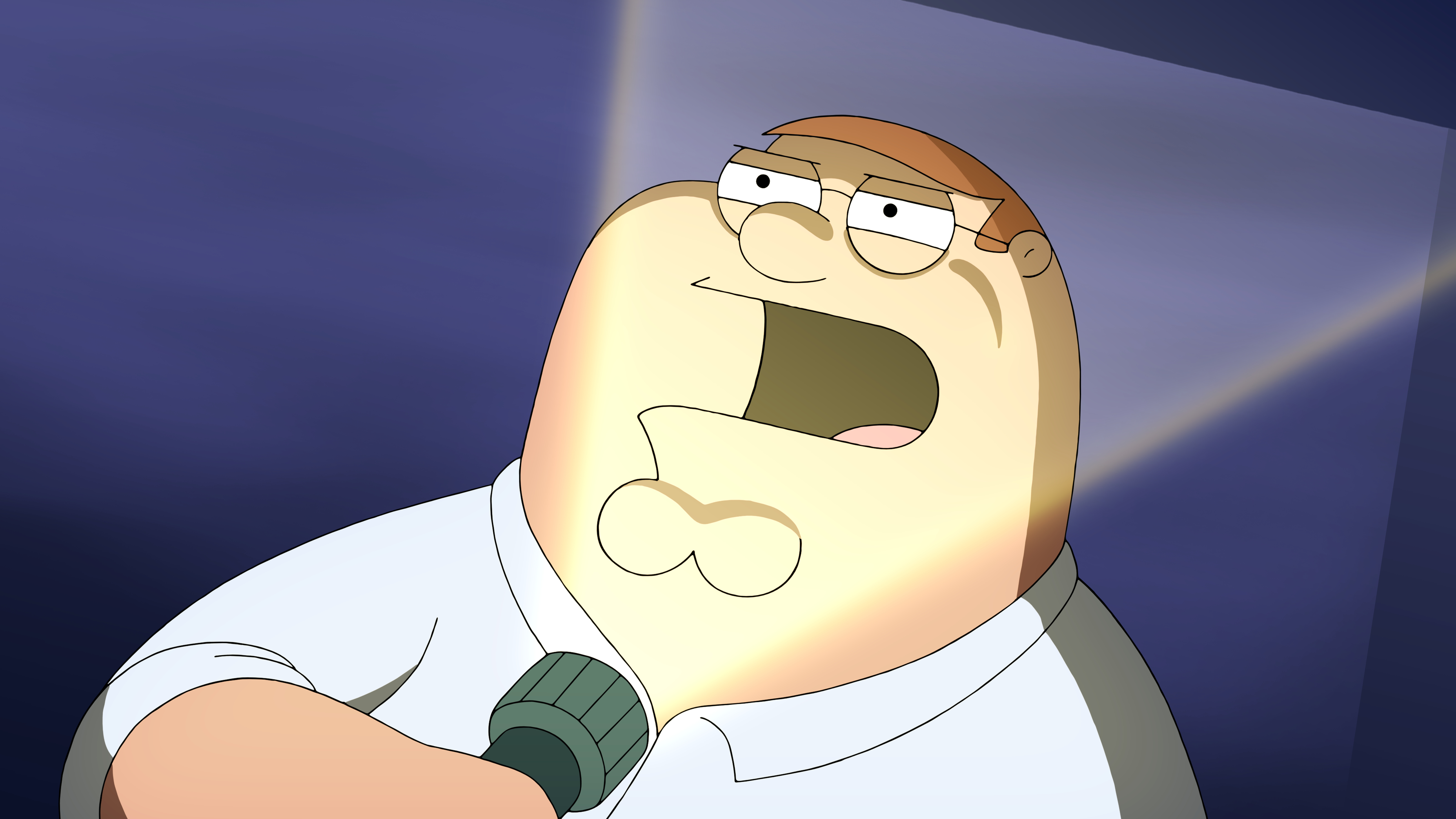 I thought it was rather clever that the janitor they thought was innocent wasn't innocent at all. He was a KKK leader who stole war medals.