MAIN CAST (VOICES)
Seth MacFarlane (Family Guy)
Wendy Schaal (Small Soldiers)
Scott Grimes (Robin Hood)
Rachael MacFarlane (The Batman)
Dee Bradley Baker (Star Wars: The Clone Wars)

RECURRING / NOTABLE GUEST CAST
Curtis Armstrong (Return To The Batcave)
Jeff Fischer (Happy Feet)
Lisa Edelstein (House)
Mike Henry (The Cleveland Show)
Richard Gant (Rpocky V)
Martin Mull (Sabrina: TTW)
Sandra Oh (Sideways)
Grace Park (Battlestar Galactica)
Swoosie Kurtz (Mike & Molly)
Hayden Panettiere (Heroes)
Jason Alexander (Shallow Hal)
Edward Asner (Elf)
Lou Diamond Phillips (Stargate Universe)
J.B. Smoove (Date Knight)
Kat Dennings (2 Broke Girls)
Zach Galifianakis (The Hangover)
Clancy Brown (Highlander)
Hector Elizondo (The Princess Diaries)
Missi Pyle (Dodgeball)
J.K. Simmons (Whiplash)
Alan Tudyk (Firefly)
Sarah Chalke (Scrubs)
Anthony Michael Hall (The Dark Knight)
Elmarie Wendel (3rd Rcok From The Sun)
John Cho (Sleepy Hollow)
Terry Crews (White Chicks)
Lucy Lawless (Ash vs Evil Dead)
Kevin Michael Richardson (The Cleveland Show)
Eddie Kaye Thomas (American Pie)
Daisuke Suzuki (I Am Gangster)
Ron Perlman (Hellboy)
Burt Reynolds (Boogie Nights)
Azura Skyke (28 Days)
Carl Reiner (Two and a Half Men)
Alice Evans (The Originals)
Maurice LaMarche (Futurama)
Ken Jeong (The Hangover)
Niecy Nash (Scream Queens)
Patrick Stewart (X-Men)
Beth Grant (Child's Play 2)
Christina Hendricks (Mad Men)
David Koechner (Anchorman)
CeeLo Green (Sparkle)
Michael Pena (American Hustle)
Gabourey Sidibe (Precious)
Kristen Schaal (The Boss)
Anjelica Huston (The Addams Family)
Sally Struthers (All In The Family)
Sarah Michelle Gellar (Ringer)
Alyson Hannigan (How I Met Your Mother)
Hulk Hogan (The Ultimate Weapon)
Cheech Marin (Machete)
Armie Hammer (The Lone Ranger)
Edward Hermann (The Lost Boys)
Kat Purgal (Her Story)
Joe Lo Truglio (Superbad)
Amy Sedaris (Elf)
George Segal (The Goldbergs)
Elisabeth Shue (Piranha)
David Boreanaz (Angel)
Emily Deschanel (Bones)
Nathan Fillion (Firefly)
Kathy Griffin (It's Pat)
Wayne Brady (How I Met Your Mother)
Alan Rachins (Stargate SG.1)
June Diane Raphael (New Girl)
Ari Graynor (Bad Teacher TV)
Rupert Grint (Harry Potter)
Eric McCormack (Free Enterprise)
James Karen (Wall Street)
Peter Serafinowicz (Spy)
Jill Talley (Little Miss Sunshine)
Jon Hamm (Mad Men)
Alison Brie (The Lego Movie)
Daran Norris (Veronica Mars)
Mariah Carey (Glitter)
Michelle Monaghan (Kiss Kiss bang Bang)
Morris Chestnut (Kick-Ass 2)
Octavia Spencer (Mom)
Richard Kind (Gotham)
Phil LaMarr (Free Enterprise)
John Leguizamo (Kick-Ass 2)
Sean Hayes (Will & GRace)
Michael McKean (This Is Spinal Tap)
Sinbad (Jingle All The Way)
American Dad returns for more unconventional family. The comedy carries on this season as the series prepares to celebrate its 100th episode with an unexpected Smith family wedding. Highlights in this Volume are.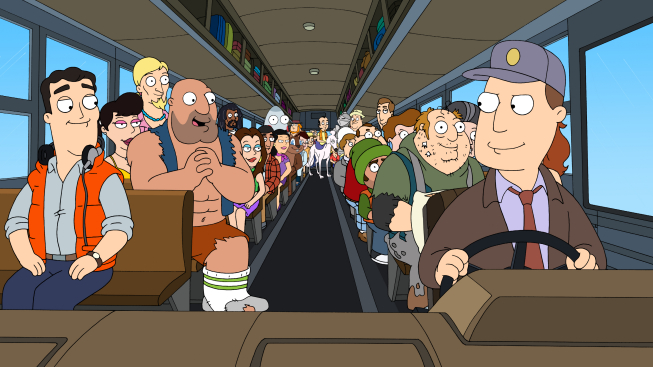 100 AD: Jeff continues to try to get Hayley back until Stan and Francine confront him and tells him to leave her alone. Taking Reginald's advice to give Hayley some space, Jeff decides to confront Hayley once and for all. It is later revealed that Jeff and Hayley ran away and Stan and Francine offer the public a reward of $50,000 to stop the wedding. This causes mass hysteria with 97 people killed off in a freak bus accident. Later on, they are eventually found, and Stan and Francine are tricked by Jeff into giving him the $50,000, thus letting Stan allow them to get married. Meanwhile, in response of Jeff and Hayley's marriage announcement, Roger and Steve dress up as Wheels and the Legman (from the episode Haylias) and try to stop the wedding and get the reward themselves, until Roger is under the influence of Turkish amphetamines, landing them in Shanghai.
SON OF STAN: Francine and Stan have a clash over how to raise Steve in retrospect to Hayley running away. Francine wishes to be more lenient, but Stan is convinced that they need to be firm with him. Stan creates a clone of Steve, named Steve-A-Rino, to determine who has better parenting skills. Steve grows up as a lazy, fat video game player, but Steve-A-Rino grows up as an athletic genius. Steve-A-Rino runs away and Francine declares herself as the better parent. However, she finds decapitated cat heads in Steve's backpack, and Stan declares himself as the better parent. The Killer turns out to be Steve-A-Rino. With his identity exposed, Steve-A-Rino now plans to kill the original Steve. Francine and Stan find Steve-A-Rino's lair as he is about to kill real Steve. After a fight, Stan and Francine decide Steve needs both of their parenting style, and Steve-A-Rino is shot by a cat. Meanwhile, Roger selfishly decides to go after Hayley and Jeff to steal the money. When they refuse, Roger begins to repeat the annoying noise; "Myah!". The couple embark on a cross-country trip in an effort to escape Roger, only to find he somehow catches up to the two every time. Hayley finally surrenders when Roger corners them at the Great Wall of China, however it becomes apparent that Hayley and Jeff have used all the money already, in their attempts to get away from Roger.
BEST LITTLE HORROR HOUSE IN LANGLEY FALLS: After years of hosting the scariest haunted house in the neighborhood, Stan finds himself outdone by a former design and development specialist for Disney theme parks named Buckle (first seen in An Apocalypse to Remember). Francine makes things worse when she finds herself returning with wet pants and declares that it is impossible to beat him. Depressed, Stan goes to Roger for advice and Roger suggests he use his CIA influence to get real body parts and instruments. Stan decides to pull in five of the most dangerous serial murderers in the area. However, the killers sitting in their cell fails to scare anyone so Roger decides to turn them loose, forcing Stan, Francine, Roger and Klaus to take cover in the kitchen. Meanwhile, Steve and his friends take Akiko trick-or-treating while a frustrated Toshi refuses to take up the samurai costume his mother got for him. Toshi eventually does wear the outfit, only to chase down Steve when he fails to hold a promise with him. After Steve defuses the situation, Toshi leaves him alone and instead takes out his rage by brutally murdering the five serial killers after they chase Stan, Francine and Roger out their house all the way to an abandoned factory. Roger brings home one of their severed heads as a souvenir.
THERE WILL BE BAD BLOOD: The Smiths prepare for the arrival of Stan's half-brother, Rusty's (Lou Diamond Phillips) family for Thanksgiving. However, it gets subdued because of Steve's brattiness following Hayley and Jeff's eloping. They decide to go to Rusty's to see what their home is like. However, it is revealed that Rusty is rich after discovering copper from a land given from his grandfather (Ed Asner). The Smiths try to pull the old switcheroo on Rusty, resulting in getting trapped in the desert. However, they are saved by Hayley and Jeff. In the end, Stan lets Hayley and Jeff move into their home after what they'd done.
THE PEOPLE VS MARTIN SUGAR: Stan Smith anxiously awaits his annual jury summons. But when Roger is the defendant in the trial where Stan is the foreman, he is finally in a position to make Roger accountable for his misdeeds. Roger gets the last laugh when he escapes from prison. Meanwhile, Jeff and Hayley move in with the Smiths, and Francine tries (and fails) to get Jeff to clean up his act due to him needing to be stoned in order to keep his libido in check.
FOR WHOM THE SLEIGH BELL TOLLS: Stan gives Steve a gun for Christmas, even though Francine warns him that Steve is too young. After Steve accidentally shoots Santa, he sends the North Pole into a tizzy and jeopardizes Christmas, triggering a massive gunfight between the Smiths themselves and all the elfs and reindeer from the North Pole with Santa Claus himself leading the charge.
STANNY BOY AND FRANTASTIC: Finding that they have no friends that like the both of them, Stan and Francine steal tickets to a show from Hayley and unintentionally make friends with a younger couple. Soon, their (highly dangerous) life style proves too much for Stan and Francine; they sabotage their birth control products to force them into being less active. However, this causes the couple to break up and reconcile their differences once Stan and Francine reveal the truth to them, losing their friends.
A PINATA NAMED DESIRE: Roger asks Stan to attend an acting class, but tempers flare when they audition for the same role, which Hayley believes is underlying sexual tension between the two. Meanwhile, Steve and his friends have their last slumber party as kids.
I AM THE WALRUS: Steve challenges Stan for dominance, with Stan winning as he does the one thing Steve will never have. Meanwhile, Jeff and Hayley try marriage counseling — and end up being held hostage by Principal Lewis.
SCHOOL TIES: Stan arranges a plan to get a raise through a favor of U.S Senator Buckingham (Burt Reynolds). The first part of his plan is to send Steve to the private school where Buckingham's daughter, Cookie, goes to (though Steve refuses to go, so Stan uses Roger). The second part is to meet Buckingham there and talks him into playing golf with him. Stan gets his favor, but then he is enraged that Roger sold Cookie to drug dealers, while they were high on Cocaine. He gets her back, and he takes her back to Buckingham's house for dinner, even though Buckingham knew about Cookie's drug issue. Meanwhile, Steve is out of school because of an Asbestos outbreak, and after refusing to go to the private school, he joins a gang of Spanish thugs. He is arrested for robbing a pharmacy, prompting Stan to use his favor to release him from jail. However, this causes Stan to frame a student from the private school for the armed robbery. He is seen riding away with John Q. Mind (Randy Spears) to have further adventures.
JENNY FROMDABLOC: Steve tries to cheer up Snot after Hayley rejects him — so he convinces Roger to dress up in his best teenage girl persona and give Snot some confidence back. However, when Roger starts dating Snot under his new persona he starts to take the relationship too far which leaves Steve extremely disturbed and Snot becoming egotistic about finding love before his friends did. Meanwhile, Stan tries to live like a man of the 1960s by making Francine serve him martinis after work, despite that Stan can't hold his liquor.
This season is honestly one of the funniest and entertaining I've seen!! The writers managed to find the perfect balance so that each character got their fair share of screen-time.
American Dad  the animated series that follows staunch GOP supporter and CIA agent Stan Smith (Seth MacFarlane) and the misadventures of his unconventional family in Langley Falls, VA, returns for a hilarious eighth volume. In this volume the highlights are.
HURRICANE!: Stan tries to protect his family from a hurricane that's hitting Langley Falls, but every increasingly poor decision Stan makes endangers the family more than the actual storm.
THE WORST STAN: When Stan realizes that he might never fulfill his dream of becoming a best man, he convinces his last single friend, Principal Lewis to marry the school's Superintendent (played by guest star Anjelica Huston) and to choose him as his Best Man. Stan invites Lewis' old friend from prison to the wedding only to discover a secret that could prevent the wedding from happening at all. Meanwhile, Roger finds the perfect pair of shorts in a strange room inside a Ross Discount Clothing Store and vacations in Miami, where he meets Latin pop singer Ricky Martin.
VIRTUAL IN-STANITY: After discovering that he has never been there for Steve while growing up, Stan decides to use the CIA's avatar system to pose as a hot, blond teenage girl — whom Steve plans to have sex with at the school dance. Meanwhile, Roger starts his own limo service, and when a group of frat boys "drive and dash," he goes on a manhunt to get his revenge.
THE SCARLET GETTER: When Stan runs into his former crush from CIA boot camp, his affection for her resurfaces, which drives Francine into a jealous frenzy. Francine convinces Roger to take up his best bachelor persona to try and separate the two. It works, until Stan discovers that Scarlett (his former crush) is actually the best alien hunter in the CIA who knew Stan was harboring Roger. Meanwhile, Steve (in a rush to get dressed for school) slips on Hayley's panties and is stricken with good luck — until Snot takes them away to satiate his obsession for Steve's sister. When Steve accidentally reveals to Hayley that Snot has her panties, she breaks into Snot's bathroom and brutally beats him up to steal them back.
SEASON'S BEATINGS: In this year's Christmas episode, Stan finds himself excommunicated from Christianity after news hits that he beat up Jesus (or rather, Roger dressed up as Jesus) during the town's Christmas pageant. Meanwhile, Hayley and Jeff adopt a child who may be the spawn of Satan.
THE UNBRAVE ONE: After being branded a coward by Stan for not helping him during a movie theater fight, Steve takes Roger's advice and dresses up as a superhero, but the plan goes pearshape when Roger is the one who reveals that he's Langley Falls' local crimefighter. Meanwhile, Francine worries over being pregnant and gets dubious advice from an Internet physician known as "Dr. Vadgers."
STANNY TENDERGRASS: Stan puts Steve to work at the Harvercamp country club as a groundskeeper to show him the true meaning of hard work. Steve then discovers the owner of the club, Mr. Vanderhill, is actually one of Roger's personas and also the only one Stan can't see through. Meanwhile, Francine — with Klaus's help — tries to come up with a memorable catchphrase. Their final result is "Looks like things are getting too spicy for the pepper!"
OLD STAN IN THE MOUNTAIN: While waiting in line behind an old man to get hiking equipment for a trip with Steve and Hayley up Mount Kiliminjaro, Stan begins rudely insulting an elderly man in a wheelchair. The man, visibly angered, utters a latin hex that curses Stan to live as an old man. Unable to cope with the lifestyle of the elderly, Stan goes to drastic measures to reverse the hex. Meanwhile, Roger takes Francine on a road trip to a dance competition — which turns out to be a plot involving a dead redhead, Roger's tenacious desire to have an authentic red wig and one of his old personas. Francine reaches a breaking point.
THE WRESTLER: When Barry threatens Stan's old high school wrestling record, Stan enlists Roger to beat Barry and defend his small claim to fame. However, Stan is caught off-guard when Roger (under the persona of a fake Russian wrestler named Demitri Krotchliknioff) turns out to be the threat to Stan's high school record. The two promptly duel for 10 days on the wrestling mat. Eventually Francine shows up and reveals she talked Roger into breaking Stan's record to prove a point to Stan.
RICKY SPANISH: While going through his costumes in the closet, Roger finds the costume of the worst persona he's ever done: Ricky Spanish. Meanwhile, Stan and Francine's sponsored child from Africa comes to visit them and eventually drives them mad.
This is a great product. Much like the other 7 series of American dad the 8th is funny, outrageous and above all highly entertaining. Its a great buy for any American Dad or family Guy fan.
Take a "Stan" against boring, bipartisan comedy with this all-new collection of hilarious American Dad! episodes from the infinitely creative minds of Mike Barker, Matt Weitzman and Family Guy creator Seth MacFarlane.The Highlights this volume are.
LOVE, AD STYLE: Roger develops a crush on Hayley after he recruits her as the main entertainer in his new crooner's bar, and ends up kidnapping her when she tells him that she cannot be in love with him because she is already married. Meanwhile, Stan (once again) tries to prove his manhood by negotiating a good price for an SUV he wants, and tries to sell his black SUV to get money for the new one.
KILLER VACATION: The Smith's family's tropical vacation turns out to be anything but relaxing when Stan is assigned a mission to kill the activities director at their resort, whom his boss at the CIA insists is an ex-war criminal. Meanwhile, Hayley and Jeff try to revive their dead sex life and meet a swinger couple, Steve joins a British boy (guest star Rupert Grint) to find a nude beach, and Roger (posing as an old widow) falls for an old widower.
AMERICAN STEPDAD: Stan invites his mother to come live with the family after Stan's stepfather, Hercules, dies, and tensions rise when Roger is forced to share his attic with her. But Roger and Stan's mom quickly fall in love and get married, and Stan is forced to deal with Roger as his new stepdad, which goes very well once Roger actually makes fatherly advice to Stan. Meanwhile, Steve and his friends discover a mysterious plane crash while on a bike ride and come across a long-lost script of a Fast and the Furious sequel that reveals a shocking truth about the entire series.
WHY CAN'T WE BE FRIENDS?: Stan decides that Snot is not cool enough to be Steve's friend, so he attempts to separate them by staging a shooting at an ice cream parlor, of which Snot is the only witness and is then placed in the CIA Witness Protection program. Meanwhile, Roger hires Jeff to clean his attic for extra cash, but keeps robbing him every time he goes back to Hayley's room.
ADVENTURES IN HAYLEYSITTING: The Smith family's regular babysitter, Lindsay, breaks her leg in a soccer match, so Stan and Francine are forced to leave Steve with Hayley, despite her track record of being extremely irresponsible. When Hayley teases Steve about being a dweeb, Steve is determined to prove her wrong and sneaks out of the house to go to a party with the cool kids.
NATIONAL TREASURE 4 – BABY FRANNY: SHE'S DOING WELL – THE HOLE STORY: When Greg and Terry's new talk show does a news story on the 35th anniversary of the rescue of "Baby Franny", Francine begins to feel guilty over wasting her life while the fireman who rescued her from a well died in her place. Meanwhile, Stan and Roger team up with Toshi's dad Mr. Hideki Yoshida to invent and market sexy shoes for male strippers. However, the deal sours when Hideki double-crosses Stan and Roger and keeps all the royalties for their creation to himself.
BLOOD CRIETH UNTO HEAVEN: In this parody of the Pulitzer Prize-winning stage play "August: Osage County," Francine throws a birthday party for Stan, which brings back bad memories of when his father abandoned him. Meanwhile, Roger (playing a black maid named Edna) kills off the love child had between Avery Bullock and Hayley.
MAX JETS: A waitress gets her claws on Roger's philanthropic character Max Jets, who's just gotten out of prison and is helping the Smiths with their financial woes.
FOR BLACK EYES ONLY: In this follow-up to season four's James Bond parody "Tearjerker," Sexpun T'Come (Francine) is shot and killed by Black Villain (Principal Lewis). Stan must now team up with Tearjerker (Roger) to stop Black Villain's plan to melt the Arctic glaciers, even if going through a clone of Sexpun T'Come, who is black instead of white.
THE MISSING KINK: Unsatisfied with missionary sex, Francine finds out she has a spanking fetish when Stan tries to punish Steve. Meanwhile, Hayley tries to move on from Jeff being sent into outer space and agrees to go out on a date with Snot.
LOST IN SPACE: Months after the events on "Naked to the Limit, One More Time," Jeff—still on a spaceship owned by Roger's race of aliens that was originally intended to return Roger back to his birth planet—must prove to the emperor (voiced by Michael McKean) of the alien spaceship that he's truly in love with Hayley so as to get back to Earth.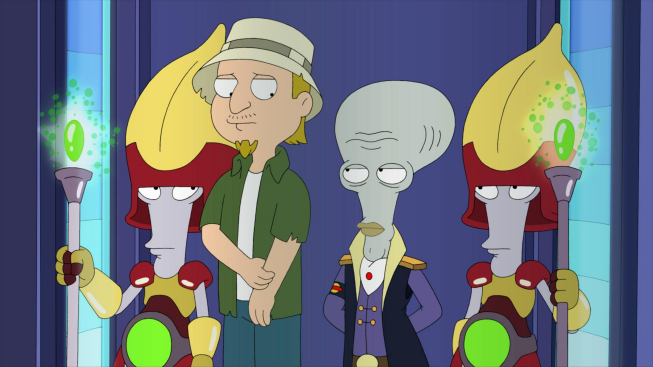 The continuity of excellent, boundary pushing, controversial comedy from the warped mind of Seth MacFarlane and his team is absolutely fantastic. Huge fan of all MacFarlane comedy. Helps to lift your mood on your "down days".