CAST
Zooey Deschanel (Yes man)
Jake Johnson (Jurassic World)
Max Greenfield (Veronica Mars)
Lamorne Morris (Glitch)
Hannah Simone (Oldboy)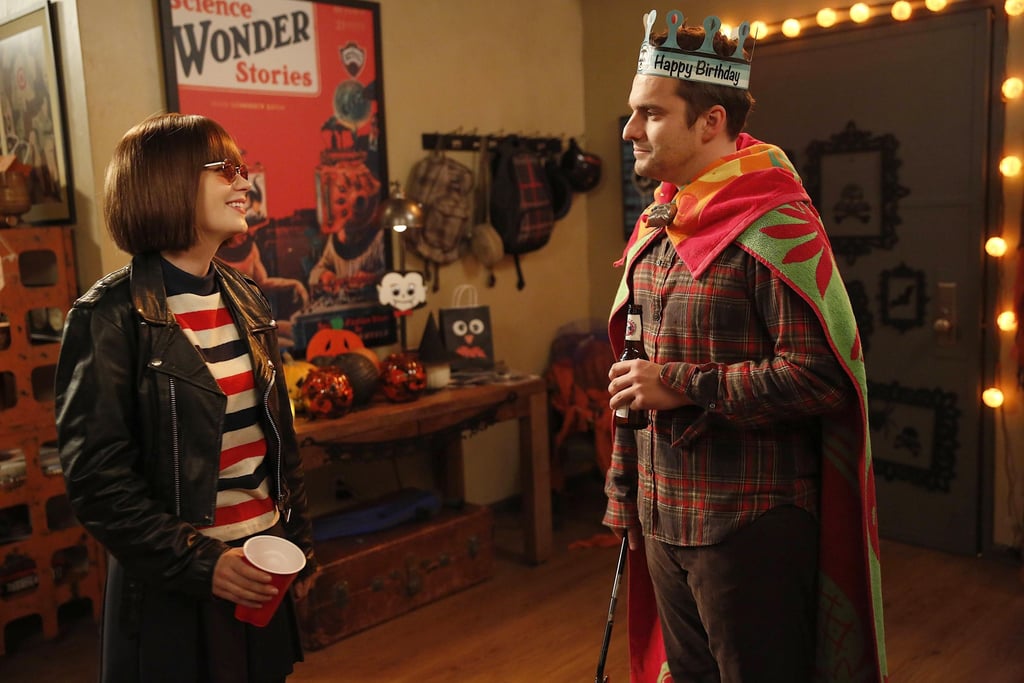 GUEST CAST
Maria Thayer (Hitch)
Kali Hawk (Bridesmaids)
Nelson Franklin (Argo)
David Walton (Bad Moms)
The episode begins with Schmidt complaining to Nick about he's cheap sheets. He excuses he's crappy bought with the arrival of a high school crush, Amelia. Jess walks in wearing her haunted house costume, and invite the guys to go see her, as Nick tries to avoid, since he's secretly afraid of haunted houses but won't tell.  Jess visits Sam in his workplace, and struggles between start liking him and not start liking him. Even as he tries to convince her he's not that much of a good guy, a letter from a previous patience and his own special way to treat a little kid start to make her evolve some feelings for him.

Back at the apartment, Schmidt and Winston are discussing about their Halloween plans. Winston complains how he and Shelby don't have a sex anymore, and while explaining how terrible is that situation, Schmidt let oveerflow he's feelings for Cece, hidden deep inside. Nick walks in with his crush, Amelia, as they happily talk to each other. Talk turns into something more when she takes the first step and kisses him.

At Jess' room, Cece argues about how Jess is starting to like Sam. She's making a costume for Robby, who gets invited to the carnival Jess is working by Schmidt, who walks in later. Meanwhile, at Nick's room, he and Amelia enjoy the aftermath of their first time, although Nick gets a little bothered by her way to kiss, that includes a lot of biting and lip action. Strange lip action. Nick and Jess meet in the hallway. He talks about she starting to like Sam. Amelia walks in on them and Jess and her are introduced. They are then interrupted by Amelia, who attacks Nick with her kissing. Later that night, at the carnival, Winston and Shelby meet. He appears to don't understand what costume is she wearing. Schmidt crashes into Cece and Robby's romantic caroussel ride. In another place, Nick and Jess talk about Amelia and he's fear of commitment. But things only get worst for he's side when she carves a pumpkin with how would be their family, including a dog.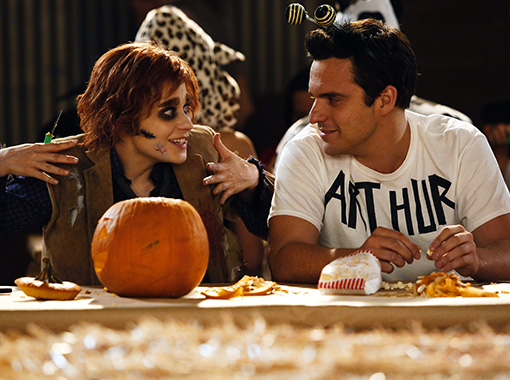 Cece outrages against Schmidt when he meddles between her and Robby again, and insists that he should go home. He wants to fight Robby, who surprisingly shows being more quick then he is. Sam arrives and surprises Jess. She feels more pressure into hiding her recent feelings for him. Jess then goes into the haunted house while Nick tries to open up in any way talking about Jess and her feelings to Sam. When he seems to don't understand, Nick think that is about time for him to think about he's problems, and in order to face he's relationship problem, must face he's fear of the haunted house first.


It doesn't start very well when a psychotic clown assaults him. When a worker of the haunted house also doesn't understand what costume is Shelby wearing, Winston backs her up, starting a fight between them. He asks her why they're not having sex, as they relationship come to an end. Nick is still exploring the haunted house, but things get off the tracks when he sucker punches Jess when she jumps up in front of him to scare him. He's kicked off the haunted house as Sam takes care of Jess. She tells him about her feelings but he won't go for it. He then asks if she wants him to leave and he agrees. Nick is still struggling with Amelia, and receives a slap in the face and a walking away when he tells Amelia that she just isn't what he thought she was and she says she's not the idea of a person, she's an actual person.  Schmidt surrender to Cece and Robby and decide to give him his costume in order for them to have a couple's costume. He takes he's entire clothes off and becomes Matthew McConaughey in the movie "Magic Mike". The episode ends with Nick getting ready to receive a payback punch of Jess. She first says she can't do it, but when he's guard is down, she finds the strenght to do it and finally hits him.

For a first attempt at a Halloween episode it really does shine, It has everything you would expect from New Girl, Quirky Humor with some really touching moments. Robbie was a a Ninja Turtle was really funny, and Jess looked awesome as a Zombie. all in all a great episode of a great quirky show.